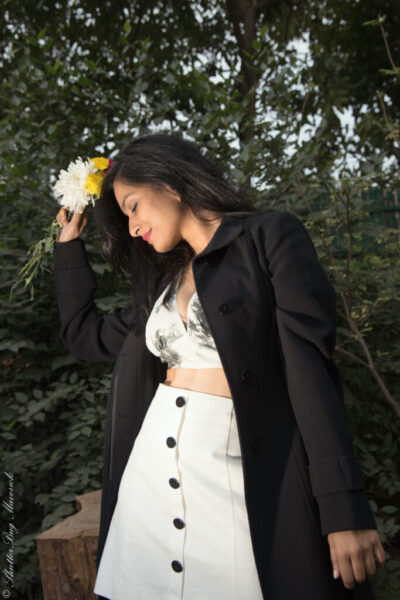 I am 5'2 and if you are also short like me – awesome! You don't have to have a model figure to pull off the latest fashion trends. rather it is more about choosing the ones that compliment your body type. 
Choosing an outfit that fits your body type can be quite tricky until you don't know where to start. Especially for short, petite girls. In order to solve your queries, we reached out to well-renowned stylist and makeup artist Devika Chaudhry to know more about the silhouette and style suitable for short girls. 
Tips and tricks
Devika.T.Chaudhry says
2/3rd- 1/3rd is a basic styling tip for smaller women. It means covering 2/3rd with the bottom wear and the rest 1/3rd with the top.

Layering is the best way to enhance your look but avoid overdoing it, not more than 2 layers

Heels are your best friend so find the one that your feet love. 

Monochrome colors are suitable for you.

In terms of accessories, belts highlight the waist.
Maxi dresses
Choose silhouettes that have asymmetrical hemlines with a cap, flower, ruffled bodice sleeves. Combine a lighter fabric outfit with bracelets or stoned pendants
Skirts
Pencil skirts compliment your body shape so try to opt for a pencil-style skirt in your closet. Remember you wear it with something that doesn't make you look even smaller. A skirt or top that has a volume is an ideal pick for you. 
Jumpsuits
Wearing a jumpsuit with a belt will elongate your overall shape. Pair it with nice shoes or heels, wedges to look lean and tall.
Pantsuits
Opt for a little flared high-rise pants instead of regular pants on formal suits. Mix match it with different color combinations. Pair it with a well-fitted blazer along with a collared shirt. A flared pant will open your overall body type a little more thus helping you look fine and classy.
Oversized sweaters, shirts
Sometimes if you are not in the mood of dressing up just put on oversized, baddy shirts or sweatshirts. They look great on all body types plus gives you a timeless grace. Wear it with ankle boots or stilettos. 
Skater dress
Every short girl must own at least one pair of a skater dress. They work best on small body types. The silhouette in the middle cinches your waist, flaring it out from the waist to the bottom of the dress. It helps in making you look leaner and taller.
Flared skirts
As you must have noticed, a flared pattern is what you need when it comes to bottom wear as it opens up your frame. A flared skirt will work much better than any other skirt type on your small body. The design will clutch your waist and fall wide open above the knee making your legs longer.
Strappy tops
While short girls may have smaller legs but they should be proud of their feminine necklines, slimmer arms, and shoulders with beautiful collar bones. A spaghetti top would highlight these beautiful features of yours.
Crop tops
Not only a teenager but also a great fit for mature smaller women too. While it may celebrate your upper body but accentuate your waist, pair it with high waist jeans or trousers.  
Vertically striped shirts
It has been a well-known trick in fashion for years. A vertically striped skirt can make you look taller and leaner. Pair it with nicely cut denim jeans. You can accessorize it with minimal jewelry pieces