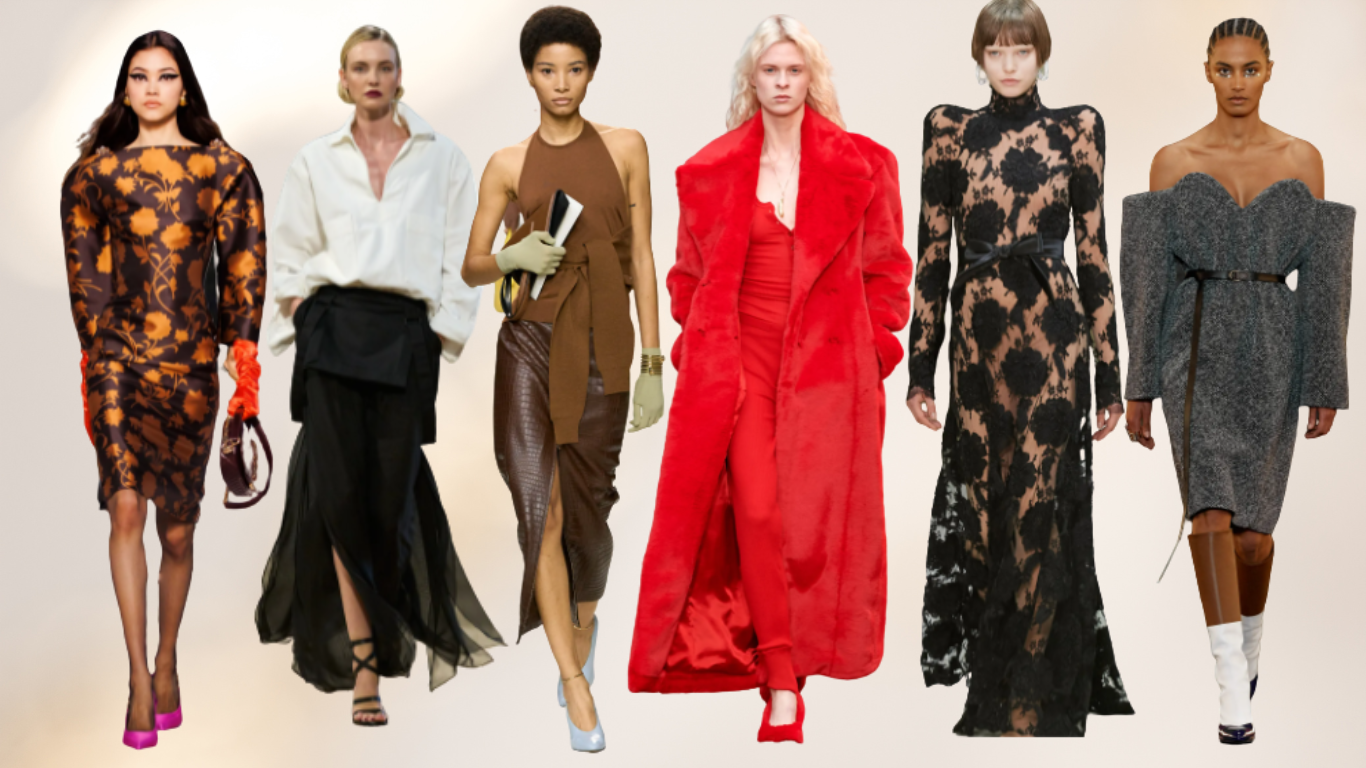 The fall fashion trends of 2023 are geared toward professional women, featuring a dark color palette dominated by reds, blacks, classic workwear pieces, and earthy browns.
The autumn collections saw fashion exhibiting a slightly subdued demeanor, with the usual large and bold 1,000-capacity fashion shows taking center stage. Nevertheless, there was an underlying sense of unease that lingered in the atmosphere.
This may explain the prominence of austere black coats and the creative reinterpretation of classic white shirts, offering a refreshing array of styling options (great news for those who already own one). Similarly, the collections featured corporate-inspired ensembles, combining imposing shoulders reminiscent of bustling trading floors with pinstriped suits and ties. When faced with the possibility of a financial crisis, dressing for success seemed to be the prevailing sentiment.
Classic Formals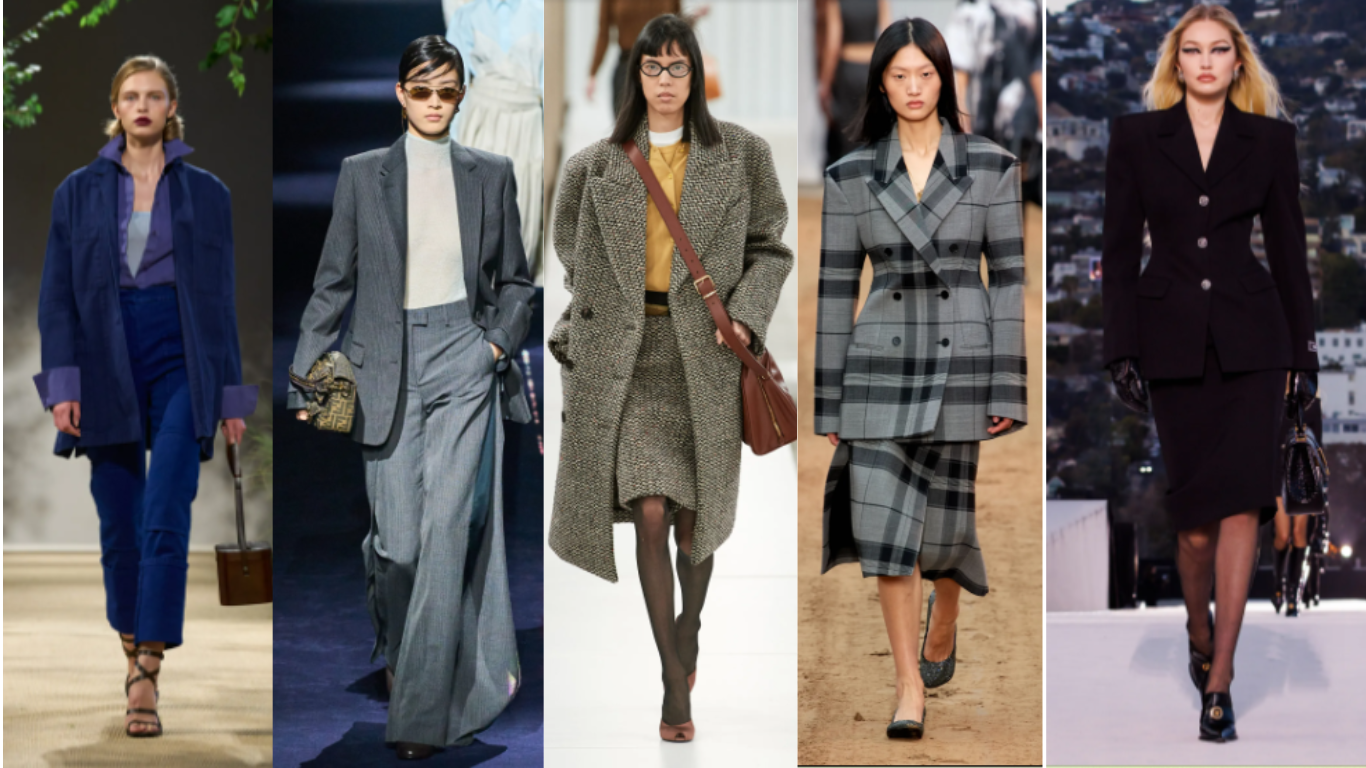 Within corporate communications, things are becoming hot. Shirt and tie ensembles, which have been on the cusp of a breakthrough for the past several seasons, have made a comeback and become runway mainstays at Dior, Valentino, and Alexander McQueen. At Saint Laurent and Louis Vuitton, pinstripes are competing for employee of the month while striking a C-suite note. The essential silhouette for autumn is supported by a powerful shoulder that is unavoidable at Balenciaga and elsewhere. Dress for the job you want, we advise.
The Black Coat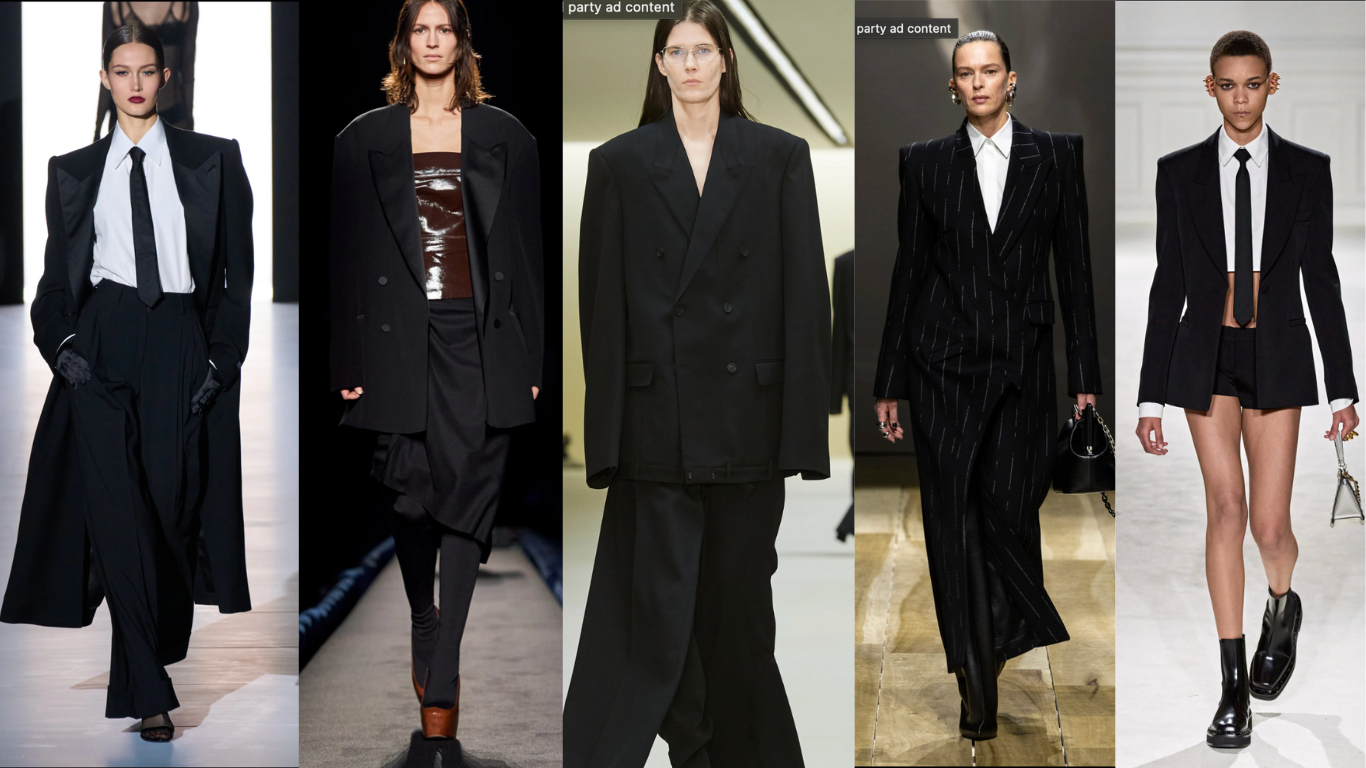 The essential wardrobe piece for the upcoming season will be a sophisticated, well-tailored black coat that feels just right. If you make a sensible choice, you'll continue to wear yours for many years.
White shirt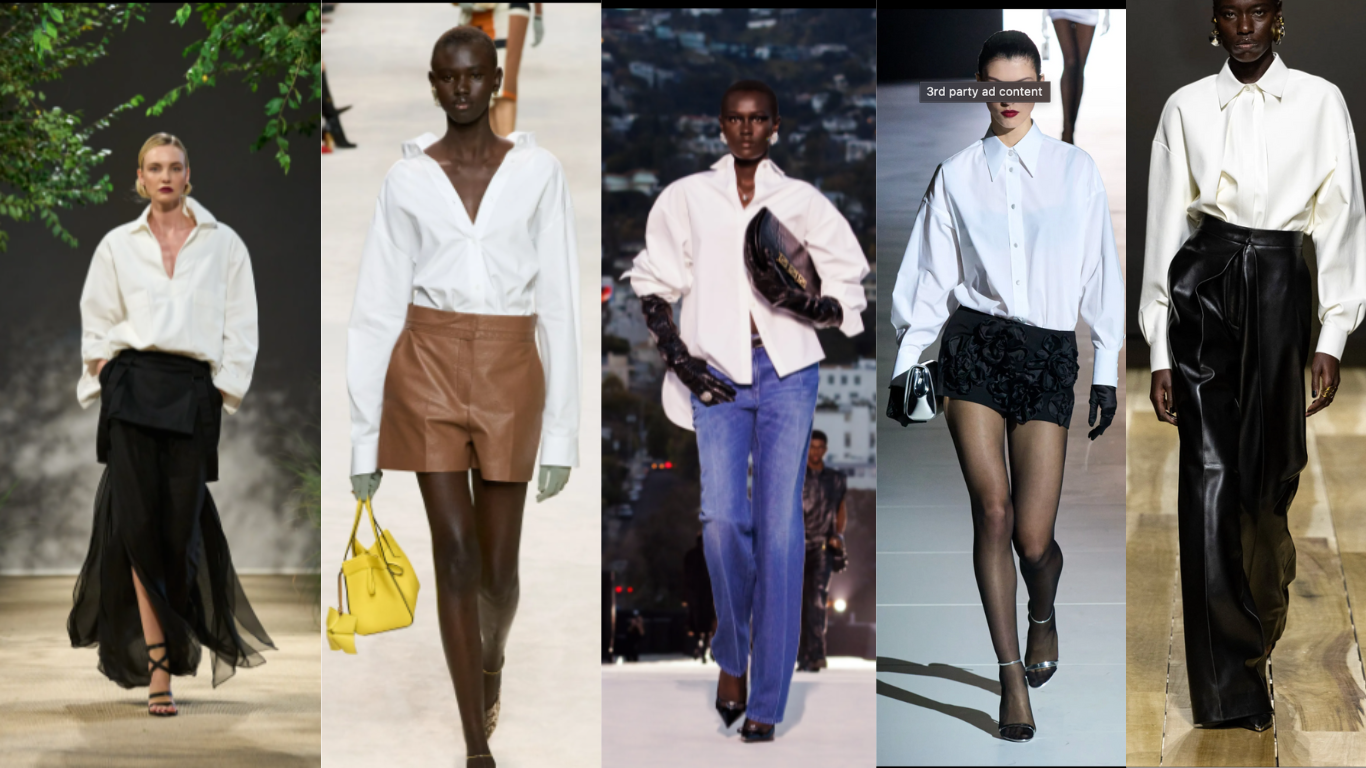 White shirts have long served as a wardrobe staple, but this season they take center stage in the classics capsule. Take them long and lean with Valentino's gown-like shapes that are sweeping the floor, go boyish with Prada and combine yours with a stylish miniskirt, or savor the simple appeal of a pinstriped style worn with boxers at Bottega Veneta.
Rich Red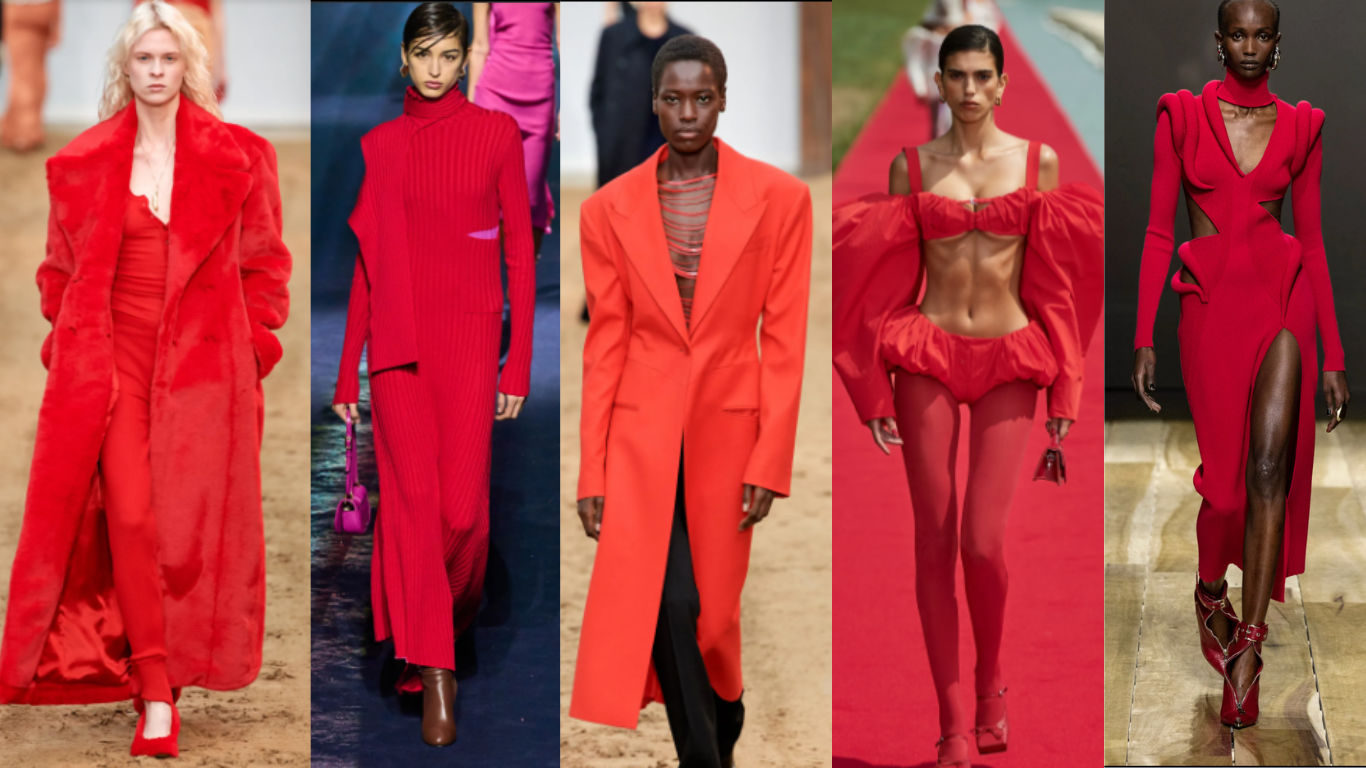 Any designer will provide the same response when asked: Fall 2023 will feature the colour red. Instead of the typically subdued earth tones you'd anticipate for fall, the colour is vibrant and seductive, easily taking control of a space or a social feed. A monochromatic outfit, beginning with a pair of red flats, is the simplest way to stand out this season, regardless of your colour preference—Wiederhoeft's vermillion, Tory Burch's tomato, or Ferragamo's garnet.
Winter Florals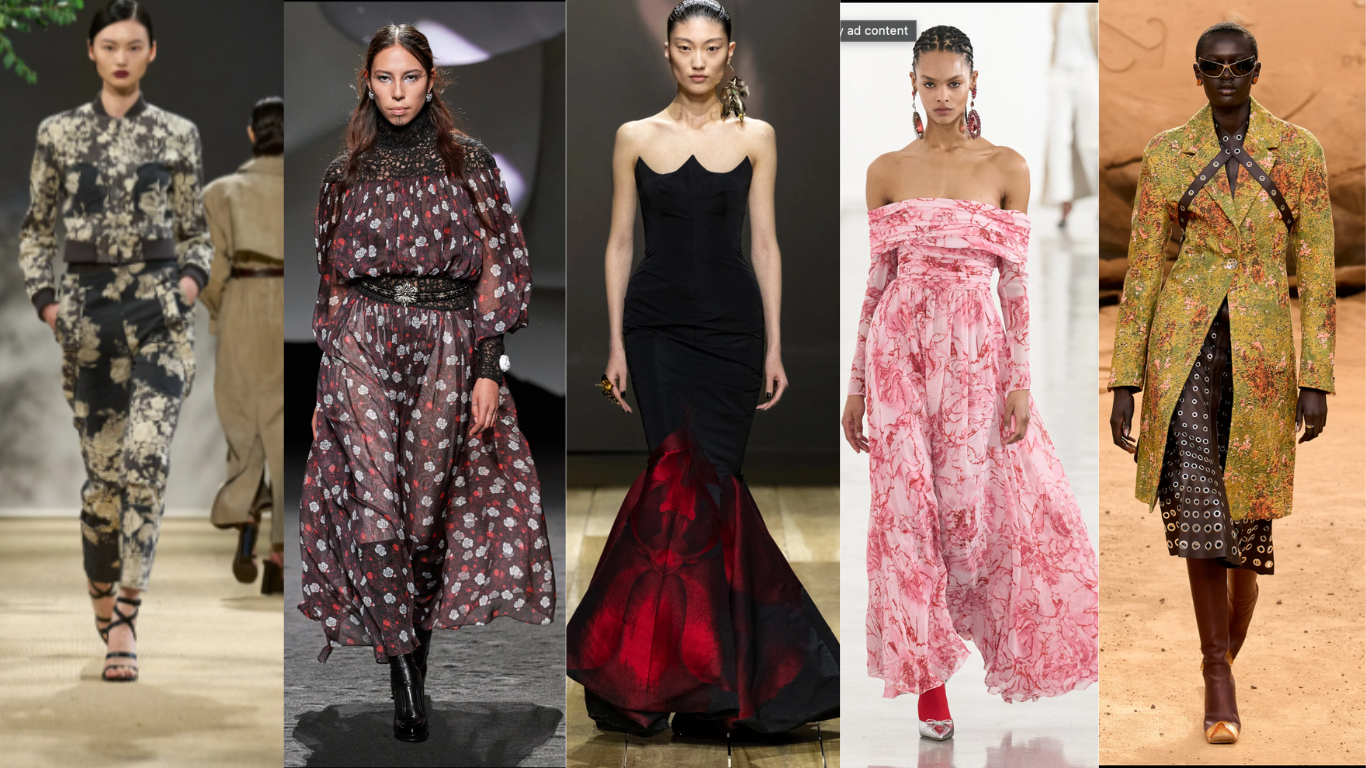 Although camellias usually blossom in the spring, Virginie Viard positioned a snow-white, oversized version of the flower in the middle of her black Chanel fall/winter catwalk. The Brobdingnagian bloom was also prominent in the collection, appearing as patterns on fluid monochrome skirts and silk brooches on the lapels of black coats. Note the relative lack of colour; for autumn, blossoms have a subtly gothic tone. At Burberry Alexander Mcqueen, they were subtly grungy.
Off-shoulder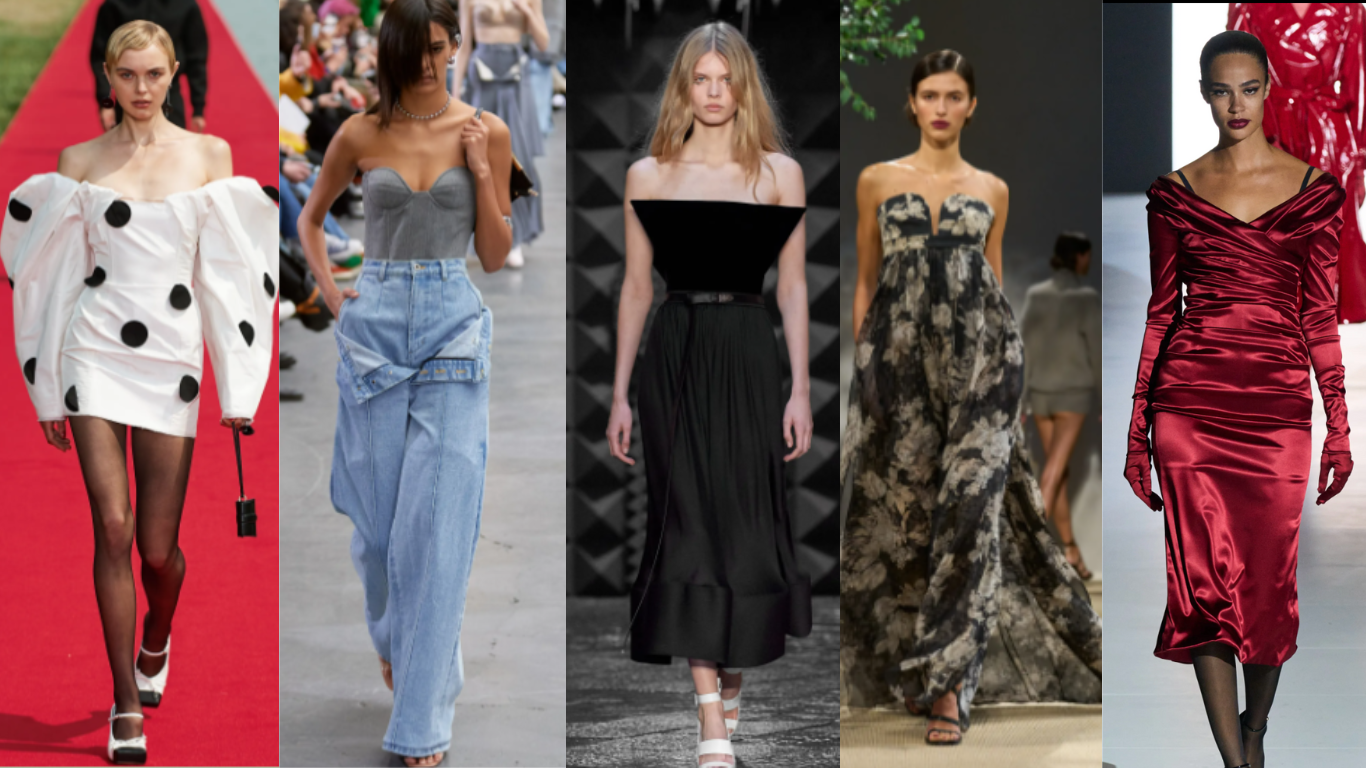 Off-the-shoulder styles, which are slinky, seductive, and surprisingly adaptable, are set to make a major reappearance this season. While Balenciaga, Sacai, Rokh and Carolina Herrera spiced up the design with straps and puff sleeves, Tory Burch and Paloma Wool kept theirs pretty plain. This autumn, why not let your collarbone show a little? (If you start to get cold, you can always cover yourself with a scarf.) Simply make an excellent strapless bra purchase.
Lace & Sheer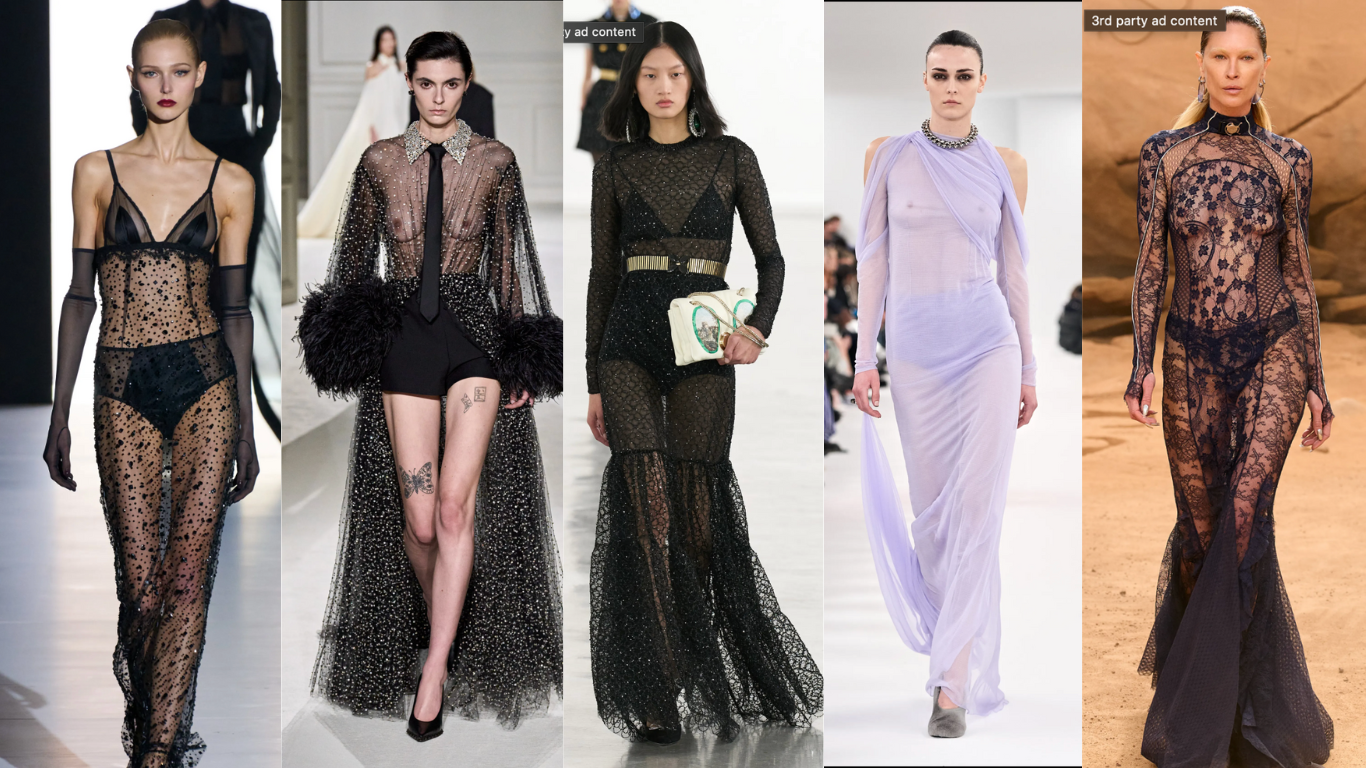 Time to embrace your witchy side as the nights grow longer. With a stunning display that featured models dressed in black velvet and lace like members of a vampiric coven, Rodarte opened fashion month. In other places, gothic glamour was evoked with blood-red ribbons at Simone Rocha, Wednesday Addams-like styling at Adeam, and sheer corsetry at Versace. You may still look great at home without going all Siouxsie Sioux; simply spice up your wardrobe with some dramatic collars, lace, and ribbons.
Return of belts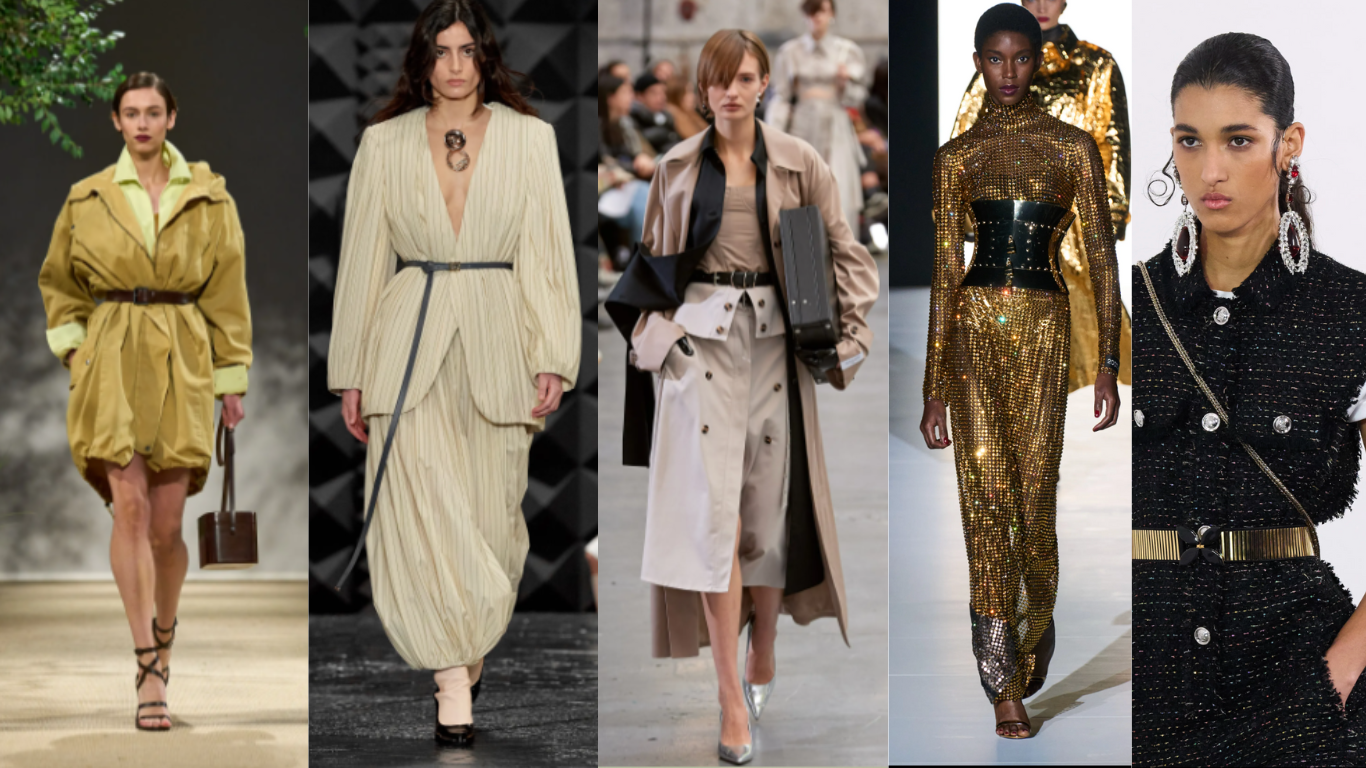 The hourglass form had been gaining popularity all season, but the trend was solidified when Gigi Hadid strutted out against the Hollywood Hills at dusk in a black Versace skirt suit with a waist tailored to resemble Sophia Loren's proportions. At Max Mara, Gucci, and Schiaparelli, chunky belts tightened things up; at Louis Vuitton and Chanel, designers strove to balance out broad shoulders with neatly fitted waists and slender belts.
Metallics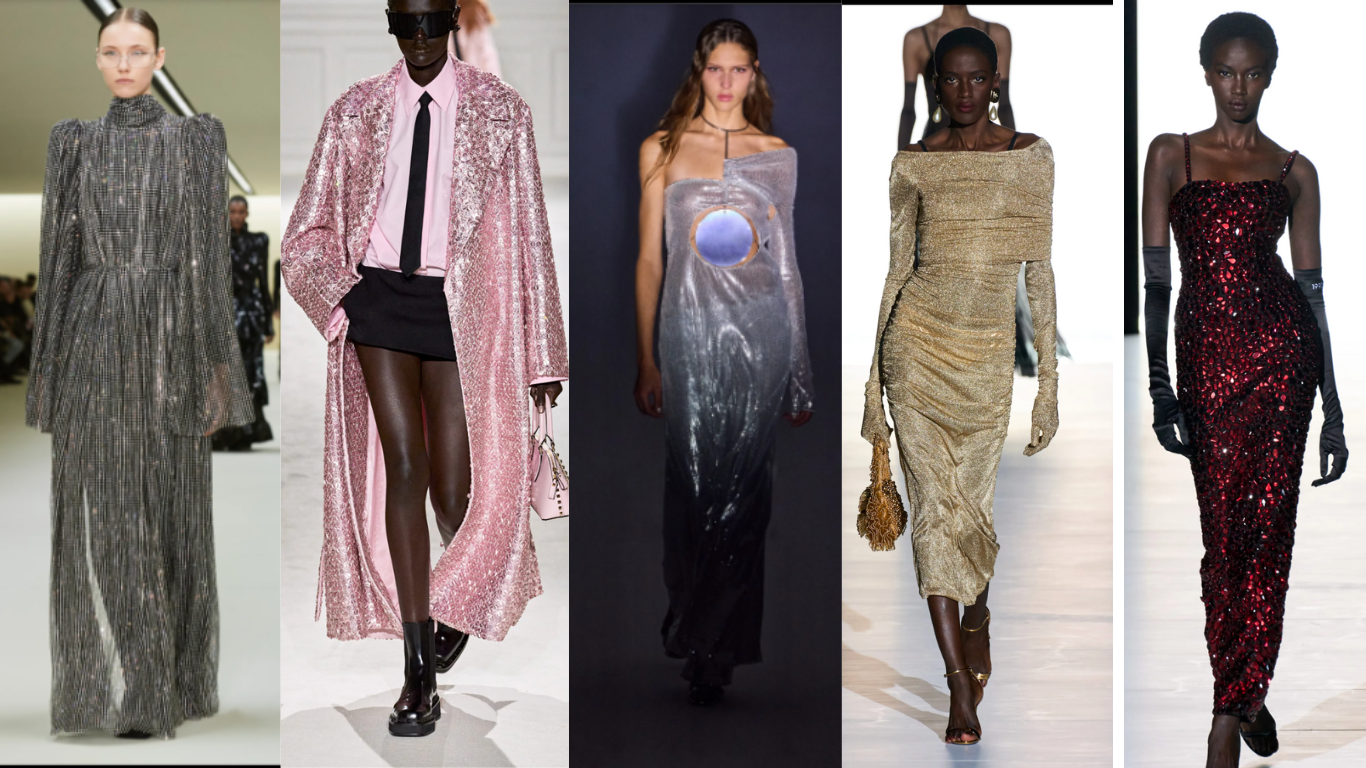 When it comes to nighttime attire during the holiday party season, you have two options: make an entrance wearing a sequined metallic dress or make an escape wearing a furry metallic coat. Regarding colour, precious metals added some much-needed colour to a season that was predominately black, grey, gold, pink and chocolate brown.
Browns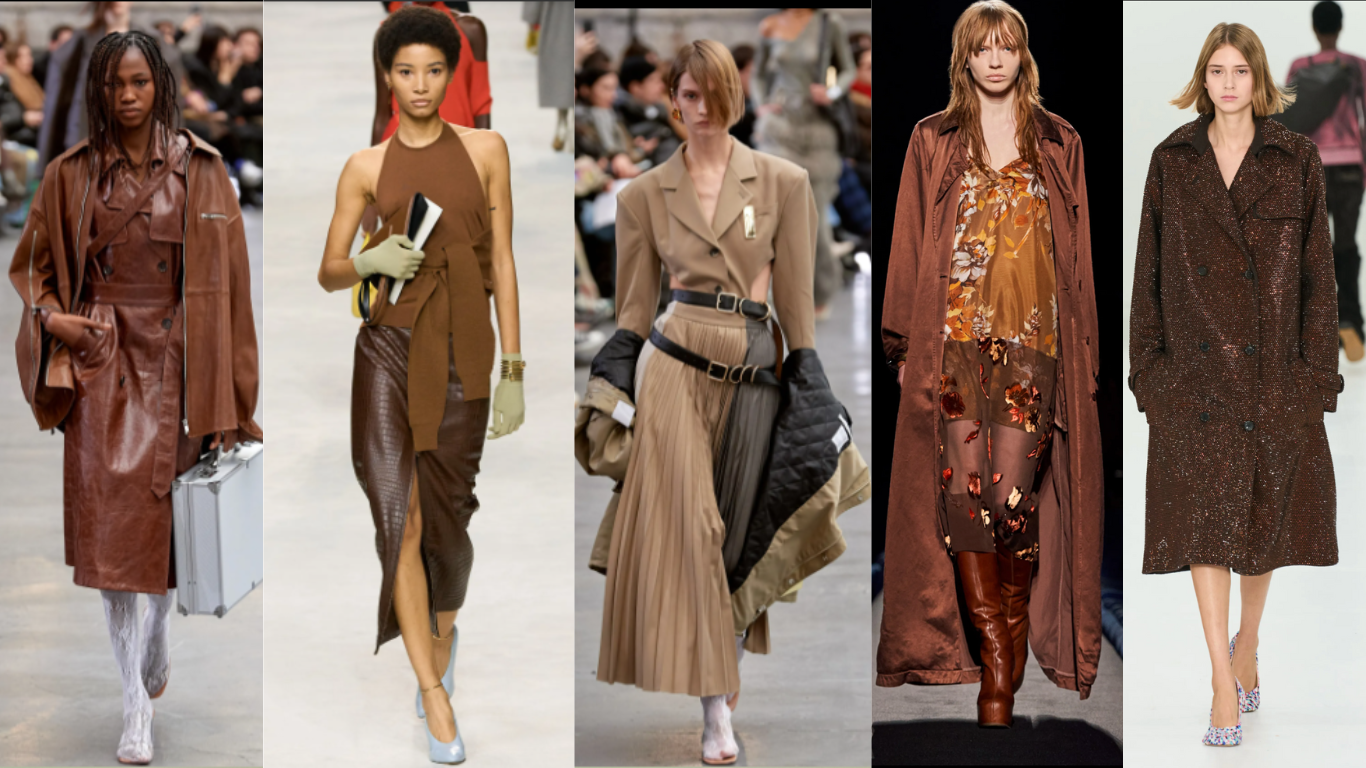 In the upcoming winter season of 2023, another color trend that will dominate the fashion scene is brown, along with various earthy tones. Renowned designers such as Y/Project, Miu Miu, Rokh, and Stella McCartney have prominently incorporated different shades of brown into their collections. This aligns with the overarching theme of workwear and dressing for success that permeated the runways, where brown hues were employed abundantly in the showcased outfits.