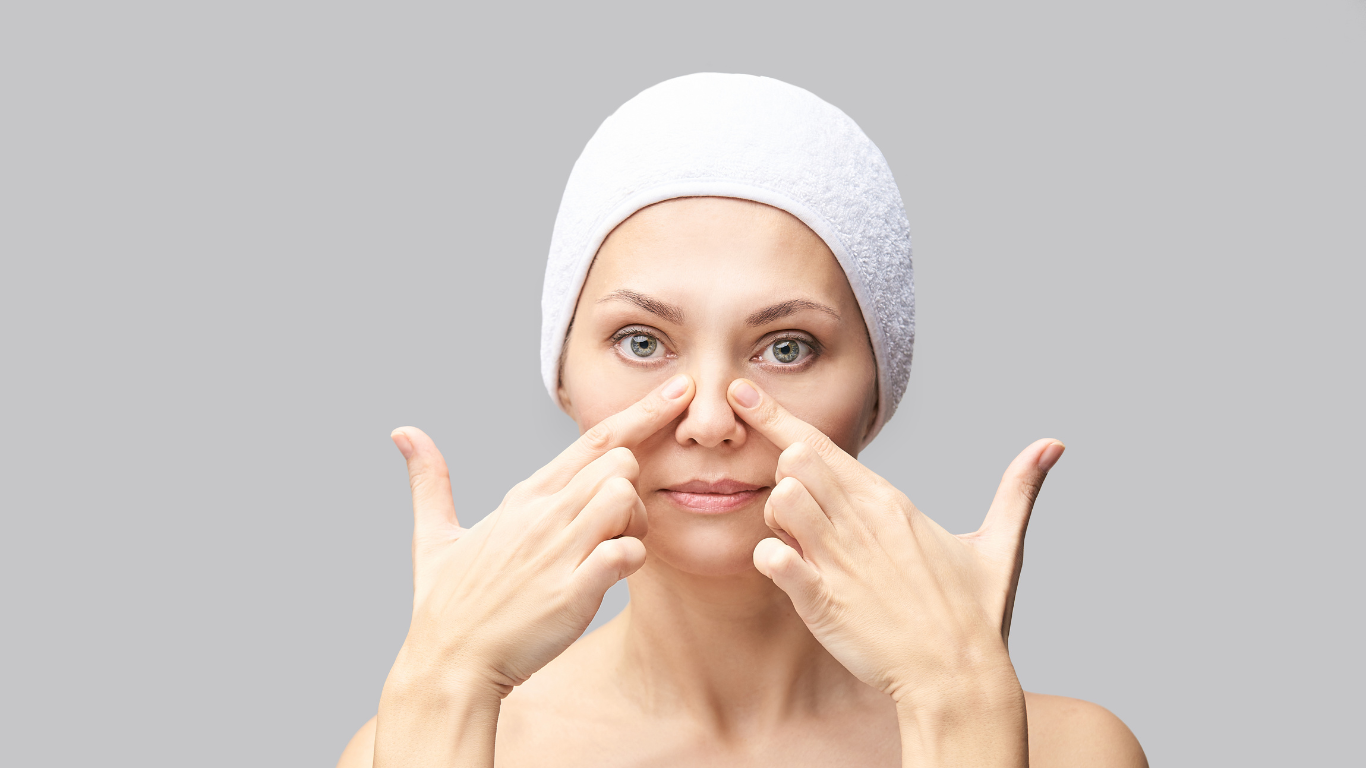 Puffy face or Facial bloating, also known as facial edema, refers to the swelling or puffiness of the face. It occurs when excess fluid accumulates in the tissues of the face, causing it to appear swollen or enlarged. This condition can affect various parts of the face, including the cheeks, eyes, lips, and jawline.
Facial bloating can be caused by a variety of factors, including:
Water Retention: Excess sodium intake, hormonal changes, and certain medical conditions can lead to water retention in the body, including the face.

Allergies: Allergic reactions to certain foods, medications, or environmental allergens can cause facial swelling.

Dietary Factors: Consuming high amounts of salt, processed foods, or alcohol can contribute to fluid retention and facial bloating.

Sinus Issues: Sinus infections or allergies can lead to inflammation and swelling around the eyes and nose, causing facial bloating.

Dehydration: Paradoxically, not drinking enough water can lead to the body holding onto fluid, resulting in facial bloating.

Inflammation: Inflammatory conditions such as autoimmune disorders can cause localized or generalized facial swelling.

Infections: Infections in the face, such as dental abscesses or cellulitis, can lead to swelling in the affected area.

Lifestyle Factors: Lack of sleep, excessive alcohol consumption, and smoking can contribute to facial bloating.

Medical Conditions: Certain medical conditions like thyroid disorders, kidney problems, and heart conditions can lead to facial swelling as a symptom.
It's important to note that occasional mild facial bloating can often be attributed to factors like diet or temporary changes in the body. However, persistent or severe facial swelling, especially when accompanied by other symptoms such as difficulty breathing, pain, or changes in vision, should be evaluated by a healthcare professional. They can help determine the underlying cause and recommend appropriate treatment or lifestyle adjustments.
5 Proven ways to treat puffy face immediately
Ice Facials – Using cold compresses or ice packs on your face can help constrict blood vessels and reduce inflammation, which can contribute to a less puffy appearance. Applying a cold compress for about 15 minutes can provide temporary relief from facial bloating.
Facial Tools – Facial tools like jade rollers, gua sha stones, and microcurrent devices can enhance circulation and stimulate lymphatic drainage. Regular use of these tools can promote a healthier-looking complexion by minimizing fluid buildup and puffiness.
Facial Massages or Face Yoga – Engaging in facial massage and yoga exercises can aid in improving circulation and lymphatic drainage. By gently massaging your face or practicing specific facial yoga poses, you encourage the removal of excess fluids and toxins, potentially reducing puffiness.
Hydrate – Drinking adequate water throughout the day can actually help reduce water retention and facial bloating. Staying hydrated helps maintain the body's balance of fluids, preventing the buildup that can lead to puffiness.
Sleep on your back – When you sleep on your back, you allow fluids to distribute more evenly throughout your body, including your face. Sleeping on your back can prevent fluids from pooling in certain areas, which can contribute to a less swollen appearance in the morning. 
It's important to note that while these methods can provide temporary relief and contribute to a less bloated look, they might not completely eliminate facial bloating hence, it is recommended to follow the correct diet and skincare routine to avoid a puffy face.