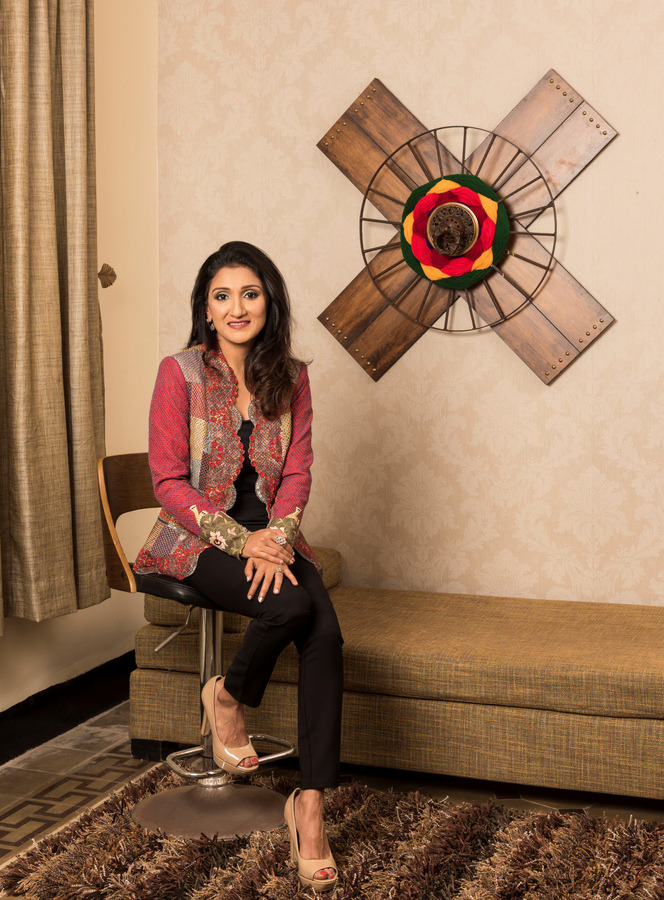 Arpita Bhandari, Interior Designer, Design Energist, Life strategist and Founder of Arpita B Design Studio
What drew you to become a designer?
I never aspired to be an ordinary interior designer, I always wanted to deliver just more than a tangible space to my clients. Being a certified Theta Healing Practitioner and a Life Strategist for the last 9 years empowered me to create a break taking modality of merging healing & designing.  I use this modality to activate emotions, actions, intuitions and designing. I transform the space by taking my clients through a process that enables them to understand their space better with intent and purpose revolving around Colours, Forms & Emotions. This intangible energy is then translated into creating tangible products and design spaces to emanate emotions of happiness, joy and peace changing and elevating the moods of their space. The spaces are intuitive, simple and humanised.
How do you find your inspiration to design a collection?
 I am inspired every day. Inspiration for me is the most important and primary element during the design process. It can be something as simple as the orange shade of a sunset, which I used as an accent colour for the recent holiday home in Pawna.  Beautiful objects are an endless supply of inspiration. Because I'm a visual person, images often give me the map to my final design. I design intuitively and it is catchy and what my eye is naturally drawn to. I like to break the interiors down, identifying how the room is pulled together. I avoid copying a look and like to follow my own intuition to design for my client's based on my own modalities.
My roots are connected to Mother earth (Nature). One can never go wrong with this style because nature is a part of our very being.. Nature is continuous and yet never the same, making it the best place to gather inspiration from. I believe allowing yourself to be surrounded by natural elements can transform you by bringing in peace in your environment. One also realises that you're a part of something much bigger than just yourself. Blurring the lines of nature within your space can recreate a divine abode of peacefulness and calmness which can do wonders for your MIND-BODY-SPIRIT. 
How do you define your signature style? 
Eating right, meditating, exercising, getting enough sleep, and practising mindfulness,… all definitely adds up to longevity and enhanced well-being. Nevertheless, I am becoming more and more aware of the role of my surroundings – the place in which I live, learn and work especially during these tough times of pandemic.
Healing inspired interior designing is an on growing design ethos. The residential and commercial spaces can greatly influence not only your physical health but also your emotional state of mind. That's where my signature style as a Design Energist flourishes with each of my clients. 
I believe that the amalgamation of the subconscious and the conscious mind is paramount to design energy. As a Design Energist, I create spaces that connect with my clients both aesthetically and functionally. At Arpita B Design Studio, we use the "Theory of Mind" to design and customise intuitive spaces and products.
What is your favourite thing to work with? 
 As an Energist, my favourite thing to work with is 'Emotions', a unique process that I discovered while practising alternative healing. I use my clients' emotions which are stored in their subconscious mind as a form of energy to translate intangible abstract thoughts into tangible objects. I design and customise intuitive spaces and products. I believe that our home is an outward manifestation and reality of our inner experiences, memories, beliefs – basically a reflection of you.
How we influence our surroundings, our surroundings influence us. We design on the basis of an integration of our mind, body and space through the amalgamation of three significant elements, colors. Forms. Emotions play a vital role in our surroundings. 
What is the thing that you hate doing? 
 I don't hate anything as hate for me is a very strong word. I love to explore and experiment but what we don't like is plagiarism. I like to be as authentic as possible to myself and my clients. Sometimes when the circumstances are not in our hands and work is not happening as per the plan, is what sometimes bothers me. I allow myself to feel the frustration in that moment and soon come into the acceptance of the situation embracing the present for what it is through my meditative process.  
What part of the design process do you enjoy the most? 
As a Design Energist, it's my responsibility to be able to find the core where the conscious and subconscious meet. And to amalgamate it with creativity and design. I believe in taking time to consider the journey of each client, from start to finish. Each space or product is created by delving into the depth to have a deeper meaning, making it a significant part of the space.
 I work with the client personally to understand their needs to develop a blueprint of the piece or while designing their space by choosing colours, forms, textures, patterns and more which will make their space aesthetically pleasing and harmonious. 
How do you choose a colour palette? 
I choose my colour palette very uniquely as I perceive colours differently. I believe our mental and emotional state is strongly affected by the spaces we live in and the colours that it withholds. Colour plays a very significant role in our lives. Colour is a source of pleasure for everybody. Colours can change moods, reduce tensions, cause excitement and sometimes have a soothing effect on a tired person.
I take the client through an intuitive process to discover their colour connections. I believe every space holds imprints of memories from the past of either positive or negative feelings and emotions. These feelings and emotions get absorbed in the elements lying in our space in the form of energy. Through COLOURS we express our abstract thoughts.
 Are there any challenges you are facing during the pandemic and how are you dealing with them? 
We're going through a lockdown currently. But I see it a little differently. It's the planet vibrating positive energies on us and the situation shall turn around soon.
Definitely, these tough times have changed a lot in the design industry. As designers, we have a new list of considerations to keep in mind while designing spaces. Fortunately, since January 2021 we have been actively working. Grateful to our clients to have had faith and trust in us during these trying times. 
What would you like to see more in the Indian interior decor industry?
As a Design Energist, I would like to see everyone living in a space that is a reflection of themselves. Elements and decor of the space emitting or inspiring of who they are as a person. The space reflecting their goals & desires. Especially during these times as everyone is spending a lot more time in their space and looking to add layers of comfort to their space. I think the trend will be really inspired by people's disconnect with the outside world and a yearning to create a home that has a bit more flair, personality and colour. There is a sense of nostalgia as one spends time on throwbacks, delving into the past and introspecting. It's time to live in the present. The pandemic has taught us one thing right, that you can't rely on the future but to live in this moment. Let your space emanate your desires through tangible products becoming a relevant part of your space. Moving to a more subtle colour palette that is calm and soothing.