There are numerous classic necessities when it comes to skirt styles. Learn about the various types of skirts and which suit various body types the best.
There is a reason why skirts are a wardrobe necessity: a skirt from ten years ago might still be in style today. Any type of skirt can feel current when worn with a fashionable top or classic when worn with a button-down shirt. Skirts are the ideal clothing items to experiment with.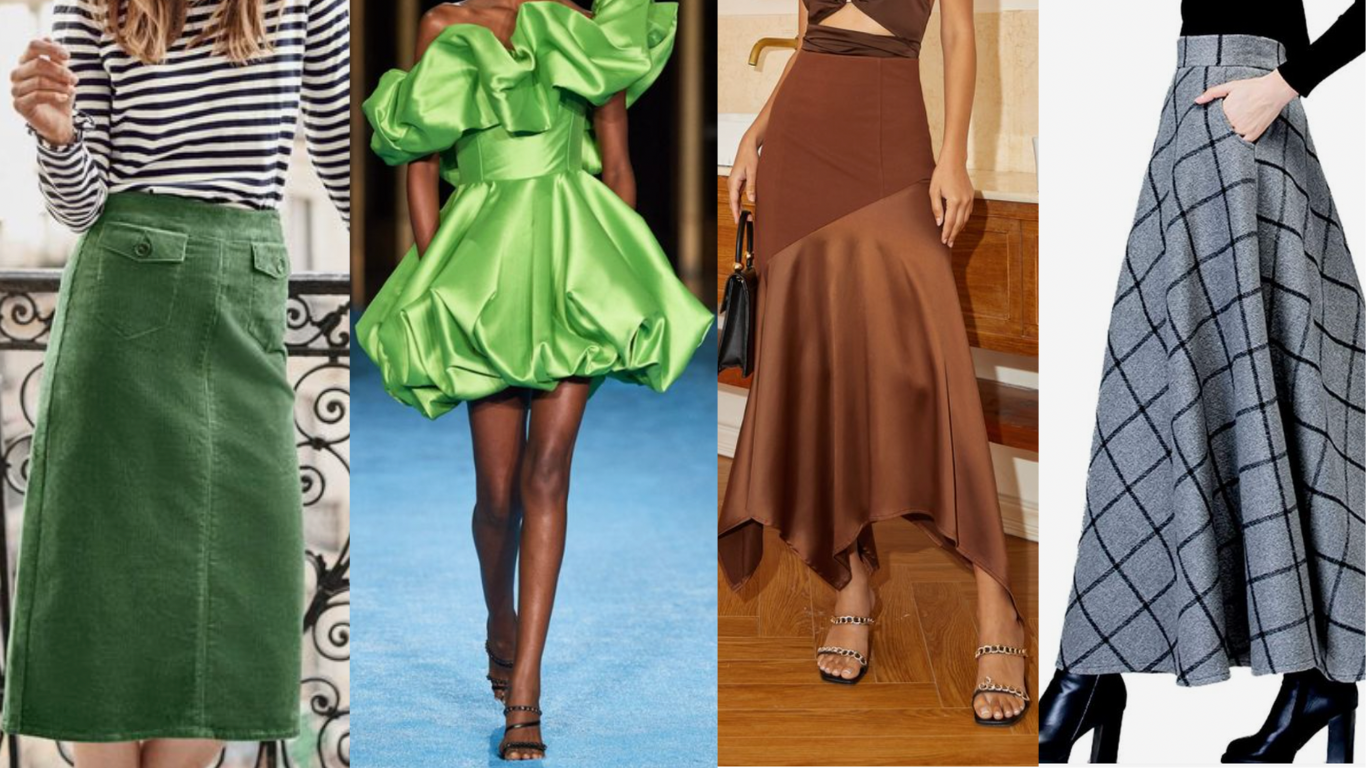 A-Line Skirt
A-line skirts are precisely what they sound like: they are designs that resemble the letter "A." This sort of skirt is fitted at the waist and flares out at the bottom, typically hitting just above or at the knee.
Bubble Skirt
You feel brave? Since the 1950s, the eye-catching bubble skirt has been a favourite due to its puffy form and fabric that tucks under at the hem. Although it's become a common element of prom gowns, there are also informal bubble skirts that are ideal for a day out.
Asymmetrical Skirt
Consider an asymmetrical skirt, which has hemlines of various lengths, if you want a playful variation on a skirt. It might have a bias cut, with one side being lower than the other, across the body. A shorter front hem and a longer back hem is another interpretation.
Circular Skirt
A circular skirt has a hem that forms a perfect circle and is also referred to as a swing skirt when it extends past the knee. This design is frequently used for tennis skirts since it allows for effortless mobility and has a fitted waistline and flared silhouette.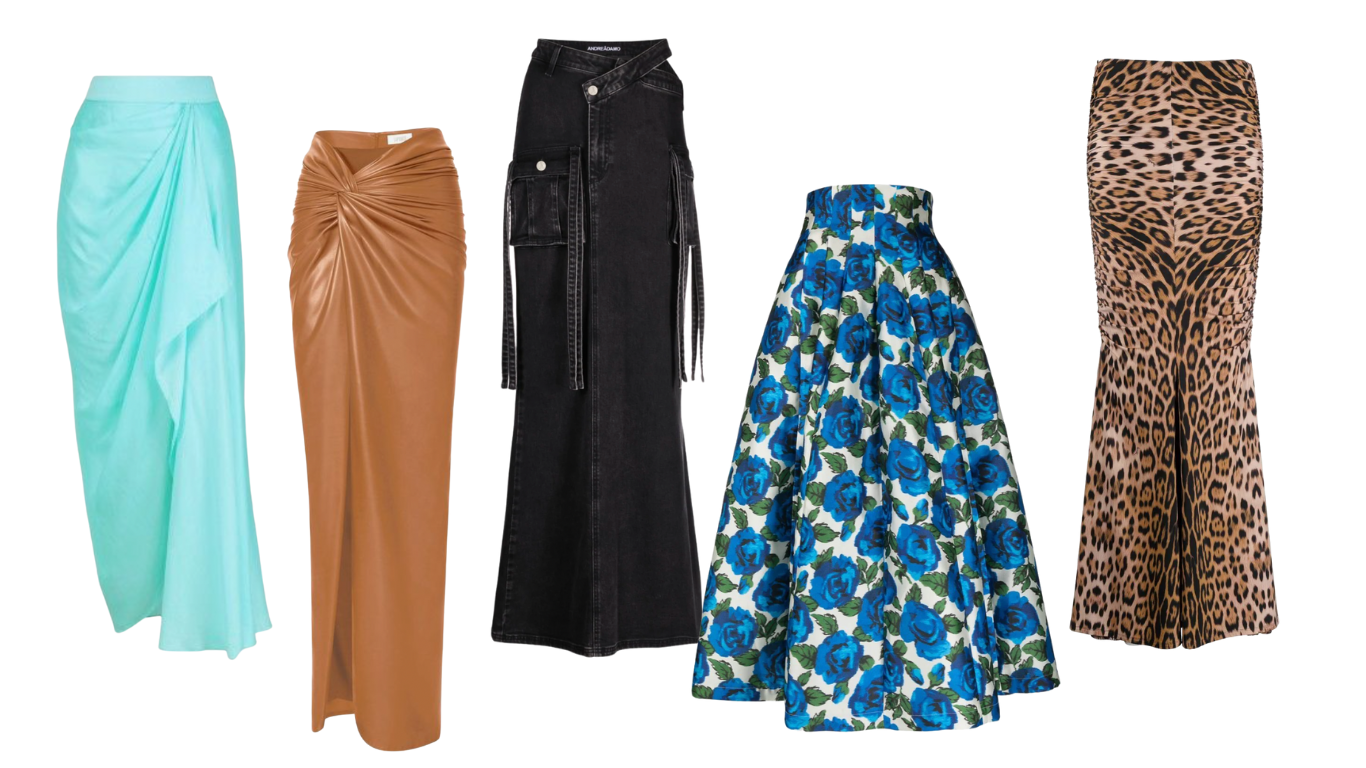 Cowl Skirt
This style of skirt gives the appearance of being voluminous in the front by adding fullness just below the waist.
Draped Skirt
A draped skirt has fabric fullness or gathering on one side to resemble a playful sarong.
Maxi Skirt
The hem of a maxi skirt is long and falls at the ankle or lower.
High-waist Skirt
This high-rise kind of skirt hugs your natural waist and draws attention to that area of your body. It's a timeless design that looks great with both A-line and pencil skirts.
Mermaid Skirt
This particular style of skirt displays a long, flared tail that resembles a mermaid's.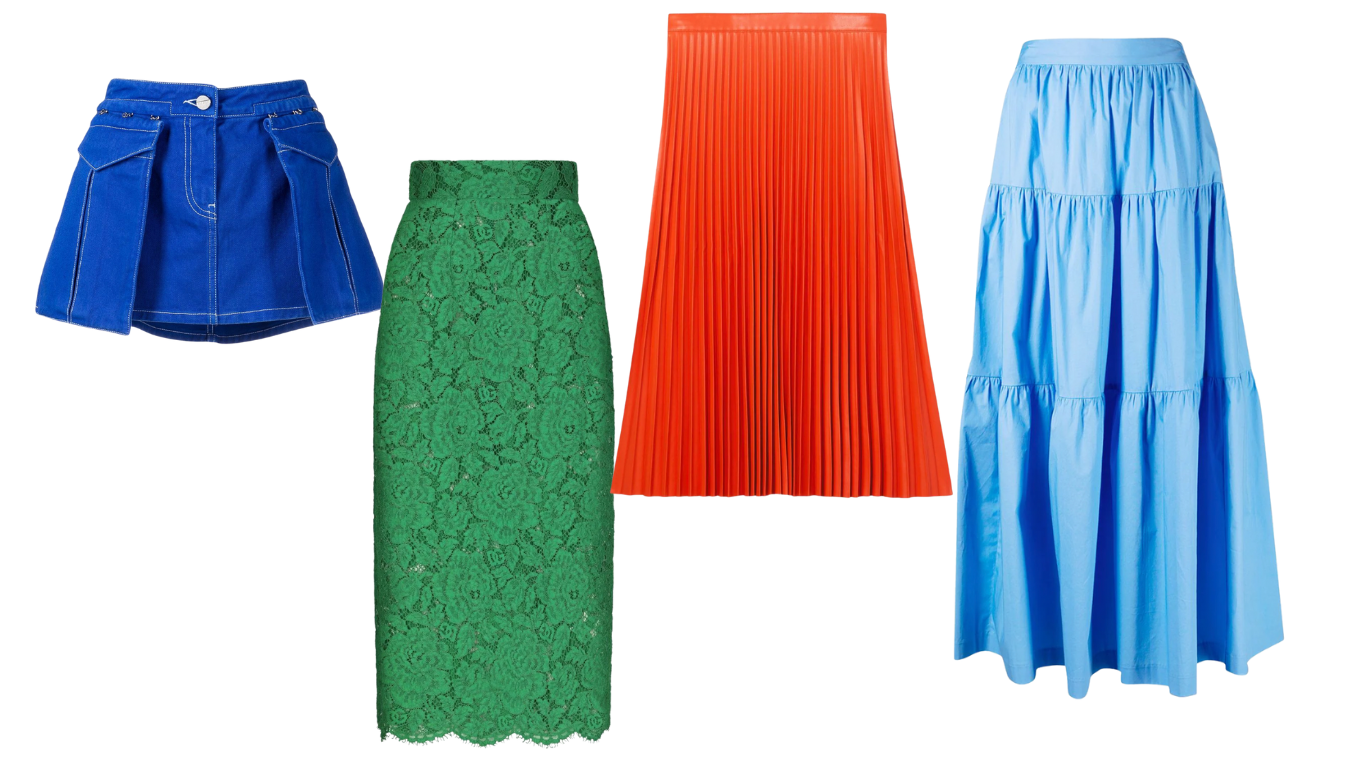 Mini Skirt
One of the 1960s' most iconic looks was the miniskirt. Its high, above-the-knee hemline is referenced in the name. Miniskirts come in a variety of styles, such as high-waisted miniskirts and micro miniskirts that reach at least the middle of the thigh.
Pencil Skirt
A pencil skirt has a straight cut that narrows at the knees and is popular among women because it offers a polished appearance in professional situations.
Pleated Skirt
The words "pleated skirt" may conjure up images of kilts or school clothes. There are actually many different kinds of pleated skirts, including both ones with wide and narrow pleats. There are numerous lengths available for pleated skirts.
Tiered Skirt
A tiered skirt is a terrific choice for a playful bohemian appearance. The hem of the skirt is embellished with tiers of gathered, ruffled fabric in this style. It gives off a relaxed, flowy appearance.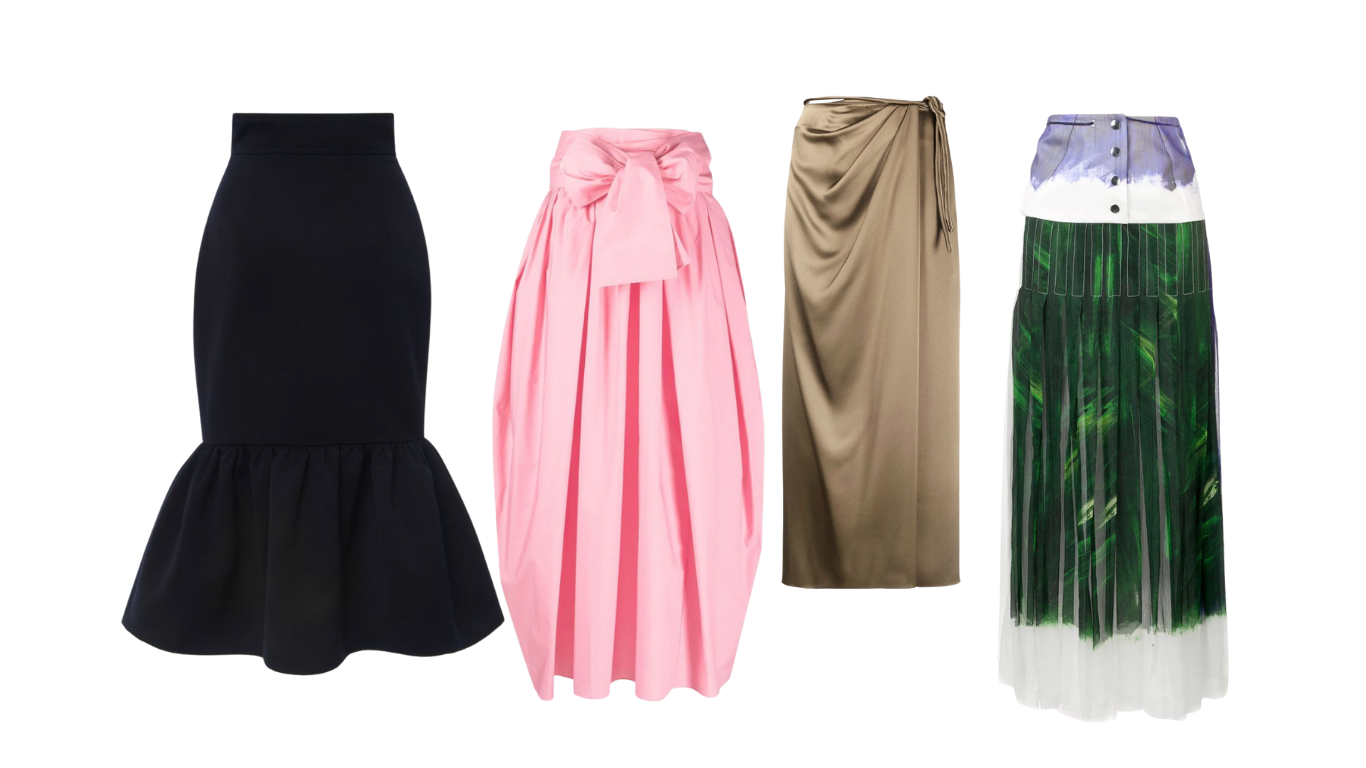 Trumpet Skirt
A trumpet skirt has a tight fit from the waist to the top of the hem and flares out at the bottom for a distinctive appearance.
Tulip Skirt
This kind of skirt is wider in the middle than at the hem or waist due to its overlapping panels and asymmetrical hem. The final appearance resembles an inverted flower.
Wrap Skirt
Even though the idea behind this skirt style is straightforward—a one-piece skirt that wraps around the body and is tied with ties or a button—it nevertheless manages to look chic and put-together. Additionally, this skirt fits all body types.
Yoke Skirt
This design, sometimes referred to as a hip-hugger skirt, has two panels: a yoke that wraps around the hips and the skirt that follows. Asymmetrical, straight, or triangular shapes are all possible for the yoke itself.
The Best Skirt Style for Your Body Type
You can find it difficult to decide which sorts of skirts suit your form best given the wide variety that are available. There are a variety of skirts that will look great on any body type.
Petite
If you're petite size (5'1″ or shorter), look for a skirt that doesn't overwhelm your small figure. Some ideal choices are:
Hourglass Shaped
You have an hourglass body if your waist is thinner than your hips, which are almost the same size. These skirts will draw attention to your tiny waist:
Pencil skirts
Circular skirts
High-waist skirts
Mermaid skirts
Wrap skirts
Pear Shaped
Try some of these skirt styles if you want to balance your bust, waist, and hips and have broad hips and narrow shoulders:
A-line skirts
Circular skirts
Wrap skirts
Asymmetrical skirt
High-waist skirt
Rectangular Body Shape
If you have a long, lean body, take advantage of your height by choosing skirts such as:
Miniskirts
Pencil skirt
A-line skirt
Wrap Skirt
Tulip skirt
Cowl Skirt
Apple Shaped
A wide middle and narrow shoulders and hips define an apple-shaped physique. With one of these kinds of skirts, those with this figure can accentuate their waistline:
High-waisted skirts
A-line
Bubble skirt
Trumpet skirt
Mermaid skirt
Tiered skirts
Pleated skirts