Have you ever felt that you are on a quest to find right type of dresses for you? Finding fashions that suit your figure and personality can be difficult because there are so many different designs, silhouettes, and lengths available. With our comprehensive reference to all the various dress types, we can be of assistance.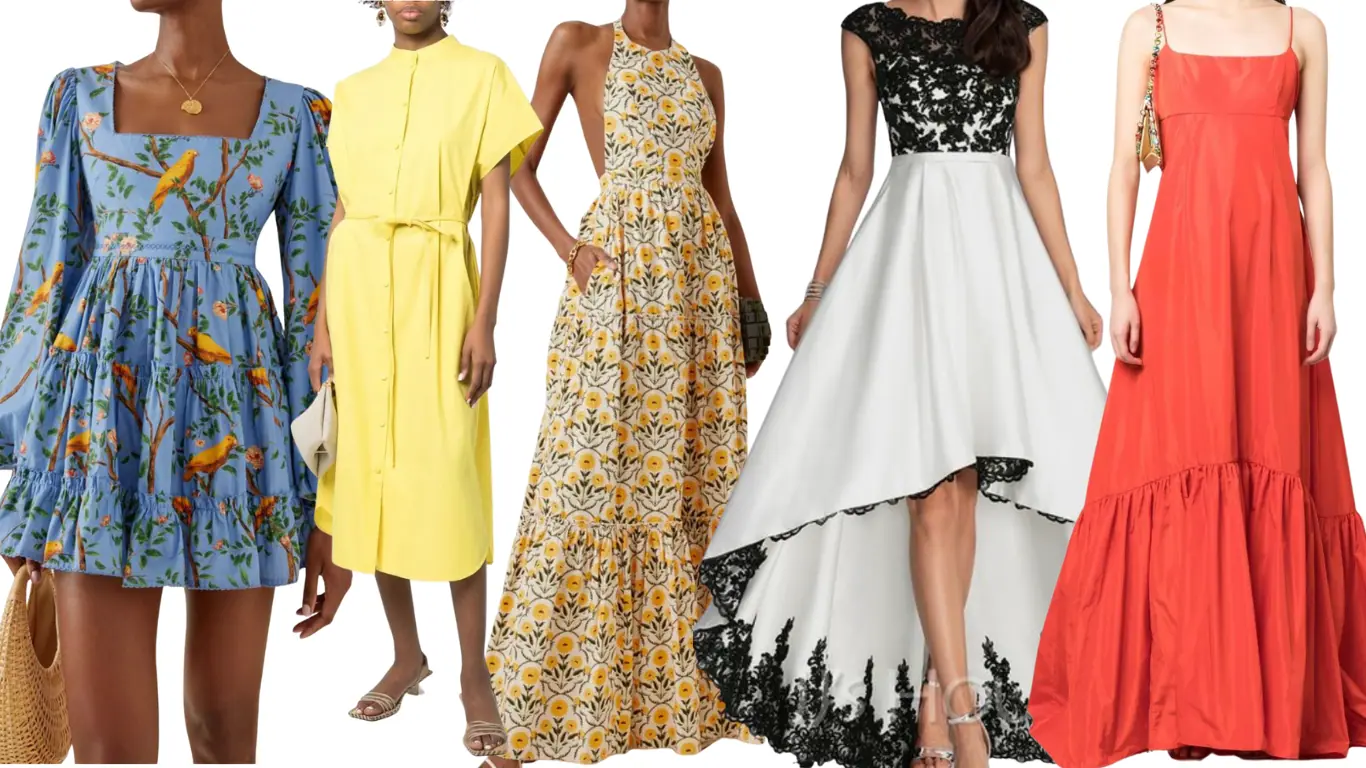 Dress Types by Length
Minidresses
The renowned minidress, which ends just above the knee, initially entered the fashion scene in the 1960s and has since remained a staple. Legs look great when worn with minidresses.
Midi dresses
Are you looking for a dress that can be worn everywhere? Observe the midi dress now. It works well in conservative contexts and can be dressed up or down because of its hemline, which falls between the knee and the ankle. Because midi dresses come in a variety of necklines, fits, and sleeves, they flatter women of all body types.
Maxi dresses
An elegant maxi dress that falls to the ankle and may even reach the floor is one of the easiest styles of clothing to pull off. The appropriate accessories (such chandelier earrings or a classy pair of heels) make it simple to spruce up this casual look, making it suitable for lounging around the home or at the beach.
Dress Type by Waistline
A-line dresses
The A-line dress is a timeless, feminine style that flatters individuals with pear-shaped figures since it highlights the shoulders and cinches at the hips before flaring out. Its adaptability makes it a go-to look as it can effortlessly change from sophisticated to casual with the addition of chic accessories.
Wrap dresses
The one side of the dress wraps over the other and ties at the waist in this now-classic style, which is exactly what it sounds like. To keep it closed, it frequently features a snap, hook, or button in the front. A wrap dress is perfect for folks with an hourglass figure since it creates
Empire line dresses
An Empire-waist dress, which gained popularity in the seventeenth century, gathers beneath the bust and flatters both small-chested and tiny frames because it cinches at the torso's slimmest point and creates the appearance of longer legs.
Princess dresses
A princess dress is perfect for you if you've ever wanted to live as royalty for the day. This style highlights the shoulders and arms since it is fitted at the bodice and waist with a flowing skirt. Princess gowns are quite popular as wedding dresses and look great on all body types.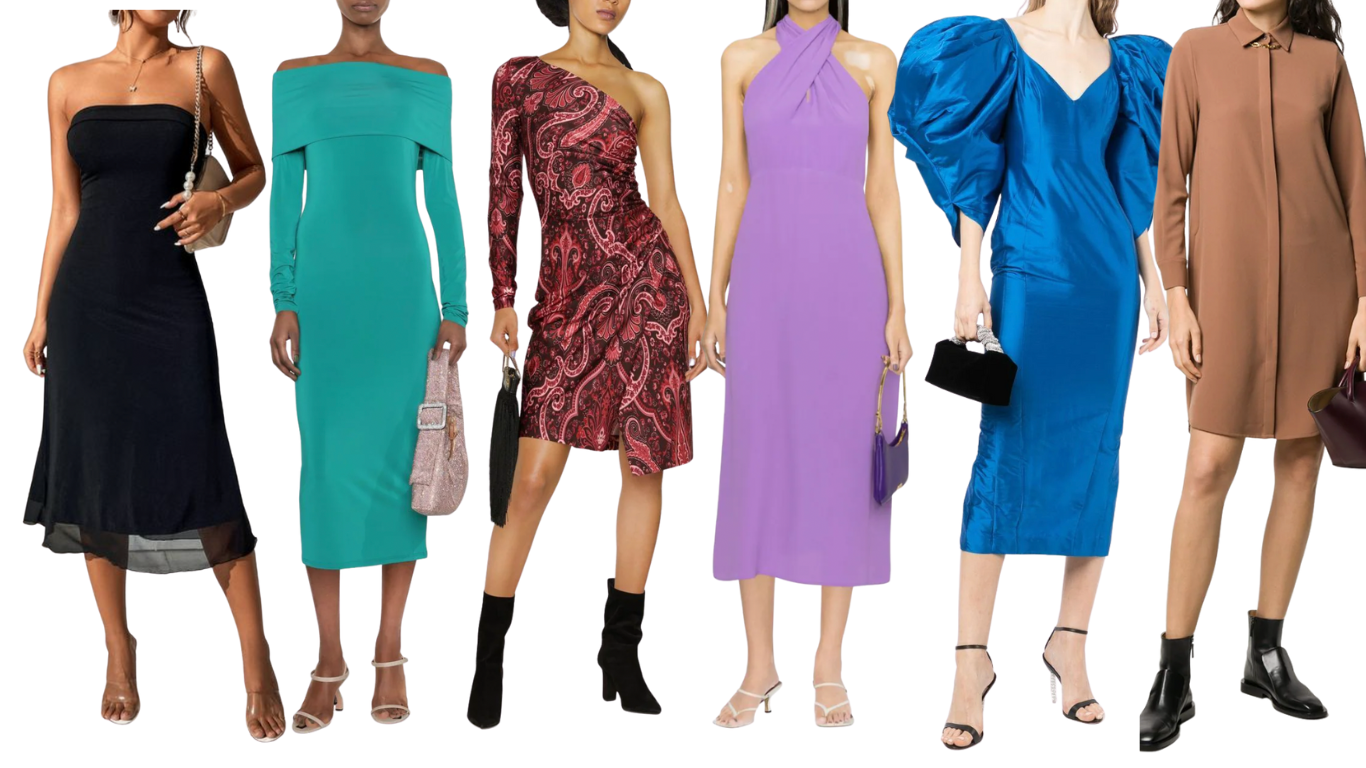 Dresses by Sleeve Styles
Tube Dresses
Do you want to flaunt your shoulders and arms? This style, which has neither straps nor sleeves – strapless dress. Wedding gowns frequently feature strappy attire, which can range from casual to dressy.
Off-shoulder dress
A strapless dress could seem uncomfortably exposed at times. Try an off-the-shoulder design for something more understated yet still feminine. It conceals the tops of your arms while yet showcasing your shoulders.
One-shoulder dress
A one-shoulder dress is a great option if you want a dress style that will draw attention. Its asymmetry creates a strong statement, and one-shoulder dresses come in a variety of sleeve lengths, from long to spaghetti straps, so it can be worn all year long.
Halter dress
Halter dresses, which feature no sleeves and straps that tie at the neck and are particularly popular with women who wish to bare their shoulders, have been a summertime favourite for decades. It's another entertaining choice for someone seeking for a unique take on a sleeveless dress.
Short sleeves dresses
Short sleeve dresses come in various styles, including cap sleeves, flutter sleeves, puff sleeves, kimono sleeves, raglan sleeves, cold shoulder, dolman sleeves, and t-shirt dresses. Cap sleeves cover the shoulder, while flutter sleeves are loose and flowing. Puff sleeves add volume, kimono sleeves offer a relaxed fit, and raglan sleeves have a sporty look. Cold shoulder dresses have shoulder cut-outs, and dolman sleeves create a loose silhouette. T-shirt dresses are casual and comfortable. Each style adds a unique touch to short sleeve dresses for different occasions.
Long-sleeve dresses
A long sleeve dress makes sure you look fantastic while staying comfortable on brisk autumn days and chilly winter evenings. Anyone who wants to cover their arms at any time of year should choose this option. Anyone can select a long-sleeved style that suits their body shape because it comes in a number of silhouettes.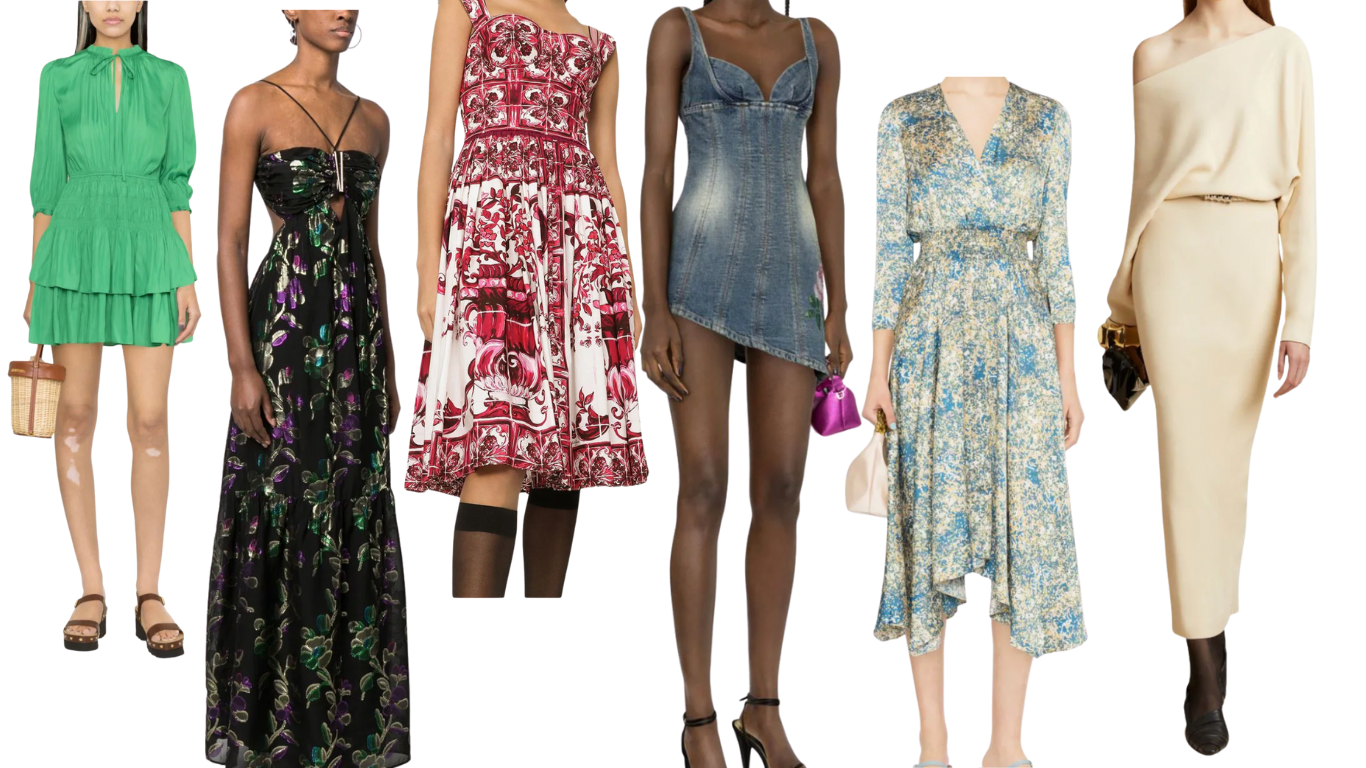 General Types of dresses
Shift dresses
Adore the '60s? Then you should wear this plain, boxy dress. A shift dress is ideal for persons with long, slender body types because it is short and typically sleeveless—especially if they want to show off their legs. Utilise colour blocking, striking prints, and knee-high boots to boost the mod mood.
Sheath dresses
Working in a traditional office might be difficult for people who still want to be themselves. the sheath dress appears. This straight-cut, form-fitting fashion hits at or just above the knee and cinches at the waist. The straightforward form is attractive, especially on people with hourglass figures, and is available in a range of hues for further visual interest.
Sweater dresses
Nothing is more appropriate for the fall season than a jumper dress, which can be found in a variety of fits, from fitted to loose. It is simultaneously warm and stylish, and it looks wonderful with sneakers for a trip to the pumpkin patch as well as knee-high boots for a casual supper.
Pencil dresses
The pencil dress, which is fitted at the waist and ends at the mid-calf or below the knee, is the ideal choice for date night attire. Its exquisite design can be modest if you choose one with a high neck (bonus: the latter is also good for work), or sensual if you opt for one with a plunging neckline.
Shirt dresses
Reach for a shirtdress for a casual style that is chic and simple. Similar to your favourite button-down shirt, you can dress up or down this look with the right accessories. You want something informal, right? Try wearing a denim jacket and white trainers. Going out on the town for the evening? The outfit is finished off with stylish belt and knee-high boots.
Slip dresses
A slipdress in silk, satin, or lace offers a simple yet romantic impression for a date night, a party, or even a semiformal wedding. If you really want to embrace the nostalgic appeal of this iconic '90s look, try wearing combat boots and layering a T-shirt underneath.
Smock dresses
The smock dress is a fashionista's dream for individuals who are constantly on the go yet still want to look chic. It's a simple dress that you can throw on before racing out the door, whether it has long sleeves or straps (or everything in between). You'll probably enjoy wearing it in your house as much as you do outside thanks to its loose, comfortable design. Consider accessorising it with striking pieces of clothing or going casual with trainers for a more relaxed appearance.
Sundresses

Is there anything better than a sundress when the weather is hot? (We don't believe that.) This loose-fitting dress with spaghetti straps and a wide neckline is soft, light, and feminine and may be accessorised with both casual and glamorous accessories. You can find different designs like flowing, thin-strap maxi sundresses or short sheaths with broad straps in addition to the typical nipped waist and A-line skirt.
Body-Con attire
A body-con dress is the way to go if you want to step up your fashion game when you go out for a night on the town. This figure-hugging design looks wonderful on those with hourglass proportions since it embraces all of your contours. Be prepared to command attention.
Dress Types for Body Shape
Dresses for all shapes
A-line dresses
Smock dresses
Shirt dresses
Asymmetrical dresses
high-low dresses
Maxi dresses
Hourglass shape
When it comes to dressing for an hourglass body shape, the goal is to highlight your curves and show-off the balance between your bust and hips while defining your waist. Here are some dress styles that flatter the hourglass figure:
Body con dresses
Wrap dresses
Belted dresses
Pencil dresses
off-shoulder dresses
Apple shape
When dressing for an apple-shaped body, the goal is to draw attention away from the midsection and create a balanced silhouette. Here are some dress styles that flatter the apple shape:
Strapless dresses
Empire waist dresses
shift dresses
Pear shape
When dressing for a pear-shaped body, the goal is to balance your proportions by emphasising your upper body and defining your waist while minimising attention on the hips and thighs. Here are some dress styles that flatter the pear shape:
Tube dresses
Off-shoulder
puff-sleeves
Empire waist dresses
dark colored bottom dresses
Dresses for rectangle shape
When dressing for a rectangular body shape, the goal is to create the illusion of curves and add definition to your figure. Here are some dress styles that flatter the rectangle shape:
Wrap dresses
Princess dresses
Tiered dresses
Sheath dresses
As we always say, these suggestions are meant to serve as guidelines, and it's essential to try on different styles and experiment to find what makes you feel confident and comfortable. Embrace your unique body shape and focus on highlighting your favorite features.