Plum Matte in Heaven Liquid Lipsticks claim to be non-drying and smudge-proof, as well as being vegan and cruelty-free. Well, this is where we had to give these a shot and leave it for you to figure out if they're really worth the hype or not. We couldn't resist but put it down that these lipsticks are absolutely matte (as they claim to be), they do not really feel dry on the lips if applied the right way (scroll past to see the checklist we've made so you don't have to). And well, you're in luck if you want to test a range of shades but don't want to break the bank. They come in ten iconic classic shades that every beauty lover should acquire, and each lipstick costs INR 499.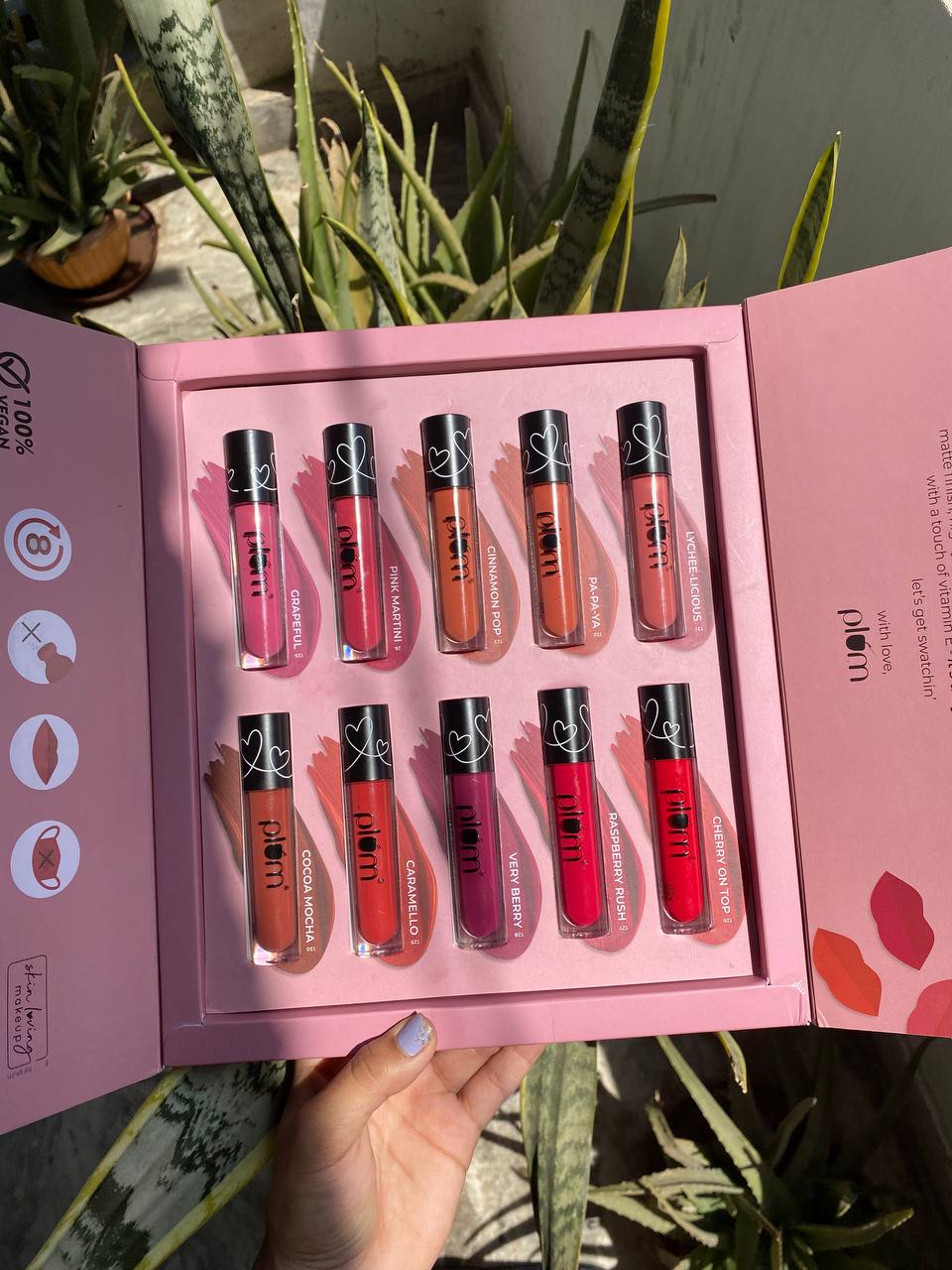 Is it pigmented enough? The one question that we all have been curious about and these lipsticks left us completely awestruck. If you've ever wished for a "one-coat wonder" liquid lipstick, your search is now over. This lipstick has excellent pigmentation. A single stroke is all it takes to get an accurate color payoff on your lips. All of this is clear from the first swatch or swipe over the lips, which glides across the lips with full pigment like a figure skater on a freshly iced rink.
This lipstick's texture is just fantastic. It feels super light and sits comfortably on the lips. It slides over the lips as well, but with a slight tugging and pulling. My lips do not become flaky as a result of using it which is just *chefs kiss*. Plum Matte in Heaven provides you a matte effect on the lips right away, so you don't have to wait for it to settle. It has a light formula, as the name implies, and oh boy how could we not love that!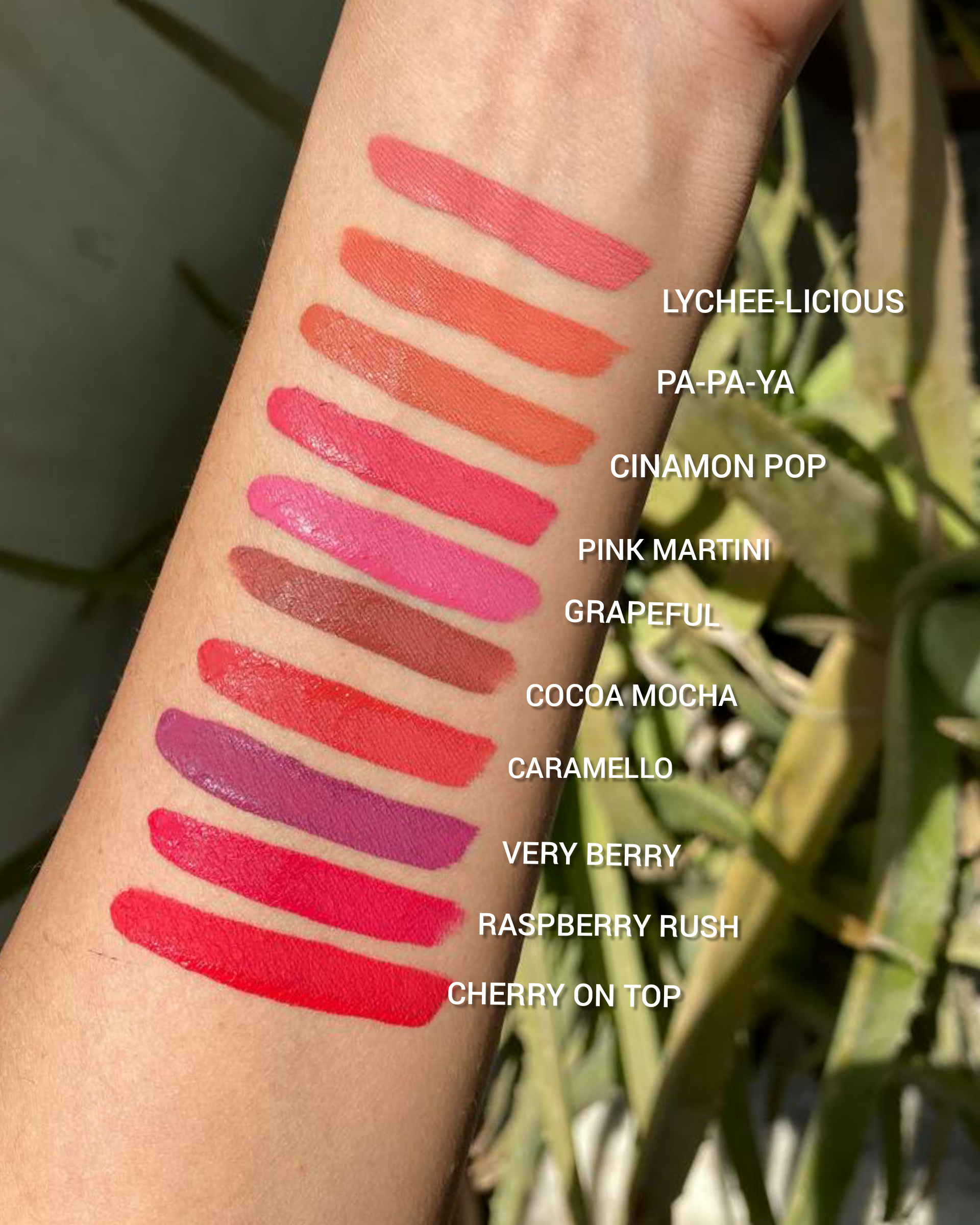 About the formula, it is soothing and nourishing, thanks to the use of vitamin E. And, let's face it, matte lips that are light and easy on the lips are uncommon; plum called the dibs being the best (again!). Furthermore, the scent is very light and does not irritate or linger for long. Oh, and don't be fooled by luxury stereotypes: this product is vegan and cruelty-free. It's something we'd adore. 
Lastly, is the lasting effect impressive or a hoax? The Plum Matte in Heaven Lipsticks have an opaque, matte consistency that dries to a transfer-proof finish; they're also smudge-proof, maskproof, and can even withstand a light meal. Multiple meals and beverages throughout the day, on the other hand, will inevitably fade it. On the plus side, it does leave a slight tinge before totally wearing off (you'd have to use an oil-based cleanser to remove it altogether), which we love!
To make it easy, we've also compiled the must-have checklist for you to make the most of your matte lipsticks- 
exfoliate your lips to have a smooth canvas before anything to avoid any sort of cakey look!

apply chapstick- one coat preferably (always before) to keep your lips hydrated in this already-so-dry weather. 

To make your lipstick last even longer, pull apart the layers of tissue, place one tissue on your lips, and apply translucent powder on top of the tissue.

Make sure you line your lips to make them look fuller. You may overline the top and the bottom lips and leave the sides to be lined precisely rather than overdoing them. This creates a subtle plump effect that doesn't look messy or 'too much.' (yet another hack you might've missed doing whilst applying lipsticks!) 

And hey, if you don't have an oil-based cleanser to remove the lipstick after a long day, don't be irritated just yet. You might just grab Vaseline and a tissue to wipe it clean. 
Drum roll to the Verdict of Plum Matte in Heaven Liquid Lipsticks-
We're no strangers to the notion that Plum has been loved all this time. And having to put things to the test was an experience that left us questioning if the negatives outweigh the benefits. Is this something we recommend? Absolutely. While you're contemplating whether or not they'll bring their A-game to your lips, It's worth giving these bad boys a chance because they'll blend perfectly with your spring wardrobe!