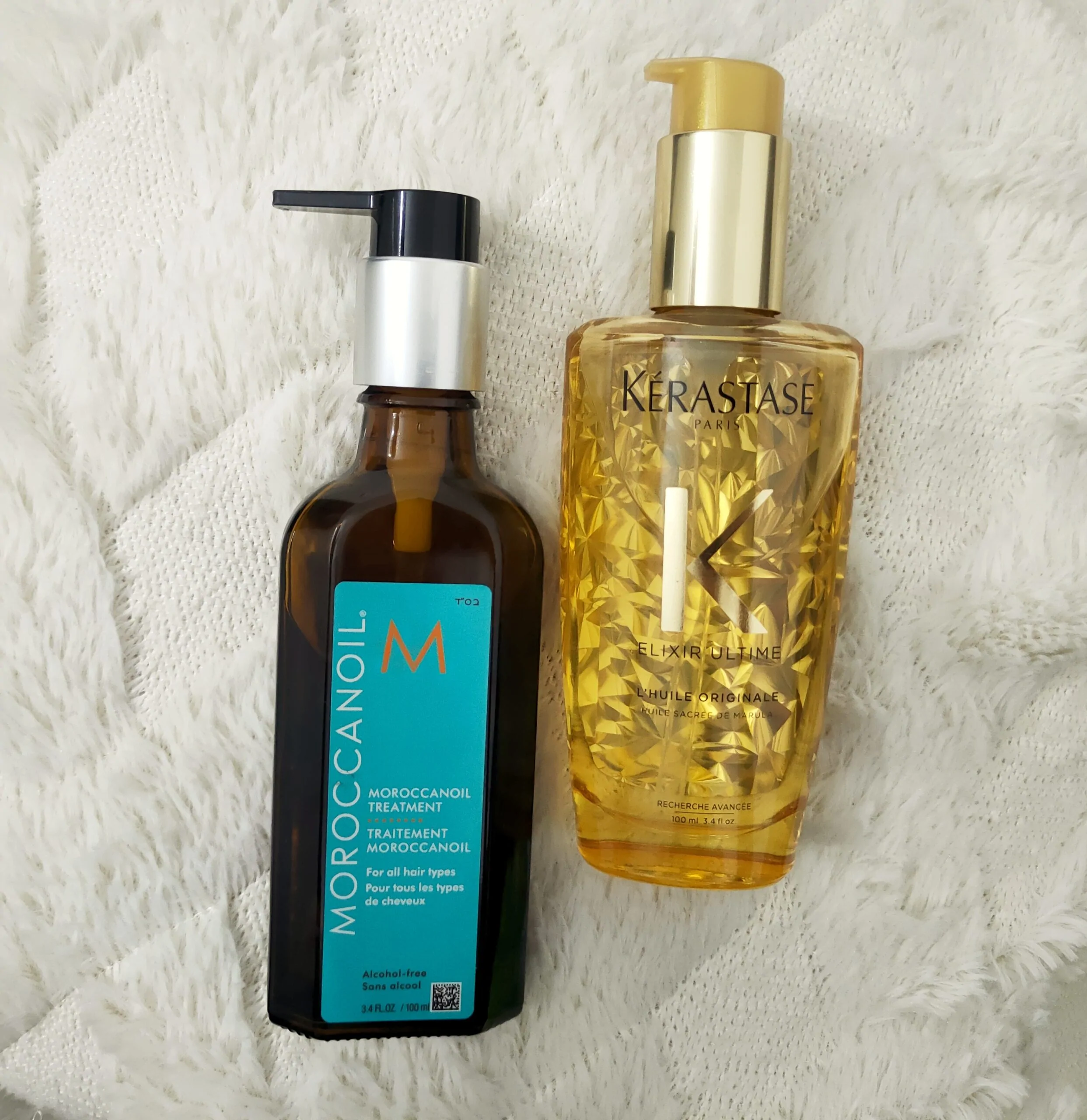 We're certain that you've spotted Kerastase and Moroccanoil on the racks of your nearby salons or beauty stores. Which one, though, should you pick?
Who doesn't have damaged hair that needs to be repaired? I know I certainly do. Moroccanoil Treatment and Kerastase Elixir Ultime are the two most popular products known to be de-frizz hair. There are a few factors to consider when deciding between the two, according to your hair type.
Here's what I think about it.
Moroccan Oil Treatment
Moroccanoil Treatment is a multipurpose, hydrating, and residue-free, leave-in conditioner. It fades in seamlessly and even outs hair texture, leaving them soft supple, and frizz-free. Its composition carries essential proteins like fatty acids, omega-3 oils, vitamins for luster, and antioxidants for protection, this hair treatment totally transforms and restores. It absorbs quickly to fill up gaps left by heat, style, and environmental damage in the hair.
How to use- From mid-length to ends, apply a tiny amount to clean, towel-dried hair. Allow to air dry or blow dry. It can be used to control flyaways and condition dry ends.
Kerastase Elixir Ultime
It is a classic leave-in oil that adds shine to tresses. It rapidly smoothens hair, giving it up to 96 hours of frizz control while also providing heat protection up to 230 degrees. Hair is left nourished, lustrous, and amazingly scented. With lightness, it activates a powerful brilliance, and hair strength is rejuvenated.
How to use- As a leave-in product, apply 1 or 2 pumps to damp or dry hair. Begin with the mid-lengths and make your way to the ends. As desired, style.
What's better?
Certainly, both products will work for you but if your hair type is dry and you're hoping to get rid of the perennial frizz. Kerastase will show more effective results. In terms of price as well, Kerastase is a bit cheaper as compared to Moroccanoil.
Kerastase Elixir and Moroccanoil Treatment, both are meant to fight frizz and damage. You just have to see which product works better for your hair. To spot results, you need to give time to each product. One can't just expect overnight changes. My experience has been better with the Kerastase Elixir. If you're looking for something to get rid of the frizz over dry hair then Kerastase Elixir Ultime is the one for you. However, it's difficult to give a clean pass to any of the products as both are equally good.