Japanese seared tuna with shredded greens, pickled ginger and garlic chives.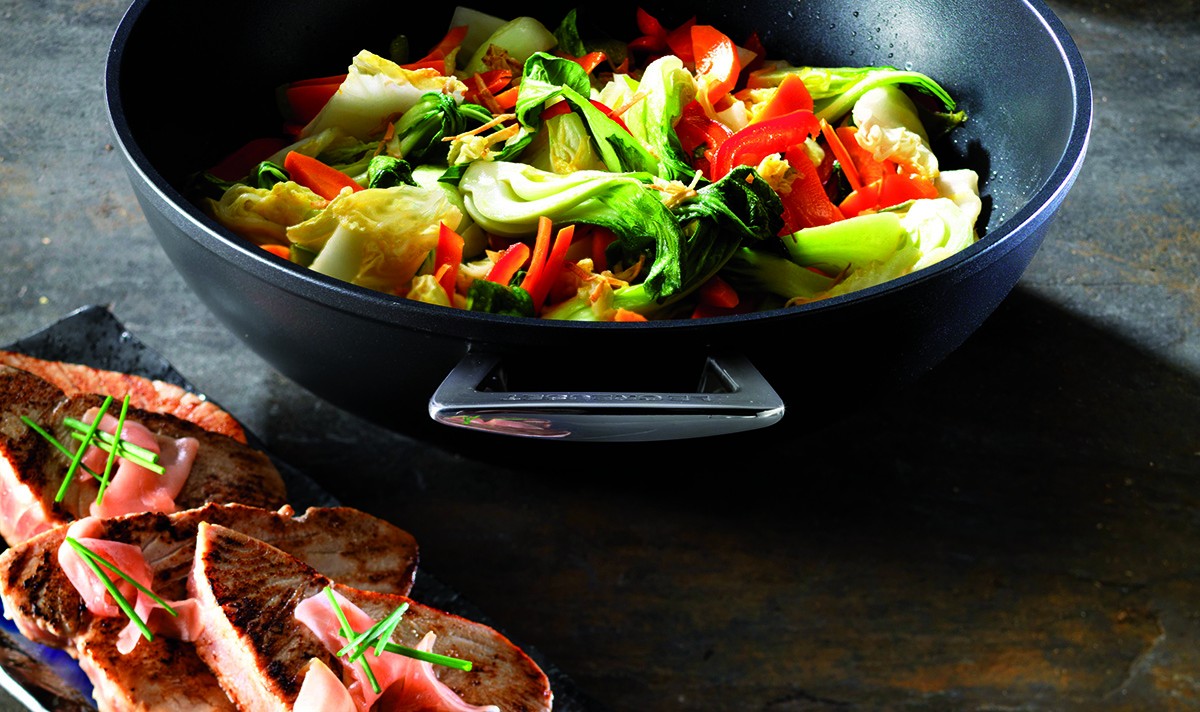 Main Ingredient- Seafood
Serving Size- 2-4
Overview
This quick to cook dish makes good use of some ready-prepared Japanese condiments and ingredients. Fresh tuna steaks are marinated in sweet mirin which is the essential Japanese condiment, Japanese soy sauce and sesame oil then seared in the hot wok until caramelised and blackened on the outside but rare inside. The tuna is accompanied by stir-fried, garlicky, shredded greens and finished with pink sushi-style pickled ginger and garlic chives. Serve with soba noodles. Serves four.
Preparation time: 10 minutes plus 20-25 minutes marinating time
Cooking time: 10-12 minutes

Ingredients
4 x 100-120g tuna steaks cut about 1cm thick
1 tablespoon groundnut or vegetable oil
25g pickled sushi ginger
A few Chinese garlic chives or ordinary chives, cut into short pieces
Marinade
1 tablespoon mirin
1½ tablespoons Japanese soy sauce
1 teaspoon sesame oil
Stir-fried Chinese greens
1 tablespoon groundnut oil
3 cloves garlic, finely shredded
1 small red pepper, stalk and seeds removed, then finely shredded
1 small green pepper, stalk and seeds removed, then finely shredded
1 large carrot, peeled and finely shredded
300g Chinese leaf cut into 2cm pieces
6 heads of baby bok choi (approx. 175g), quartered lengthways
1½ tablespoons oyster sauce
INSTRUCTIONS
Place the tuna in a dish; add the mirin, soy sauce and sesame oil. Coat the fish well, cover and leave to marinate for 20-25 minutes in a cool place.
Heat the groundnut oil in the wok and quickly stir-fry the garlic for a few seconds. Add the red and green pepper and stir-fry for 3 minutes. Add the carrot, Chinese leaf and bok choi and continue to stir-fry for 2 minutes. Swiftly stir in the oyster sauce, spoon into a serving bowl and keep warm.
Drain the tuna from the marinade.
Pre-heat* the wok on a medium heat and when hot add the tuna steaks one at a time. Cook for 1 minute until seared and beginning to blacken around the edges. Flip the fish over and sear for 1 minute on the other side, then quickly remove the fish from the wok.
Arrange the seared tuna on a serving plate and garnish each steak with a few pieces of pickled ginger and chives. Serve with an accompaniment of soba noodles.
Cook's Notes
Japanese ingredients can be found in supermarkets and speciality Asian-food stores.
Mirin is a type of sweet rice wine.
Japanese soy sauce is a lighter, thinner version of Chinese soy sauce
Chicken and Mushroon Fricassee with Spring Onion and Herb Pilaf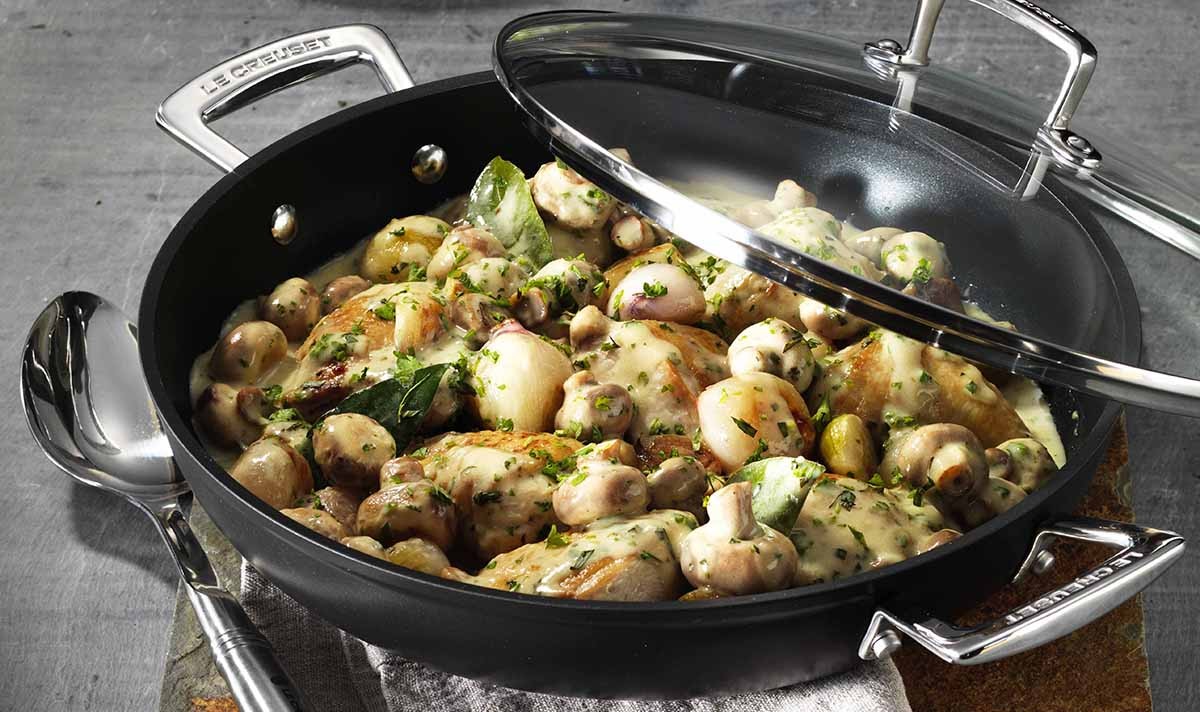 Recipe Created for- Pan
Main Ingredient – Chicken
Serving Size – 2-4 
OVERVIEW
True comfort food in a one-pot recipe and cooked with ease in the Toughened Non-Stick casserole. Sautéed chicken pieces in a creamy white wine sauce with caramelised shallots, button mushrooms and fresh herbs. This rich and flavoursome French-inspired dish is somewhere between a sauté and a stew and is delicious served with either rice or creamed potatoes.
Serves 3 to 4.
Preparation time: 10 minutes.
Cooking time: 1 hour.
INGREDIENTS
For the fricassée:
1 x 1.2 to 1.3kg chicken, cut into 8 pieces
¾ teaspoon salt
½ teaspoon black pepper
2 teaspoons butter
2 teaspoons vegetable oil
175g shallots, peeled
175g button mushrooms
1½ tablespoons plain flour
1½ tablespoons Dijon mustard
150ml dry white wine
375ml hot chicken stock
1 small bay leaf
2 teaspoons fresh tarragon, chopped
1½ tablespoons fresh parsley, chopped
125ml full-fat crème fraîche
INSTRUCTIONS
Season the chicken portions with the salt and pepper.
Heat the butter with the oil in the casserole over a medium heat and sauté the chicken pieces in two batches. Starting with the chicken skin-side down, brown well on all sides then transfer to a dish. This will take around 8-10 minutes in total.
Add the shallots to the residue of oil in the casserole and cook over a low heat for 5-6 minutes until golden and caramelised. Stir in the mushrooms and continue to cook for 2-3 minutes more.
Stir the flour and mustard into the shallots and mushrooms. Pour in the wine and bring the contents to a simmer whilst stirring. Once thickened and glossy add the hot stock and the bay leaf.
Return the browned chicken pieces to the casserole, bring the contents back to a simmer and cook for 20 minutes with the lid on. Remove the lid and continue to cook for 10-12 minutes more to allow the sauce to reduce to a coating consistency. Stir occasionally.
Meanwhile, make the spring onion and herb pilaf. Rinse the rice under cold water until the water runs relatively clear, then drain, tip into a large saucepan and add ½ teaspoon of salt and the boiling water. Bring to the boil, cover with a lid, reduce the heat to low and leave to cook for 12-15 minutes until the grains are just tender. Remove the lid, fluff up the grains with a fork, re-cover and set to one side. Melt the butter in another medium-sized pan, add the spring onions, season lightly with salt and pepper and cook for 2 minutes until just soft. Uncover the rice once more, add the spring onions and herbs and gently fork together until well mixed. Cover and keep warm.
Stir in the chopped herbs along with the crème fraîche to the fricassée and simmer for a final 2-3 minutes. Adjust the seasoning to taste, remove the bay leaf and serve with the spring onion pilaf.
Cook's Notes


Crème fraîche is a thick French soured cream with a fat content of around 40%. Double cream with 2 teaspoons of lemon juice stirred through can be substituted for the crème fraîche.
Tarragon can be substituted for thyme if liked.
White Bean, Chorizo and Cavolo Nero Soup
Recipe Created- Casserole
Main Ingredient- Vegetables
Serving Size- 4-6
OVERVIEW
A chunky autumn soup-come-stew, made with white beans, paprika-laced chorizo sausage and Italian black cabbage leaves.
INGREDIENTS
5 tablespoons olive oil
1 large onion – halved and thinly sliced
½ tsp crushed dried chillies
225g (8oz) dried white beans, such as haricot or cannellini – soaked overnight
200g (7oz) smoked dry-cured bacon lardons
225g (8oz) spicy cooking chorizo – skinned and sliced
3 large garlic cloves – crushed
1 medium-hot green chilli – stalk removed and thinly sliced
650g (1lb 7oz) peeled floury potatoes, such as King Edwards – cut into small chunks
600ml (1pint) light chicken or vegetable stock
250g (9oz) cavolo nero leaves – washed
2 tablespoons chopped flat-leaf parsley
Salt and freshly ground black pepper
INSTRUCTIONS
Heat 4 tablespoons of the oil in the casserole. Add the onion and crushed dried chillies, cover and cook over a low heat for 10 minutes until soft but not browned. Scoop half the onion and chilli mixture into a small bowl and set to one side.
Drain the soaked beans and add them to the pan with 1litre (1 ¾ pints) of fresh cold water. Bring to a simmer, part-cover and cook gently for 45 minutes – 1 hour until the beans are tender. Add 1 teaspoon of salt, simmer for a further 5 minutes, then tip them into a colander set over a bowl to collect the cooking liquid. Measure this and make up to 600ml (1 pint) with water if necessary. If more, return it to the pan and boil until it has reduced to the required amount. Set to one side with the onions.
Heat the remaining tablespoon of olive oil in the cleaned casserole. Add the bacon lardons and fry for 3 minutes until lightly browned. Add the chorizo sausage and fry for another 1- 2 minutes until these too are lightly browned. Add the garlic and green chilli and fry gently for another minute, make sure that the garlic does not brown.
Stir in the reserved fried onion and chillies, the potatoes, bean cooking liquid, stock, ½ teaspoon of salt and some pepper. Bring to the boil, cover and simmer for 10 minutes until the potatoes are almost soft.
Meanwhile, slice the green leaves of the cavolo nero away from either side of the thin stalks. Discard the stalks, bunch up the leaves and slice them across into 2.5cm (1inch) wide strips.
Stir the cabbage into the soup, cover and simmer for 5 minutes. Uncover, stir in the cooked beans and simmer for another 2 – 3 minutes until the cabbage leaves are tender, the beans have heated through and the potatoes are just beginning to break apart. Season to taste with salt and pepper.
Ladle the soup into warmed bowls and serve sprinkled with some chopped flat-leaf parsley.
Cook's Notes


Seek out cooking chorizos that are sold whole from the deli counter rather than the pre-sliced chorizo sold in packets from the chilled cabinet. The whole raw cured sausages have a much better flavour and texture for cooking.
Any bright green leafy vegetable would work well in this soup like; kale, Savoy cabbage, Swiss chard or spinach. Add to the soup and just cook until wilted down or tender.
This soup would work well with British butter beans.