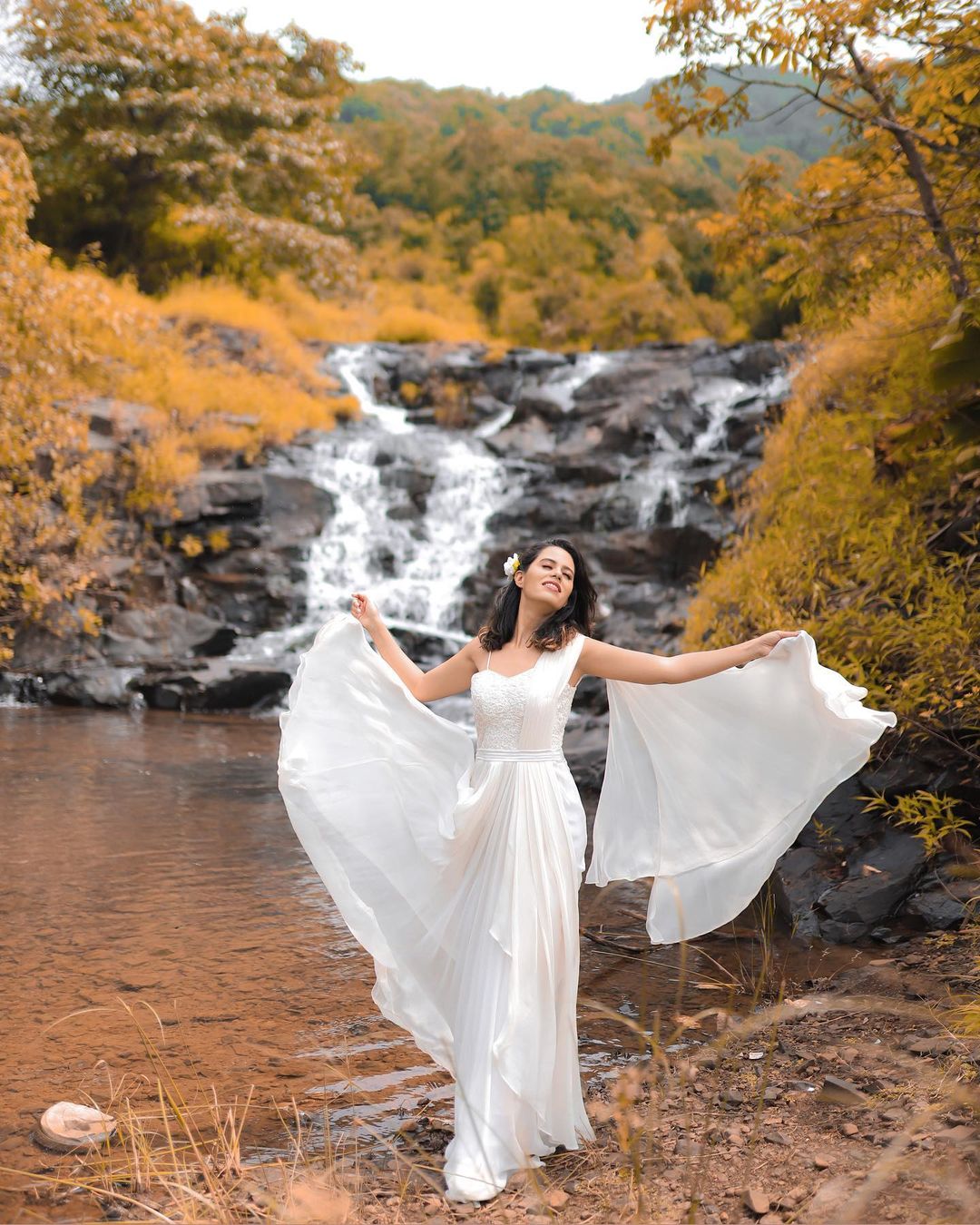 While there's every reason to buy each one of the masterpieces from the collection extended by Jade by Ashima this summer. These dresses just take the beholder's heart away. Right at the very first glance, any woman ends up imagining how spectacular she is going to look in these fashion apparels which are in shades that belong to the soft-muted color pallets! Keep Scrolling for more – 
Grey Top and Skirt: Irresistible is certainly the adjective you ought to look for!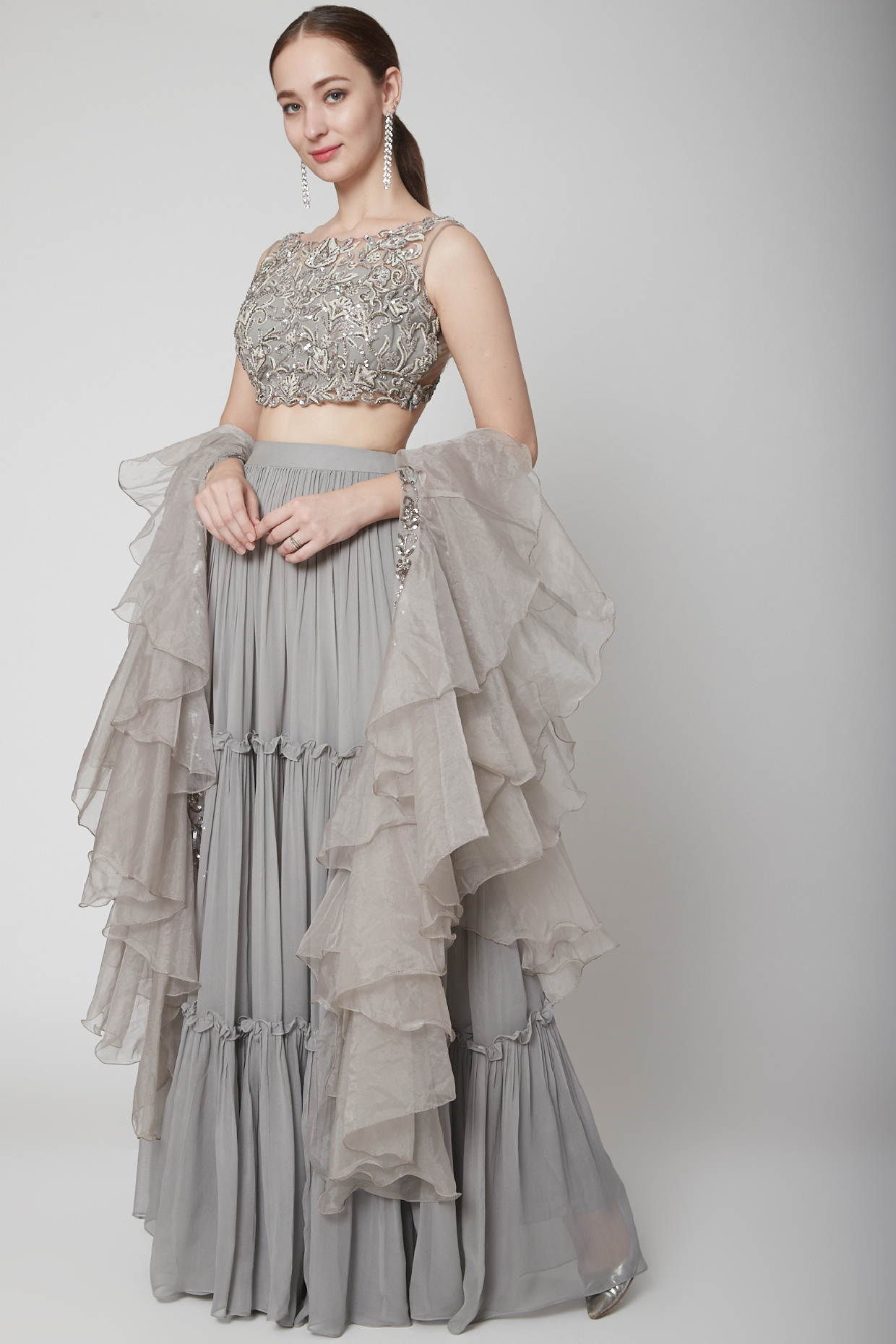 It is simply not easy to take your eyes of this beautiful dress which is crafted with georgette taffeta fabric. Rendezvous of an enchanting Grey top, embroidered to perfection, and a sassy looking Grey skirt exuding charisma is so captivating that you simply run out of ways to not add it to your closet. You are going to look as good in it as you just thought you would, or maybe even better than that.
Pastel Peach Gown: Watch out for the delicacies and intricacies!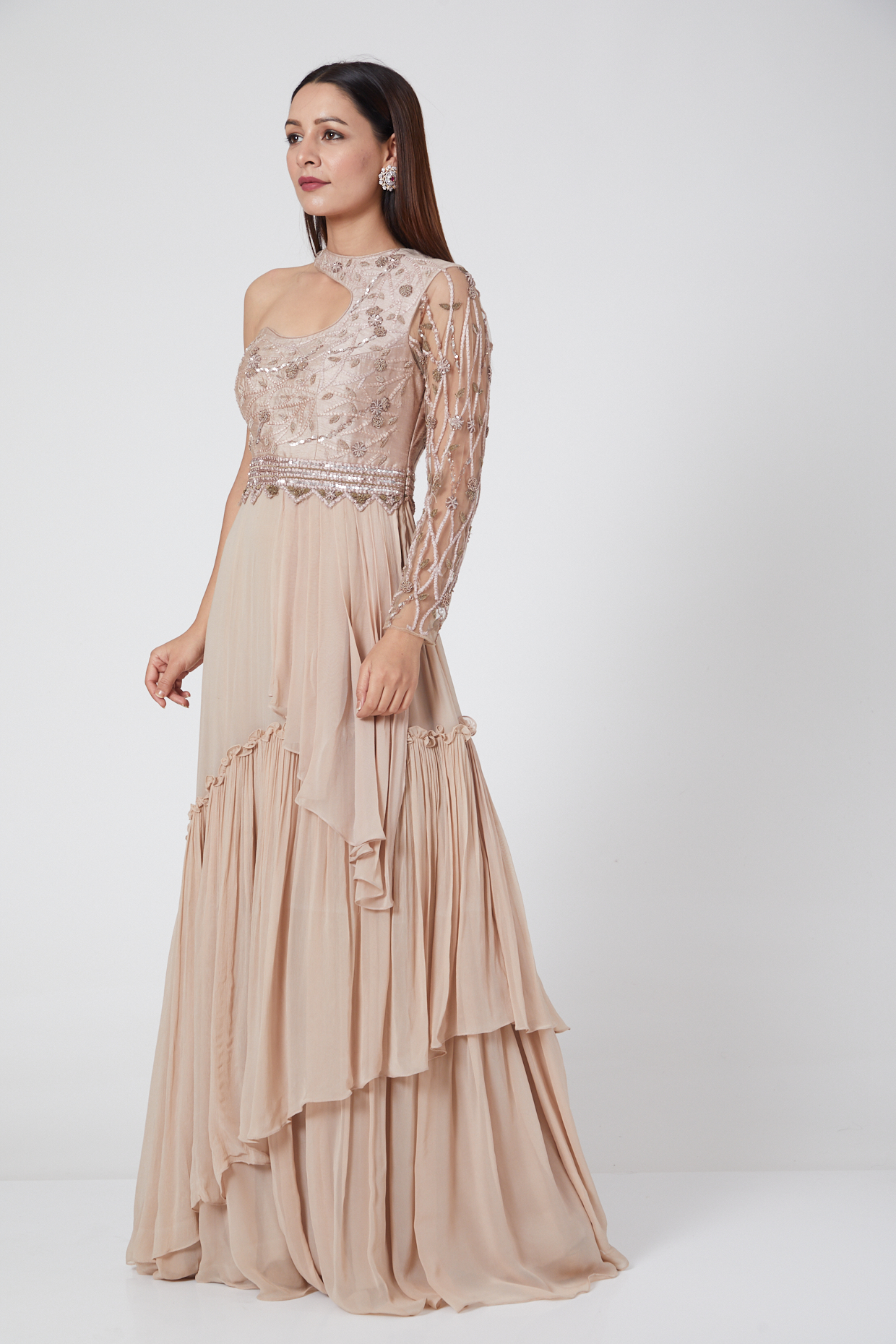 Embellishments of this ensemble with their fine details trigger your creative imagination and artistic instincts. As intriguing as they are, the Pastel Peach gown and frilled layer skirt make the elegant ensemble all the more captivating. With this dress, crafted with silk and georgette, being present in your wardrobe you can put confidence on at any place and time where you need to be at your best.
Ice-Blue Peplum Top with Pants: If impeccable imperfection is a thing, this is exactly it!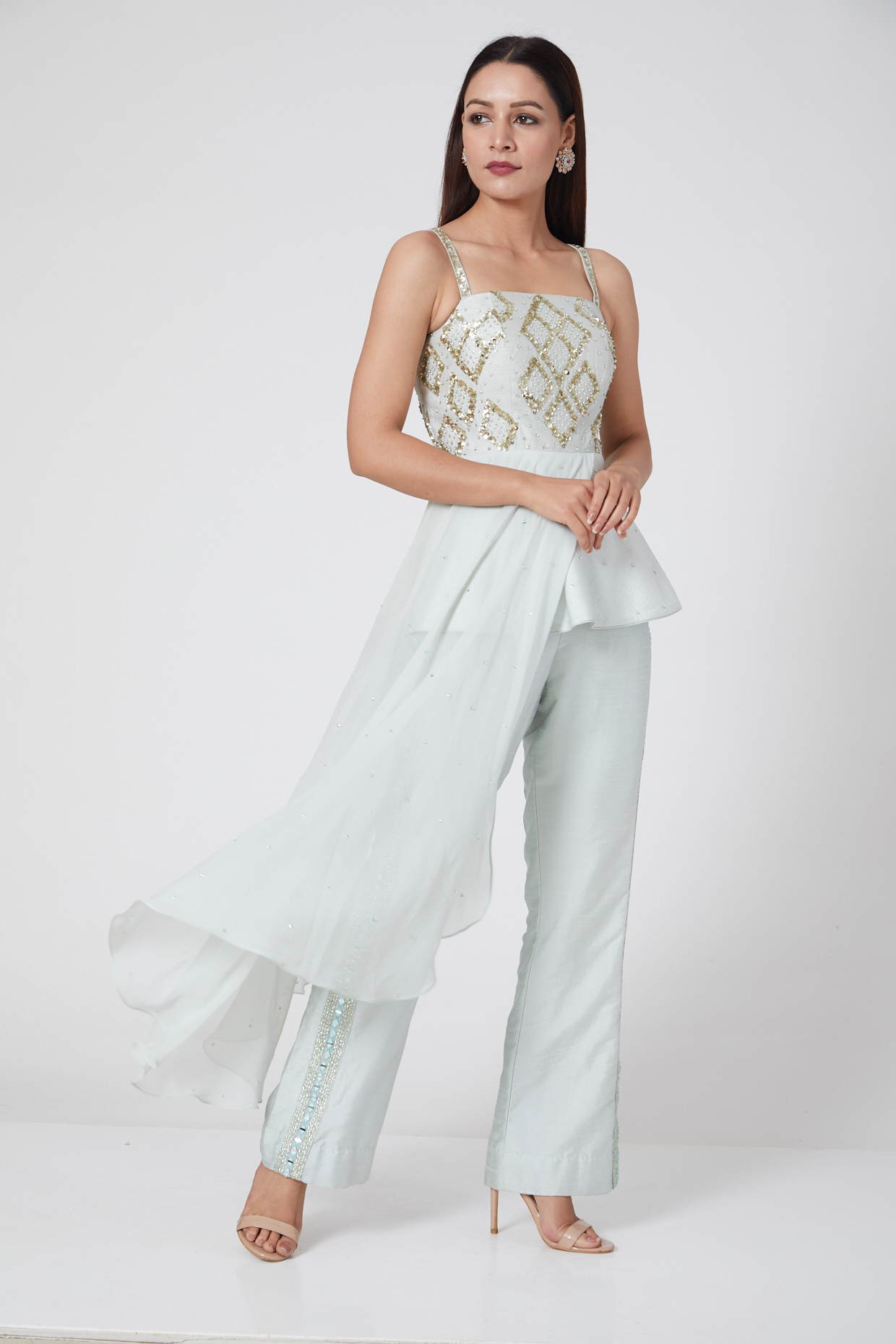 The asymmetric top crafted using dupion silk highlights how irregularities can be perfect too, of course in their own unique ways. Along with sassy pants, it is an embodiment and more particularly, a celebration of the free spirit. Can you think of anyone doesn't envy a free spirit or wish to be one? You cannot think of anyone, can you? It is exactly what this eccentric dress is all about.
Pastel Palazzo with Back Net-Top: It isn't just a dress, it's a phenomenon!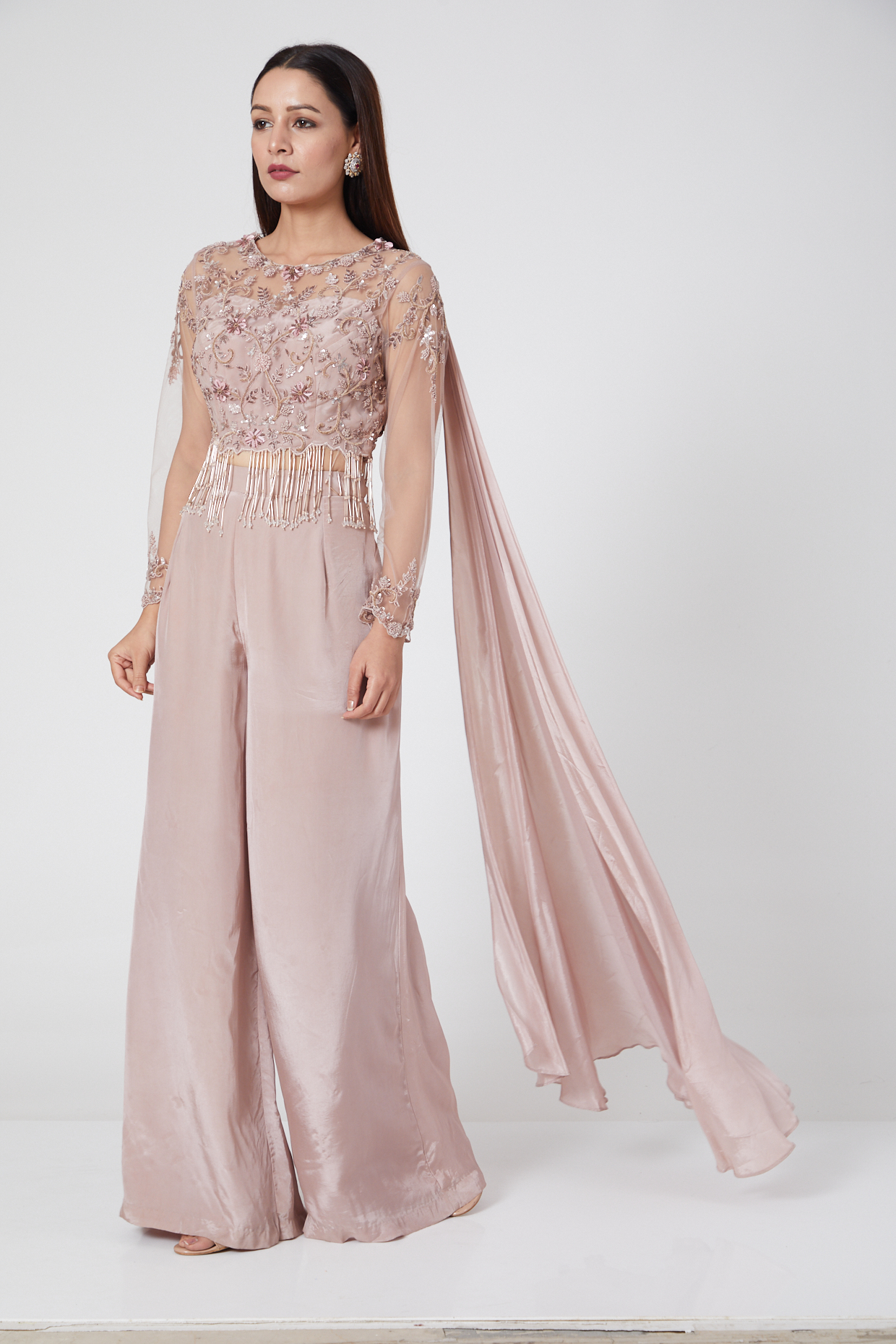 Frosted Almond back net-top above the plus palazzo pants makes an ensemble you don't get to see too often. Besides being rare, the magnificent blend crafted using silk and crepe is most certainly beautiful. It is made all the more charming by the embroidery in Burlwood color. Can people anyone take their eyes off unique phenomena like a rainbow or say this debonair dress? Yes, they often cannot. 
Peach Pink Tube Top and Pant: Your time to love yourself is only as long as you're alive!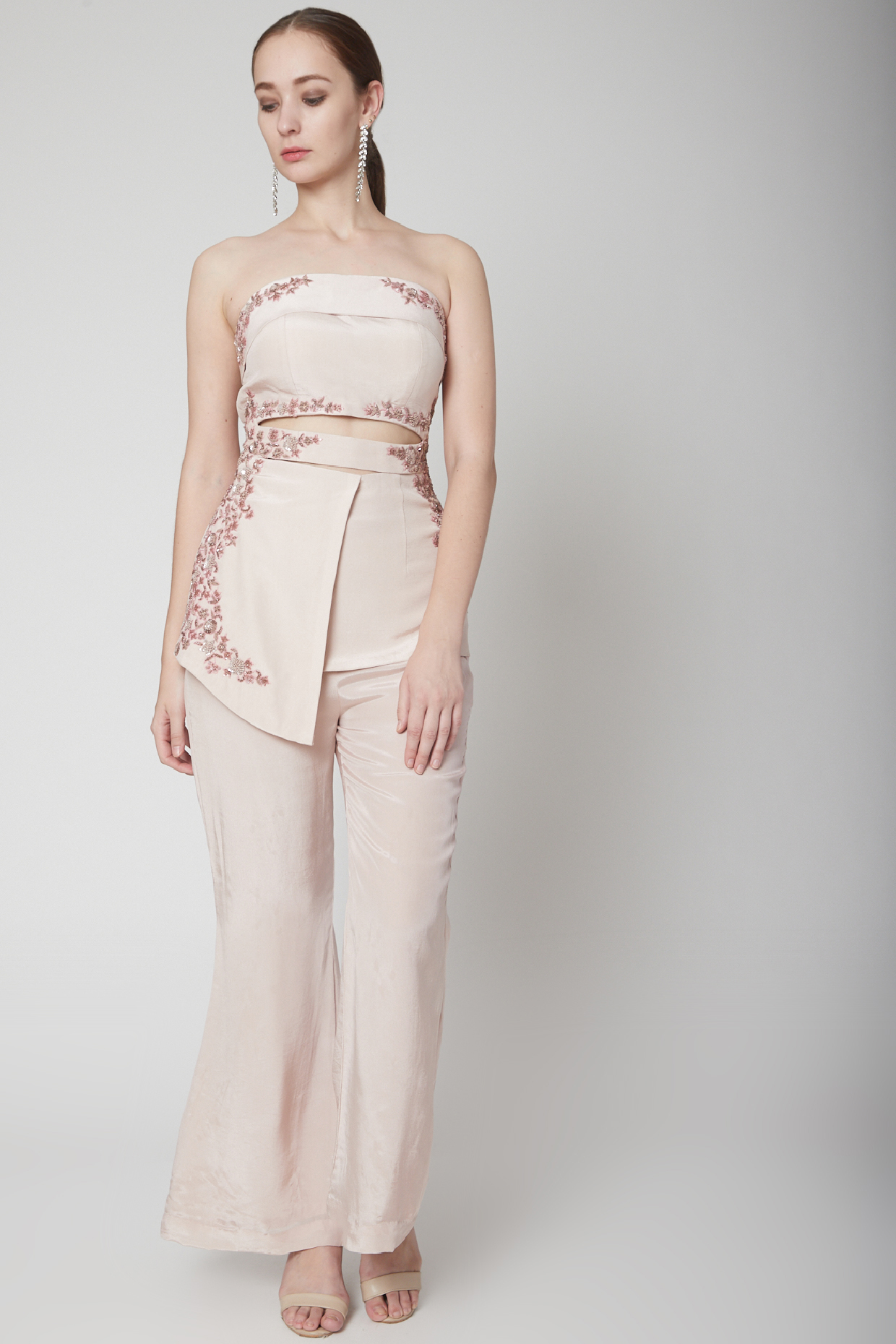 Loving yourself is challenging at times but having a sassy dress for parties and events, sure does help the cause on certain days. Crafted using crepe and embellished with dabka embroidery, this dazzling dress simply makes you fall in love with yourself whenever you tend to forget about it.
Light Wine Drape: Intriguingly Intoxicating!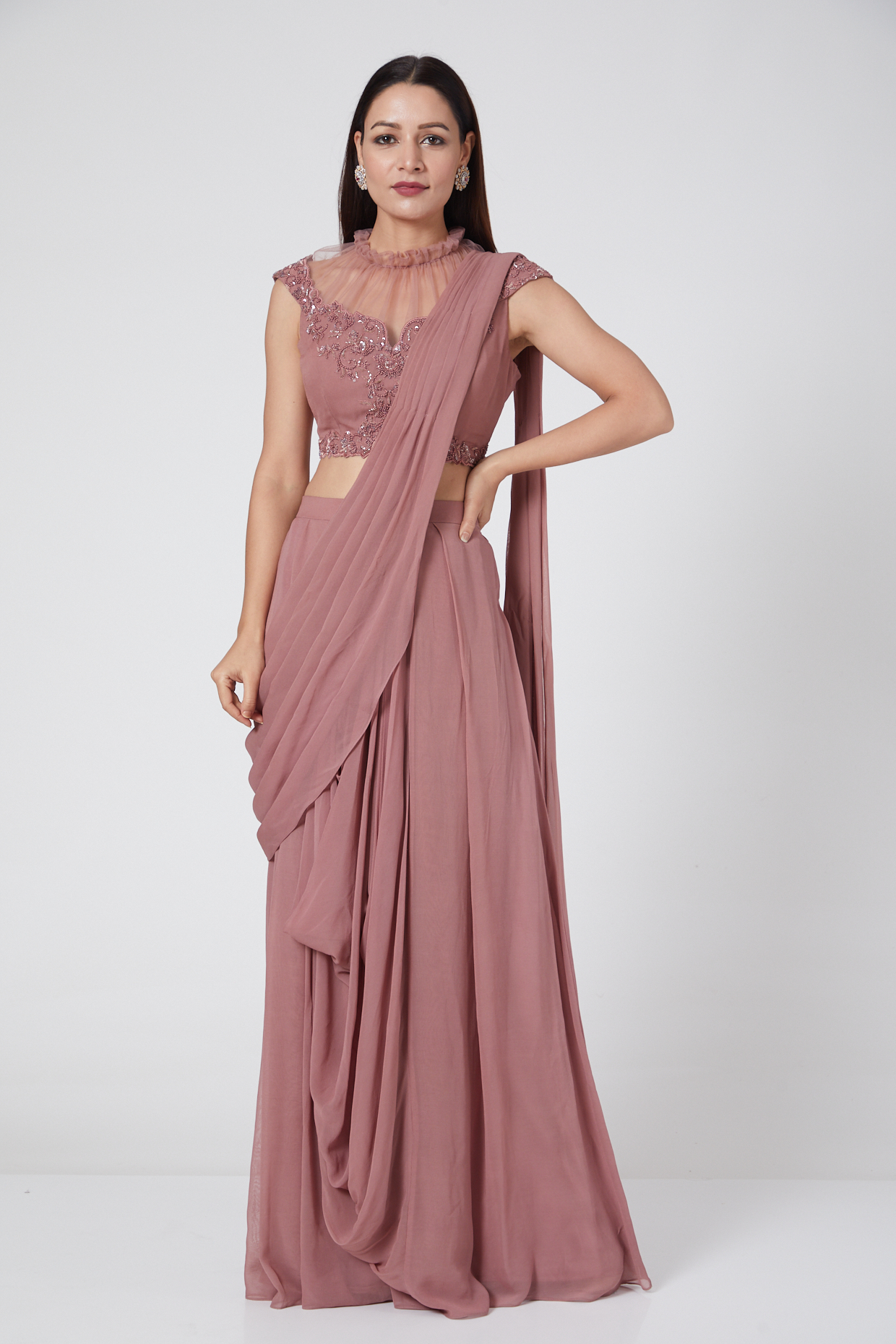 If exuberance exists and is to be seen, it is to be witnessed in this light wine drape saree with frilled collars and tassels. Commemorating grace of womanhood, the exuberant ensemble has been crafted with splendid silk and fine georgette. As you look at the meticulous design, it gets more and more difficult for to keep yourself from adding it to the wardrobe. It is equally difficult for people to keep their eyes off you while you put on such radiant attire. Yet the best part is when you look for reasons to not have it right away you are likely to find none. 
Off-White One Shoulder Drape Saree: As elegant as minimalism and simplicity can get!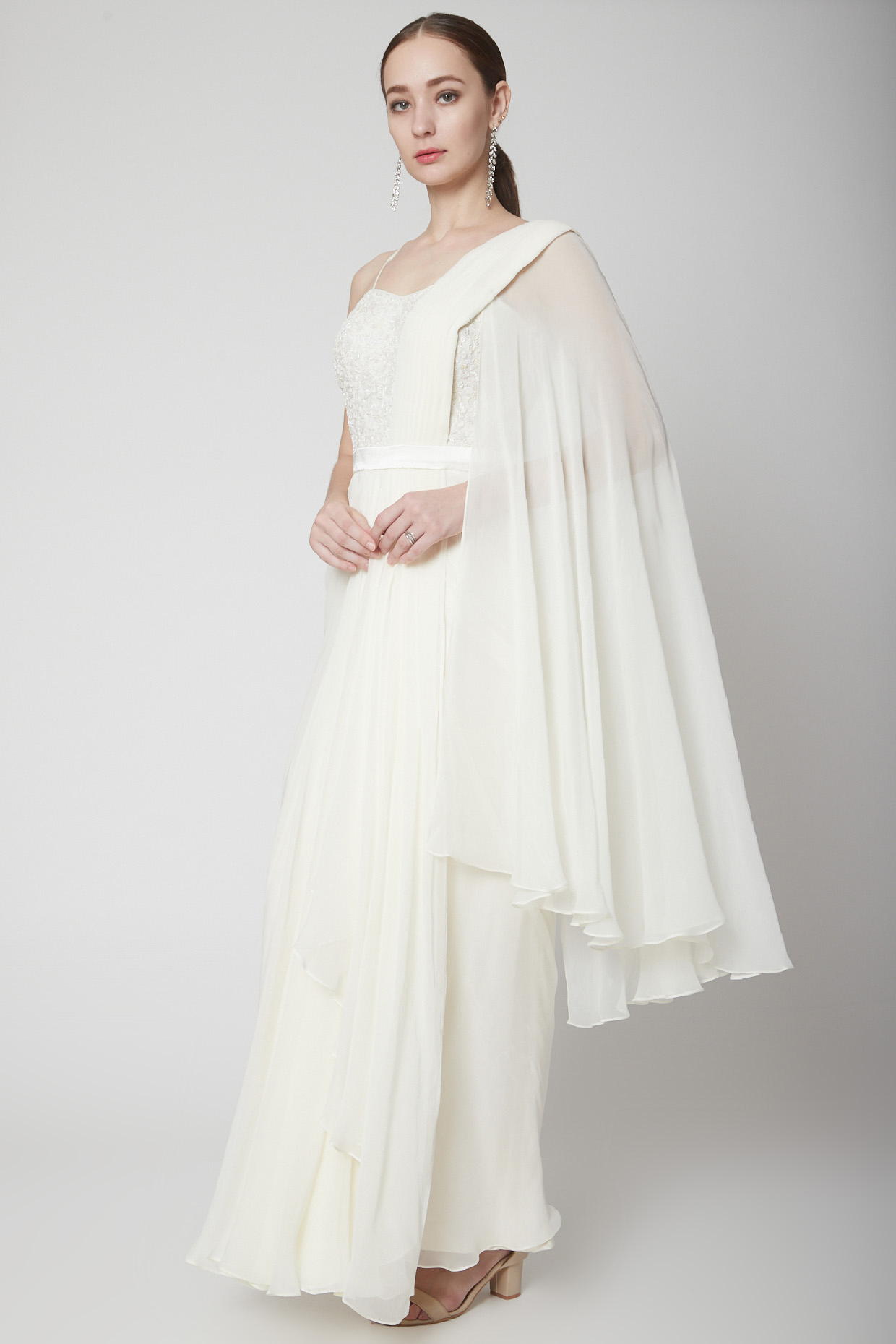 Keeping it simple is the way to impress them and earn admiration for exactly who you are. This is what this Off-White drape georgette saree does: 'Celebrate you for who you are'. The sterling attire also includes a well-crafted White dupion blouse with elegant embroidery. While you're wearing it, you can confidently own all the compliments you get.
Mouse Grey Drape Ruffle Saree: It's about time to be full of youthfulness!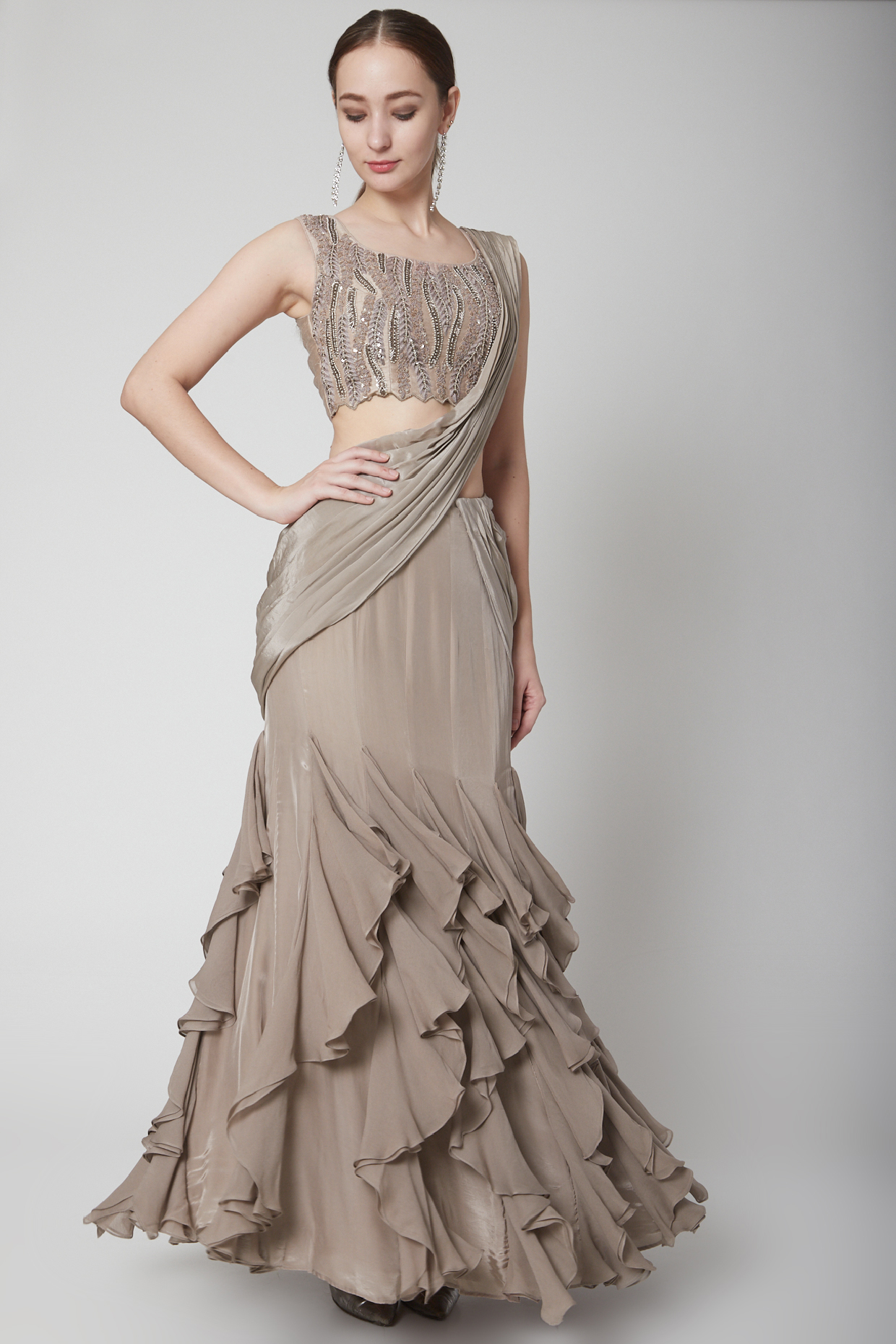 The silk crepe ruffled saree along with the blouse in dupion base allows you to flaunt your flamboyance. The sequins and dabka embroidery on the blouse add to the regal touch and charismatic appeal of the already elegant ensemble. This makes it really hard to keep yourself away from having it in your collection of party and wedding dresses.
And…we must not forget fashion is quite an art form!