Well, The second day of The FDCIxLakme Fashion Week 2022 indeed kept it's promise to keep things green and eco-friendly if distinctive fashions and classics take over Day 1! The Sustainable Fashion Day featured prominent designers such as Rajesh Pratap Singh, Rina Dhaka, Khanijo, Payal Pratap, and Anju Modi, among others, in a variety of exciting presentations.
On the runway, sustainability was unquestionably a trend to watch! Having said that, we made sure to compile all the possible glimpses of the day below!
The fourth edition of the Circular Design Challenge (CDC) in collaboration with R|ElanTM, FDCI x Lakmé Fashion Week and the United Nations Environment Programme.
The finalists this year crossed borders to stimulate worldwide nominations and with a new crop of products using waste as a resource. They have been working with a variety of materials, including abandoned carpets, rubber, and wood, and using techniques such as zero-waste pattern cutting, artisanal crafting, recycling, and more.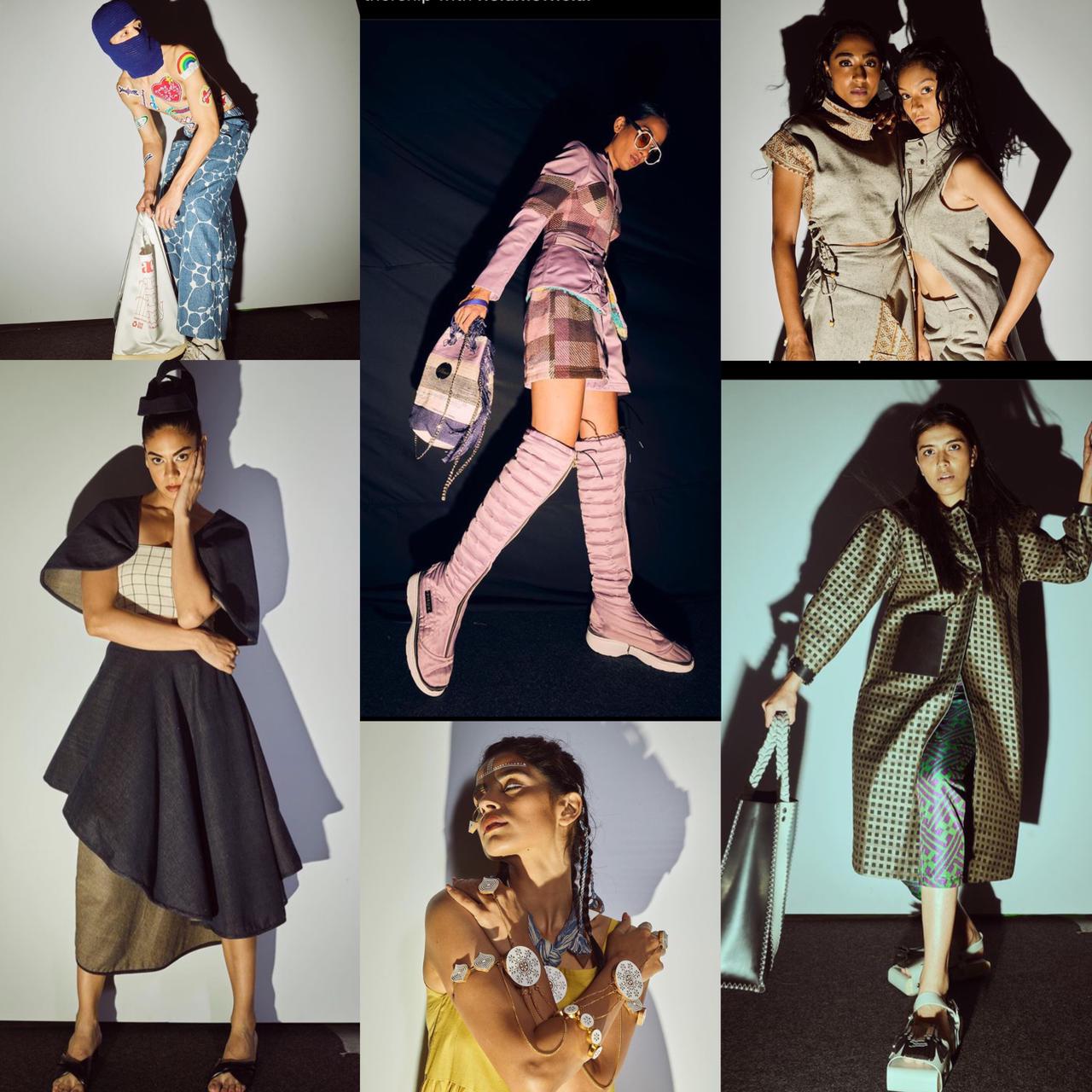 Circular Design Challenge in Action (swipe for the insights)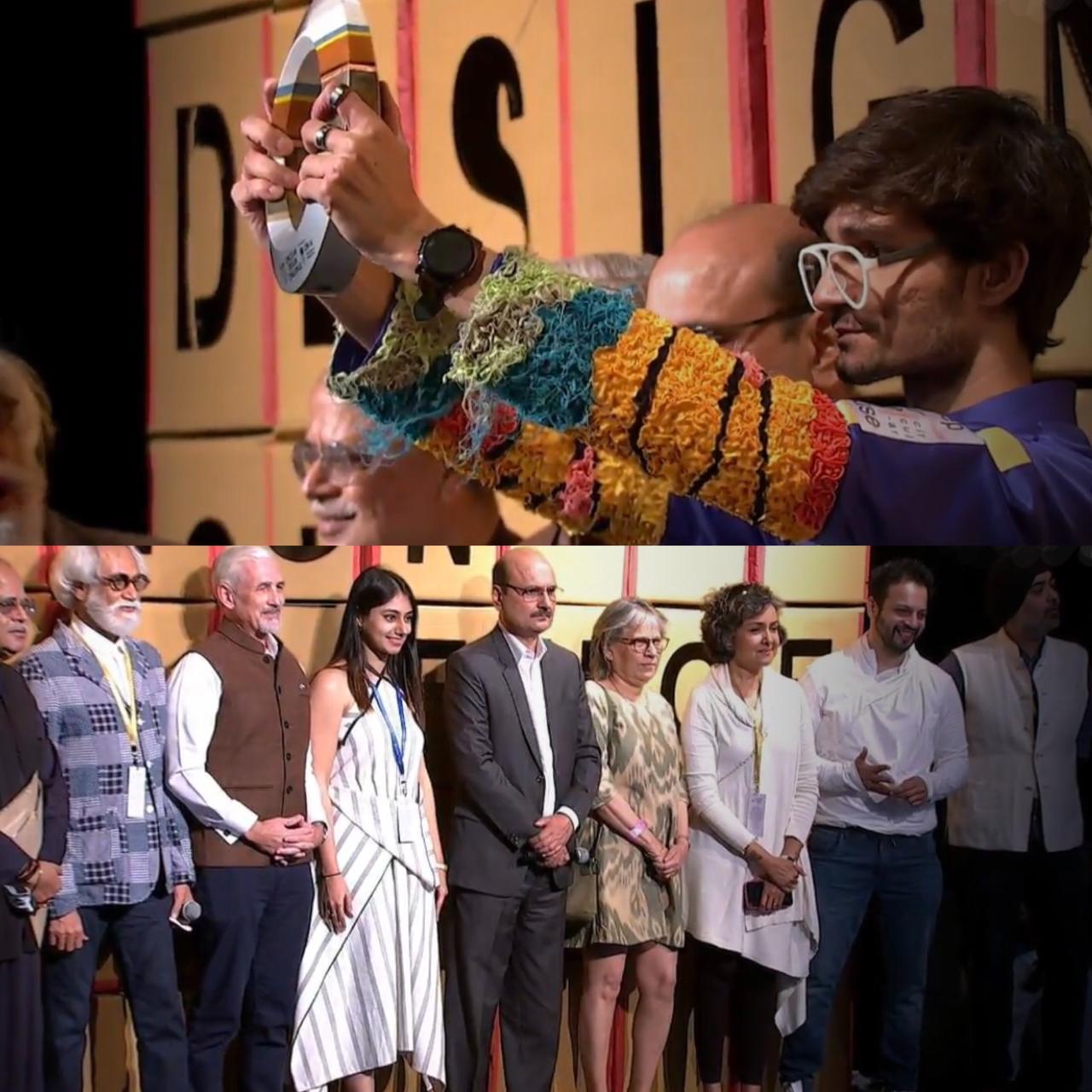 Top Frame- Pratyush Kumar, Pieux claims the trophy, turns out victorious of Fourth Edition of the Circular Design Challenge. Bottom Frame- Sanah Sharma receiving the R|Elan Award for Excellence in Circularity.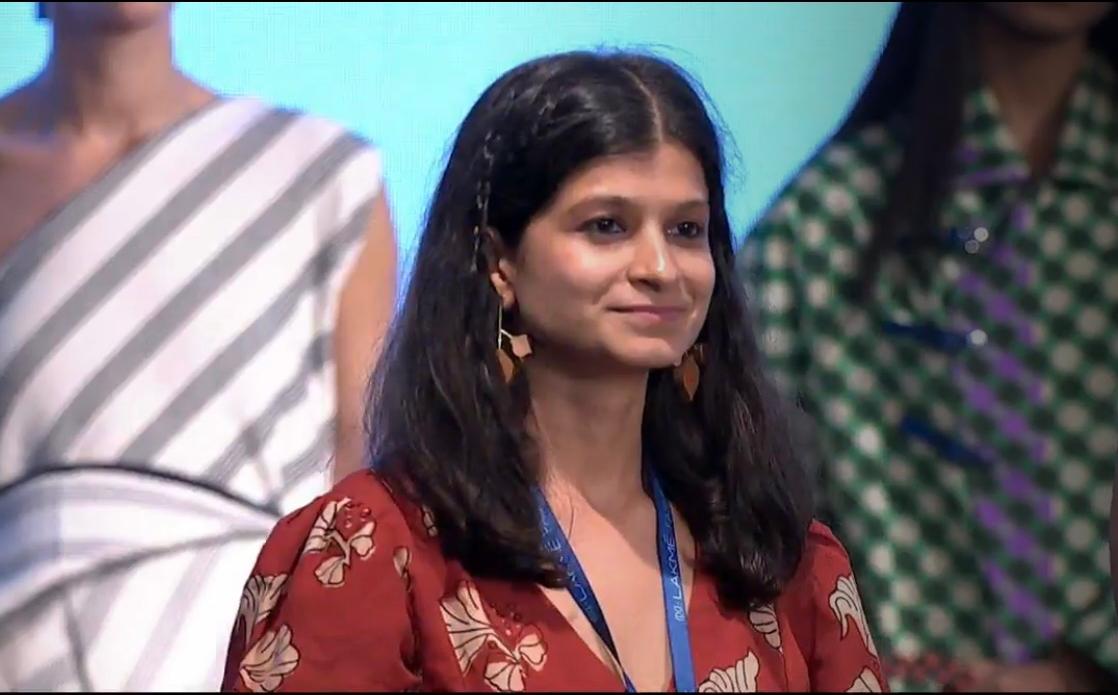 (In Frame- Radhika Malhotra,Finalist) 'Satat' takes pleasure in innovating an age-old indigenous craft with already-existing sustainable techniques to make it more circular and sustainable.They used reused teak wood blocks and natural hues such as Indigo, Turmeric, Gypsum, Beetroot, Geru, Indian Madder, and Kohl to create striking jewellery that embraces circularity.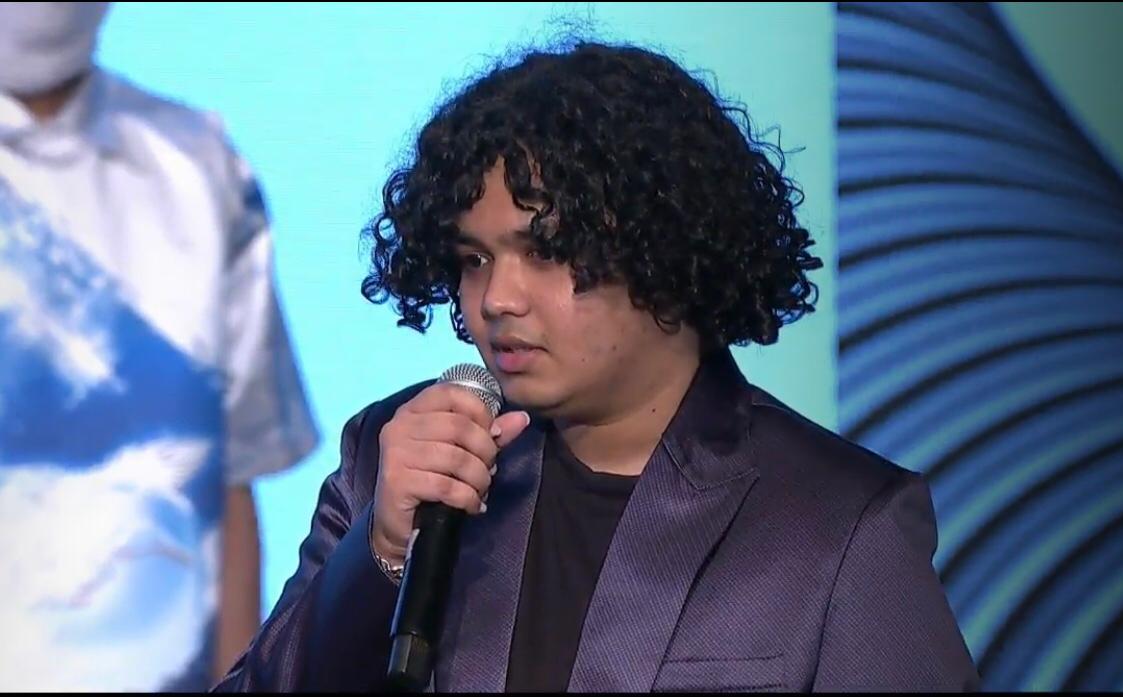 (In Frame- Ashay Bhave, Finalist) The goal of 'Thaely' is to achieve the holy grail of sustainability: a closed loop system in which all waste, faults, and traded-in products are recycled to make new products. The manufacturing process is meant to be safe, cost-effective, and emit as little pollutants as possible.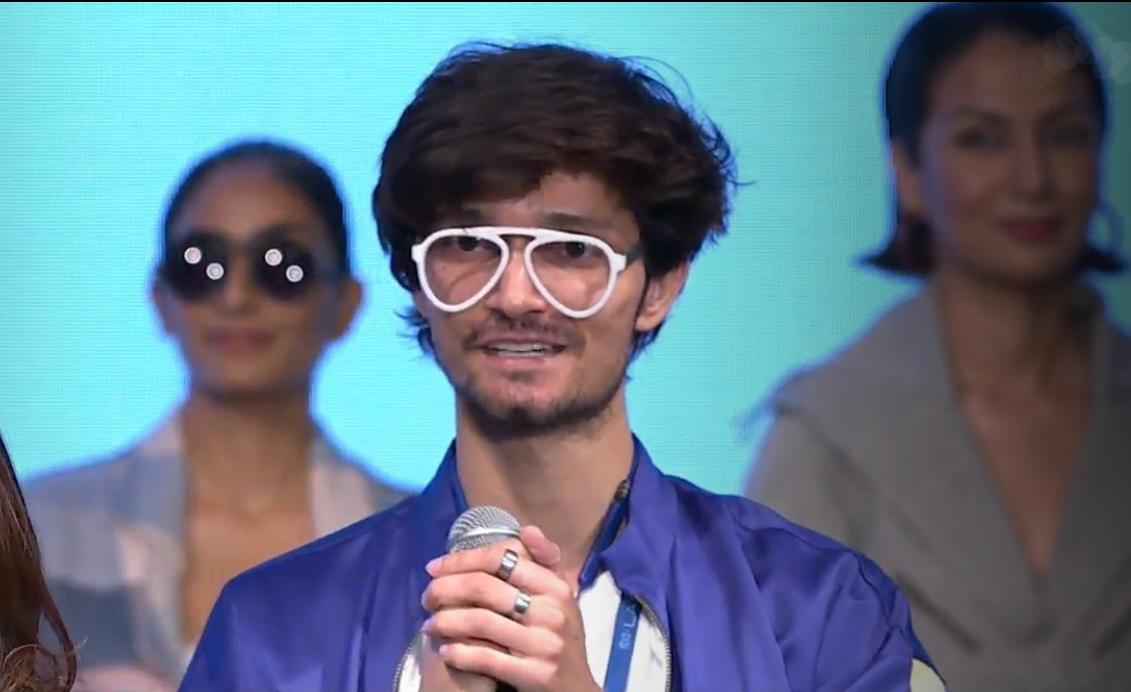 (In Frame- Pratyush Kumar, Finalist) 'Pieux' creates products that add value to customers' wardrobes while deliberately exploring fashion. To extend the life of worn garments and discarded carpets, they apply deconstruction and reconstruction techniques. They work closely with artisans in Uttar Pradesh and Uttaranchal for various products, using pattern making to produce each silhouette.
(In Frame- Sudheer Rajbhar, Finalist) Chamar has done an excellent job of showing their artisanship through the use of modern materials and styles creating everything from khadi and reclaimed fabric jeans to fused leather coats. They made recycled rubber composite material that is robust, waterproof, vegan, and can be reheated into a fresh new surface if damaged.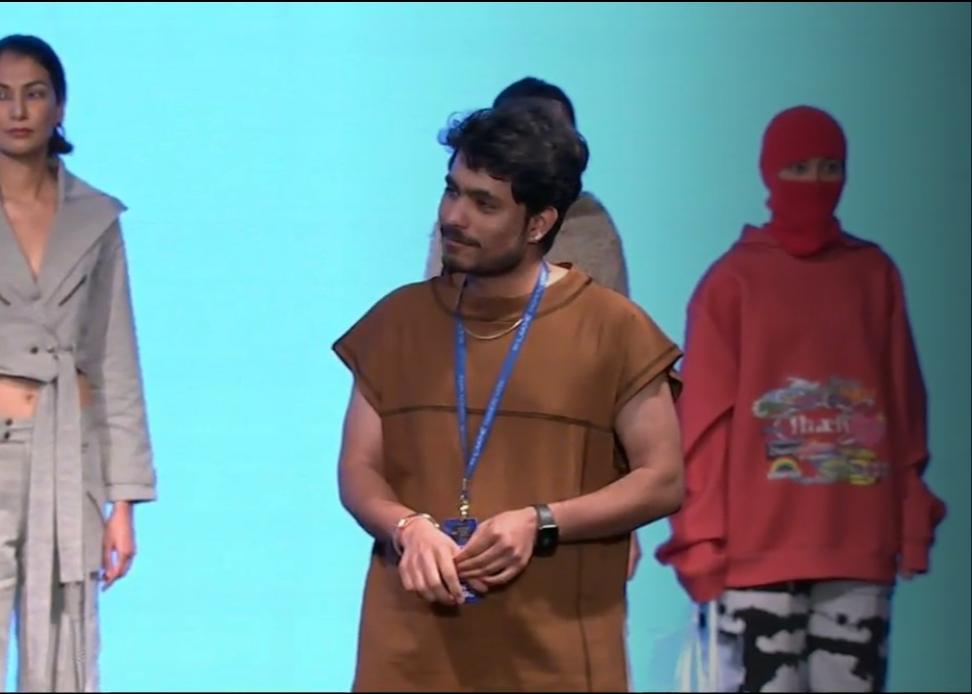 (In Frame- Vishal Tolambia, Finalist) 'Humanity Centered Design' has created a framework that aids in the development of a local circular waste management system that incorporates textile waste as a source of energy for the creation of a circular fashion system. They created a local circular recycling system in India to shut the loop on pre-consumer textile waste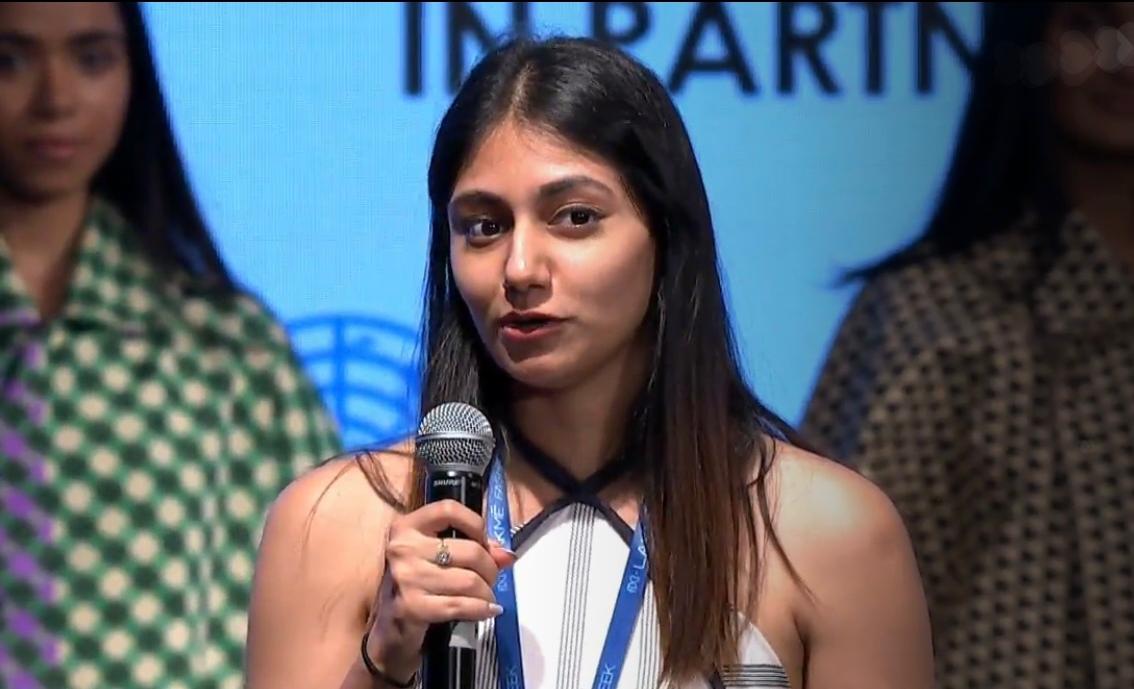 (In Frame- Sanah Sharma, Finalist) Sanah Sharma, a fashion company focusing on innovation and sustainability, has recognised the critical need for design solutions to change from a linear to a circular approach. Planar Flux, a zero-waste method, is used to create outfits, the process also helps to preserve and promote our cultural tradition of weaving, which in this case is carried out by Karnataka's women weavers.
2. Diksha Khanna & Pramaa by Pratima Pandey at FDCI x Lakmé Fashion Week
Diksha Khanna's Inpiration- The desolate terrain of Ladakh inspired her collection, "Julley," or "Hello" in Ladakhi. Traditional costumes are interpreted in intelligent designs and skillful detailing in the trans-seasonal & fluid range, resulting in primarily androgynous outfits. She returns to her beginnings to investigate eco-printing, a type of natural coloring on fabrics that captures the natural beauty of plants and foliage.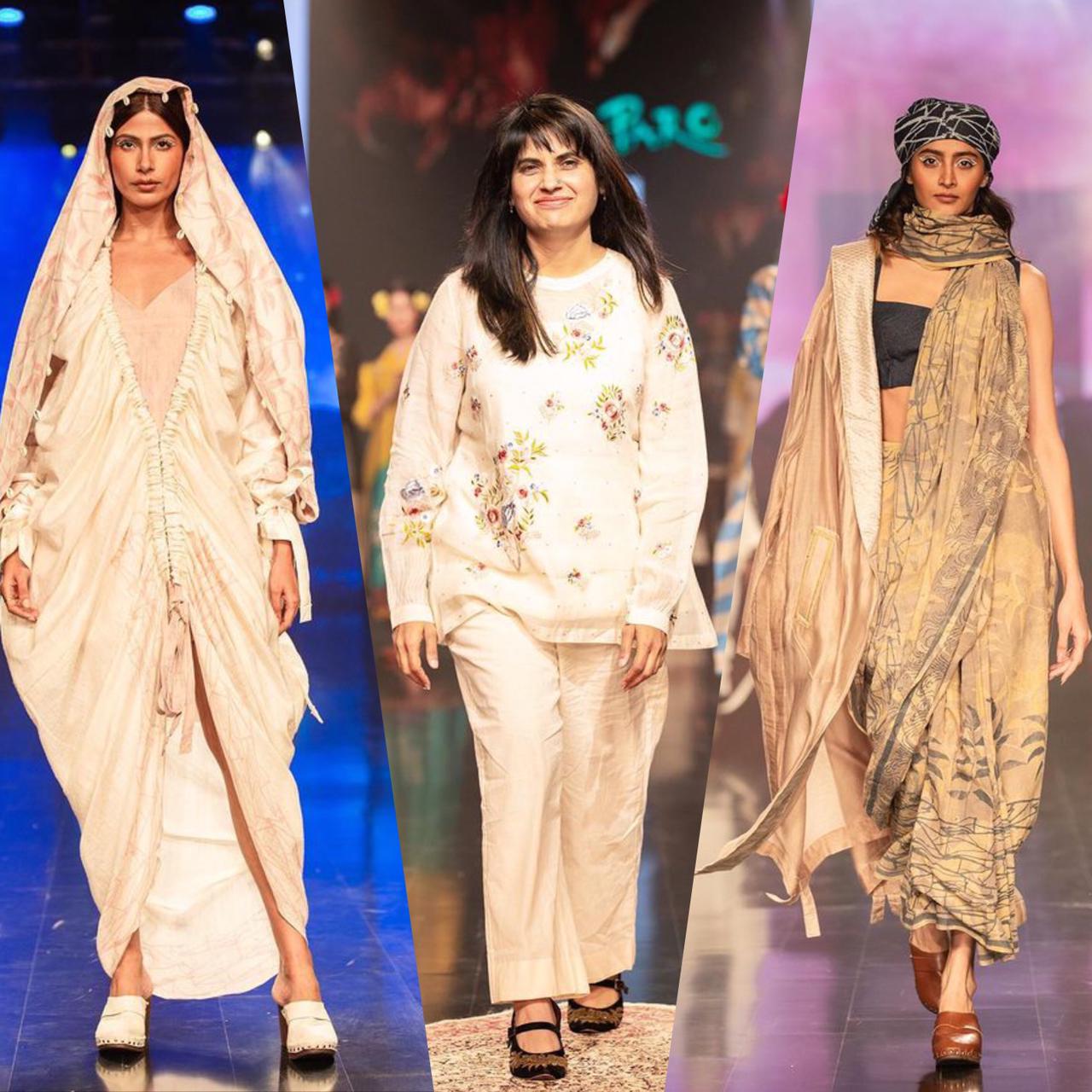 Pratima Pandey's inspiration- Her collection- 'Pramaa' is a way to recreate Paro's demeanor and find her fiery side, inspired by the perennially beautiful "Paro" – Sarat Chandra Chattopadhyay's protagonist from his famous novel Devdas (1917). In handwoven silk chanderi and Maheshwari with delicate flora-fauna embroidery, the classic cuts from the 1920s in layering are being explored.
3. Adidas originals X Antar-Agni Khanijo at FDCI x Lakmé Fashion Week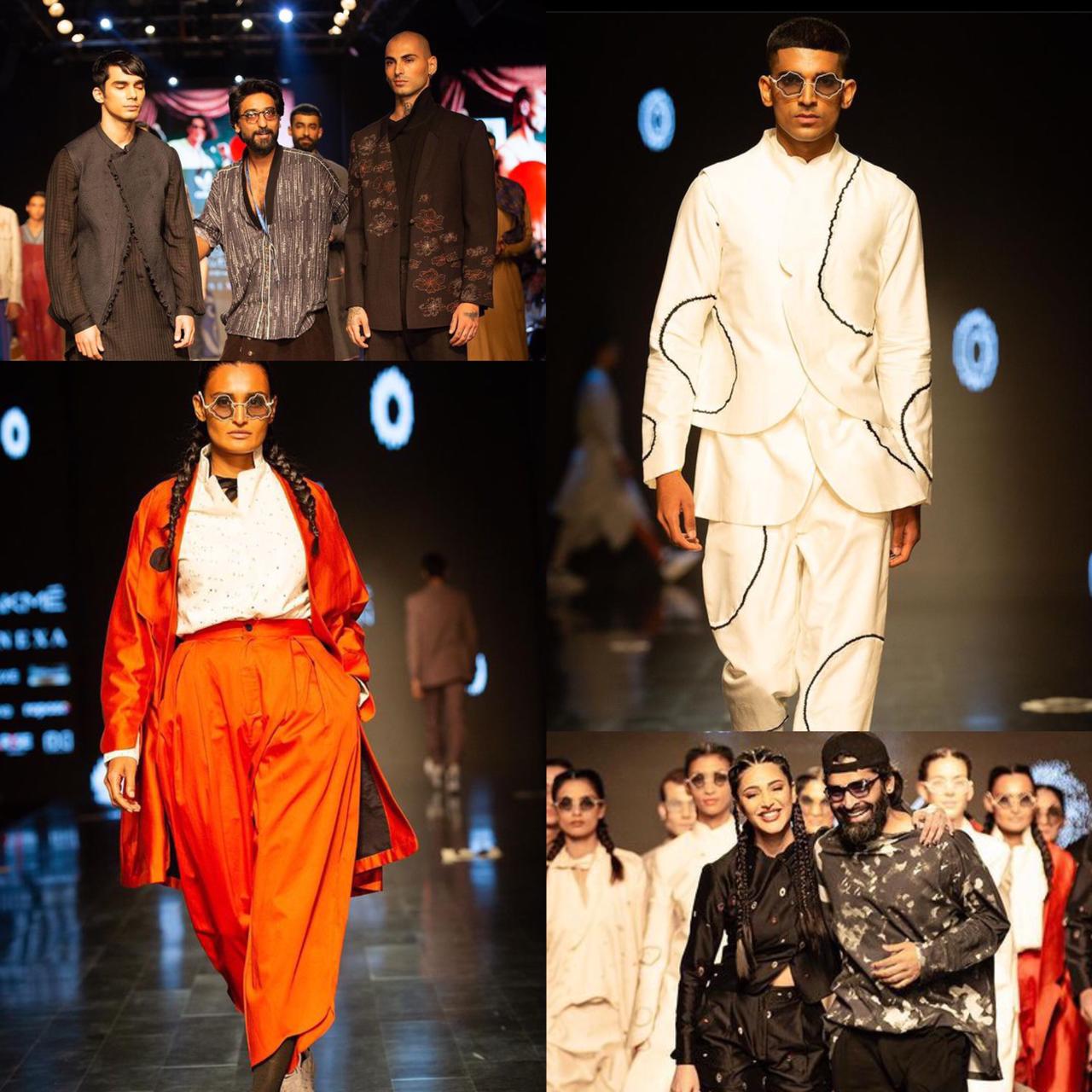 Antar-Agni uses burned orange, teal blue, ivories, and black to create a striking contrast with fluid, matte-finish textiles that express change and emancipation. The fluid silhouettes with crispness are enhanced by subtle geometric embroideries and abstract layer placements.
Khanijo's collection is devoted to the spirit of the never-ending display. A dedication to handmade, a mishmash of handlooms, indigenous embroideries, and handcrafted textiles showcasing Indian craftsmanship, assembled in shapes and styles, offering streetwear that speaks in a globally recognisable language.

Both shows feature Adidas originals X Parley footwear, with each legendary shoe reimagined and rebuilt with materials created in collaboration with Parley Ocean Plastic.
4. Rise Worldwide x Fashion For Good present Innovation for Circularity featuring Divyam Mehta, Ka-sha & Nitin Bal Chauhan at FDCI X Lakmé Fashion Week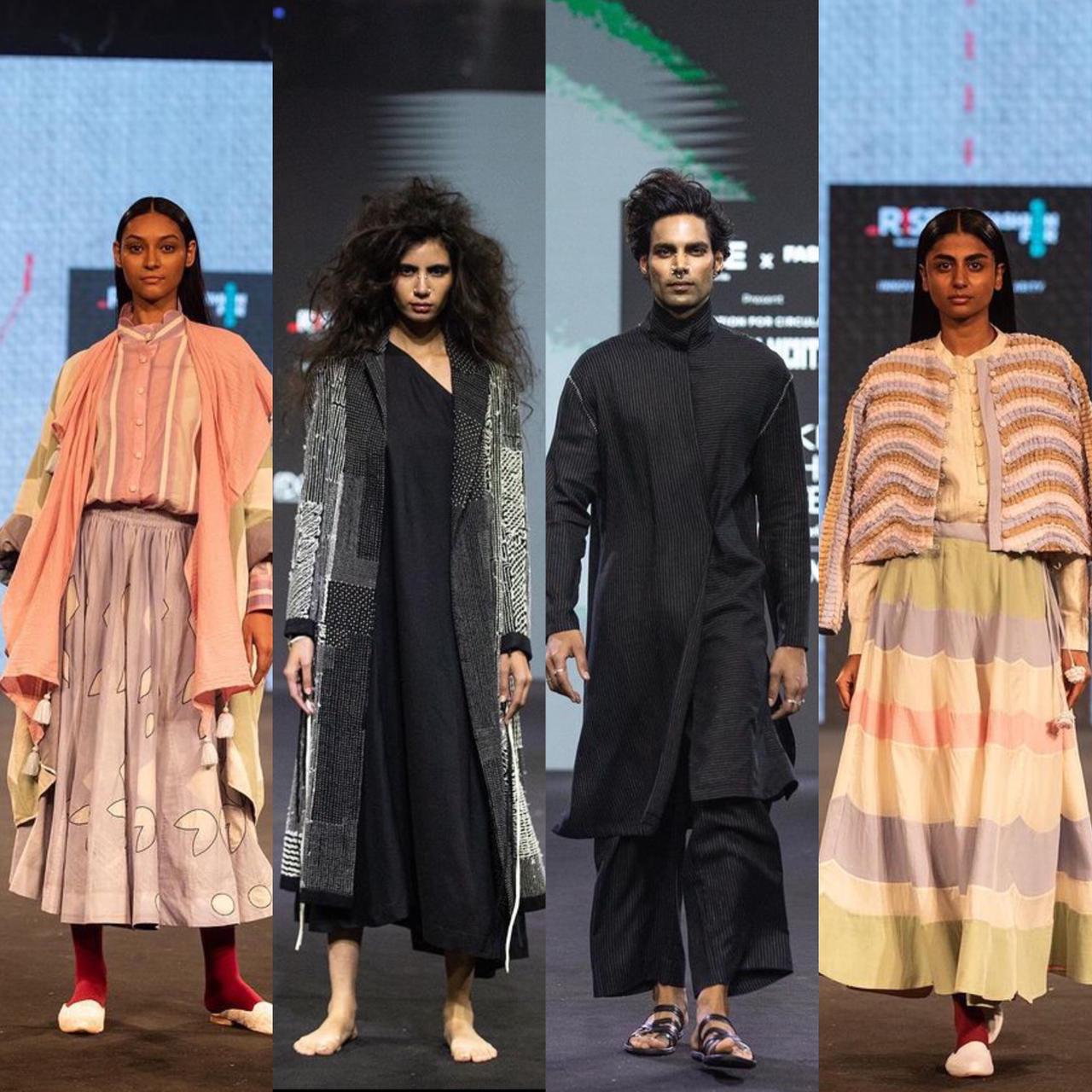 Rise World and Fashion for Good team up to catalyse collaborations between supply chain disruptors and designers in order to offer collections that highlight Circular Fashion Innovations.
Divyam Mehta puts a poetic spin on the Dongria Kondh tribal silhouettes, which depict rural life, culture, and humble living in harmony with nature. AltMat, a company that creates textiles from agricultural waste, provided the fabrics. Drapes, hybrid patterns, hand tailoring, and kantha work are some of the collection's prominent characteristics.
"Manthan," a collection by Ka-Sha India, is inspired by the contradictory character of ever-changing water. The objects' surfaces are hand-dyed using KB cols Sciences' microbial fermentation technique and non-GMO naturally occurring coloured bacteria to reflect the multiple levels of water, both tangible and ethereal.

This 

collection 

is 

constructed 

of 

various 

weights 

of 

cotton 

that 

are 

appliqued, 

stitched, 

and 

pleated 

to 

bring 

the 

designer's 

inspiration 

to 

life.

Nitin Bal Chauhan has created a conceptual collection called "Countdown" to raise awareness about how our joint action and unsustainable expansion is rapidly bringing our world to a point of no return. The collection addresses serious concerns such as urbanisation, deforestation, and air pollution, all of which lead to an increase in dangerous diseases. It prints and paints with Graviky's AirInk, which is created from carbon gathered from automobiles, chimneys, and other sources.
5. Vaishali S Couture at FDCI X Lakmé Fashion Week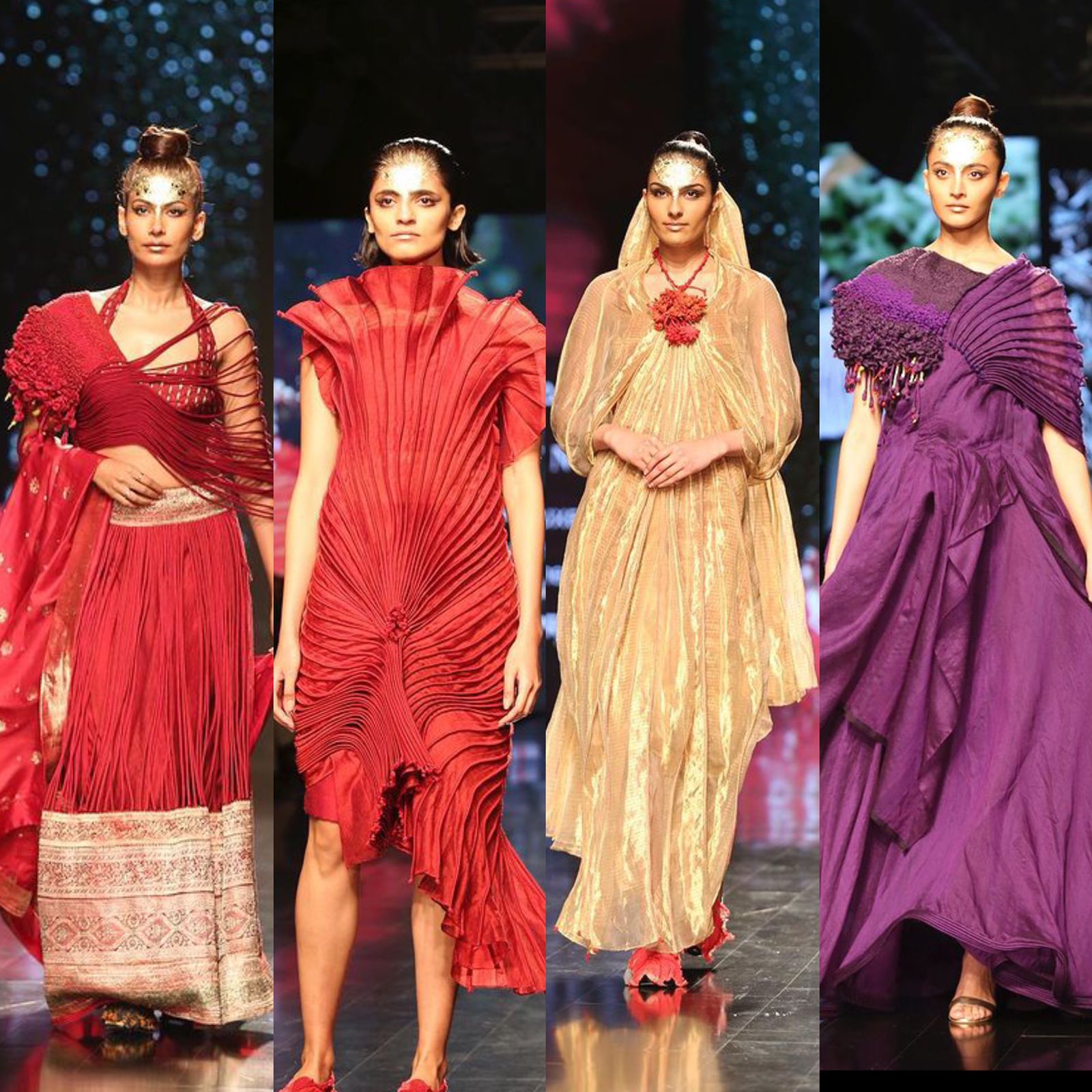 'Fil Rouge', Vaishali S Couture's collection, is the result of a reevaluation of essential pillars that also define the arc of the designer's creative journey. The collection is made up of textures and cutting-edge silhouettes that are usually expressed through layers and mixes of drapes and constructions influenced by Indian weaves. Subtle hues ranging from black to colours communicate festivity while also conveying calm and harmony. With a strong focus on sustainability and the goal of making it transparent to customers, the designer has traced all operations using Blockchain in order to make them apparent and definite.
6.  Payal Pratap at FDCI X Lakmé Fashion Week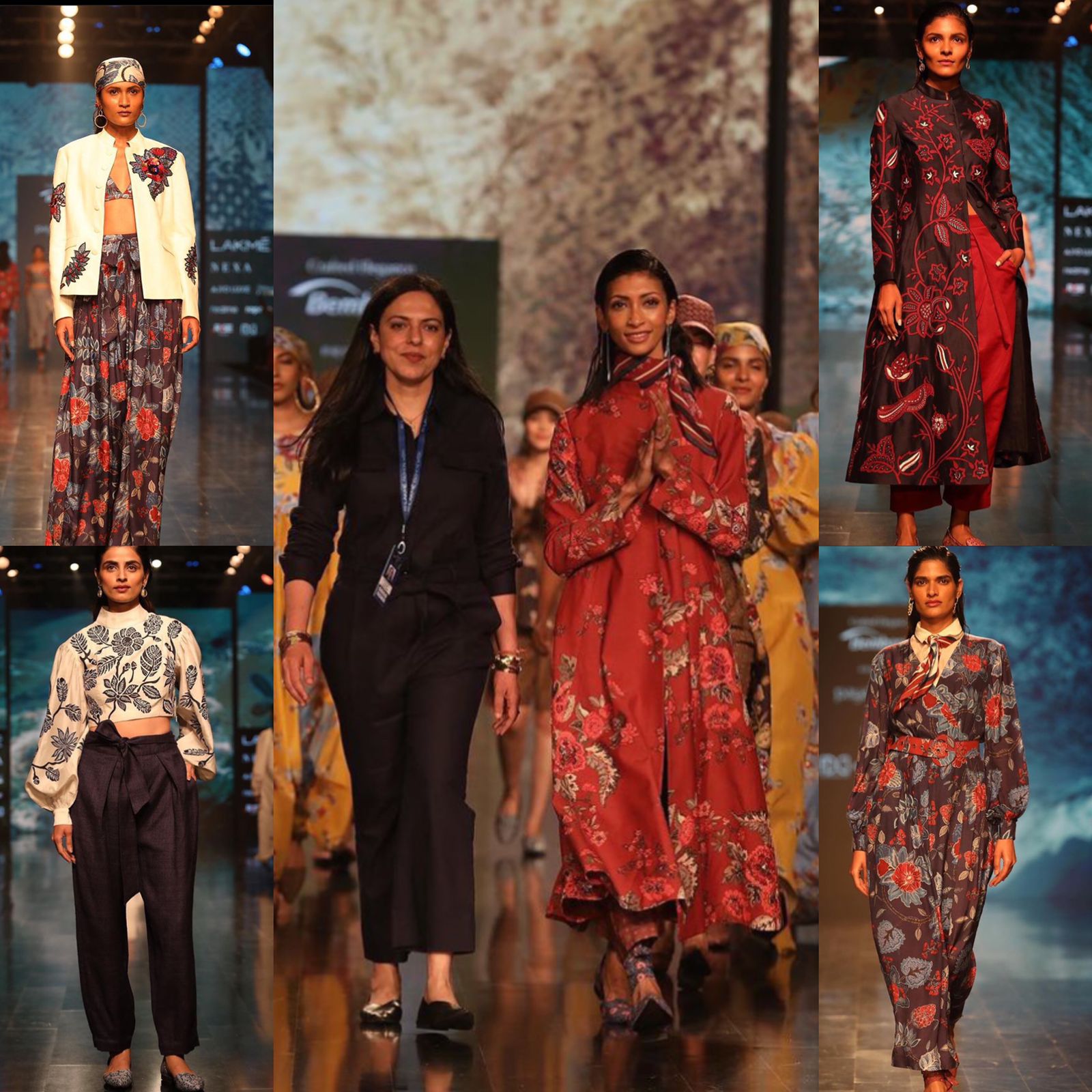 With this collection, suitably titled "JAVA," Payal Pratap goes on a nostalgic journey. The designer has worked on hand painted artworks that have been digitised, with a focus on prints. The patterns incorporate complex features and a three-dimensional depth and texture from Batik and dramatic imagery and minute detailing from Chintz printing, all of which are ancient crafts.
As an ode to sustainability, the prints incorporate flora and animals, bringing nature from the outside to the inside through the use of abundant flower, leaf, tree, vine, and bird motives. Bemberg was utilised in a variety of forms, including satins, muslins, mulmul, and silk blends, to produce a collection with both fluid drapes and structure.
7. Khadi India presents MOSSI | Abhishek Gupta Benares |Anavila|Anju Modi |Charu Parashar |Rina Dhaka at FDCI X Lakmé Fashion Week.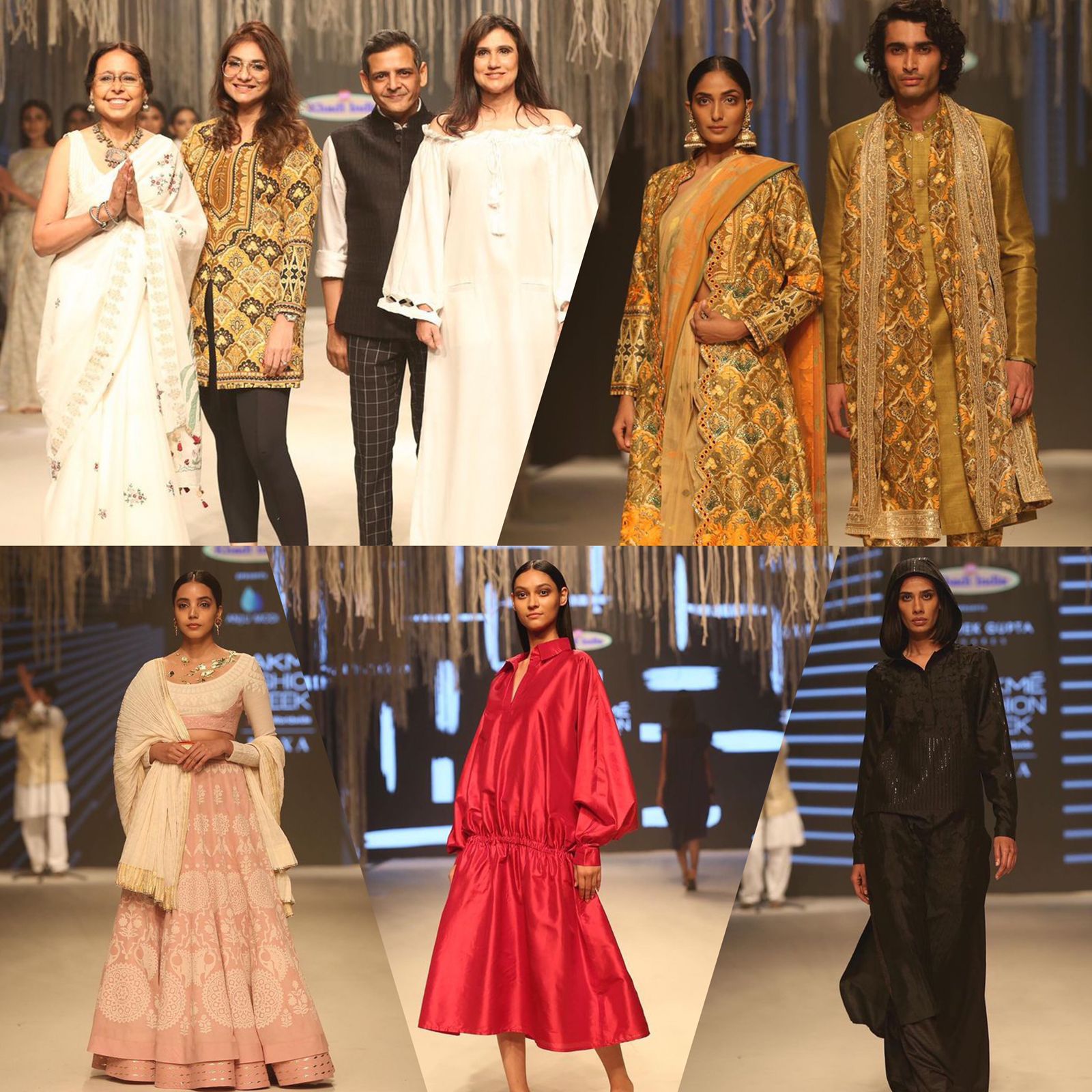 Mossi's collection pays respect to Indian craftsmanship and the Khadi fabric. The clothing's entire harmony is based on architectural line shapes, drapes, and movements.
Abhishek Gupta presents a men's and women's collection that focuses on fabric manipulation, cut, and structure. A contemporary Indian collection that gives Khadi a new spin.
Anavila's Khadi collection is a collaboration with the weavers of West Bengal's Burdwan district. Natural colours and soft contemporary Jamdani designs were chosen with care to maintain the collection rooted in the region's cultural geo-tags.
Sattvic, designed by Anju Modi, depicts indigenous energies and vibrations through fabric and silhouette study, design development, and the use of a sattvic colour scheme that includes haldi, chandan, and keshari. This series is an attempt to depict a religious link between two people by spiritually harmonising their spirits with nature.
Charu Parashar introduces "The Khadi Bride," a luxurious pre-wedding collection made of khadi silk with spice colour designs and produced by expert craftsmen.
Rina Dhaka's collection is inspired by the gypsy in all of us, as well as the ever-changing nature of life. The silhouettes are light and airy, thanks to the use of eco-friendly materials.
8. R|Elan™️ X Satya Paul by Rajesh Pratap Singh at FDCI X Lakmé Fashion Week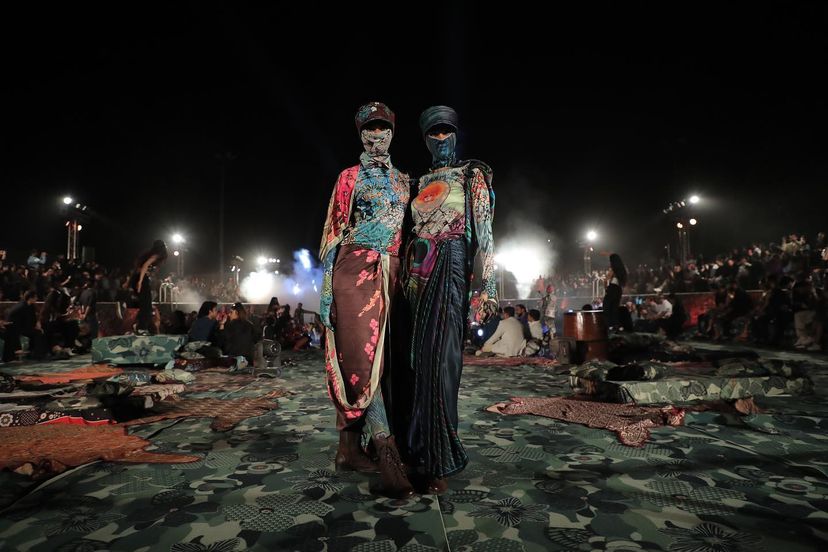 Satya Paul by Rajesh Pratap Singh presents "New Order," a series that spells Evening with a capital E and reminds us of the power of art, in conjunction with R|ElanTM whose clever and sustainable textiles give their line's flow some lift. Music, fashion, and the freedom to express oneself creatively belong on the streets and in public spaces.
With all due respect, the collection encourages us to remember that we have the right to dance at work. Inspiration was drawn from the work of Gustav Klimt, Muccha, and Toulouse Lautrec during the period when art nouveau arose as a form of resistance, demanding a return to nature through their work.