On the third day of the FDCI X Lakme Fashion Week in Delhi, there was an overdose of Bollywood glitz, with six celebs walked on the runway and a few more in attendance. However, judging by the packed houses, no one seemed to mind!
And well, there were exotic prints, statement separates, slick styling, and a dash of Bollywood thrown in the mix. Designers showed collections that were mostly focused on occasion wear, making them appropriate for both day and night. Here's a rundown of everything entertaining and fashionable we saw.
1. Swatti Kapoor, Jajaabor & Kiniho at FDCI X Lakmé Fashion Week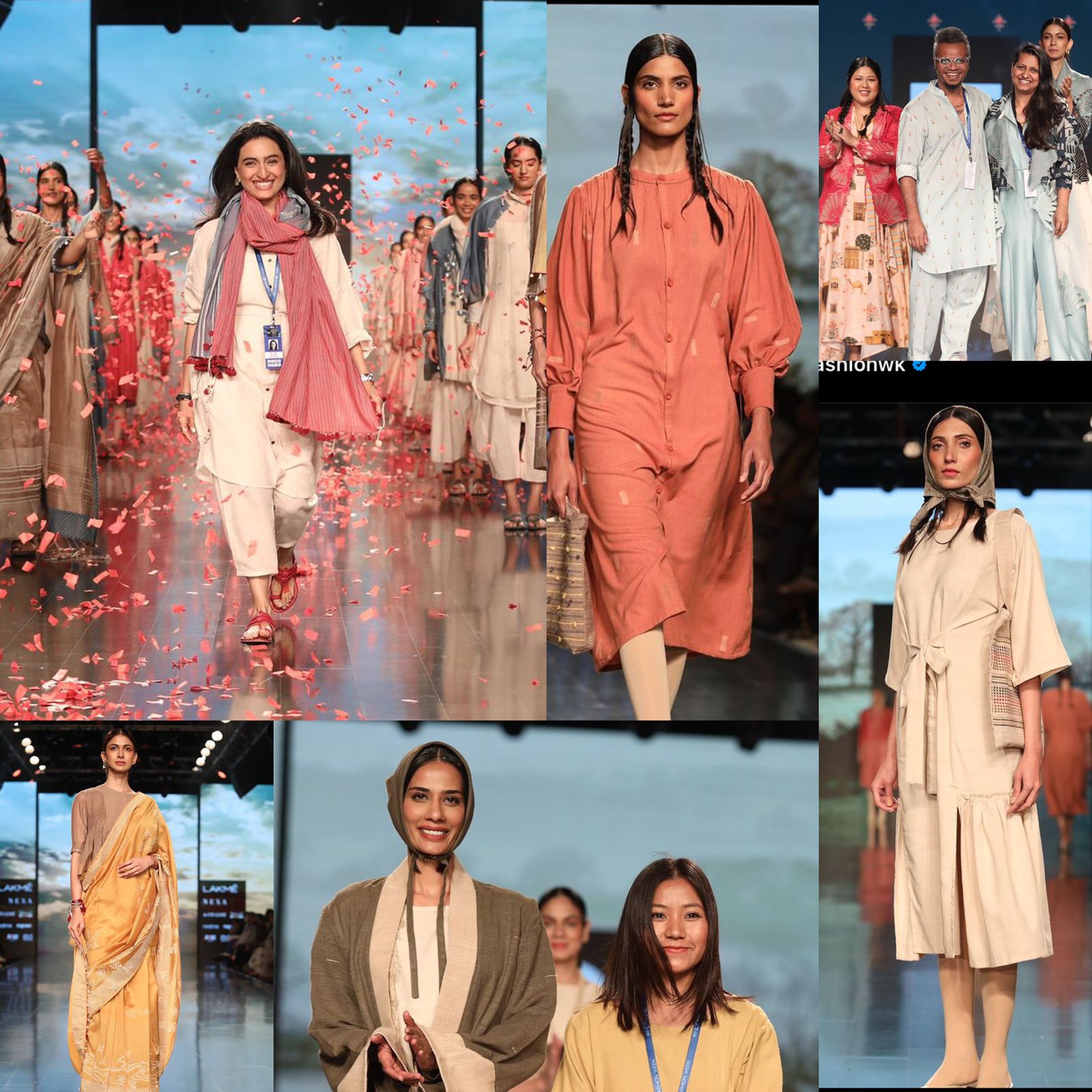 Emperor Huizong of the Northern Song Dynasty inspired Swatti Kapoor's collection "The Rise" with a hand painted silk scroll inscription and poem titled "Auspicious Cranes." Pin-tucks, pleating, block printing, hand embroideries, and other fabric manipulation techniques may be noticed in her apparel.
'WAH USTA, WAH,' Jaajabor's line, strives to tell the narrative of the last of the Usta brothers and their unique art style. Their art has changed from traditional to contemporary over time in order to appeal to a wider audience. In the label's line, the essence of Usta art emerges brightly.
Kiniho's collection is based on the "Sier Lapalang" Khasi folktale. The outfits are made of Eri silk fabric and are designed to achieve contemporary aesthetics by combining traditional processes with current cuts. The Eri silk fabric shown here is organically coloured and weaved by indigenous weavers in Meghalaya's Ribhoi area.
2. Aisha Rao and Nikita Mhaisalkar at FDCI x Lakmé Fashion Week.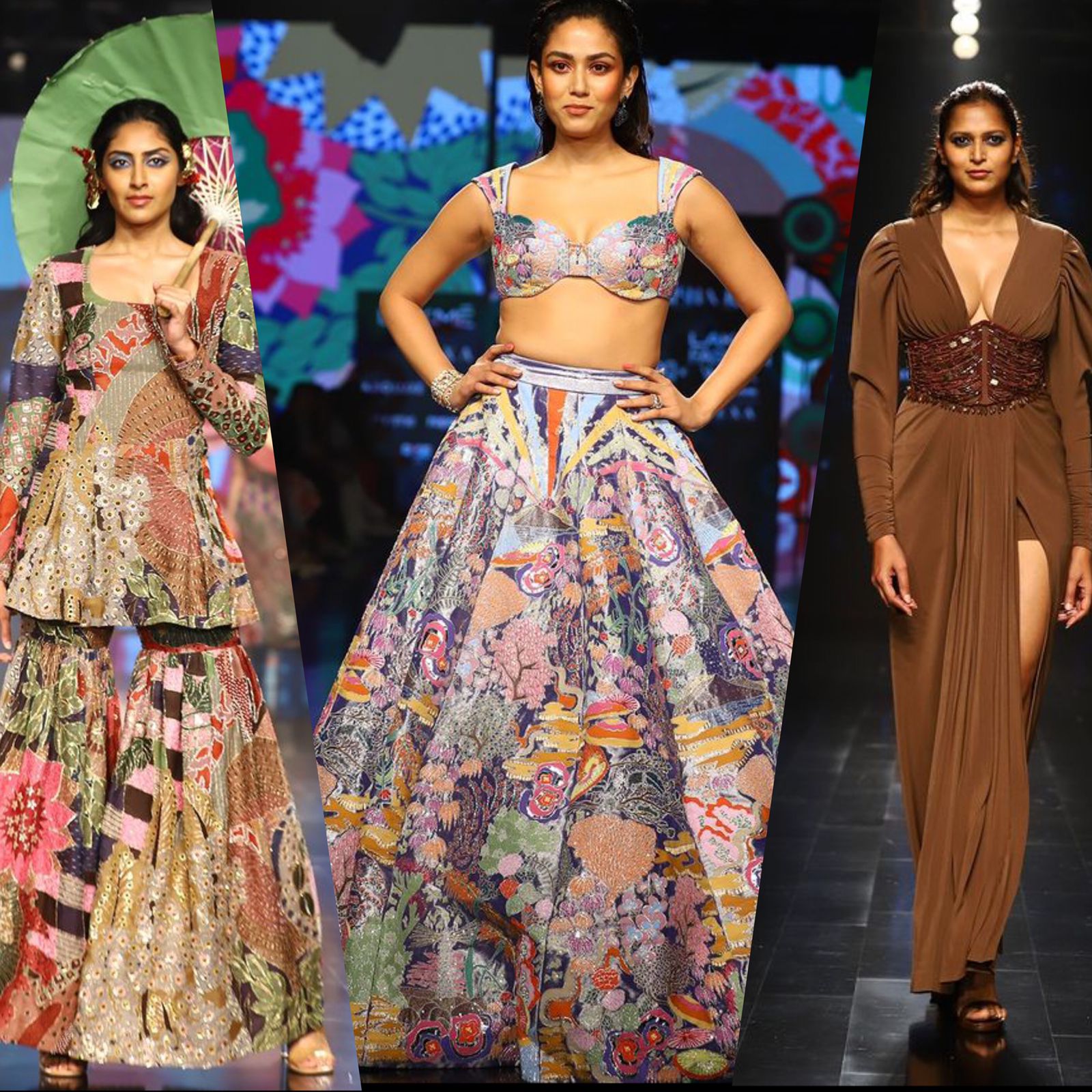 Aisha Rao's collection was a transcendental journey into an earth-friendly dreamland, depicted through exotic designs, textures, and mood-enhancing colors. Rao's new line-up mixes slow, planet-conscious fashion with uncontrolled glamour, and is beautifully vivid, powerful, and loyal to the brand's eco-minded métier. As a result, all of the ensembles combine to create a show-stopping wardrobe with immaculate construction, fit, and precise detailing.
Nikita Mhaisalkar's "Terrain" collection at FDCI X Lakmé Fashion Week is inspired by the rustic original textile crafts of North America and recreates the Navajo tribe's pictorial splendor. The designer was inspired by luscious carpets, elaborate beadwork, and graphic quilts to create this trans-seasonal line of sassy separates and stylish ensembles with the label's unique nomadic elegance.
3. Kaveri and Rajdeep Ranawat at FDCI x Lakmé Fashion Week.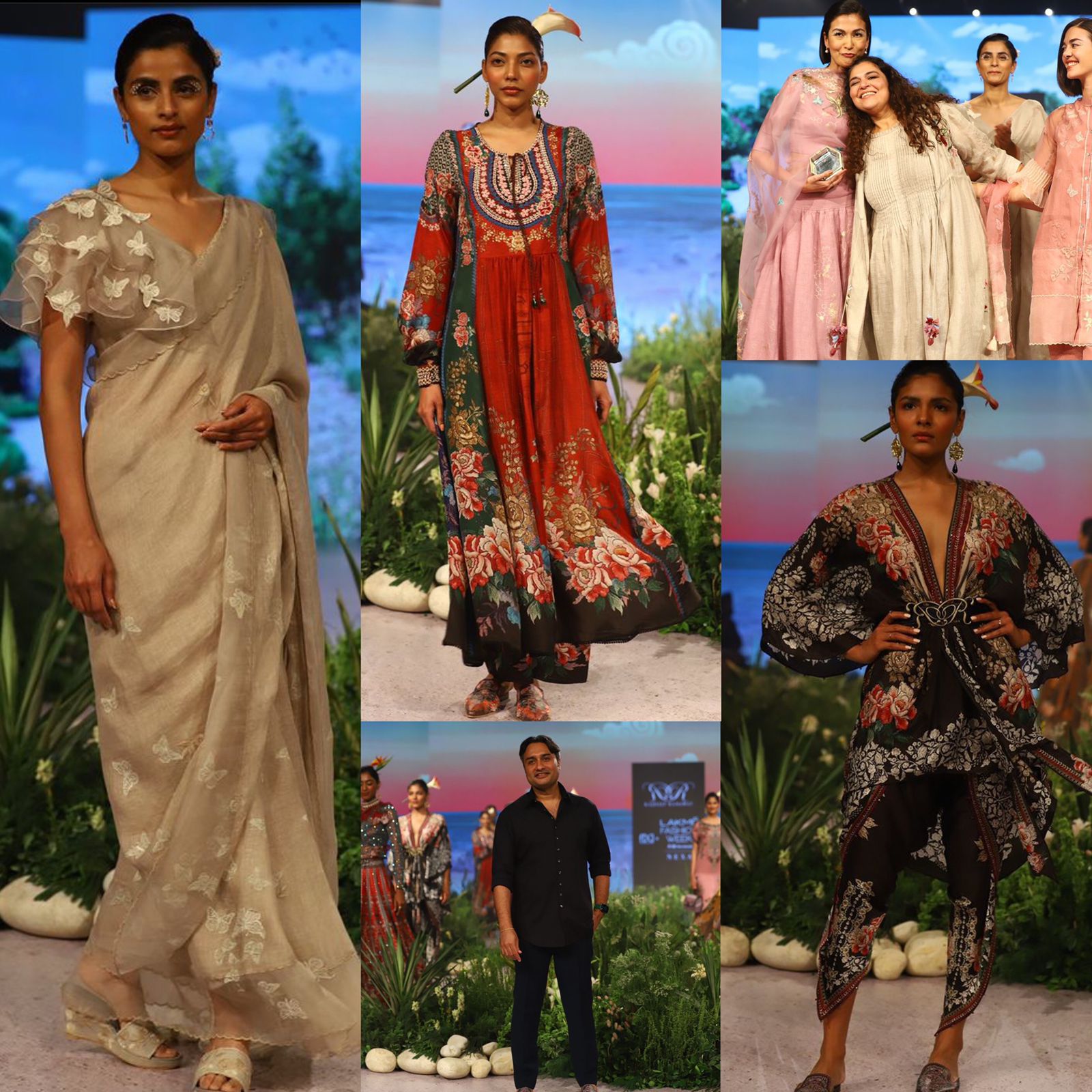 'Photographs & Memories,' a series by Kaveri Lalchand, makes extensive use of Cyanotype Printing, a photographic method that produces a cyan blue print. With a dash of Chintz designs, crochet laces, and floral motifs, the product sticks out nicely in her line. These words – feminine, graceful, and exquisite – neatly sum up the entire collection.
Rajdeep Ranawat takes you on a trip to the Orient Express. The designer clashes boldly as his eastern-inspired clothes weave stories of richness and exoticism, bringing together unique multicoloured designs, textiles, weird silks, and ingenious embroidery. The prints, with their simplicity, capture the clear orient skies and distinct sketches of oriental pagodas in parts and soothe you with a zen-like peace.
4. Aartivijay Gupta and Siddhartha Bansal at FDCI x Lakmé Fashion Week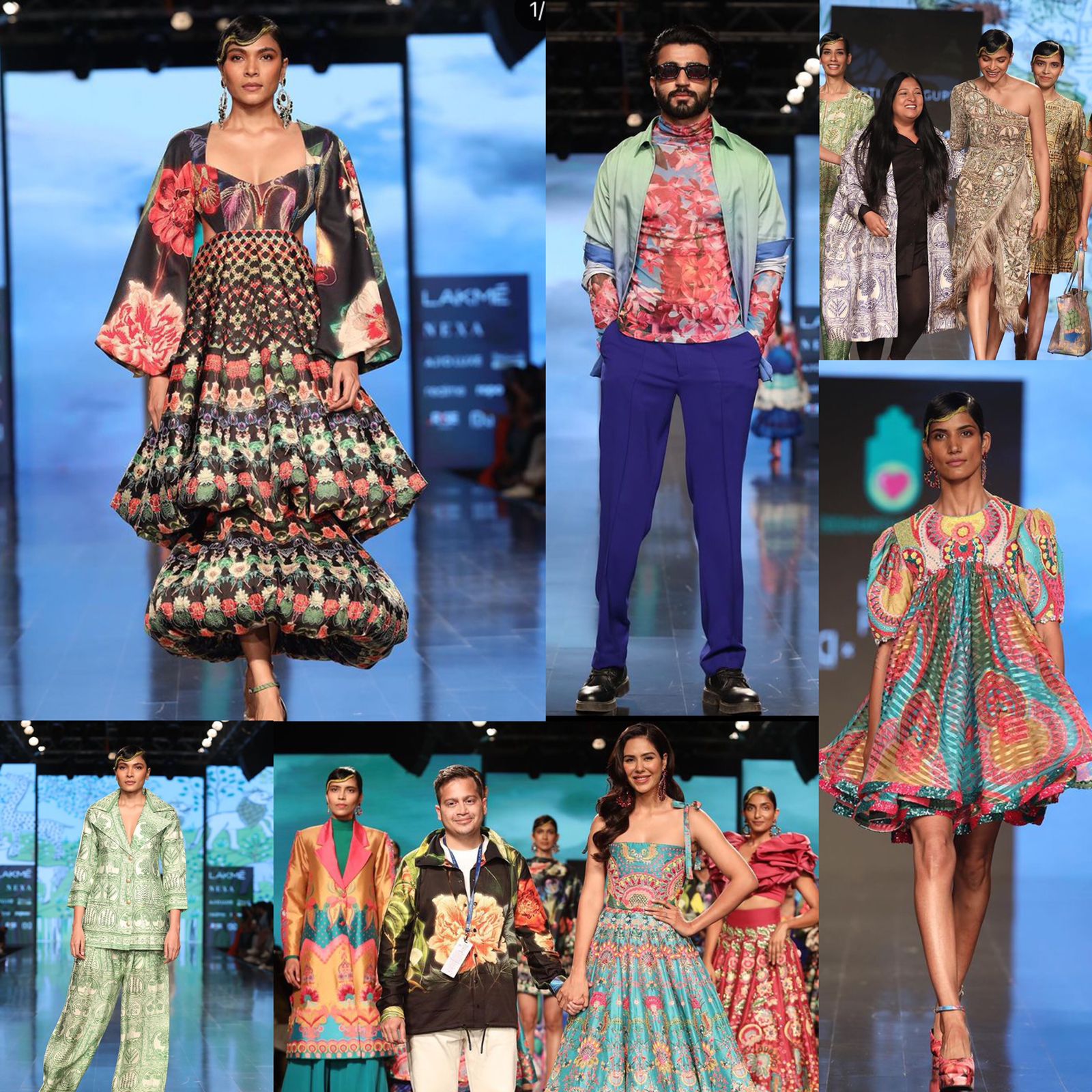 Aartivijay Gupta's collection showcases an unusual mix of designs, all of which are highlighted with elaborate metallic embellishments.
'Blooming Tales,' by Siddhartha Bansal, is a lovely book about the vivid floric tribe of emotions. Blooming flowers and swirling paisleys make create a gorgeous wonderland for his current line, which takes you on a fantasyical voyage.
5. NEXA presents "The Spotlight" featuring Two Point Two at the FDCI X Lakmé Fashion Week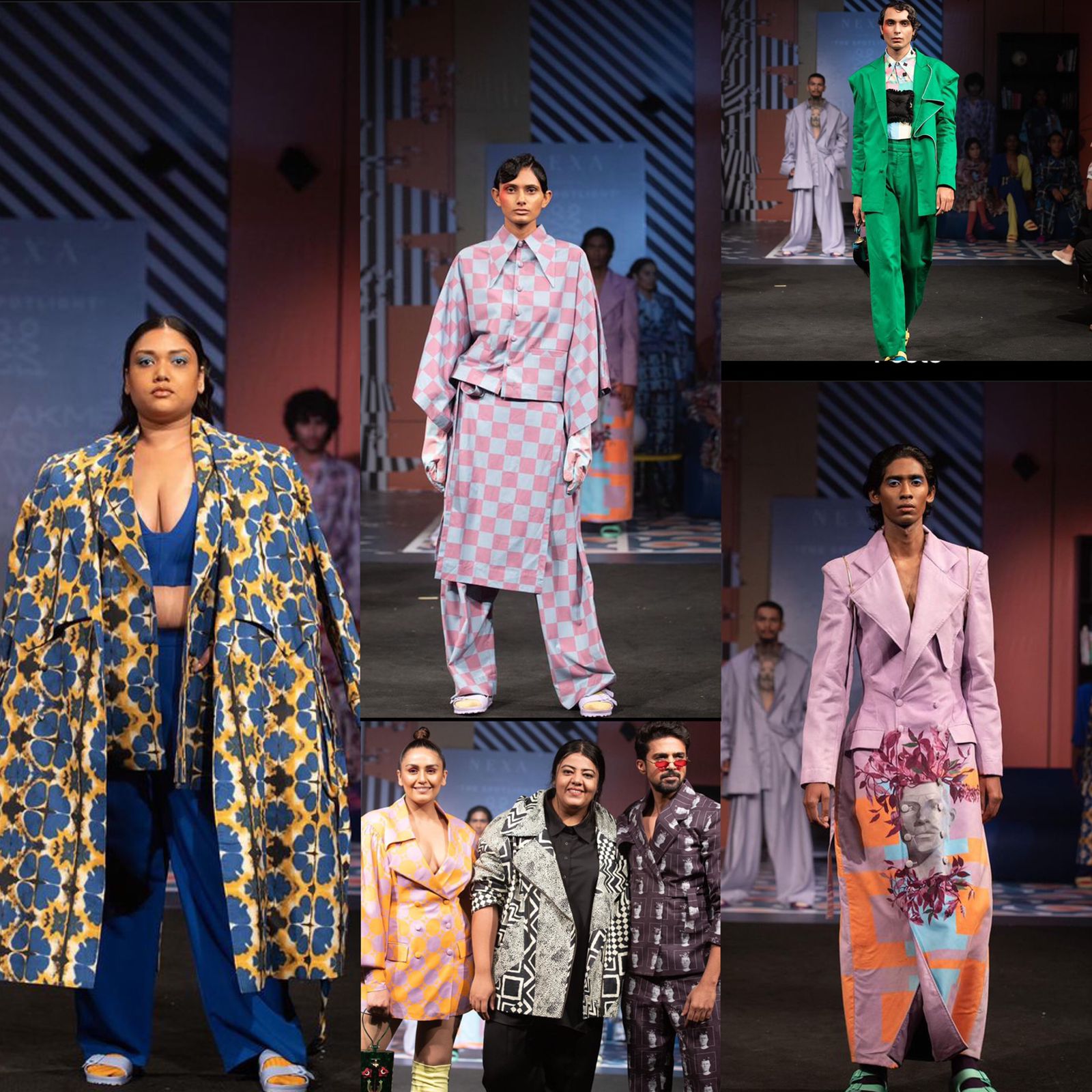 This compilation, 'Behind the Doors,' is a testament to that faith, reminding us that hope, compassion, unity, camaraderie, and, most importantly, love exists. It's a reflection of our experiences throughout the pandemic, as well as how we overcame and continue to overcome it. This collection is a true monument to the necessity of saving the earth by discovering sustainable alternatives in fashion.
It is made with sustainable organic textiles made from fibres of rose petals, orange, lotus, and organic cotton. This collection's features and silhouettes combine our desire to travel with our desire to spend time at home.
6. boAt X HUEMN at FDCI X Lakmé Fashion Week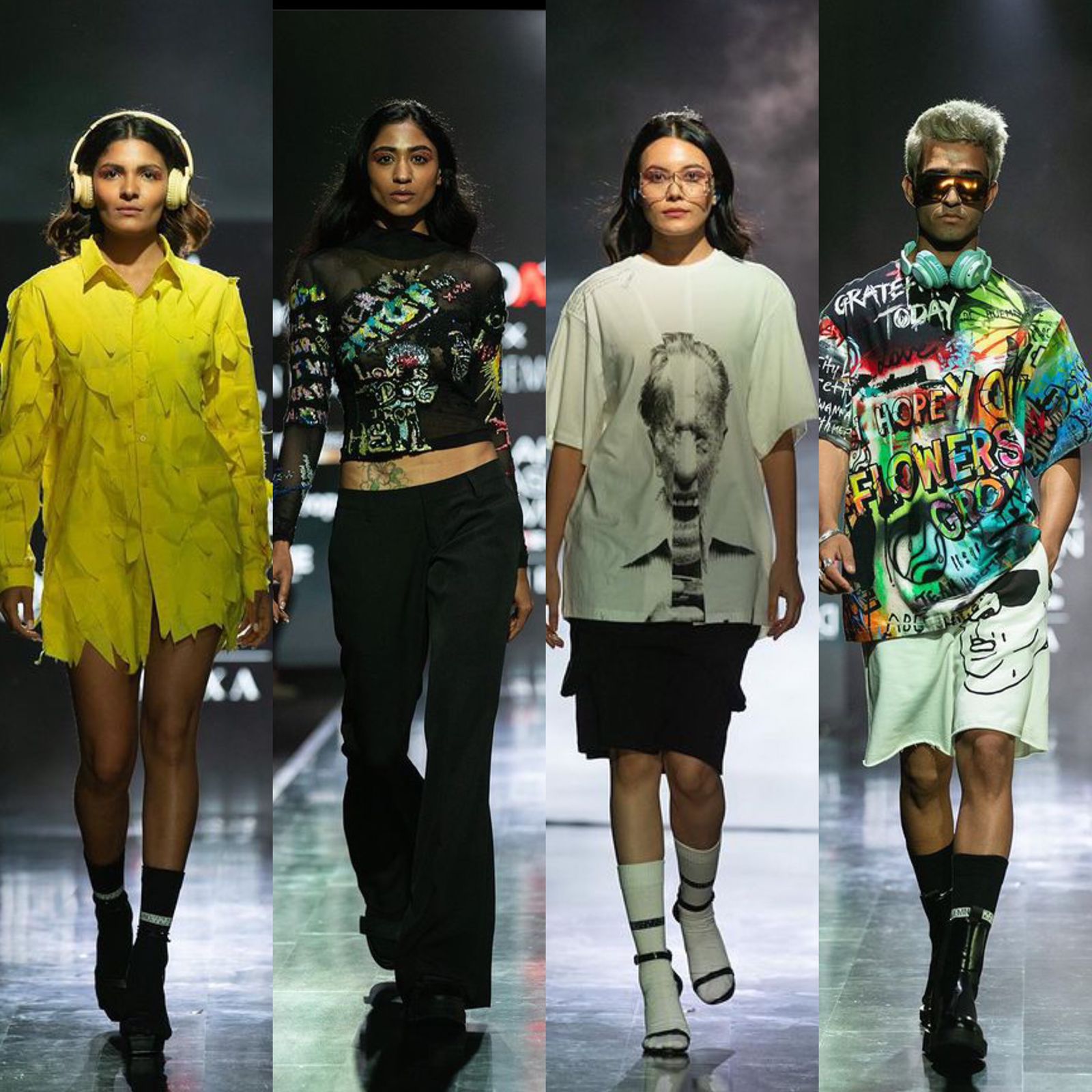 The collection by boAt X HUEMN is a play on opposites and a reflection of the decisions people make as they navigate through our rapidly changing communities, fueled by inner strength.
The collection delves into clothing that are discussion starters, such as hand-drawn designs, dramatic statement pieces, inclusive fits, and beautifully created textures, all of which are hallmarks of HUEMN. The handcrafted HUEMN Gorilla also makes an appearance throughout the collection, serving as a grounded reminder of HUEMN's ever-evolving nature.
7. FDCI Showcase: Ashish N Soni at FDCI X Lakmé Fashion Week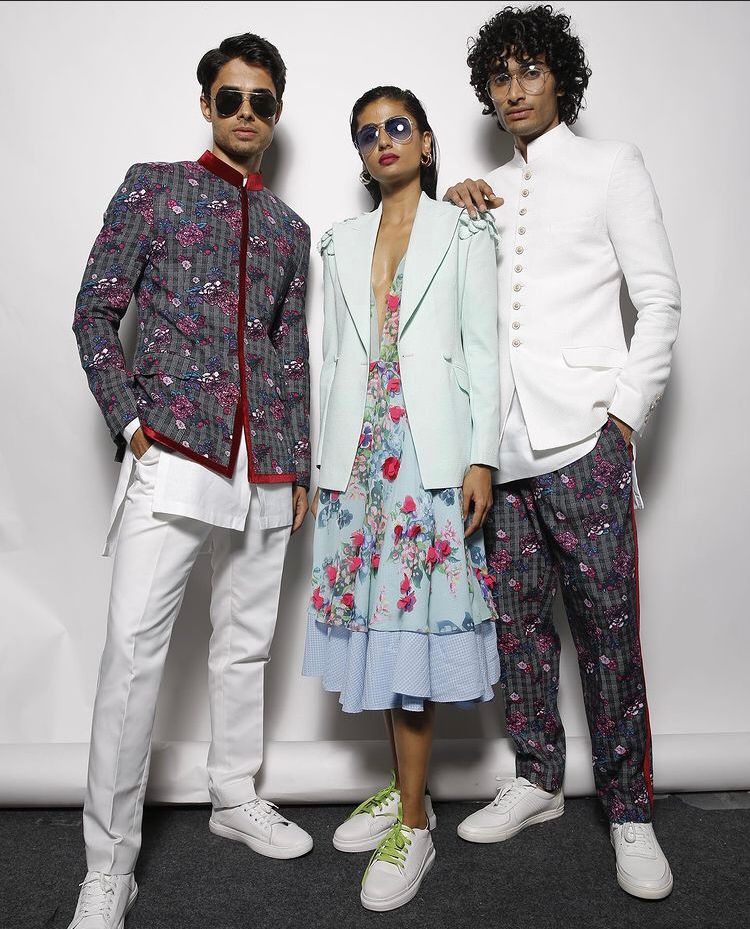 The brand's collections, which feature textured whites and beige alongside floral designs and ornamentation, have a strong, unified, and clearly identifiable narrative. Countless floral-printed patterns, both in soft tailoring and extended silhouettes, provide powerful visual that reinforces the tailoring tradition narrative from menswear to reintroduced womenswear.
8. Natural Diamond Council presents "A Sea of Million Stories" by Rimzim Dadu at FDCI X Lakmé Fashion Week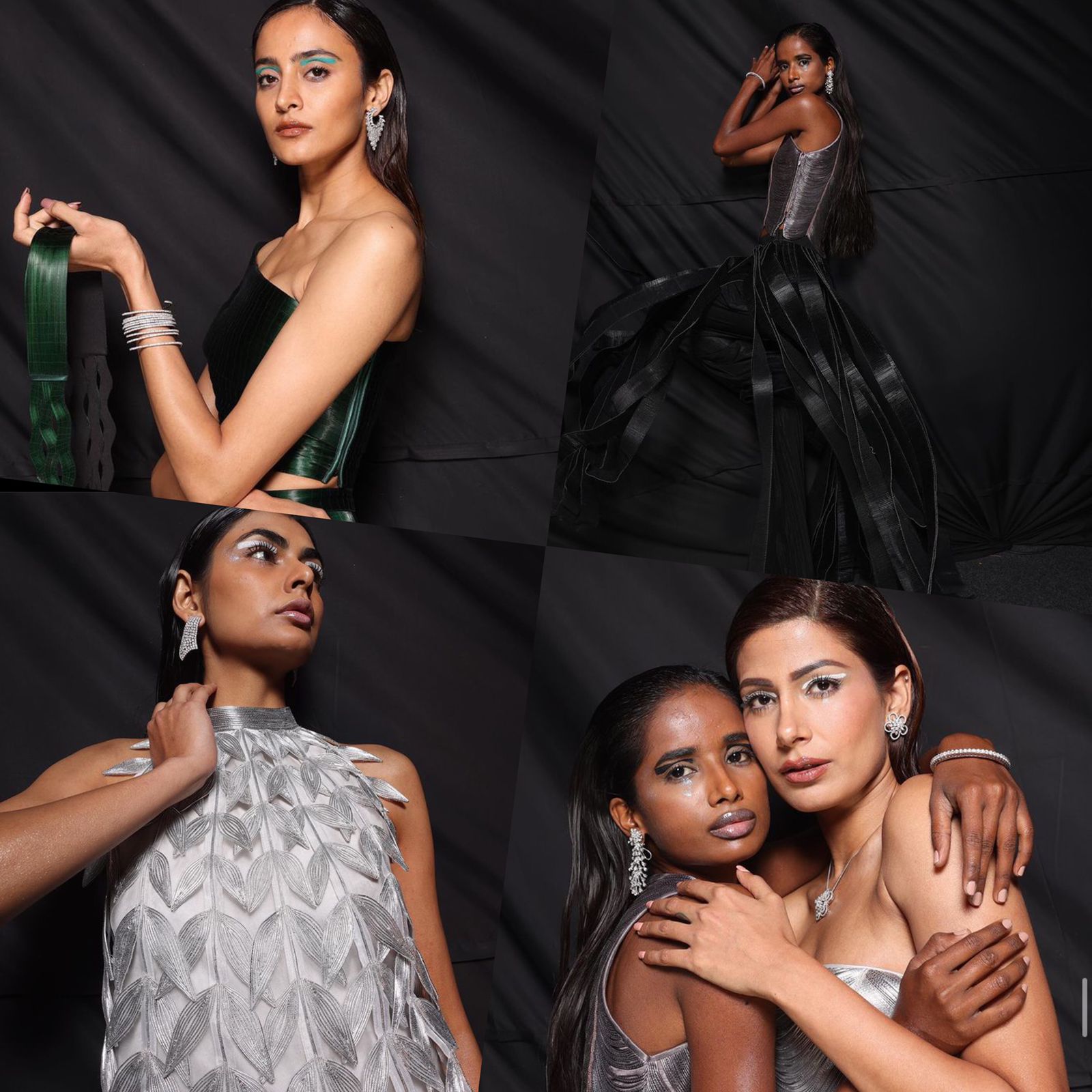 The ripples and waves in the sea, the roughness of a river bed, the tropics, and the ever-changing skies are all inspirations for this collection. Rimzim Dadu's re-engineered material signature cord technique re-imagines cocktail dressing to produce fluid yet rigid forms.
This collection combines clean cuts, sharp silhouettes, and molten metallics to create a range of unique cocktail attire for women and men. The collection features rich hues and sleek sculptural forms, making it the perfect blend of contemporary and luxury ready-to-wear.
9. Ajio Luxe presents Manish Malhotra "Diffuse" at FDCI X Lakmé Fashion Week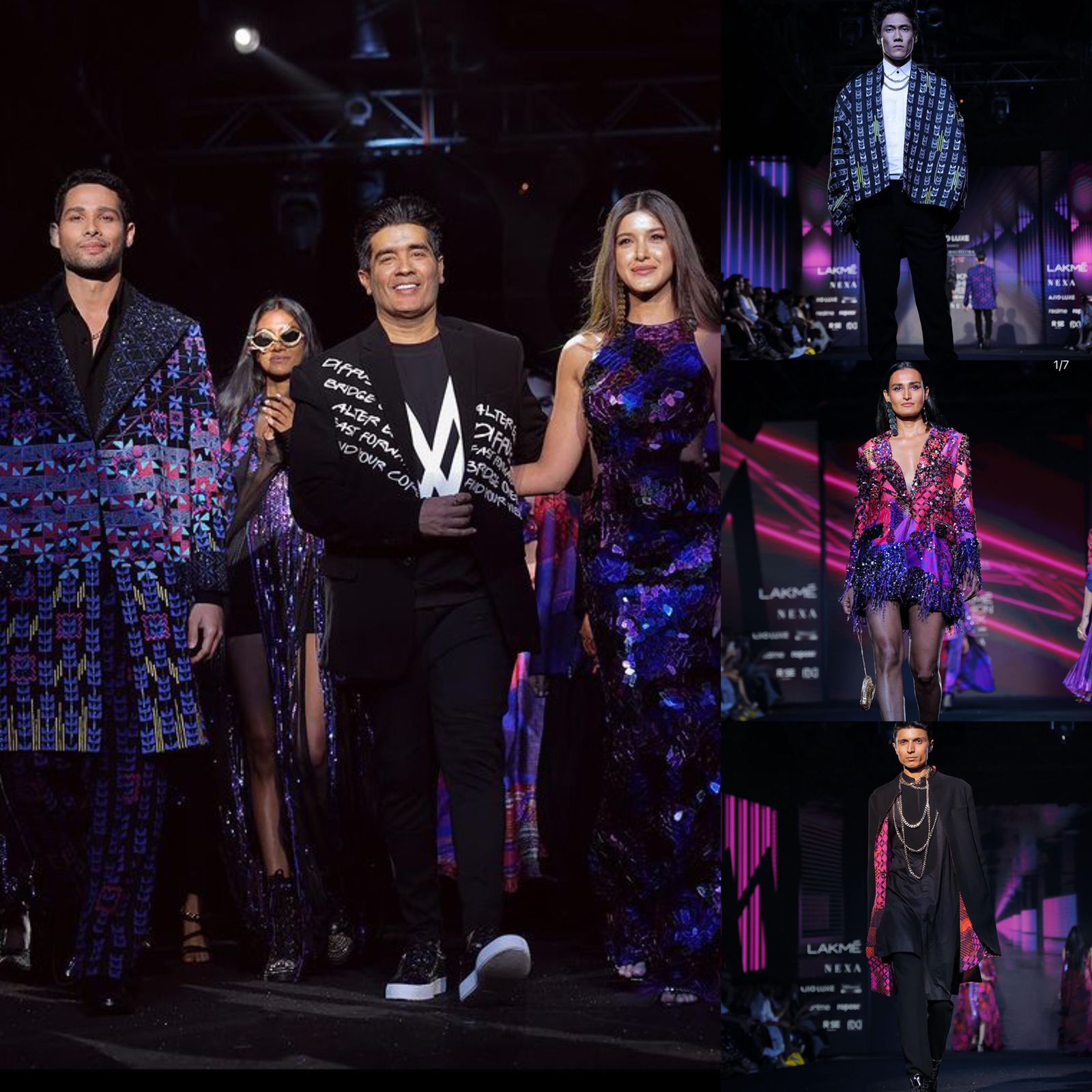 'Diffuse,' Manish Malhotra's final show of the day, featured Siddhant Chaturvedi and Shanaya Kapoor, who glistened in sparkly costumes and wooed the audience with a few unplanned dance steps. The celebrities strutted Malhotra's colourful costumes with swagger belying their relative inexperience. Geometric designs, one-of-a-kind prints, sequins, fringes, and layers in pink, purple, and black were featured by the designer.
A stunning collection with distinct geometric patterns and unusual prints filled with metallic embellishments emerges in all its dazzling beauty if you may say!