By Dr. Richa Vats – Geriatric Dentist
Elaboration on oral hygiene aids.
Routine dental checkups are quintessential for maintaining excellent oral hygiene and diagnosing potential diseases. But this is not the only fix. A thorough oral home care regime should be practiced daily for that sparkling and healthy smile!
 The following are some of the most common oral hygiene aids for home care.
Dental floss
This is the most common Interdental and subgingival tool that comes in various types and flavours. Floss is made from thin nylon filaments or polyethylene ribbons. It helps remove food particles and plaque that gets stuck between the teeth. If used incorrectly it can harm the soft tissue and cause bleeding, hence it is used with minimal force and a proper technique as directed by your dentist.
It is normally used twice a day after brushing and is not recommended for everyone. The floss thread needs to be discarded after use.
 Interdental cleaners
These cleaning devices are mostly advised by your dental hygienist and periodontists. Interdental cleaner is a tiny brush that goes smoothly between your teeth into the gum and pushes the food plaque onto the opposite side, which is later rinsed. They come in various shapes and sizes and can be reused like your toothbrush. It's very tiny so it's portable.
Also, this is much gentle on the gums as compared to the floss.
Mouth rinses
These are routinely used after brushing. There are two kinds of mouthwashes: cosmetic and therapeutic. Cosmetics are the ones which are available over the counter and have shown minimal effectiveness in plaque control. On the other hand, therapeutic mouthwashes are highly effective in reducing gum pathogens, bad breath, plaque and cavities. It's important to note the dilution of the rinse for its effectiveness. Most People rinse with water after the mouthwash rendering it ineffective.
So wait at least 30 minutes before you eat or drink anything after the mouthwash.
 Oral irrigators
The mechanism of action is similar to that of interdental brushes. Oral irrigators like water jets and waterpiks have been known to clean debris from beneath the gums. The water is sprayed like a jet onto the teeth which helps remove harmful bacteria of food particles. So instead of your hand movement, this device is more mechanical. Remember to change the water regularly.
 Rubber tip stimulator
This is an excellent tool for removing plaque from around the gum line. It also stimulates blood flow to the gums. The stimulator is traced gently along the outer and inner gum line at least once a day. Any plaque,if there is, can be rinsed off with tap water. Replace the text as soon as it starts to appear worn.
Tongue cleaner
I like your teeth. Your tongue also needs to be cleaned mechanically. This device is designed to remove the buildup of bacteria, fungi and food debris from the tongue. If the tongue is not cleaned regularly it may result in bad breath and also systemic diseases like diabetes, respiratory disease and heart disease leading to stroke. Tongue cleaners are made of metal wood or plastic and their contour is in accordance with the tongue. This device should always be used prior to brushing to prevent the injection of bacteria and other pathogens.
Toothbrushes
This device is indispensable. All the others that were mentioned before are used as an adjunct to the toothbrush. There is no alternative to brushing.
This has to be done twice a day, in the morning after breakfast and at night after dinner. Many types are available in the market. Electric and manual. Electric toothbrushes have a vibrating or rotary motion along with the mechanical motion which helps in easily dislodging plaque and food particles from around the teeth and gums.
Manual toothbrushes require more dexterity and effort. Also, it's imperative to replace your toothbrush after 3 months, or any viral infection or covid. A worn-out toothbrush will do more harm than good.
Periodontal disease also called gum disease is the leading cause of tooth loss worldwide. But this is completely preventable in the majority of cases.
By following the simple routine oral hygiene practice at home combined with bi-annual visits to your dentist.
 Healthy smile is a happy smile !
Editor's Picks
Get 5 shades lighter teeth in 5 simple steps with toothsi Spark Teeth Whitening Kit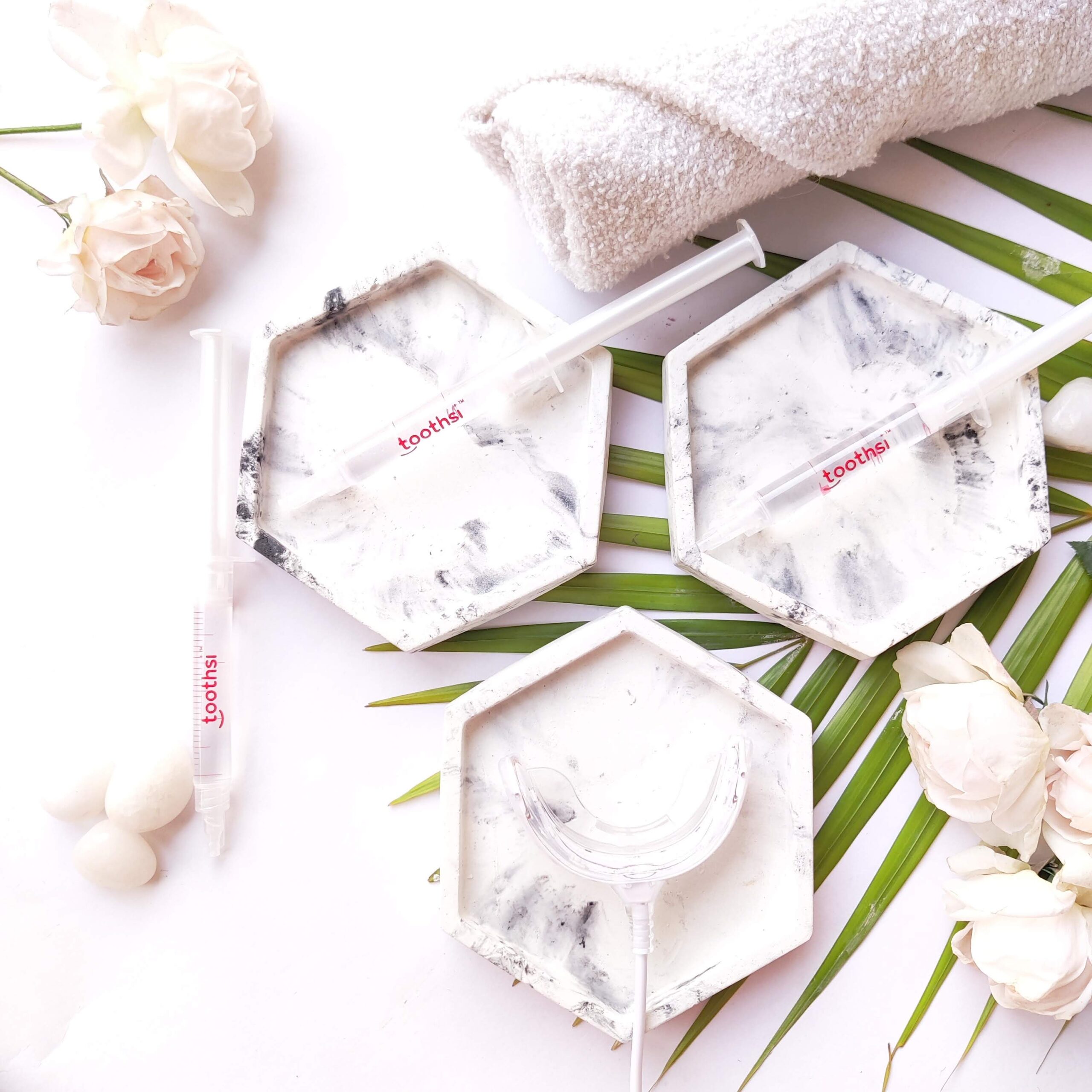 See below the 5 steps of using this product:
1. Fill it up
2. Wear it
3. Add the UV light
4. Stains gone
5. Repeat