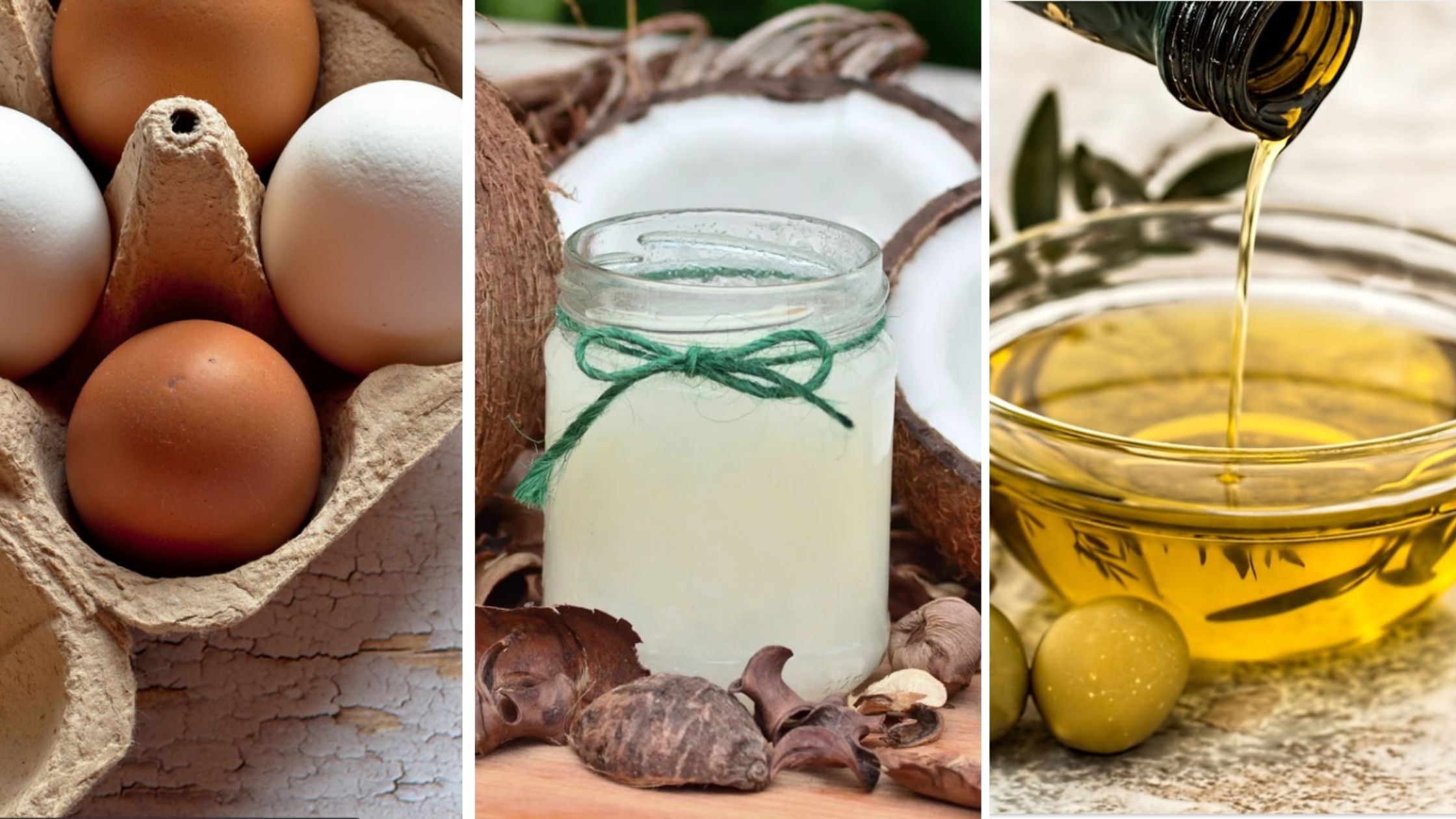 Life isn't perfect but your hair can be. The saying is true! With the right amount of care and products, you can achieve perfect hair. We've always tried products after research and reviews and there are times that they haven't worked for us. It's a total bummer. Spending our saved money on chemical treated products results in nothing.
For years, the best beauty secrets lie in our homes. Our grandma's and mothers have carried those long luscious jet black hair with homemade natural recipes. The best part about these natural recipes is that they are harmless, with no side effects, without chemicals, easily available at home, and affordable too. In some cases, free! For you all, I have three DIY hair masks that will do only good to your hair – 
Shikakai Powder + Coconut Oil
Shikakai Powder (also known as Acacia Concinna) has always been used by us Indians as a mild hair cleanser. Due to the presence of vitamins and antioxidants, it gently cleans and soothes your scalp. Boosting hair growth and fighting dandruff is another benefit of using it. It also makes your hair look shiny and gets rid of any damage. It is one of the best natural hair cleansers which will soothe your scalp if it's too itchy and make it stronger. 
Coconut Oil has the ability to provide moisture to your dry scalp and nicely condition your hair. You will get soft and lustrous hair in no time. Just one use and you'll see that shine on your hair
For this hair mask, take two big spoons of shikakai powder and two tbsp. Of coconut oil. Mix it nicely to get a smooth paste with no lumps. Apply it on your scalp and leave it for 30 minutes. Rinse it with a mild shampoo to get the best results. 
Aloe Vera + Olive Oil
This gooey-like product is a one-step solution to many problems. It's very gentle and will get rid of your itchy scalp, dandruff and any flakiness. Due to Vitamin A, C, and E, it tends to keep your hair strong and healthy, repair the damage and nourish it nicely. The best part about using Aloe Vera gel is that it maintains the pH level of your hair which makes it more suitable for healthy hair. It's the perfect way to condition your hair. 
Olive Oil is known for its rejuvenating and strengthening properties. If you have dry scalp, it will moisturize them. It retains your natural hair texture making it smooth and silky. Improving blood circulation, it is proved to increase hair growth. 
For this mask, take 2 tbsp of Olive oil and mix it with half cup of aloe vera gel until they both are dissolved into each other. Apply it evenly from your scalp to tips and leave it for 20-30 minutes. Then, wash it off with a shampoo making sure no residue is left behind. 
Eggs + Coconut Oil
Eggs have to be hands down the easiest and most used homemade natural treatment for dry and rough hair. Packed with nutrients such as biotin, vitamin A, D, E and K and even folate. It is the best source of protein for your hair. It will calm down your frizzy hair, promote hair growth, restores shine to your hair, and is a natural keratin treatment. The smell may be unpleasant, but the results are great. Within a few uses, you'll see the change on your weak hair. 
Coconut Oil, on the other hand, is an excellent treatment for broken and dull hair. It's a natural moisturizer that restores your hair nourishment. It's a great way of accelerating hair growth. It will for sure save your dry hair strands.
For this, crack one egg and mix two three tbsp of coconut oil. Mix it nicely and apply it on your hair nicely. Keep it on for 30 minutes. It's better if you cover it so the dust and dirt don't stick. Wash it off nicely making sure there is no residue left.