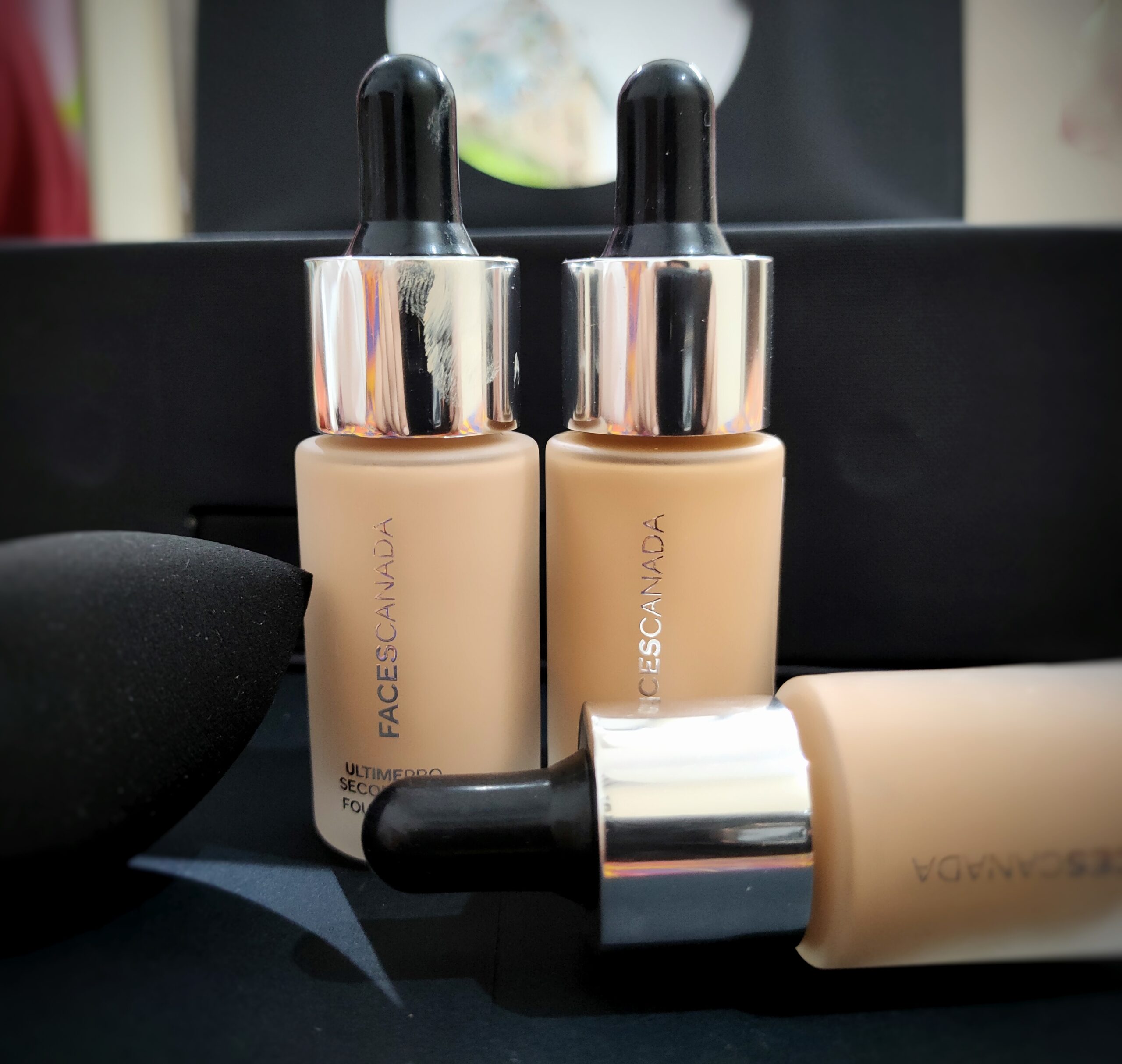 Ever wondered whether the newly launched Faces Canada Ultime Pro Second Skin foundation is worth the hype or not? If so you're at the right place. I Just tried …this cult classic and sharing below whether it lets you achieve a healthy dewy glow or not. 
It's difficult to find the perfect foundation because there's so much to consider. It's one of the trickiest products to shop online or at the counter. You want to make sure it's the proper shade, that it covers well, and that it stays put. The texture is another key consideration. 
The ultrathin foundation is infused with a serum that quickly gets into the skin and provides healthy natural medium coverage. A perfect fit for day and day to night events. The texture is light and doesn't feel cakey or heavy at all.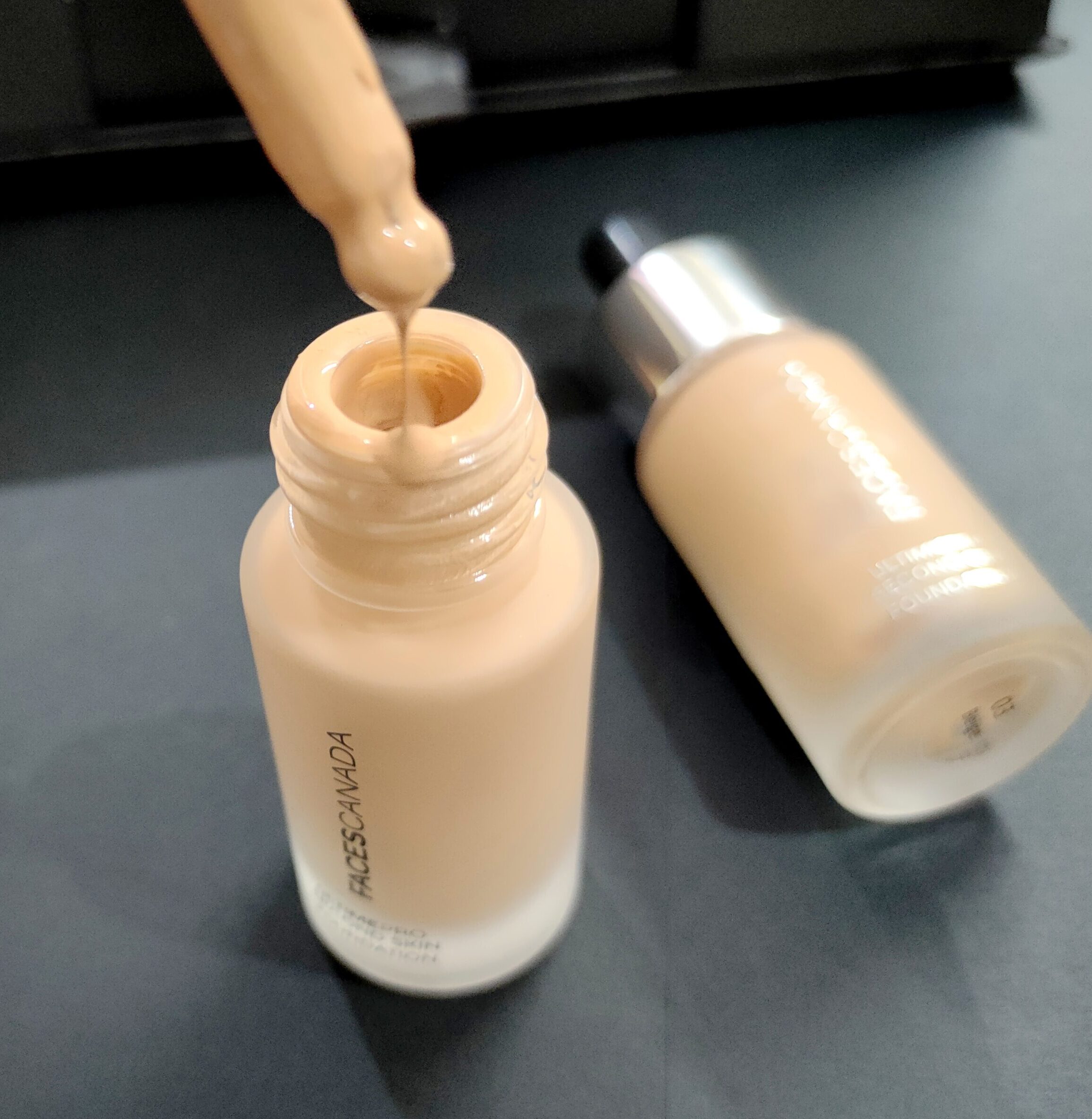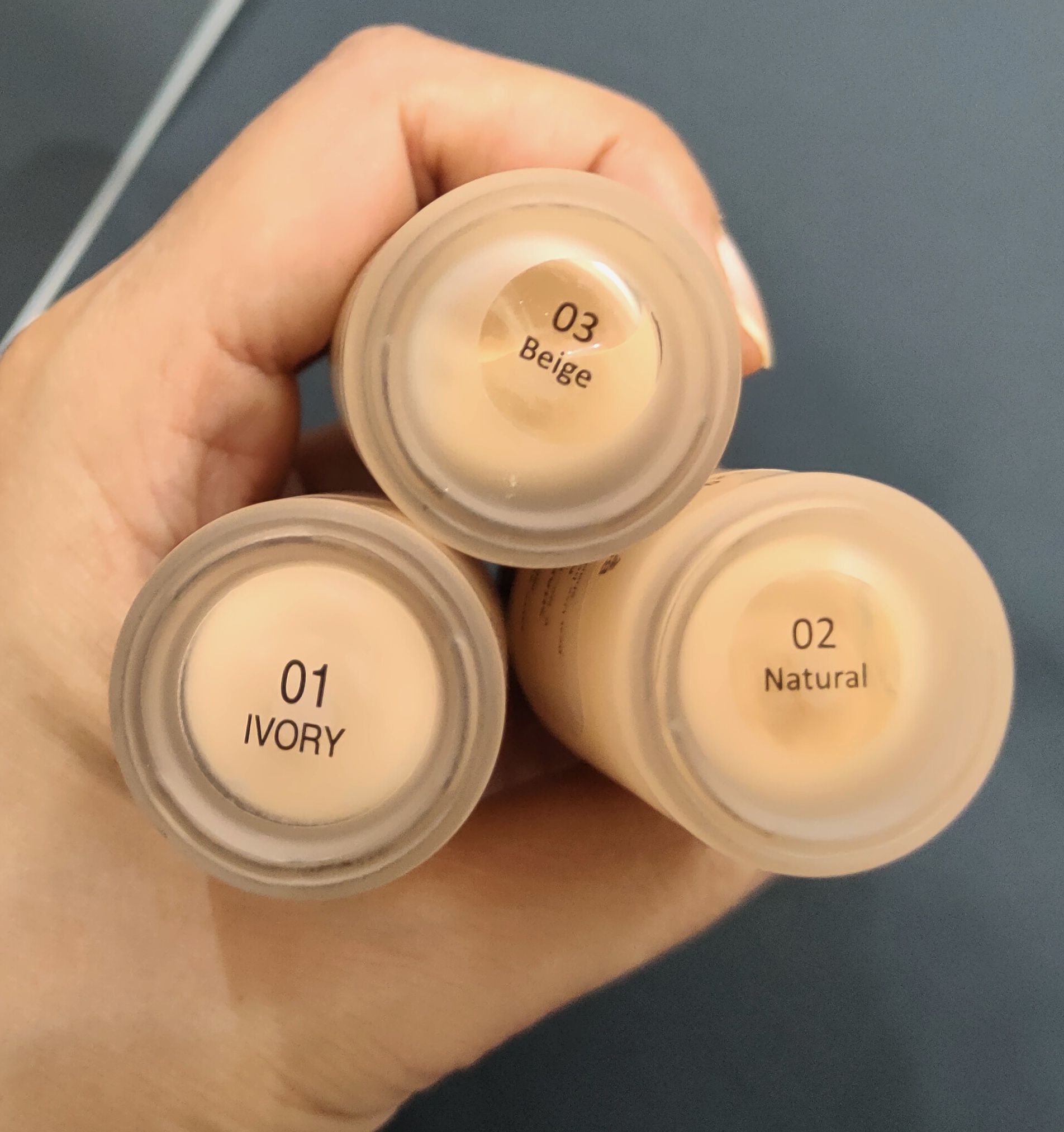 This flawless foundation is made with skin-friendly components that are devoid of mineral oil, preservatives, micro particles, and parabens, and gives seamless coverage for 6-8 hours! Enriched with marine algae the foundation is packed with skin benefits and it is available in 14 shades, especially designed for Indian skin tones. 
Just take very small drops of the matching shade and dab it with a sponge for a healthy dewy glow. If I have to name one product to create a perfect base for a dewy glow this foundation must have even in winters and for dry skin. 
I tried patches of 3 shades below to show the texture and color of three basic shades. I have dry skin. This foundation gives me incredible coverage and glow. Covers my uneven skin, keeps my skin well hydrated and bouncy.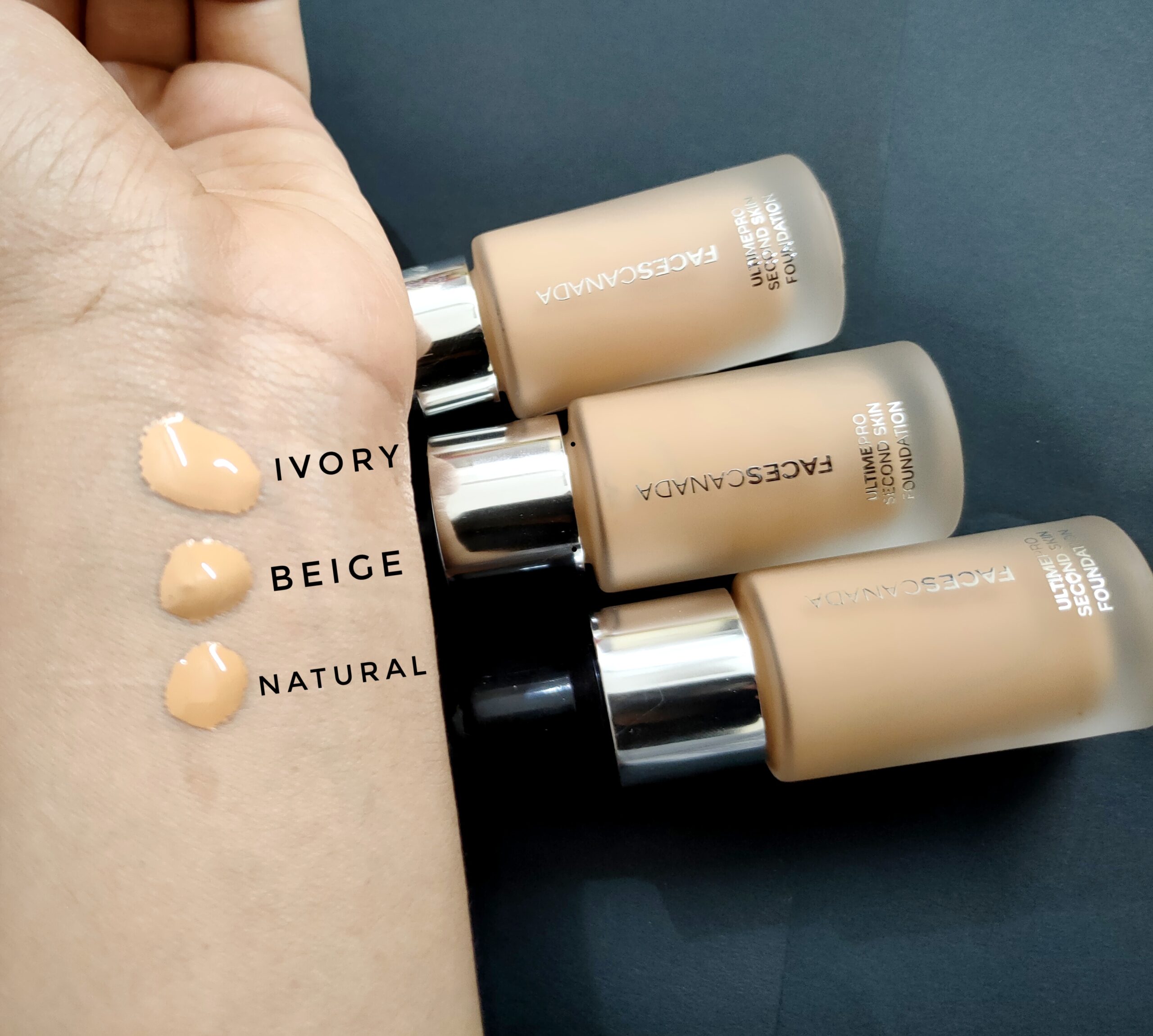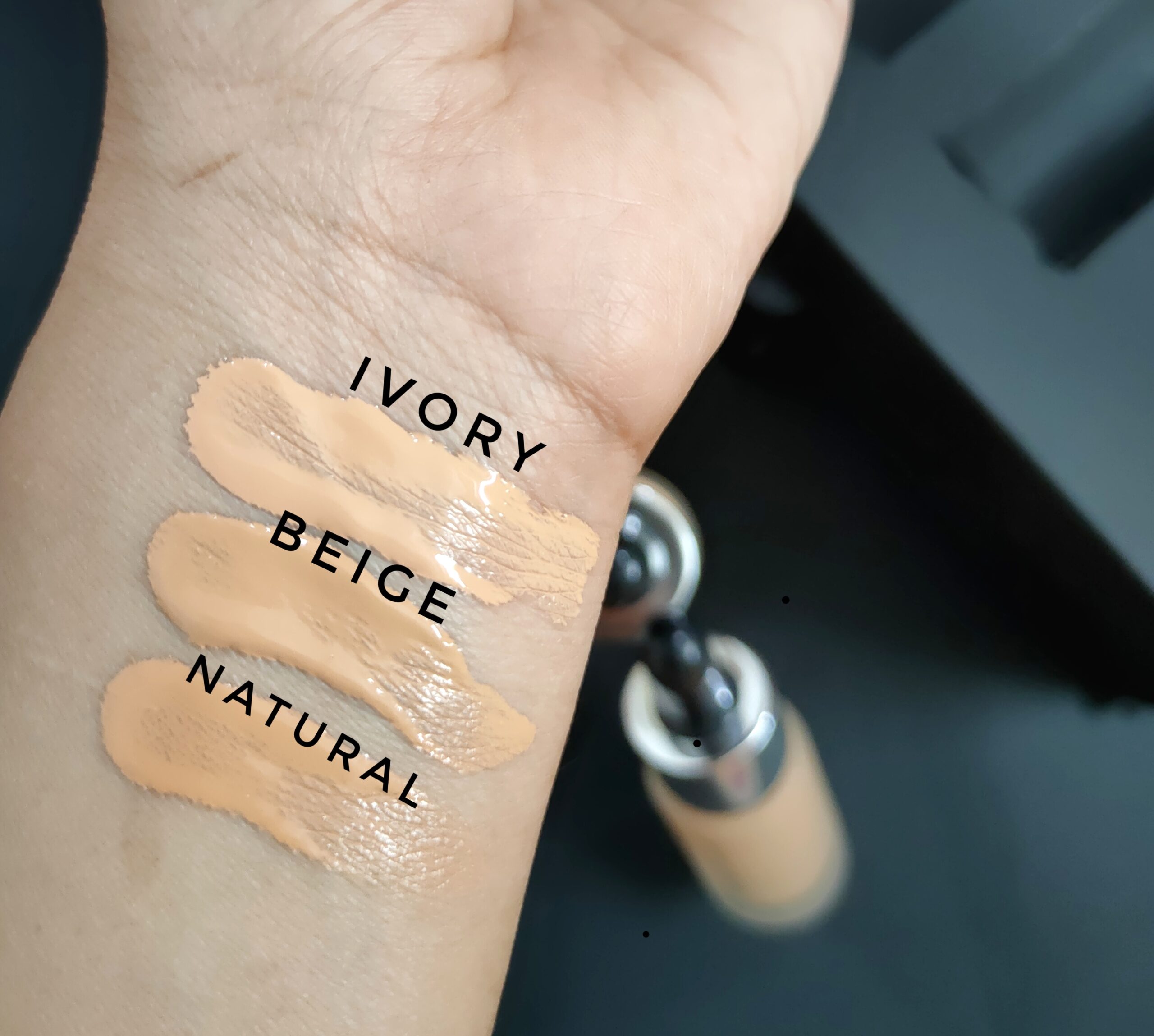 To clear your doubts further, we have answered some most searched questions below:
Will Faces Canada Ultime Pro Second Skin Foundation suit oily skin type?
It's a yes! This foundation doesn't contain any mineral oils and is skin-friendly. It won't cause any breakouts yet a patch test is suggested before the application. 
Does Faces Canada oxidize the foundation?
The foundation doesn't oxidize but keeps your look fresh for hours. 
Should the foundation be darker or lighter than your skin?
It actually depends on your skin color. To create a perfect match for me I like to mix 2-3 colors. Or probably use a lighter shade on cheeks, around eyes and use the darker shade to create natural contour skin without using the bronzer. Hence, it's a personal choice. You got to experiment to find what works for you. 
How to know if my foundation is too light/dark?
You will look ashy or as if you have a grayish cast on your complexion if your makeup is too light. Your complexion may appear muddy if the product is excessively dark. The hue that blends in the best with your skin tone is your perfect match.
Is Faces Canada Ultimate Pro Second Skin Foundation good?
This product made creating an everyday base so effortless. The overall product is highly recommended if you're looking for a medium coverage foundation that is super lightweight and stays put for the whole day without getting cakey.
My skin is dry and unlike any other foundation, it didn't get flaky; rather I achieved the perfect 'dewy' finish that I expected.