Hey guys,
A cup of coffee kick starts your day but did you know it works the same way for your skin? Coffee can awake your skin too. There is no cure for stretch marks but coffee can do that impossible task. Coffee contains caffeine which can lighten stretch marks and control cellulite. It is a great scrub, and also body polish.
To have salon like body polish at home, we will create coffee body polish / exfoliator / scrub. You can call it whatever you like, coz it does the task of all the above mentioned.
You need
2-3 tbs Coffee
2-3 tbs Brown sugar/Castor sugar
Coconut oil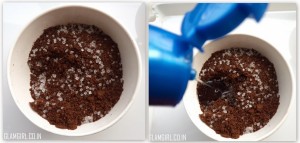 Method
Mix coffee and sugar. Add coconut oil to it to make paste. Apply this polish on wet skin. Leave for 5 minutes and then massage.
Take hot water bath after this. You may use shower gel if you want. This is a great way to pamper your skin in winters and I am sure you gonna love the aroma of coffee after bath. It cleanses, exfoliates, polishes and hydrates skin.
Try it and share your experience with me.