Hey gals,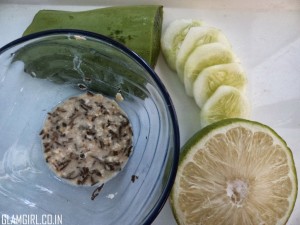 Open pores, blackheads, shiny skin are all common skin problems. Generally open pores and blackheads appear in the teenage on the t-zone. It is also one the signs of ageing. By understanding the need and the utility of exfoliating, deep cleaning, and pore tightening mask, I created it. There are many reasons that open pores may appear because of acne/pimples, unclean skin, oil skin, using wrong products…etc.
To avoid any of the above problems, keep you skin as clean as possible. How? Don't worry! I have answer for all your questions…
There no extraordinary ingredients for this mask, you use them almost everyday in one or another way.

You need:
1 tsp Lemon juice
1 tsp Aloe vera juice
1 tsp Cucumber juice
1 tsp Green tea
1 tsp Oats/ Oats flour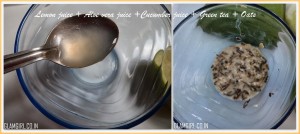 Method:
Mix all the ingredients well. You can increase or decrease the quantity of Oats as required. Mash it a bit so that it becomes smooth paste. Cleanse your face. Apply the mask generously and evenly all over the face. Leave it to dry. You will feel tight on face. Don't speak while wearing this mask, it loosens the skin. When its dry, scrub in circular motions with wet hands for 2 minutes. Rinse with normal water.
You may feel a little dry after washing the mask, follow with toning and moisturizing. This is a multi-tasking maks. It controls blackheads, tightens skin pores. Aloe vera, cucumber and lemon deep cleans & Lightens skin tone. Hence you get clear, shine free, oil free skin. For better results wear it daily for a week and then on alternative days.
You are going to love it as I am. Try it, share it and and comment on it. I love to read your views.
Stay young and beautiful.