Hello everyone,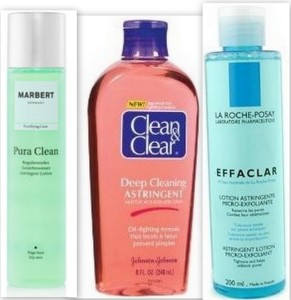 Astringent lotions are boon for people owning oily skin and acne-prone skins. These people can't afford to use cleansing milk or oils on their skin. Astringent controls skin oil thus it is one of the essentials for them. There is a lot of confusion between an astringent and toner among girls. Toner maintains the PH balance of skin and hydrates skin whereas an astringent is the replacement of cleansing milk for oily skin.

Besides that there are 5 things that you need to know about Astringents:
It clarifies the open pores and removes and controls excess dirt & oil in the skin.
You are always advised not to pop up the pimples and/or acne but if you do apply cotton soaked in astringent on that pimple and leave it for 5 mins. A pimple will be sealed forever and no mark will be left.
Astringent can be used as an exfoliator too. Clean face with astringent first and then follow with a water rinse and/or gentle face wash.
After extraction of blackheads applies astringent to close the pores. If you take steam on regular basis, always apply astringent.
It is also skin freshener.
This way you can keep your skin protected and clean.