#MeetTheMakers…Riddhi Jain, Designer & Founder Riddhi Jain Label
Armed with a lot of passion for artistic excellence and prompted by flair for eclectic designs, Riddhi Jain has carved a niche of her own in the world of Indian Luxury Couture Fashion. In a chat with Influsser, the designer shared her inspiring story from a small-town girl with big dreams to the runway. 
To begin with, Riddhi launched her label back in 2018 namely 'Riddhi Jain Label'. The label represents the nuances of fine dressing with a twist of modernity with elegance. 
Despite the fact that she has an impressive list of accomplishments, we first became intrigued with her when she shared her story of how she realized a childhood ambition and launched her own line while inspiring contemporary women to embrace their individual styles. Below, the designer lets us scroll through her past and shares some really inspiring insights.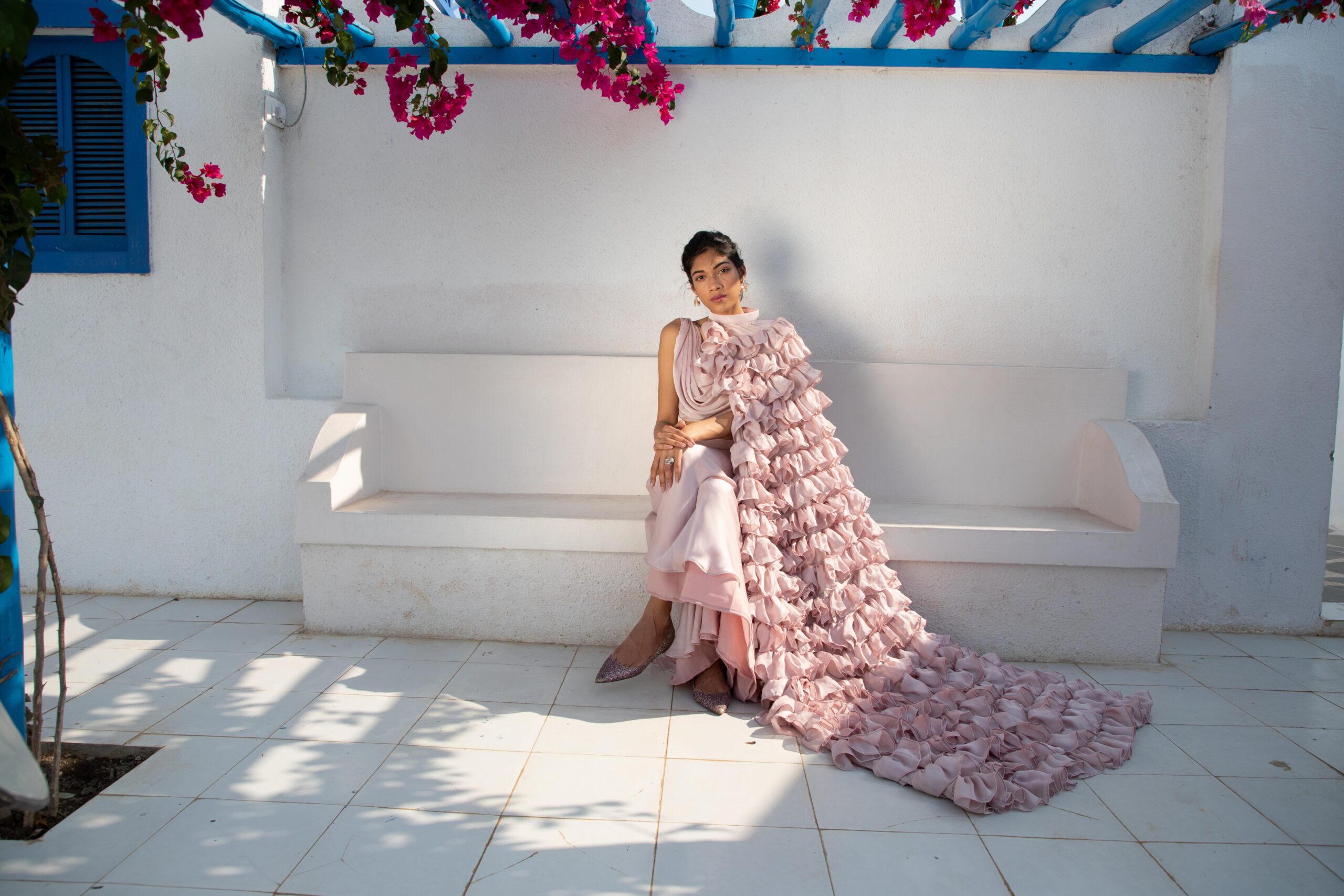 Tell us about yourself and your early life?
Up until the ninth grade, I was a pretty introverted child. Following that, I changed from a convent to a coed school. That helped in my personal development. After that, I score rank 144 at NIFT but couldn't join because of family reasons. Then I got an opportunity to join a course in London College of Fashion. I made the decision to become a fashion designer at a pivotal point in my life, persuading my parents to support me in my endeavor. I was constantly trying to figure out who I was, and it was an emotional roller coaster to be in situations where I had to deal with the conventional part of a typical Chhattisgarh family. 
In addition, there were numerous occasions when I remember bartering with family members, more along the lines of "I'd do what you want for six months, then I'll do a two-month summer course," and basically making every moment count which made them come to the middle ground and after a while we connected and built a level of understanding which was otherwise lacking to a certain extent. 
What are the challenges you faced to become a fashion designer?
Being the girl child in my family, I've often been made to believe that no one would have faith in my ability to succeed in life. As opposed to boys who received treatment that reflected the family's faith in and expectations of them. Having said that, it could perhaps be difficult to be a woman business owner, let alone if you have a keen interest in fashion and come from a conventional background. 
When did you realize that fashion is your career aspiration?
I have very clear memories of that day. When I was in the fifth grade, I urged my mother to get me a Barbie doll. As usual, she refused, telling me that I won't even play with the dolls, much less associate them with just fashion by dressing them in sarees and using them as miniature mannequins. Then, as events progressed, we took an aptitude test and discovered that I did, in fact, have a thing for fashion. At this point, if you ask me, if I weren't a fashion designer, I may be an interior designer or an event planner—both of which are undoubtedly related to this industry.
How do find your inspiration?
I put a lot of importance on making my clientele happy and making them feel princessy and girly, again, which explains why most of our collections feature flowers, crystals, frills, and other romantic details. To describe it as simply as possible, our goal is to make you feel like a Disney princess while you flaunt the delicate, flowing, soft colors and beautiful artistry. Having said that, you'd find me experimenting a lot with color schemes since it makes it easier for me to understand the impact and the creative process. 
But I personally get very fascinated with Sabyasachi. He is the person who does it just right. If you look at his collections, they are incredibly insightful and tell volumes. It is therefore no surprise how he has perfectly established an empire. I relate to his work in ways that seem difficult to express in a few phrases. So if you ask me, I would much prefer to be buried wearing those than anything else if I were to pass away!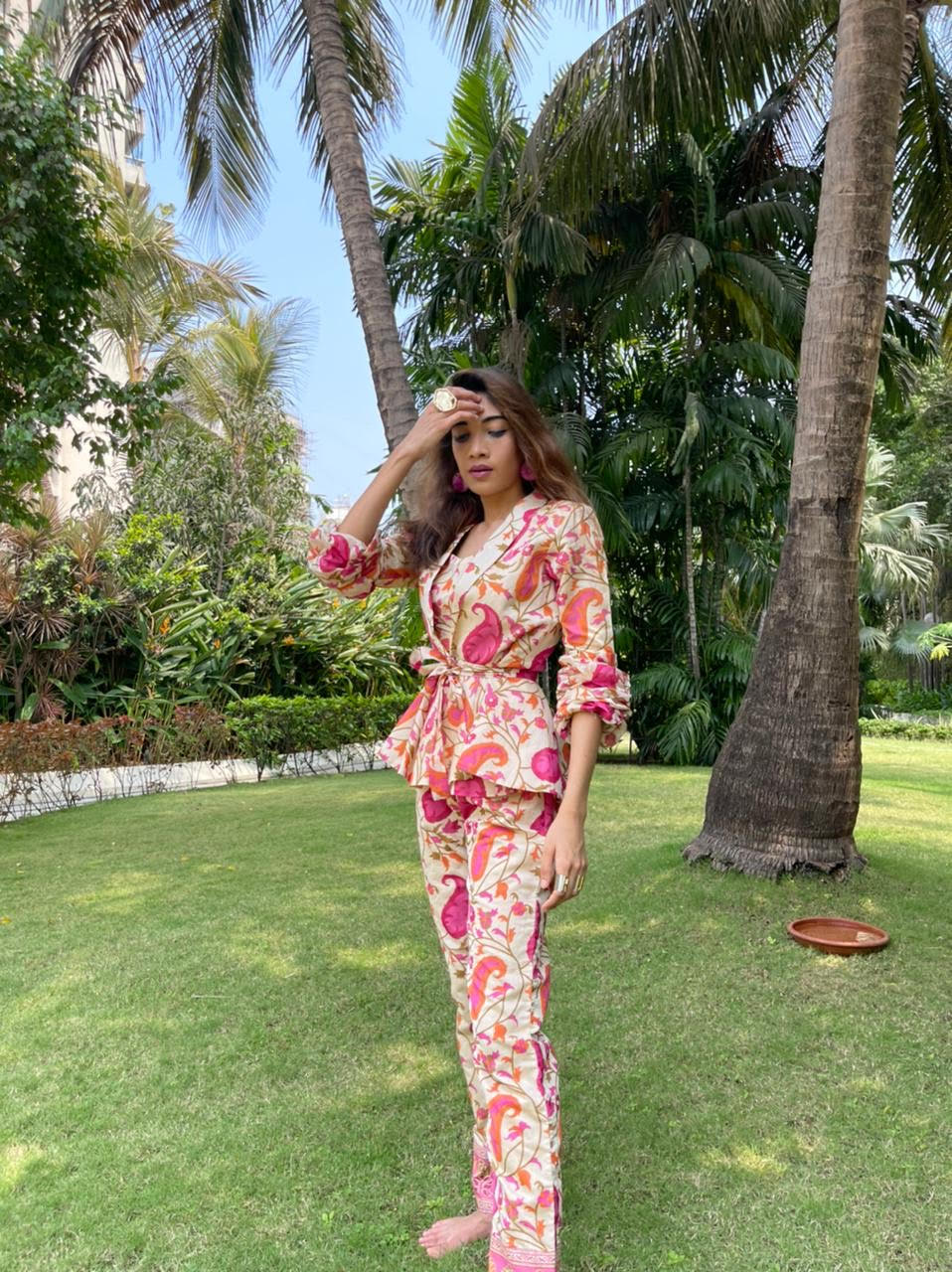 What is your favorite style?
As the voice for our brand, I would say that at the end of the day, confidence is what counts. Therefore, whatever you're wearing, don't let it wear you; instead, carry it so that you may flaunt it perfectly and watch as heads turn instead.
In terms of style, I'd say sarees are very adaptable apparel for me. I can experiment with various drapes, mix and match the blouses with them and even give them a designer touch by dressing them up or down!
How is your brand different from the other labels? What is your vision?
So, 4.5 years ago, I began by creating sarees to be displayed for the brand. Later, with my husband's help, we advanced the situation, and when things stabilized, I started getting involved in exhibitions. I make sure that you feel as comfortable wearing ensembles as you'd do wearing the otherwise basic co-ords or tees. We do, in some ways, continue Sabyasachi's legacy by giving it a more princess-like and girly touch. 
Have you faced any challenges as a woman entrepreneur post-marriage whilst working for your dream?
I do not fault my folks for finding it hard to understand at first, but they all have a background in the pharmaceutical industry. So, I introduced them to my calling—fashion design—and it did take a while, but it was all worth it. About my qualifications post-marriage, I enrolled in an MBA course (finance and marketing) at NMIIMS. My mother-in-law and my spouse have remained steadfastly supportive ever since and grew out of the way. They have therefore been standing up with me for all this time, whether it was a fashion show or putting up my own studio. Having them has been a blessing, and to be really honest, I haven't had any difficulties at work since getting married.