Hey guys,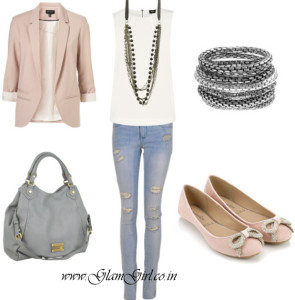 This is my favorite part… to create a weekend look. I call it 'All Day Out' look because this look can be used for many occasions. If you have to attend 2-3 occasions a day and you don't get time to change then I would suggest you to go for it.
With blazer, it becomes suitable for office and meetings. Fold or push back the outwear's sleeves and make it fit for casual. The neck piece and bracelet makes the look more funky and fun. Take off the outwear, it will make it fit for party or casual outings.
If it is as long as the whole day, mascara becomes must. Bright eyes, glowing cheeks and natural pink lips are good enough to finish the look. It will need less touch ups as you are using less products. Keep is fresh, simple and natural.
Good luck
<3
Neha
Activate your email subscription now!

Pic ref a