Hey guys,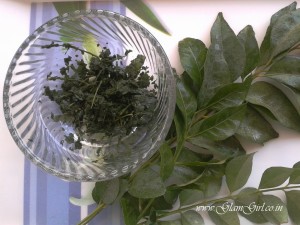 Curry leaves add great flavor and aroma to the food but besides making the dishes delicious, curry leaves are answer to many skin and hair problems. It controls diabetes and blood pressure. It can also heal ulcers and intestine allergies.
Curry leaves has anti-aging, anti bacterial and anti allergic properties which prevents hair fall, dryness, improves hair growth and makes hair thick. To use curry leaves for hair check out the tutorial here.
Curry leaves can solve your biggest skin problem 'acne' too.
You just need to gather some fresh curry leaves. Add few drops of water because curry leaves are not so juicy, crush them and now it is ready to use. Massage it with light hand on all over the face, rest for 15 minutes then rinse with water. Don't massage too much because when you have acne you should not be harsh, if you do it will break acne and bacteria will spread all over the face which will further result in more acne…I know its horrifying. You need to massage it till you cover the whole face with it.
You can apply it everyday till your acne cures because it doesn't have any side-affects. Besides treating acne, this face pack increases your facial light and you will have clean, bright problem free skin.
I hope you like this tutorial. Lemme know if you want solution to any of your skin problems.
Good luck
<3
Neha