Hi all,
Product promises
Acetone free
Toluene free
DBP free
With protein and vitamin B5 to strengthen the nails
Instantly removes nail lacquer
Price Rs 125 for 110 ml
Ingredients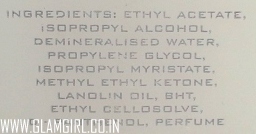 Pros
Mild on nails and harsh on nail paints.
Doesn't strip the moisture of nails.
High quality
Easily available
Reasonable
User friendly packaging
Cons
Will I repurchase it: Its a must have.
Rating 5 stars/5
<3
Neha