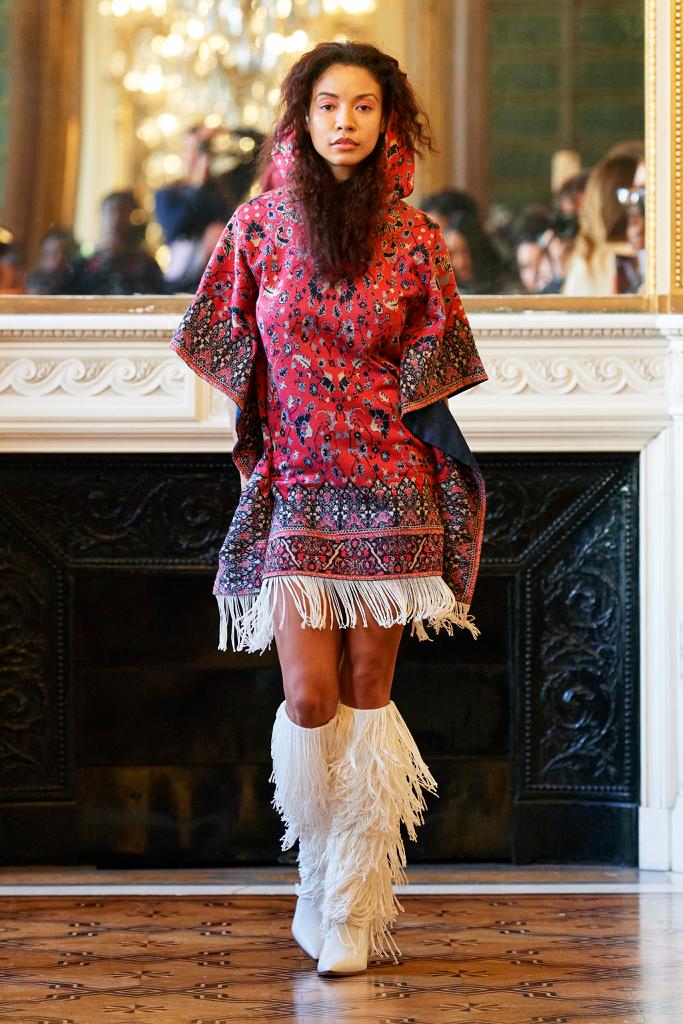 Dash and Dot presented their Fall/Winter Collection at Paris Fashion Week 2022 inspired by the rich history of Indian Textiles and Craftsmanship. It is a celebration of the traditional Indian workmanship being presented on a global platform in ready-to-wear silhouettes. 'Dash and Dot's aim was to bring accessible luxury from India to the rest of the world.
Each piece had an element of sustainability woven into it. Starting with the coats and jackets made out of upcycled bohris and jute bags which were embellished with mirror work to showcase how Indian artisanship can help upcycle even the most basic textile. The shirts were made with a unique embroidery technique utilizing waste sewing threads from export factories. The collection embraced the traditional history of carpet making where materials were hand-knitted using organic cotton and recycled polyester threads.
Dash & Dot Fall/Winter Collection supports Indian artisans and establishes a connection between the global fashion industry and India's age-old techniques. The idea was to erase the boundary between Indian craftsmanship and ready-to-wear clothing.
Speaking of his experience at Paris Fashion Week 2022, Ashray Gujral, founder of Dash & Dot said "Being welcomed to showcase Indian history and being a part of the global community was truly an enriching experience. It was everything one could ever dream of. It was even more heartwarming to witness our Indian workmanship being appreciated so much. To be surrounded in an environment of creative people who do what we do makes us realize how much we love the process of creating."
Elaborating more on this journey, Ashray believes there is a lot of hard work and team effort that goes behind making the luxurious brand accessible to global platforms like the Paris Fashion Week.
Sharing his advice to young Indian Fashion brands reaching a global audience, Ashray adds "We shouldn't shy away from the fact that we come from India. We come from one of the world's richest histories of textile and Artisanship, it is important for us as designers to take up the responsibility of bringing our rich history into the present day."
About Dash & Dot:
Ashray Gujral founded Dash and Dot in 2020 to actualize his vision of creating an accessible and sustainable brand that was both functional and fashion-forward.
Transparent and accountable in its processes, the brand only uses vegan leather and loads of post-consumer recycled polyester and organic cotton, and does not shy away from blending the Indian heritage into its designs. Ashray strongly believes in how every paradigm shift starts with a conversation and how in a country like India, the onus of the discussion of sustainability needs to shift from the consumers to the brands. Ever since its inception, the brand's identity has been based on accessibility, conscious and functional designs, and modernity which also make for the inherent elements that ignite the foundation of each collection created.
In order to fill the existing gap for an Indian native global aesthetic brand that caters to the globally aware, yet Indian in heart audience, Dash and Dot draws inspiration from stories of travels, diving, souks, markets visited, nature, and all things that may align with the thought process of a modern Indian shopper. The brand strives to become the go-to brand for western wear non-couture across the Indian market and rightly so, as all of Dash and Dot designs originate from the war-cry DesigneD as opposed to  Designer.  Dash and Dot feel passionate about being the brand that is a part of one's everyday life and they envision it to exist solely as a brand without being dependent on a story or a person.
While the elements of minimal waste, no plastic, animal rights, and gender equality are a major part of what the brand stands for, they want their products to speak for themselves- and their values to be shown through the actions they take.