By Dr. Archana Sukumaran, Ayurvedic Doctor at Kerala Ayurveda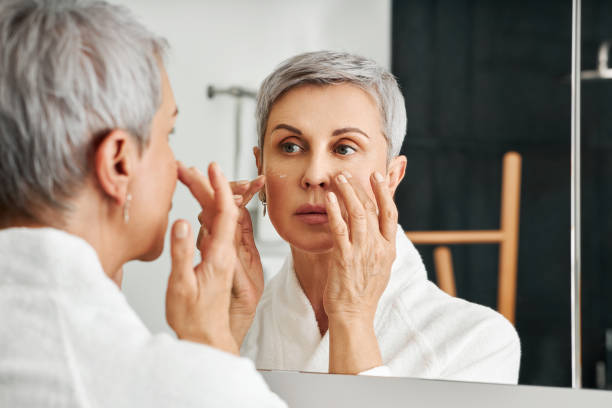 Skin is not just an organ of the body, it is a medium of the social interface between an individual and the world. As we age, catabolic changes gain momentum, progressively changing our physical bodies. This is evident from our skin, the most voluminous and explicit part of our body.
If you are a 50-year-old woman, all your worldly experiences must have made you a confident, well-rounded and knowledgeable individual. There's no harm in the wrinkly marks of wisdom on your skin. A few facial lines can be endearing and remind you of all the things you battled to reach where you are now. But it's no secret that many of us would prefer to keep the signs of aging in check.
With age, the outer layer of the skin becomes extra sensitive, thinner, and no longer looks as smooth as it once did. A few wrinkles, sunspots, dry skin, hyper-pigmentation, and sagging trumpet the unwelcome skin issues. Slower cell turnover and reduction in sebum production, bodies' own moisturizer, make the skin rough. Menopause leads to a reduction in collagen synthesis, leading to lifeless skin.
Ayurveda and aging skin care tips
Ayurveda considers the skin as an upa-dhathu (sub-tissue) of mamsa, one of the seven building blocks of the body. Ayurveda advises nourishing three dhatus (tissues)– rasa, raktha and mamsa for a healthy skin. Rasa dhatu is nourished by a healthy diet, which imparts a luminous glow to the skin.  Rakta dhatu is the essence of nutrified blood, this is where Ayurvedic blood purifiers can help. Mamsa dhatu offers elasticity and strength to the skin, which can be done by including a good diet and certain facial exercises like oil pulling or Gandusha.
Ayurvedic skincare solutions are based on balancing the tri-doshas and nourishing the dhatus. Rasayana or rejuvenation herbs replenish skin, and help maintain a youthful glow. Shatavari, Brahmi, Amla and Ashwagandha are potent skin Rasayana.
Abhyanga (oil massage), Gandusha (oil pulling) and Lepana (facial creams/masks) are paramount to maintaining healthy skin. Daily facial massage or Mukha abhyanga with Kerala Ayurveda Nalpamaradi keram, can help clear sun damage and suntan. Kerala Ayurveda Kumkumadi oil can help achieve illuminating skin by clearing pigmentation. Gandusha with Kerala Ayurveda Arimedadi Thailam is the best skincare routine for aging skin, as it maintains the firmness of facial muscles. Blood purifiers like Manjisthadi Kwath help attain a radiant glow from the inside. Kerala Ayurveda Swarnamukhi cream is enriched with skin rejuvenating herbs to give you a glowing skin.
Home remedies and skincare regimen for over 50
To keep the skin healthy, drink enough water, wash your face regularly, sleep well, exercise, meditate and lead a stress-free life. Also, you can try the following home remedies:
Natural facepacks
Apply equal amount of honey and chandana on face and rinse it after 20 minutes
Facepack made of turmeric, milk and honey is beneficial in moisturizing and adding glow to the skin
Facewash
Mix turmeric powder with neem leaves paste and dilute it with clean water. Use this mixture to wash your face regularly
Scrub
Mix green gram flour with coconut oil to make a scrub. Rub the mixture over the body and rinse after 10-20 minutes
Herbal Bath
Boil Tulsi leaves or Neem leaves and treat yourself with a warm herbal bath
About the Author 
Dr. Archana Sukumaran is a well-known Ayurveda Doctor (BAMS) at Kerala Ayurveda Ltd. Her practice of the age-old Ayurveda is deeply rooted in the traditional Kerala Ayurveda school of thought. She endeavours to seamlessly integrate holistic wellness in everyday life & filter out the noise from the real wisdom, based on evidence-based research.