Kruthika Kumaran, Founder, Vilvah Store, shares her inspirations and experiences of presenting holistic sustainable skincare solutions for working women. 
Please introduce yourself and tell us about your early life.
I would call myself an Accidental Entrepreneur as I have not planned for this journey. I am a housewife turned Entrepreneur!! I got married at 21 soon after finishing my Engineering degree. I have been a homemaker for the next 10 years and without prior work experience or business exposure, I started Vilvah at the age of 31.
Tell us about your entrepreneurial journey and inspiration.
My mother had sensitive skin and suffered from skin problems for more than a decade. The products she used on her skin made it even worse. My late mother is the reason for my path to creating my own natural soaps. It was her wish for me to use safe products that inspired me to learn and do what I do today. My mother passed away in 2016 and I started Vilvah in 2017. After completing my diploma in natural cosmetology, I started experimenting with Goat Milk soaps since I come from an agricultural background and my daughter had eczema, a condition with dry skin.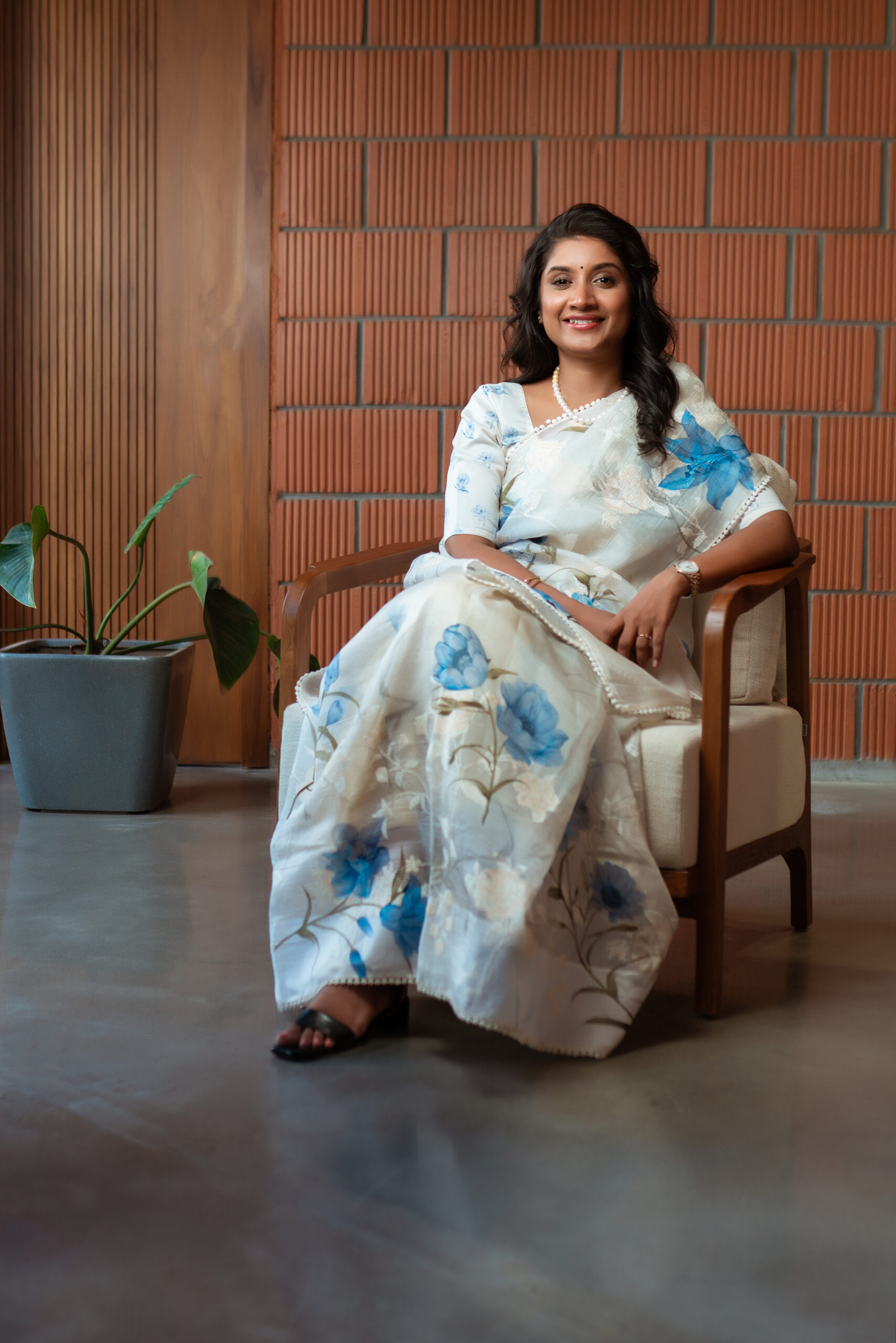 After many experiments, we perfected a recipe that we originally created for our family and that is what we sell to our customers. We started out with 2 or 3 goats on our farm and now there are countless herds of goats from whom fresh goat milk is obtained and different goat milk products are made. Even though we have introduced different skincare products over time, the classic Goat milk soap will always remain close to my heart.

What is the brand about?
Vilvah offers a range of natural and organic skincare, haircare, and bath and body products that are free from harmful chemicals and preservatives. The brand uses high-quality, ethically sourced ingredients to create effective products that are gentle on both the skin and the environment. Vilvah's commitment to sustainability and ethical practices is reflected in everything from its product formulations to its packaging, which is recyclable and eco-friendly.
Vilvah is a beauty brand that was founded in 2017 by Kruthika Kumaran, who was inspired to start the company after experiencing skin issues herself. Kruthika was frustrated with the lack of natural, organic, and sustainable options available in the Indian beauty market, and decided to create her own brand that aligned with her values.
Initially, Vilvah started as a small, home-based business, with Kruthika handcrafting all the products herself. She used high-quality, ethically sourced ingredients to create effective, gentle, and eco-friendly formulations that appealed to customers looking for clean beauty options.

How did they choose the "brand name? What's the USP
The word "Vilva" refers to a leaf used in Lord Shiva's worship. Vilvah was created because she wanted a name that stayed true to her Indian heritage. Vilvah is a sustainable skincare company that primarily uses goat milk from Kruthika's family farm to produce its products. The products don't contain any harsh chemicals or additions like silicones, sulfates, or parabens.

How do you find inspiration?
My dream began with my late Mother who suffered from skin problems and had sensitive skin. She always wanted me to learn how to make handmade soaps and after she passed away, I experimented with lots of ingredients. My daughter who was 6 years old at that time also had Eczema (Dry skin condition). I started curating products for her skin and since I am from an agricultural background, I started experimenting with different formulations of Goat Milk. It worked wonders on her skin and since then, No turning back. 
We are headquartered in Coimbatore, close to our farm, and procure some of the ingredients from our own farm. We are going to turn 6 this march and are happy about our organic progress.
"Starting the business was undoubtedly my turning point," says Kruthika of her experience to date. Life has suddenly become quite hectic for a girl who was married at age 21, had never traveled outside the state, had no work experience, and had essentially very little exposure. Vilvah has undoubtedly given her a great deal of exposure and opportunities to create the life she always wanted.
How do you want your brand to be remembered?
Making Vilvah the most trustworthy Global brand!!

As a woman entrepreneur, what is the biggest obstacle you faced, and how did you deal with it?
I have been in the business for the past 6 years and there are challenges in each stage. I love good challenges and that makes the work interesting. Right from everyday business challenges to overcoming my own insecurities and fear, it's a work in progress. Juggling between work and family is a huge part of the challenge, especially for a woman Entrepreneur.
Believe in yourself and Be strong!! Being passionate is very important, and at the same time having some purpose is even more important. I take inspiration from everyone around me and the books I read. Knowingly or unknowingly, they have impacted me in a huge way.