Hey guys,
Till now I also din't know the correct way to use bobby pins. Most of the people don't know the correct way.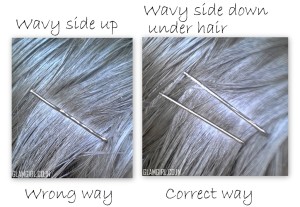 We have been seeing all our elders, most of stylist keeping the wavy side up. But that's the wrong way.
Make sure the grooved side of the bobby pin is facing down, against the skin. The ribbing is designed to grip hair and lock it in place, and you will capture more hair with the pin in that position. And it's true! I immediately noticed that this little trick prevents hair from slipping and minimizes the need to readjust throughout the day.