Hey everyone,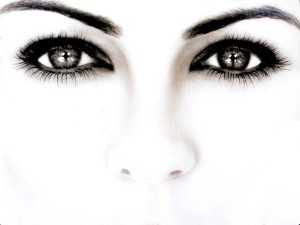 If you think that dryness is only limited to hair and skin than I am sorry but you are wrong. Don't forget your eyelashes and brows are also on skin. My this post is dedicated  to eyes.
Hair on eye lashes and brows behave in the same manner as your hair on your head. Sometimes you have pimples and itchiness in your lashes or brows. It is the consequence of dryness. Your brows and eye lashes can also get dry, it can also take form of dandruff, thus leads to fall and decreased growth and all the problems which happens to hair.
To avoid or cure it apply olive or argan oil on lashes and brows before going to bed. You just need to do it once or twice in a week. Excessive usage of oil on face can lead acne or pimples, so you need to do it withing the limits. Its good to give nourishment to brows and lashes.
This way your lashes will grow faster and thicker. You will notice less fall. Same way for brows. You can have naturally thick eyebrows and then you can skip using an eye brow pencil  everyday.
If you don't wanna do it then the simplest way is that to use olive oil/argan oil/coconut oil as your makeup remover. Harmful chemicals in makeup product damage your skin. Using these oils as makeup remover will solve two problems.
1. They are the mildest and best makeup removers because oil can remove the most stubborn waterproof eye makeup.
2. Your skin, brows as well as eye lashes will get necessary rich nourishment and  hydration which will save you from all types of dryness and skin worries.
I hope you it helps you
Lemme know if you want any suggestions or want me to post about something.
Good luck
<3
Neha