Hi all,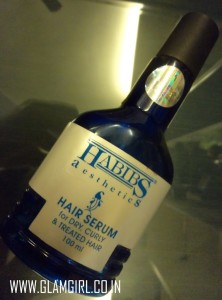 Product promises
Nourishes hair, eases tangles, induces sheen & lustre. Rejuvenates dry & chemically treated hair. Wonder cure for split ends.
Price Rs 240 for 100 ml
Ingredients
NA
My experience
It is just like Livon. I don't think it cures split ends since it works till then it is on hair. After wash hair comes back to their reality. It makes hair look lustre, sheen, straighter and manageable. Its a nice solution when in hurry.  Its a clear glycerin like sticky gel. 8-10 ten drops are enough for medium length hair.
See in swatches… how it looks like…
Pros
Makes hair manageable, shiny, silky
No need to apply it everyday.
It will last till next wash
Fairly priced
Little quantity goes long way
Cons
Not a permanent solution for hair problems.
Ingredients list not available.
Will I purchase it again: May be
Rating: 3.5 stars/5
<3
Neha