Couturier Varun Bahl Launches his SS'23 Couture Collection 'The Secret Garden' 2023
The collection welcomes the warmth of summer, the joy of spring, when everything is bright and lively and there is inspiration all around, leaving behind the inherent dreariness of a season like winter. What could be more energizing than a flourishing garden in the warm summer sun? A burst of color, the vibrancy of nature, the reds of roses, the hot pink hibiscus, the delicate pastels of blooming daisies, a haven where you can escape to bask in the newness of the season. The rays of sunlight bouncing off dew drops are the inspiration for a touch of glitter, and that is the premise of Varun Bahl's SS '23 Couture collection – The Secret Garden.
A collection includes bridal lehengas, fun breezy styles, and playful silhouettes that complement the season, all brought together in Varun Bahl's classic stylings to create a show that is nothing short of stunning. The ensembles are embellished with delightful summer blossom-inspired corsages, as well as elements such as seashells and feathers, to evoke the presence of nature as an inspiration. Varun Bahl's statement printless embroidery takes on a whole new dimension with appliques and delicate resham threadwork converting prints into embroidery.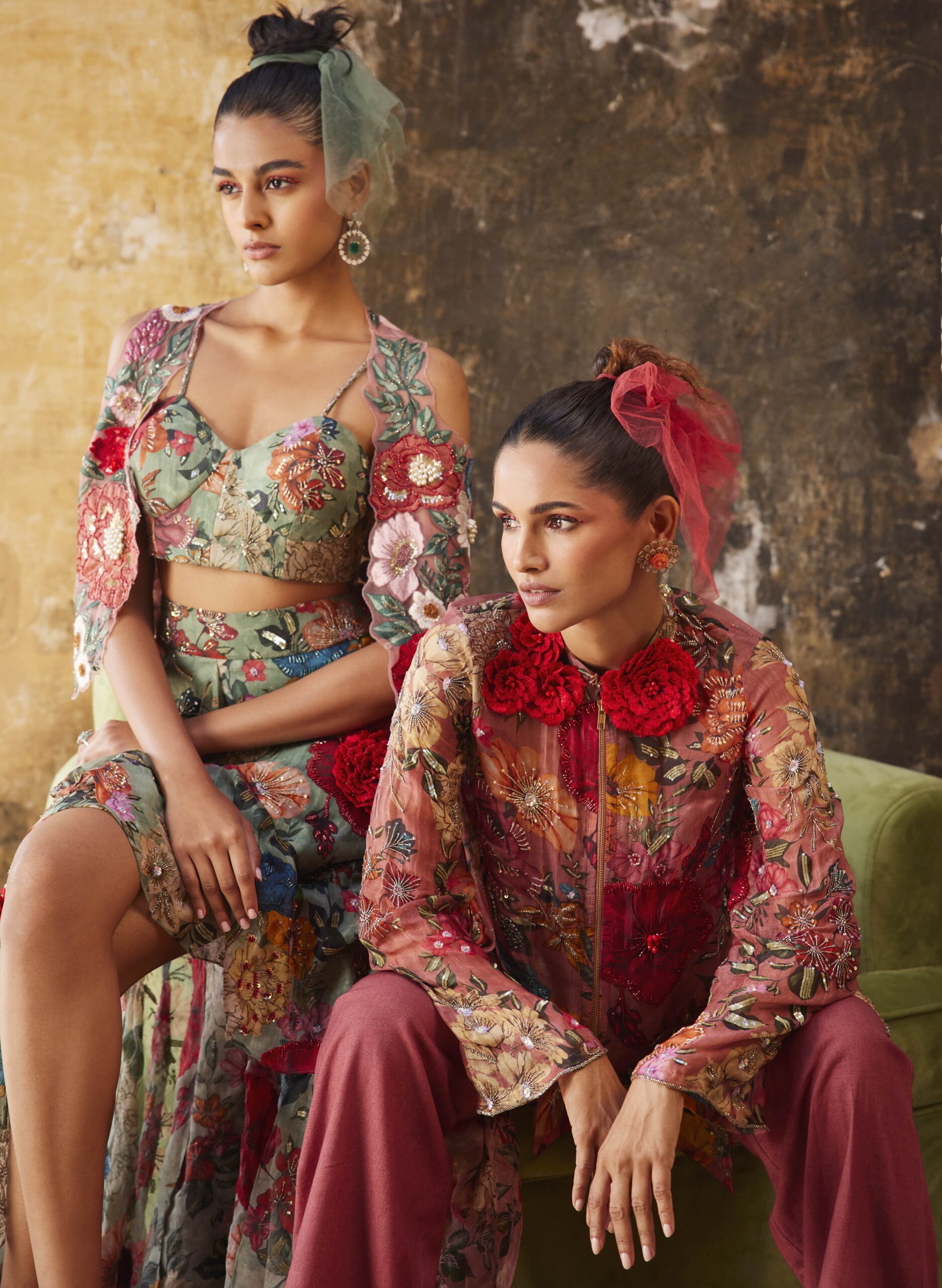 Daytime styles include ivory embroidery on peach hues with natural elements such as seashells; the pieces are embellished with plenty of bling and sparkle, making them both fun and extremely glamorous. The use of tassels adds a playful drama to each outfit, creating layers of design. This collection also includes summer bright,' which has pastel shades of lehengas, yellow to bring in the summer sun, and peach shades to add a sense of freshness. Then there are the Bridal tones, reds, and hot pinks with traditional zardozi embroidery in a patchwork pattern. The use of sustainable patchwork has evolved into a Varun Bahl signature style; it is a distinct feature that elevates a casual design element into a couture marvel using sustainable patchwork.
Bold floral motifs are a welcome reminder of a season when everything blooms; bold bodices, flowing capes and light jacket coveralls, voluminous skirts, sheer dupattas, and razor-sharp cuts create superbly flattering silhouettes. From intricate florets to vivid blossoms, the juxtaposition of pastels and striking tones makes this collection a true tribute to a "Secret Garden."
See looks