péro Spring Summer 2023
péro spring summer 2023 collection, takes you to a fantasy land. Set in a field full of daisies and forget-me-nots, paving the way to a whimsical and dreamy expanse of pure nature. This season the label explored endless ways of simulating daisies and forget-me-nots in the form of crochet, laser-cut fabrics, beadwork, stumpwork, patchwork, appliqué, cutwork, schiffli, and many more techniques. The print surfaces for the season were developed using hand-painted daisies and forget-me bouquets tied with delicate satin ribbons as well as disintegrating bunches.
An array of fabrics woven by skilled craftspeople from Chanderi, Madhya Pradesh, and West Bengal have been used to create clothes for SS23. To compliment the delicate floral prints, a variety of stripes hand-woven in silk and cotton in varied weights, include 'mashru' a traditional textile from Gujarat, gabardine, and taffeta silks from the south of India. Apart from these the collection uses basic cotton fabrics ranging from gingham checks to linen stripes and gauze-like solid fabrics with contrast selvadge and handwoven jamdanis with daisy and forget me not flowers, developed in close association with the weavers.
The color palette for the season is predominantly yellow, with shades of blue and white, borrowed from the daisies and forget-me-nots, with accents of green and a burst of luminous pink to enhance the softness of a rather subtle color palette. This season too péro continued their association with Afghani refugee women to explore the old-school crochet technique with a fresh take by making fully crochet garments as opposed to delicate edgings which we have been doing for the past few seasons.
Designer Bhumika Sharma at FDCI X Lakme Fashion Week 2023
Designer Bhumika Sharma presented her SS'23 Collection 'Dahlia', and marked her debut on the runway at the FDCI Lakme Fashion Week. 
Spinning a modern take with Bhumika Sharma's Spring Summer collection of 2023! the creative journey began by developing the most essential element of any collection- prints. The designer introduced a new print for this season, featuring a refreshing palette of spring and summer colors.

Continuing the theme from our winter festive collection, the summer line draws inspiration from classic silhouettes. There were embroideries of traditional techniques such as dabka and tila work to add intricate details to our designs. The collection boasts an array of pearl embellishments, signature organza tassels, and even metallic tassels for a modern twist. 
"Reflecting the essence of summer, we have used floral motifs and mirrors to add an extra dimension of beauty to our designs. The collection features a range of colors, from warm ivories to vibrant reds and refreshing lime/mint greens. You'll surely find something to suit your style!"

With an emphasis on sustainable, eco-friendly, and handwoven collections, the designers have lustrous raw silks, hand-woven Matka silks, sheer silk organza and tulle along with some hand-dyed velvets for a touch of opulence.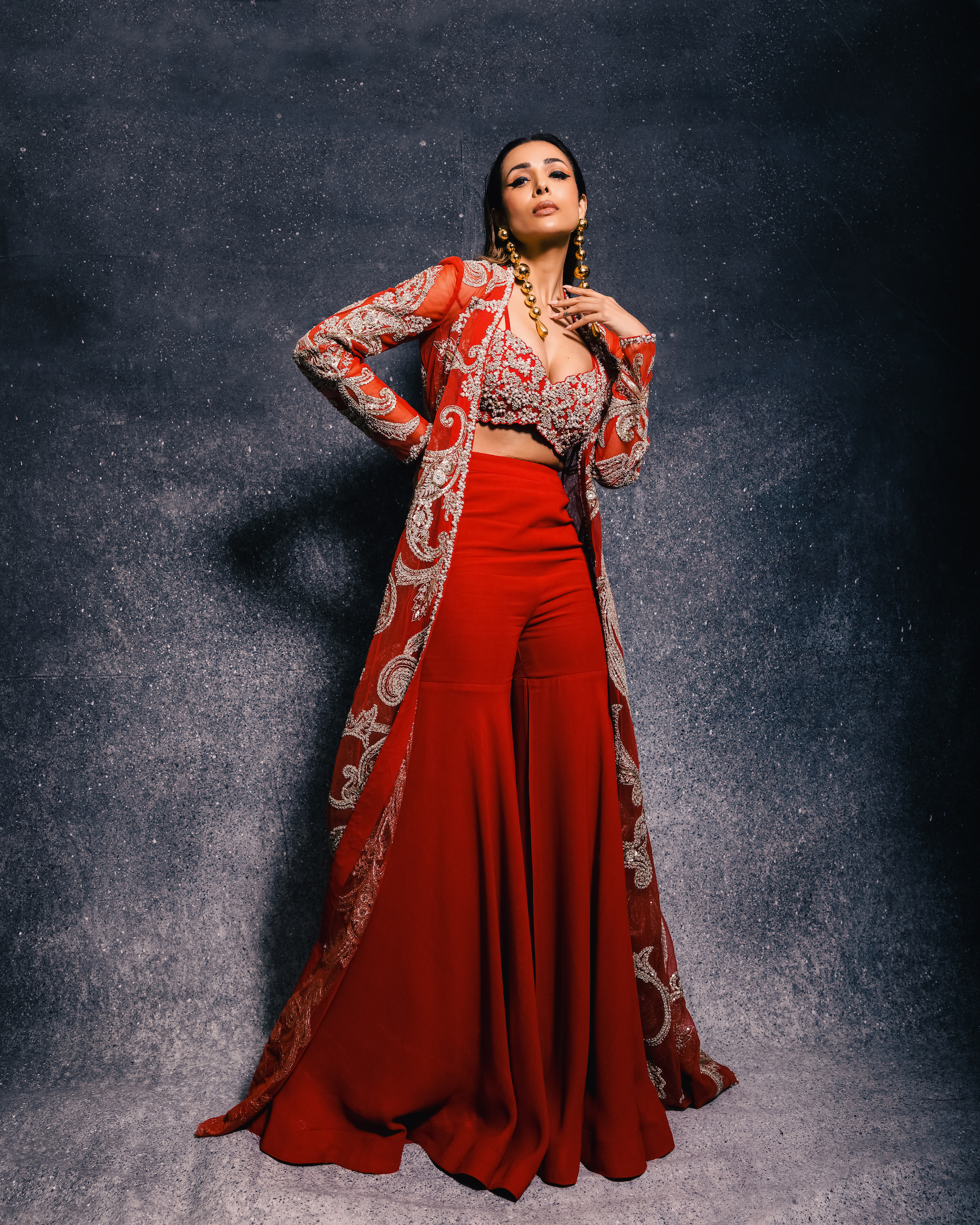 Afreen – Kaaisha by Shalini
What makes a woman beautiful? Is it her looks, or her talent? Is it her strength of character, or her honesty? Is it her leadership, or her nurturing?
At Kaaisha, we believe that every woman is beautiful and there is no singular definition of beauty. AFREEN, our Summer 2022 collection, celebrates the many facets of a woman. Today, women lead the world by example, and our collection is an ode to them.
Right from breathtaking metallic and pastel draped sarees in modern and contemporary silhouettes to dopamine-inducing lehengas, shararas and so much more. The shades and layers of feminine beauty are reflected by the different sections of the collection, some strong and statement-making, the others classical and delicate.
A plethora of fabrics, colors, and shapes cater to the needs of those seeking something experimental, but with a traditional core.
AFREEN is every woman.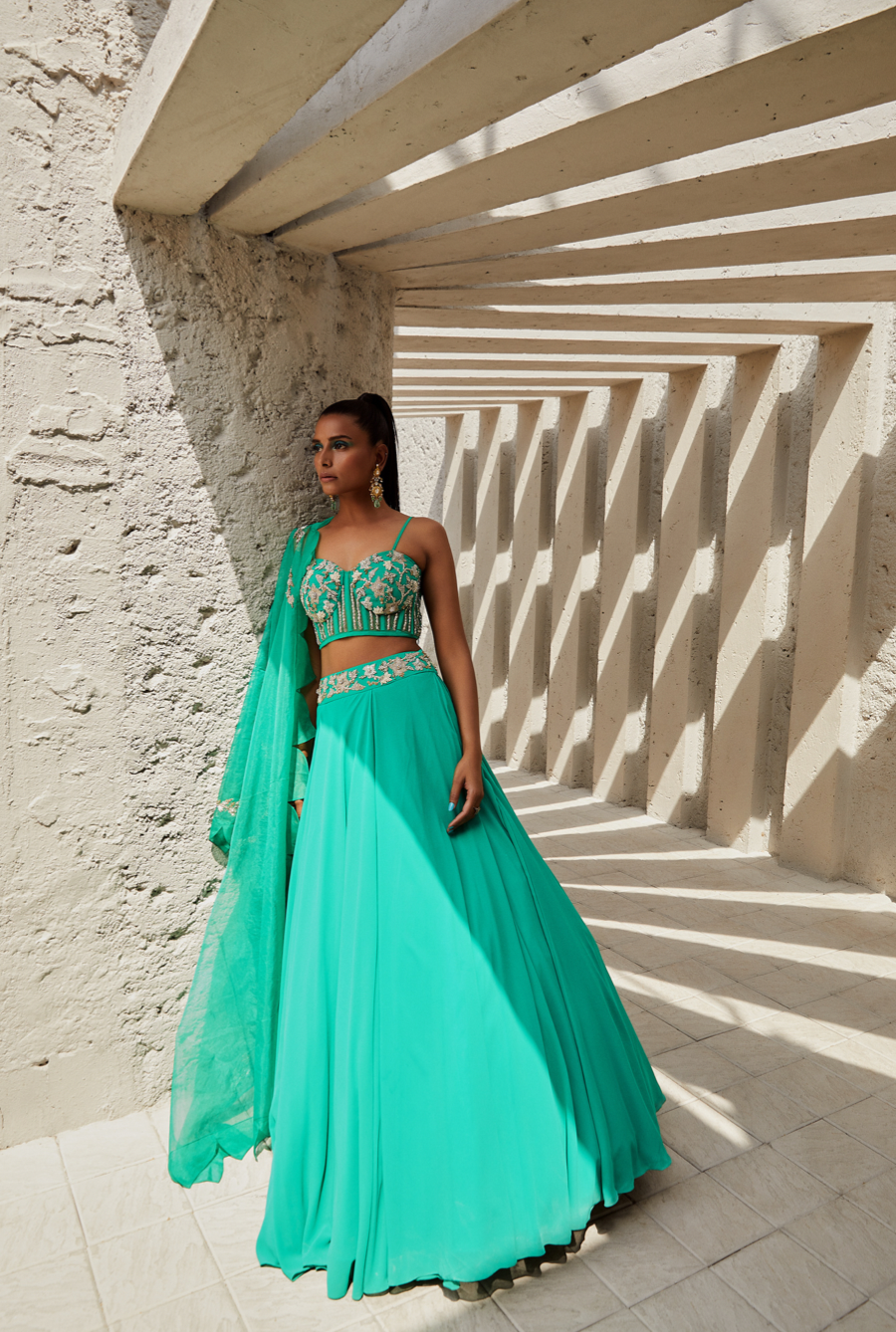 Rimzim Dadu X Pratap Bose
Rimzim Dadu is known for her innovative surface texturing and for creating unique pieces of clothing from unique materials. Rimzim believes in a sustainable future and it's reflected in her philosophy of not following trends but creating pieces that are timeless and stay relevant for years to come. So, her collaboration with legendary car designer Pratap Bose was a natural progression toward creating a special edition of Mahindra Motor's soon-to-be-launched XUV-400 Electric Vehicle. 
This collaboration is a natural fit as both Pratap and Rimzim share design philosophies which are rooted in innovation and they both like to push the boundaries of creativity.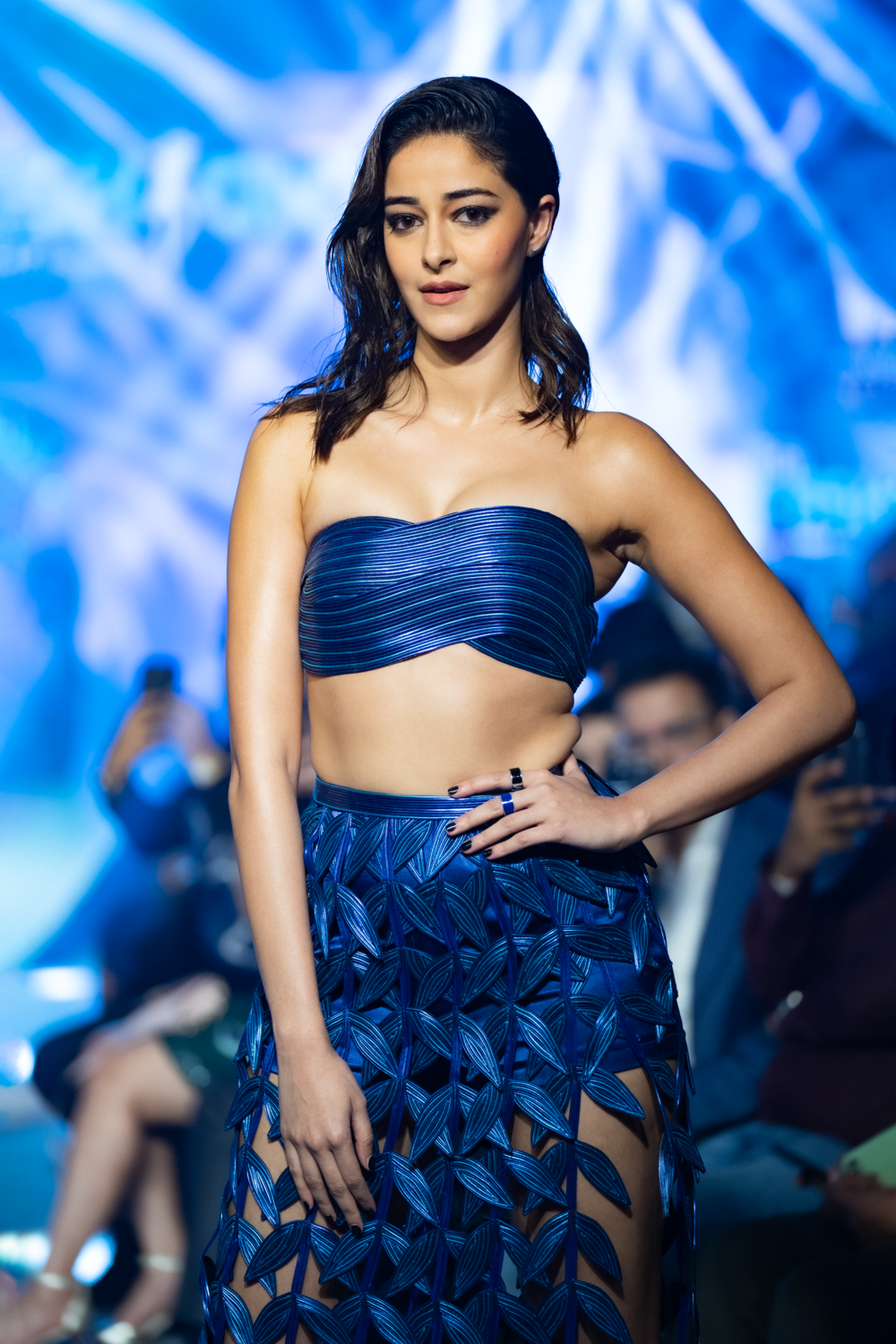 Sacre by Designer Reynu Taandon
'Sacrè' symbolizes 'sacred'; Reynu Taandon, a firm believer and a devotee of spirituality unfolds the grandeur and opulence with her upcoming collection that consecrates the brides by the Almighty.
The Sacre collection, curated is close to designer Reyn Taandon's heart that is reflected through the perfection in each piece of clothing. The richness and royalty in designer Reynu Taandon's oeuvre, exhibits refined tastes and preferences of today's bridal couture. The incredible fusion of Indian traditional designs with the modern influences from France raises the bar for this collection in the fashion industry. The artisans have meticulously seamed yarns to make the ensemble remarkable and spectacular. The collection is a one-stop destination for both day and night occasions for our new-age brides. The amalgamation of french shaded Swarovski and mirror work with indigenous handcrafted, thread work on the clothing will mesmerize the brides and bridesmaids and the difficulty to choose one shall pertain. No one can keep their eyes off the damsels wearing the collection. The collection embraces flowy gowns, cane lehengas, and backless suits to make the beauty and appearance picturesque. The ethos of warmth and vehemence shadows the outfits. Filet net hemmed with hand embroidery altogether homes the ensemble. The range of pastel shades including lime, mint green, and aqua craft the guise enlivening and invigorating is mesmerizing. The divine and luxurious aura at Narendra Bhawan, Bikaner complimented the noteworthy couture collection. Sacrè is a veritable collection of à la mode and homeland traditions. This collection is like a dream come true for every Indian bride looking for her collection of perfect outfits for her wedding ceremonies.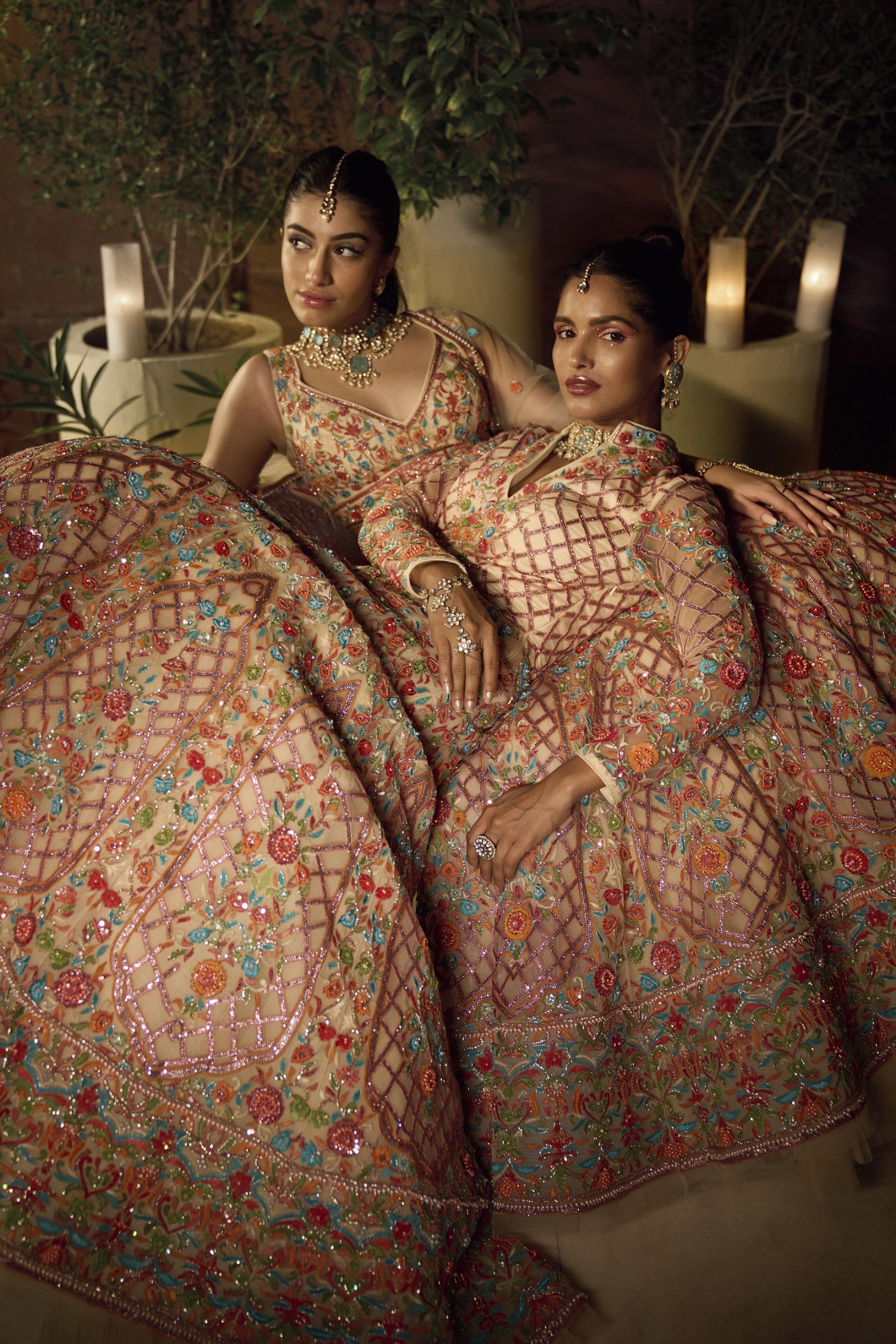 Siddhi Karwa x Kalki Fashion – Wedding Collection
Kalki Fashion launches its latest collection with influencer Siddhi Karwa for the millennial bridesmaids.
Granting the final nod to any wedding outfit is a perplexing situation. Hence, coming to your rescue are ensembles that blend in precisely with the theme of the wedding, yet rise beyond to compliment the aesthetic of to-be Mr. and Mrs. With KALKI's latest capsule collection KALKI x Siddhi Karwa you can work your outfits to be fashion-forward statements, duad with ruffles, sequins embellishment, and cutting-edge designs that exuberate a re-wearability factor. This is a limited edition collection that is inspired to tailor ensembles that can be transitioned into a new de toute beauté ensemble every time you adorn it.
Visioned to fashion an innovative ensemble that exuberates divine aesthetic is the core of the collection, which is co-designed by the label and influencer Siddhi Karwa. KALKI houses radiant fusion wear and true to traditional ensembles, desirable for all occasions.
Siddhi Karwa is a renowned fashion influencer whose aspirational yet relatable posts make her one of the most influential voices in the Indian blogosphere.
The stunning collection is a state-of-the-art assemblage, one can shop the collection in-store or online, and starts from a range of Rs. 25,000.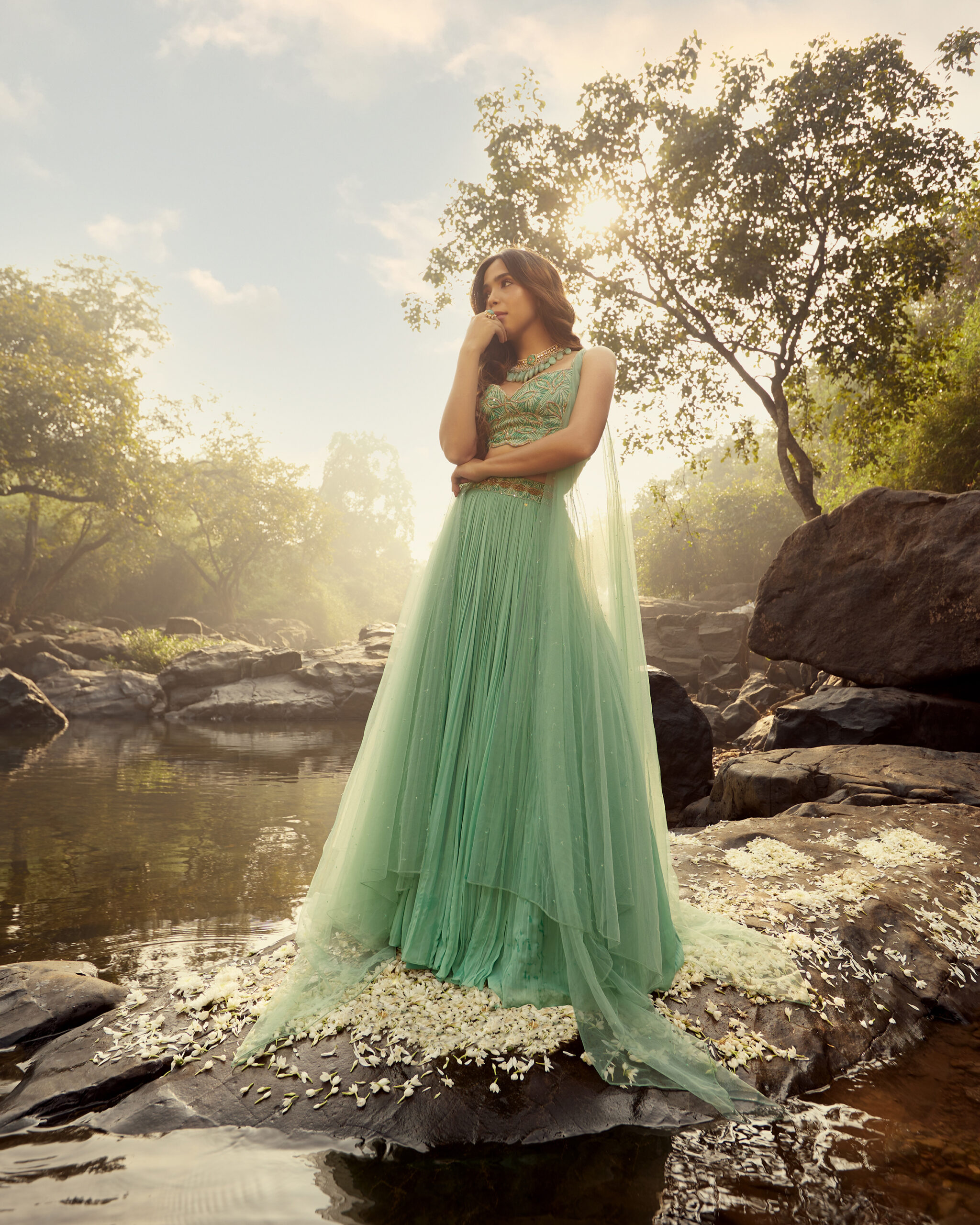 "This collection is for all the beautiful bridesmaids in the making, who love minimalism and effortless style; who is the bride's power pack and want to be at ease yet their fashionable best. This co-designed collection is all about rewearing, reusing, and reconstructing pieces for years to come so your style-conscious self can turn this outfit and make it your own each time you decide to wear it. I just can't wait to see my gorgeous queens!" Siddhi says.
SS-22 Micheal Kors
Michael Kors- a luxury global fashion house has long been in style for New York Fashion Week. The Spring Summer 22 Michael Kors Collection was influenced by the style of the late 1950s and featured Capri trousers, swing dresses, and A-line designs, as well as woven 60s-inspired gingham and pencil skirts.
Michael Kors Collection's unique style features muted shades of black, white, tan, red, and pink, as well as flashes of baby blue and animal print. The vitality, the mix of people, the romanticism, and the laid-back splendor of spring in the city are all celebrated in this collection.
Here's an exclusive sneak peek of the Runway Edit of Summer-Spring Collection 2022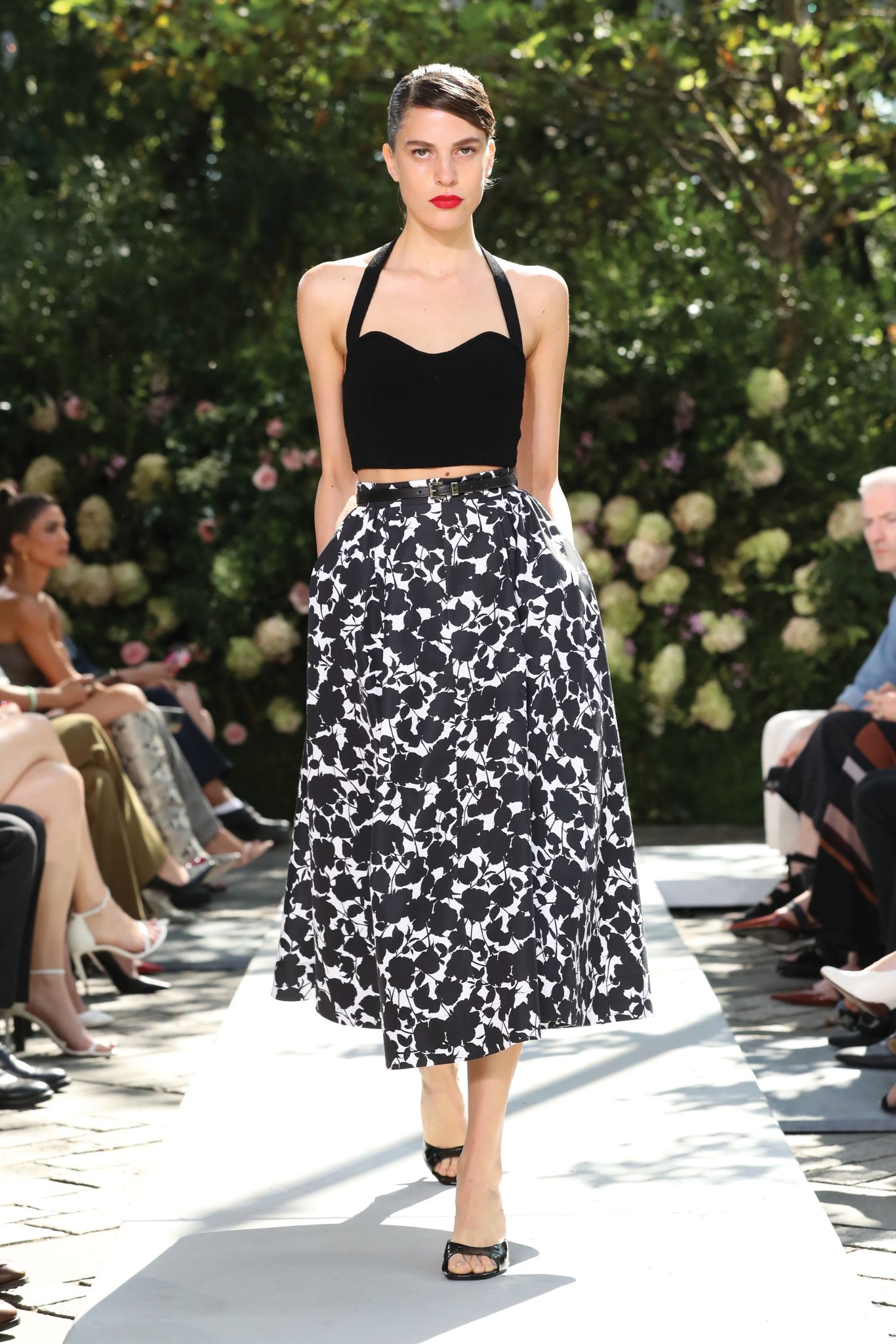 Sayuri by Rajdeep Ranawat
By blending unexpected multicoloured prints, fabrics, eccentric abilities, and ingenious embroideries, Rajdeep Ranawat's clothes conjure stories of grandeur and exoticism. With an air of sensual strangeness and rarity, the designer hopes to astonish and inspire.
This new collection, 'Sayuri,' is inspired by Memoirs of a Geisha, with a delicate beauty that echoes Oriental exoticism and introduces a fresh vision of contemporary aesthetics that balances a highly effective use of colour and rhythm that will transform your wardrobe. The prints are inspired by ancient oriental textiles and embroideries found on vintage exotic kimonos, with distinct sketches of oriental pagodas in parts, and their simplicity lulls you into a zen-like peace. Specifically, the designer has deftly mixed a striking combination of distinct oriental elements. Because it is brilliant and flamboyant, as well as rich in colour and materials, each piece in this collection is a statement piece.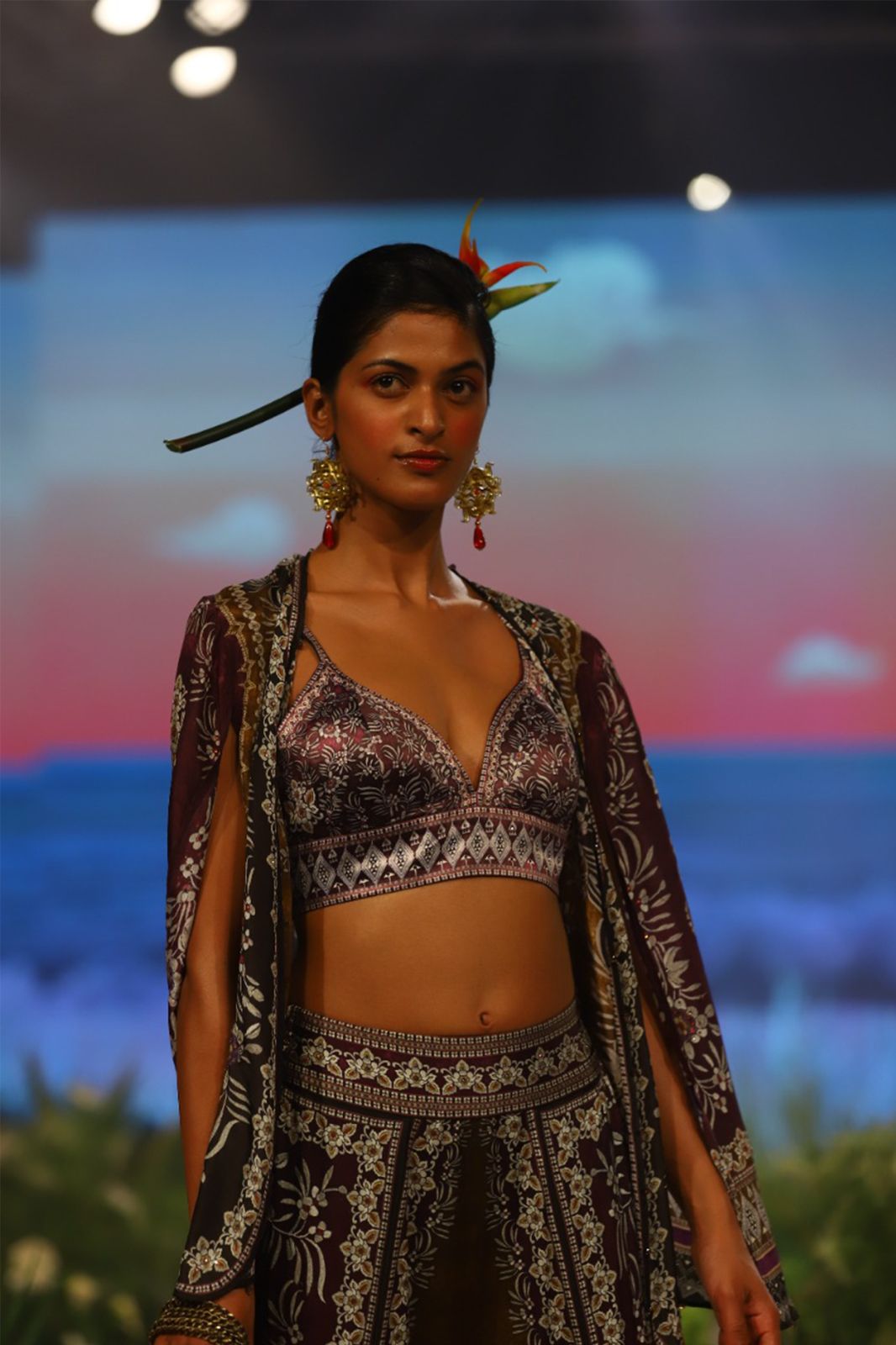 Summer Dreams by Shyamal Bhumika
SHYAMAL & BHUMIKA was founded in 2003, is now one of India's renowned fashion houses. They take cues from India's rich tradition and history, as well as historical arts and craftsmanship, to produce couture designs that are relevant to current aesthetics.
'Summer Dreams' is a lyrical fusion of hand-embroidered marvels, produced using age-old craft processes in a blend of silhouettes and colors, with floral motifs, lively patterns, and romantic whimsical embellishments. The spring couture line emanates a lively, fresh, and feminine vibe while keeping the unique and eternal artistry for its universal muse.
Outstanding silhouettes, huge exaggerated sleeves, floor-sweeping paneled lehengas, dramatic drooping veils and hemlines, and bias skirts are among the highlights of the collection. The artists experimented with a wide range of natural textiles, ranging from hand-woven silks to lighter fabrics such as sheer tulles.
Keep scrolling to check out the range exclusively with us.
Matsya Collection By AAB
AAB means water. The latest "Mátsya collection" by AAB honours the connection between fish and water. The collection is reinterpreting and reviving the heritage hand-embroidery of Phulkari inspired by the first Avatar of Vishnu. 
The collection represents a series of marine life patterns on modern silhouettes with Phulkari's signature vivid colours and geometric designs. The overall idea of the design is inspired by marine life; geometry and colours of Phulkari by engaging the essence of heirloom crafts and bringing them back to our everyday life, the brand strives to rekindle the relationship between people and their cultural legacies.