Hi all,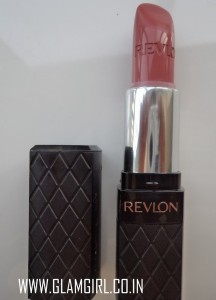 Product promises
Instant burst of rich color with a featherlight feel. Unique Elasticolor technology hugs lips with an explosion of color that feels virtually weightless
– Innovative pigments provide immediate, release of rich color on lips in just one swipe
– Contains film-forming polymers for longer wear and skin conditioning properties
– Moisturizers and anti-oxidants, including Sweet Almond Oil, improve lip texture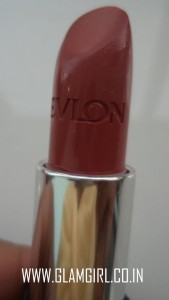 Price
Rs 610 for 3.7 g
BUY
Key ingredients
Polyester 4, octyl dodecyl neopentanoate, waxes, iron oxides.
My experience
As you all know I am newly wedded and my most of the time goes in adjusting in my new home. But some how I spare time for my favorite place 'Glamgirl' . Obviously I purchased lot of new products in the name of wedding shopping ;). This is also part of that.
Yes, it is weightless color. Hugs lips with explosion of color. This is lustre natural rosy pink lip color. It will suit maximum skin tones. Texture and color, both are nice but staying power is horrible. Do wear lip balm before and after use because it dries lips. It is not moisturizing enough. I love the color and I am going to search it in better brands. The stick may look a little brown but on lips it looks rosy pink. Scroll down to check the swatches.
Swatch on hand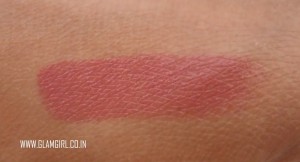 Lip swatches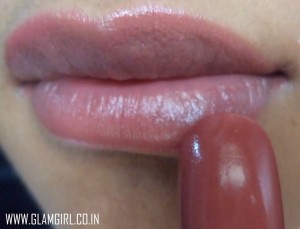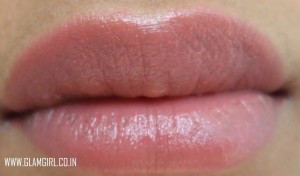 Its pretty na…? 🙂
Pros
I love the color, it looks natural
Packaging is fair
Cap is tight enough and doesn't come itself… so travel friendly
Texture is a little different and interesting. It shines but demi -sheer
Available online
Available in many color options
Weightless
Cons
Horrible staying power. Needs re-application almost every hour without meals
Dries lips
Expensive
Waring lip balm is must
Will I re – purchase it: No but yes to the color and texture in other brand.
Rating: 3 stars/5
<3
Neha