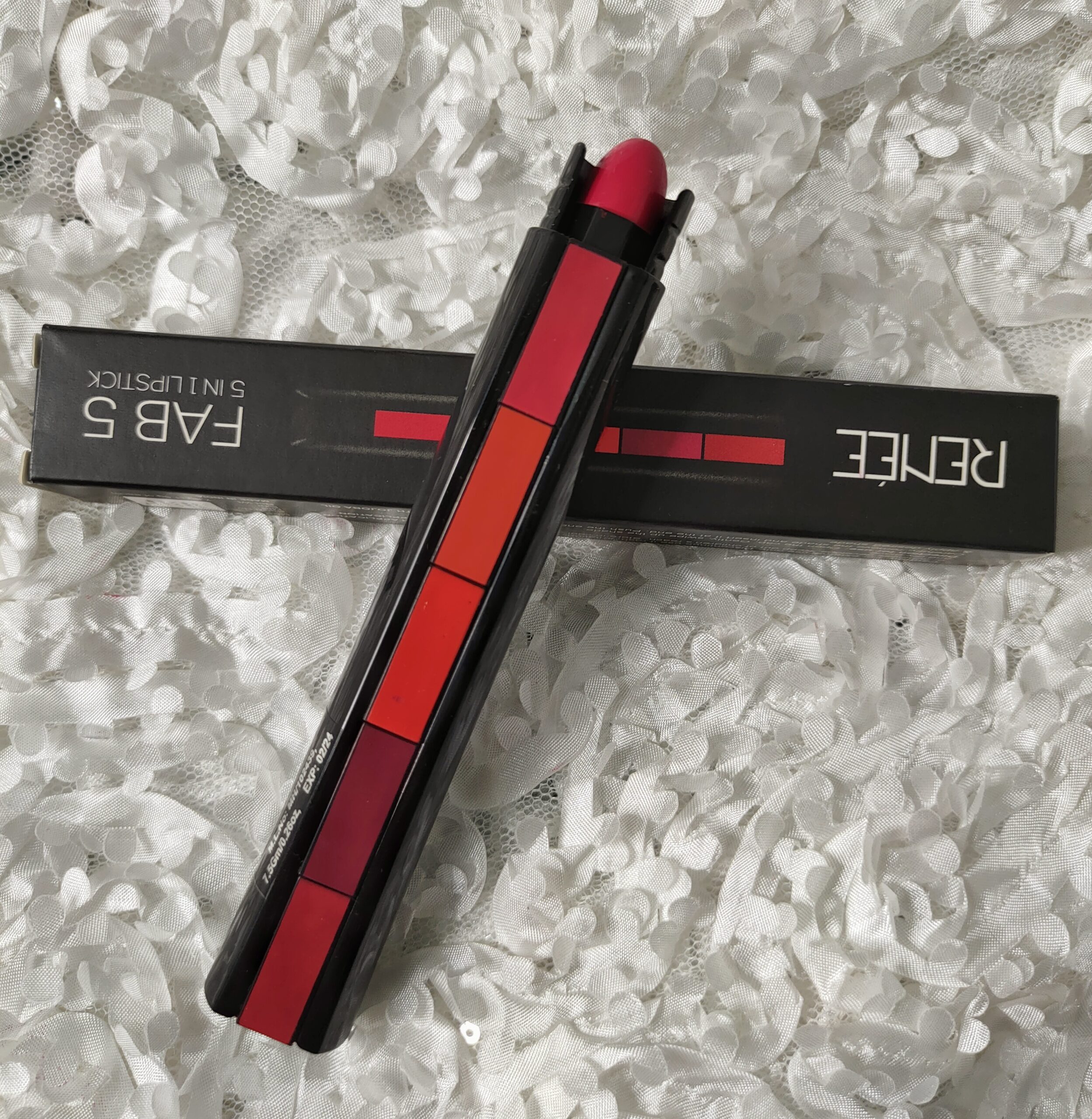 Price – INR 750 for7.5g
What is this?
This is a Renee Cosmetics FAB5 5 in 1 Lipstick Pen, a revolutionary makeup product with an effective price and color application drip. It has 5 different replaceable lipstick shade bullets which have a creamy texture but leaves a matte look on application.
What does it do?
Renee FAB5 in 1 assures you an evolution of any look that you aspire within seconds, with smooth gliding texture. It has the best 5 shades of beauty market like nude pink, magenta, pink, red, brick red and coral orange. This FAB5 carries the audacity to be a star shiner in a romantic dinner and a classic saga in business meetings, there is nothing that it can't fix. It is travel-friendly with no packaging issues, due to 5 shades immersing into 1. Also, it is a double pop up, which can be used as blush and eyeshadow. 
How to use it?
Handle it with some delicacy as those lipstick bullets are not headstrong. Start applying it from the centre of the upper lip, taking it up to the corner with precision. Then apply it to the lower lip.
Everything Else 
The brand name, Renee means reborn, explicitly talking about 'Natural is better' promotes vegan products. FAB5 in 1 is a cruelty-free, naturally sourced and paraben-free product. The colours are also perfectly pigmented and harmonise with every skin tone beautifully. If you love experimentation, then you can also try some mixing hacks with the shades. Also, a suitable companion for teenage queens, consisting of subtle shade to louder one at a sustainable cost. Talking about it staying period, so yes a retouch after your tasty meal wouldn't cost that much.
Overall, it's a completely classy and glam combo for all your special occasions or everyday needs. Just Pop Push & Play