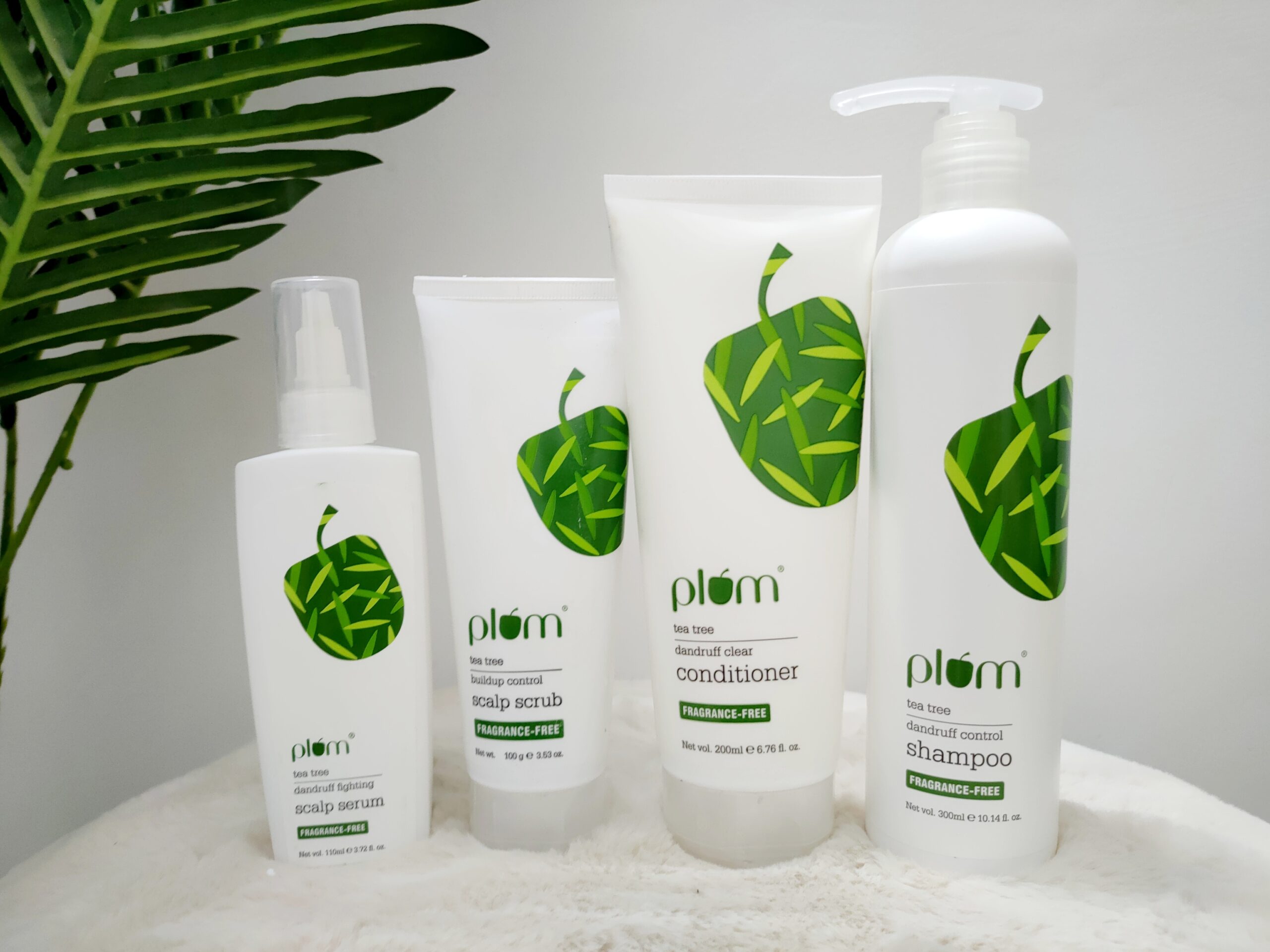 Plum is one of our favorite brands when it comes to hair and skincare because why not- It's 100% vegan and cruelty-free, displays effective results with time, and most importantly shopping from them doesn't leave a hole in our pockets!
Recently, Plum has launched the Tea tree Anti-Dandruff treatment which is a complete range of 4 products- Scalp Scrub, Shampoo, Conditioner, and Scalp Serum. The best thing about this range is that it's infused with the goodness of tea tree oil and propanediol caprylate which happen to be the paramount ingredients to fight dandruff.
Plum's Tea Tree Anti-Dandruff Treatment is a dream come true for all the individuals trying to fight dandruff and a perpetually itchy mane. The step-by-step range treats your dandruff from the roots, its active ingredients also help in maintaining the pH balance of your scalp which in turn improves hair health.
How to Use: Step by Step Guide
Scalp Scrub
First things first! Use this gentle scrub to exfoliate the scalp. Spread this scrub evenly on your wet hair and massage the scalp for 1-2 minutes. This product will reduce itchiness and soothe your scalp respectively. The walnut and coconut shell powder in the scrub exfoliates scalp buildup and reveals clear skin. But be careful with washing the micro pieces as it may get stuck in the hair. 
Shampoo
After using the scrub, take an adequate quantity of shampoo and lather up on your wet hair. Rinse after 2 minutes. This will help in removing the white flakes caused by dandruff.
Conditioner
Apply this conditioner to the ends of your hair and leave it on for a while before rinsing. It will remove the flakes on hair strands and smoothen your hair. The thick creamy conditioner spreads well through the tresses and detangles them, suitable for almost all types of hair. 
Scalp Serum
Take a few drops of this serum and apply it evenly to your scalp. Leave it overnight for effective results. It will prevent your dandruff from reappearing by inhibiting the growth of dandruff-causing fungus.
These products are specifically meant to eliminate dandruff so don't think twice before purchasing them. However, it is recommended to use all the products in the above mentioned-hierarchy to witness results over time.