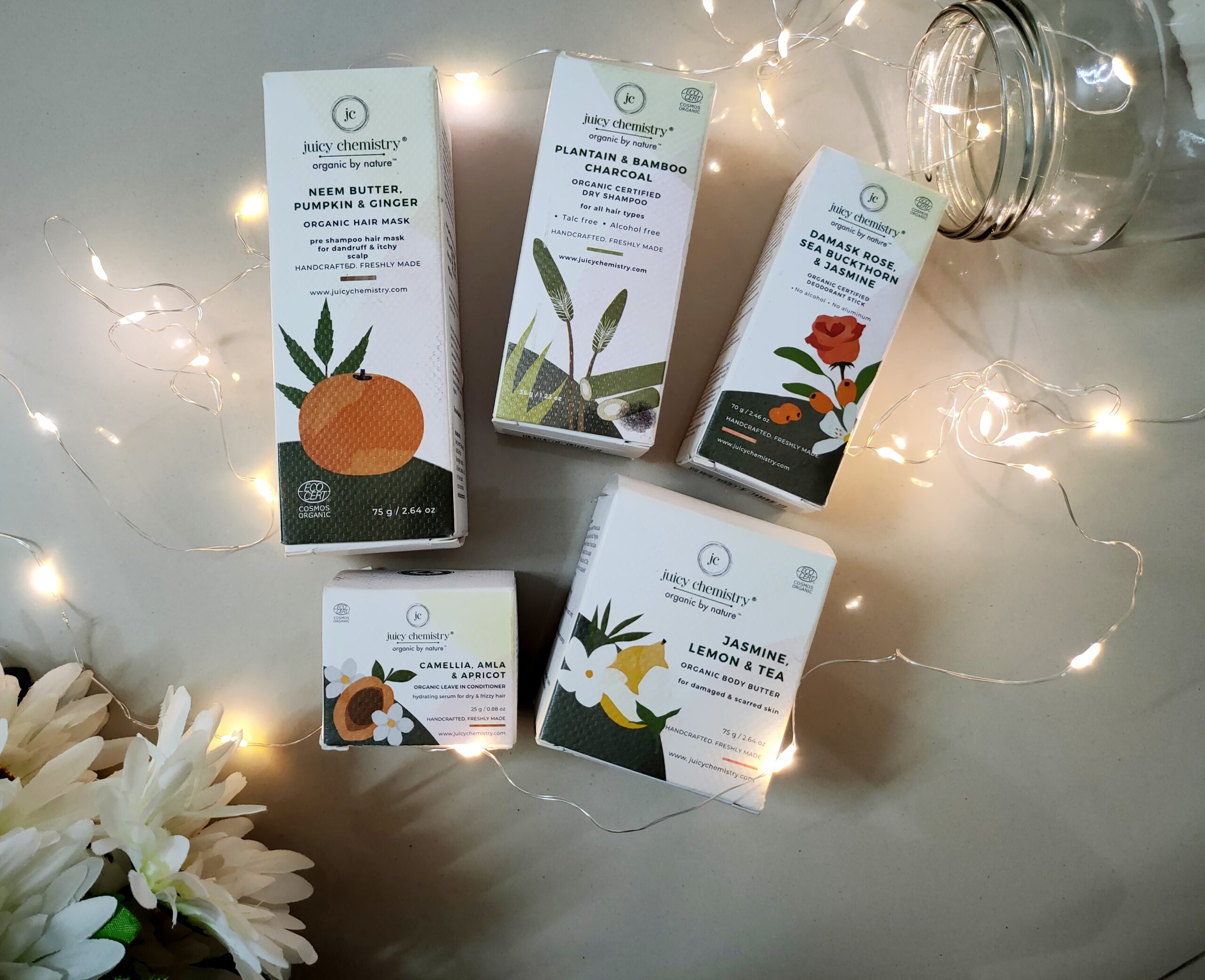 In this metropolitan and engrossed life, we opt for organic and sustainable products for our body care. Whether we look for beautiful hair or flawless skin, organic products can take lead in all of it. So recently I got my hands on 5 different products by Juicy Chemistry, Organic by Nature, which includes a hair mask, dry shampoo, deodorant stick, leave-in conditioner, and body butter. All of this coming down below.
Juicy Chemistry Neem Butter Pumpkin & Ginger Hair Mask 
Price – INR 900
Firstly I would like to bring upon the hair mask which has been formulated with neem butter, pumpkin seed oil, ginger extracts, argan oil, baobab and castor oil. The fragrance is totally hearted drooling. I love that natural aroma. The hair mask is quite thick in texture but easily applicable and it will restore and nourish your hair like never before. The mask has a remarkable effect on scalp inflammatory and stubborn dandruff. The mask is not obstinate at all and can be washed away with a mild shampoo. The container bottle is made of glass, so gotta be careful with it. 
Plantain & Bamboo Charcoal Dry Shampoo 
Price – INR 400/-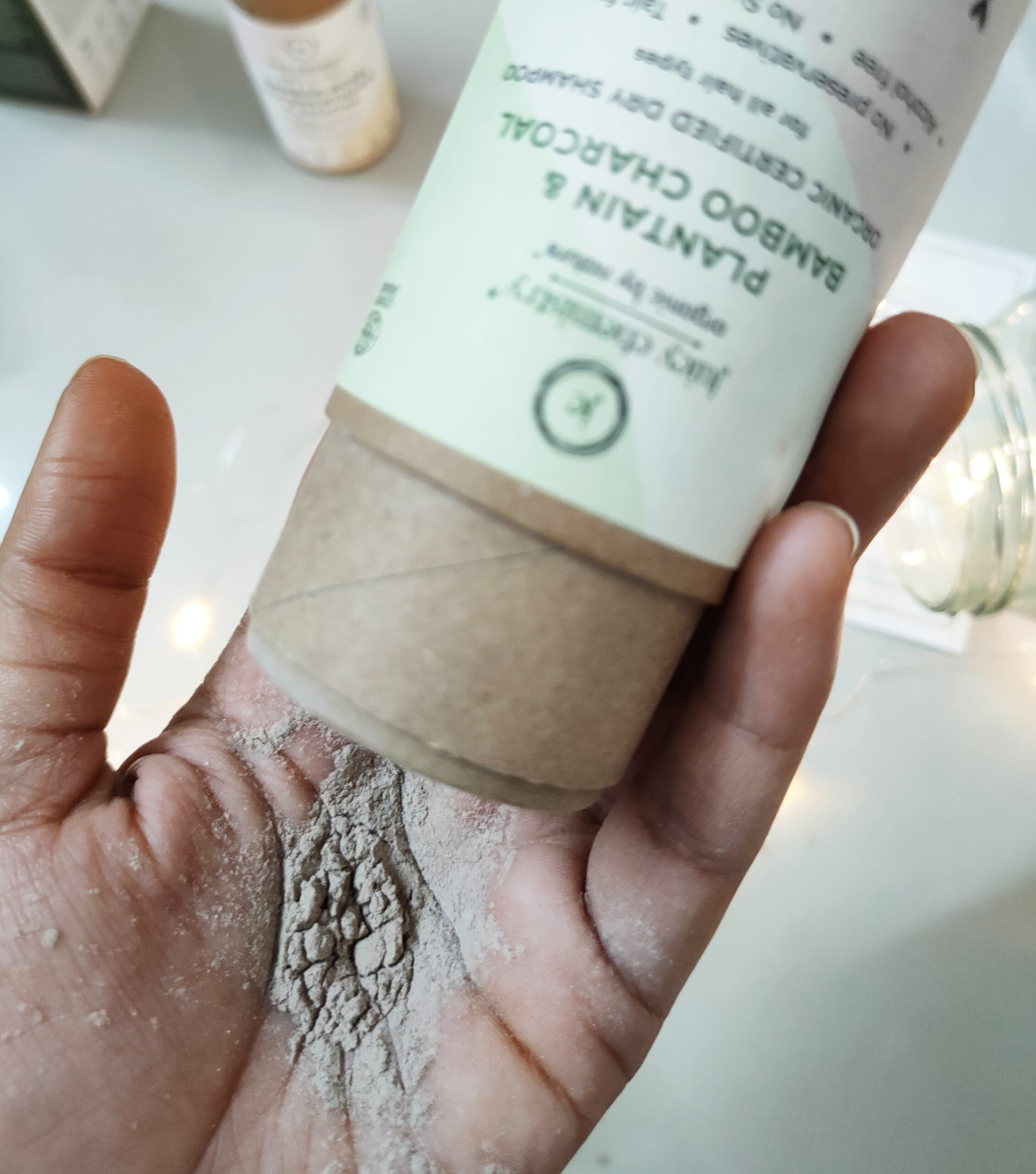 Dry shampoo goes around with a lot of myths, but I will shed all the dust of doubts as the Juicy Chemistry Plantain and Bamboo Charcoal dry shampoo will make you fall in love with your hair. It is a powder form, alcohol-free, and quite easy to apply. Take a small scoop of it and dust it in small sections in the roots or length. The product really instantly adds volume and the appearance of freshly washed hair is quite satisfying and also nourishes the scalp.
Camellia, Amla & Apricot Organic Leave-In Conditioner
Price – INR 550
Haircare is something inevitable, and we mostly ignore it because we are home mostly but that doesn't mean your hair doesn't need some coddling. The Camella, amla, and apricot organic leave-in conditioner by Juicy Chemistry, and can easily solve all your hair issues. It is a hydrating balm for rebellious dry and frizzy hair. It has a butter-like texture, quite smooth and soft. I prefer everyone to look after the quantity as if you use too much of it, it will make your hair look a bit greasy. Some of you may find the herbal smell a bit fascinating and very organic.. as if you are wearing the original ingredients, leaves them shiny and soft.
Damask Rose, Sea Buckthorn & Jasmine Deodorant Stick 
Price – INR 700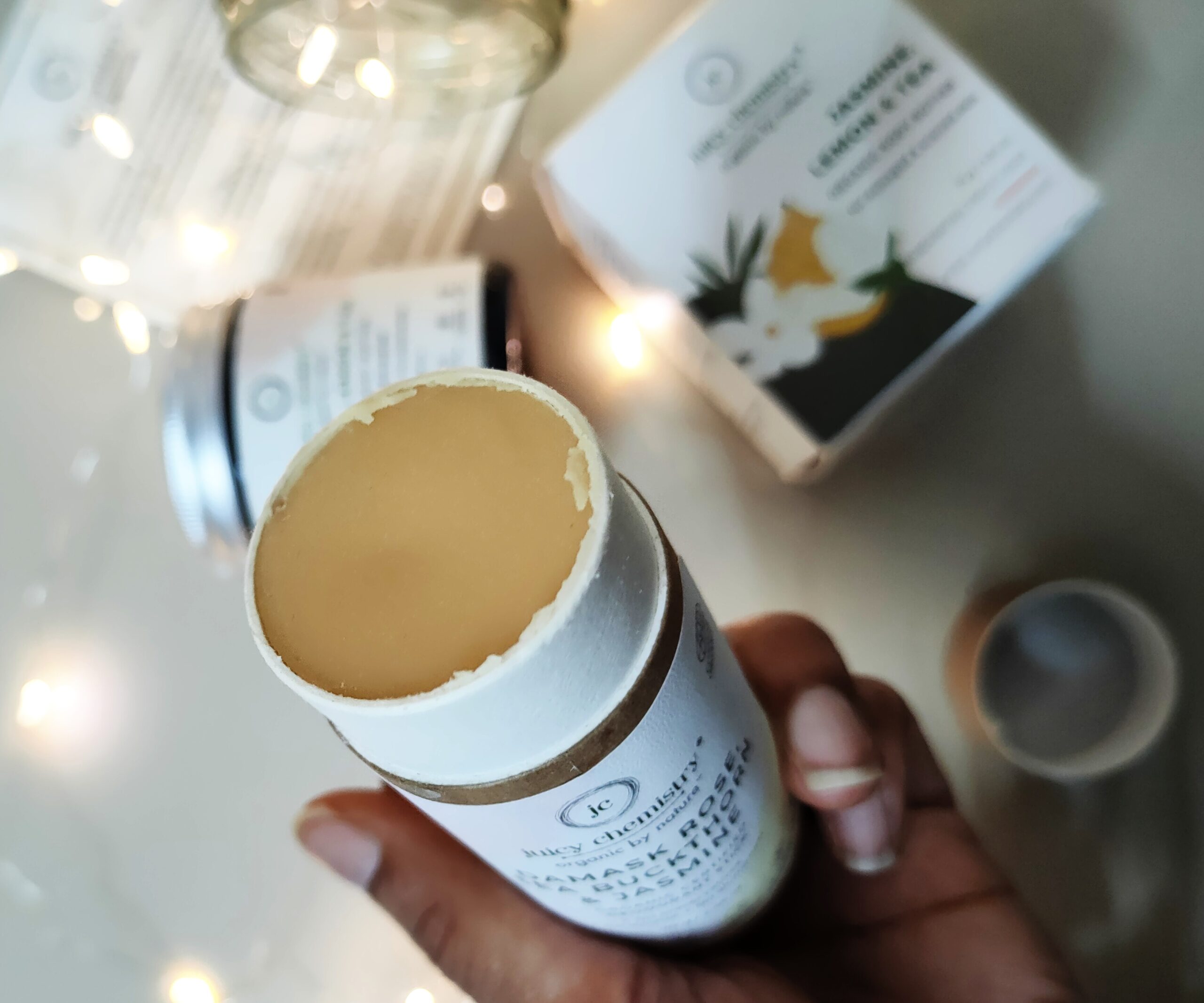 A body odor can be the real turn-off, so here is the organic solution for that. Damask rose, sea buckthorn, and jasmine deodorant stick has an amazing blend of natural ingredients and essential oils. I personally adore the sweet fragrance it has, profoundly attractive due to jasmine. It doesn't leave any dry patches on your skin, causes no irritation, and looks after the skin darkening too. What I love the most is consistency and smooth texture, organic packaging and scent…so relaxing.
Jasmine, Lemon & Tea Organic Body Butter
Price – INR 750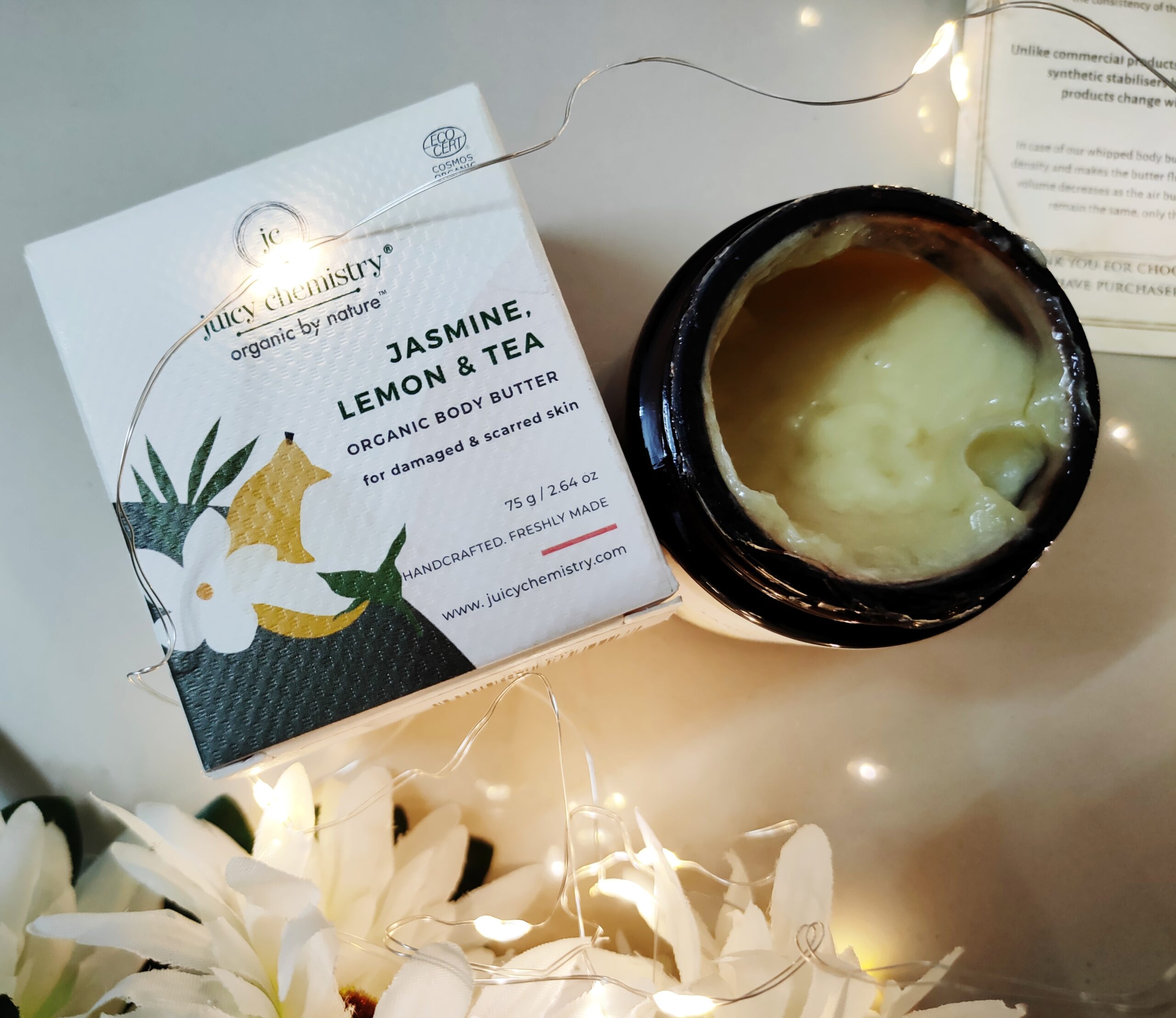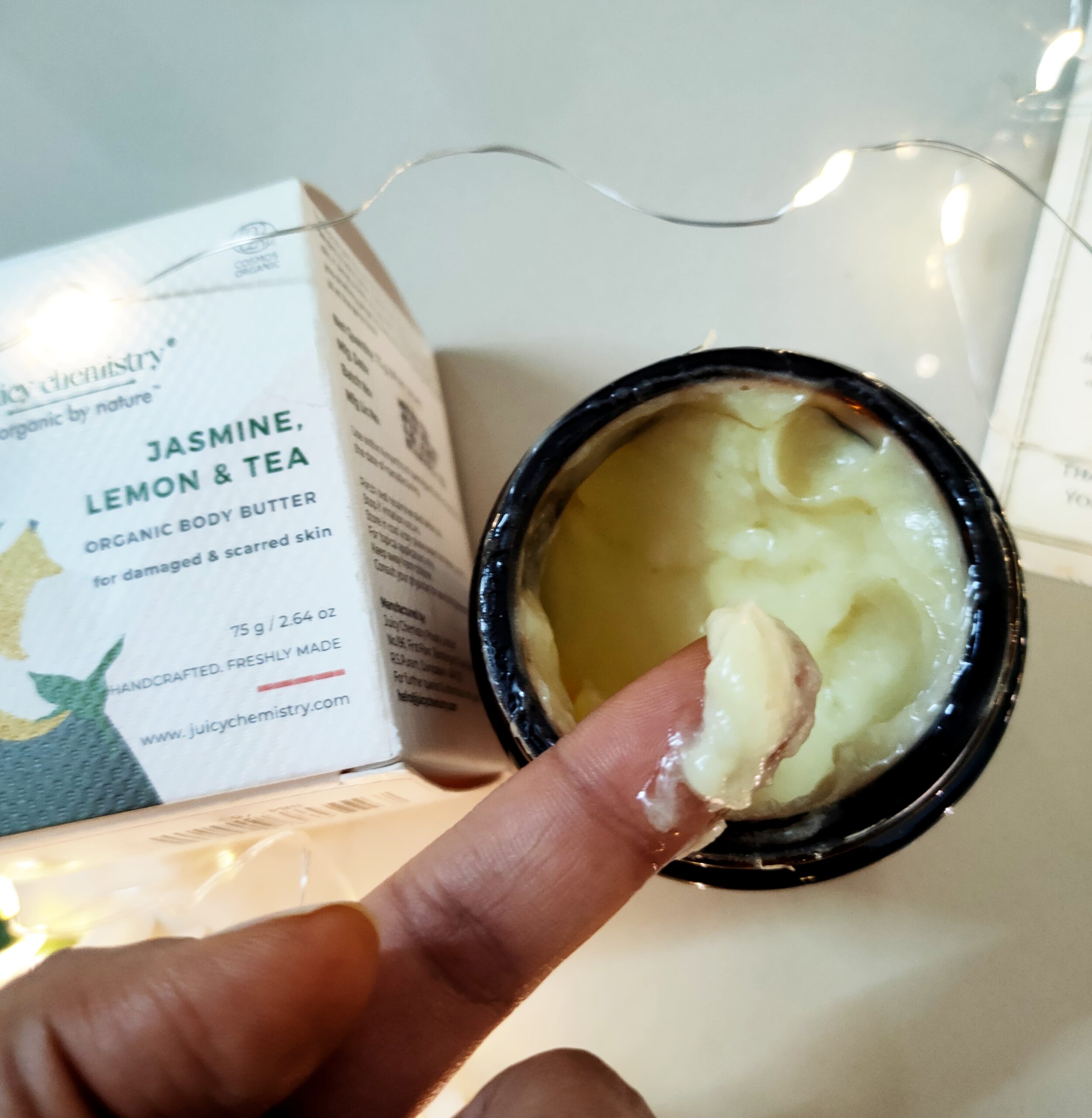 If you are going through some major skin dryness issue, then this is the optimum solution for you. Juicy Chemistry Jasmine Lemon and tea organic body butter will heal your skin and nourishes it to the deepest. It has an enrich balm like texture which I prefer to apply overnight for better results and to avoid greasy look. It will calm down all the inflammation and irritation leaving your skin glowing and radiant.