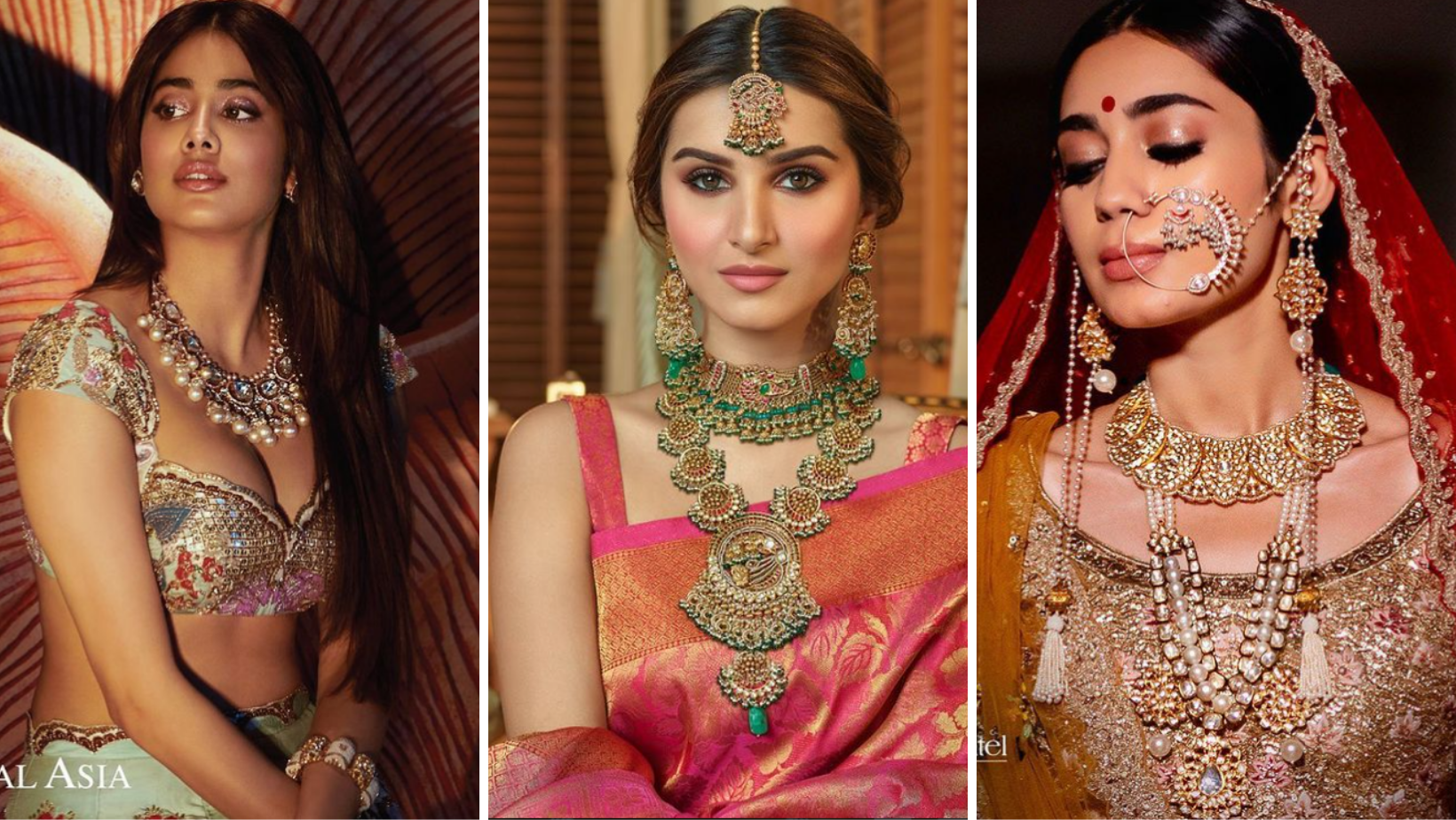 A wedding is a glitzy and spectacular occasion. Aside from making the wedding site seem beautiful, don't forget to seek bridal jewelry that will compliment you and your soon-to-be better half. Your jewelry adds a touch of glam to your overall look on your wedding day.
Hence, we have compiled a list of the Top 6 Wedding Jewelry brands to assist you in finding the greatest accessories without any difficulty that will captivate you with their dazzling, exquisite craftsmanship.
Bespoke Vintage Jewels
 

 

View this post on Instagram

 
Bespoke has a large selection of the greatest vintage custom pieces available. So, this wedding season, add some colour to your outfits with colourful jewellery.
The jewellery is inspired by Indian regal traditions as well as Victorian-era fashion.  Combinations of antique diamonds with other navaratnas, which are still whispering stories from the past are seen. The pieces are enormous, bold, and dramatic, in the manner in which former queens, empresses, and courtesans would have dressed.
Rare Heritage
 

 

View this post on Instagram

 
The rare heritage jewelry house is always inspired by the grandeur of royalty. At its 5,000-square-foot flagship store in Mumbai, the brand showcases handmade gems through a luxury shopping experience. Speaking of the festive look, the display of pieces at the rare heritage charm would you to the very core. Athiya Shetty, Kirron Kher, Malaika Arora, Pernia Qureshi, and Shraddha Kapoor, among others, have voted for the brand's classic but cutting-edge designs.
Ambrus Jewels
 

 

View this post on Instagram

 
Ambrus Jewels believe in providing clients who have become acquainted with a completely unique experience, ensuring that trust is established, discretion is maintained, and memories are created. The line, which includes both heavy and contemporary pieces, will undoubtedly raise your style quotient. 
Each finely formed design in gold and diamond bridal sets is a combination of great choice and artistry, according to global standards. The exclusive collection is inspired by the poetry of beauty and includes an exquisite assortment of rings, earrings, necklaces, and pendants.
Shrihari Diagems By Anirudh
 

 

 

View this post on Instagram

 

 
Shrihari Diagems By Anirudh offers a diverse collection of temple jewelry that is handcrafted in silver and dipped in gold leaf. Wedding Jewellery – Bridal Jewellery – Real Jewellery are among the services provided
Madhuban By Manubhai
 

 

 

View this post on Instagram

 

 
Madhuban by Manu Bhai creates jewelry that is traditional and timeless by combining simplicity and elegance. It caters to a customer that values quality and authenticity, with demanding standards of craftsmanship, the best quality gems, and a foundation concept of the highest ethical standards. They offer collections for every event as well as a variety of styles for every occasion.
Vaidehi Patel Fine Jewelry
View this post on Instagram
If you are looking for some unique jewelry to complement your bridal trousseau? Vaidehi Patel Fine Jewelry has a plethora of bright and elegant wedding Bijoux (for the Mehendi ceremony to your reception). They possess a harmonious blend of traditionalism and modernism.
Shri Ram Hari Ram Jewellers
Shri Ram Hari Ram Jewellers harmonizes classical heritage with current interpretations of old aesthetics and methods and is known for its distinctive beautiful works and unique craftsmanship. Their exquisite and precisely crafted decorations have gained them widespread fame. They make certain that each item of the latest jewelry designs for weddings tells a narrative about you and your feelings. This amazing bridal necklace set glows with grandeur and vitality, like the pure exuberance of a dream come true. beautifully cut polkis, delicately surrounded by lush emeralds and superb pearls, all woven into a magnificent tapestry of exceptional craftsmanship as timeless as the genuine love it commemorates.
Hazoorilal Legacy
 

 

View this post on Instagram

 
The Indian heritage jewelry brand is unrivaled for ancestral pieces. Their repertory is one of the greatest in the country, and they are known for diamonds, gold, Polki, and Kundan jewelry. They are also one of the first pioneers of colored diamonds. Having said that, They create jewelry for contemporary, self-assured, and ambitious women in order to bring out the best in them.
 Hazoorilal Legacy designs have been spotted on the worldwide red carpet at both the Oscars and the BAFTAs, and it's no surprise. Hazoorilal has developed a strong stamp of recognition, quality, and trustworthiness as jewelers, and their clients have remained loyal to the brand for three generations.
Sabyasachi Jewelry
 

 

 

View this post on Instagram

 

 
Sabyasachi Mukherjee is known for his magnificent and beautiful lehengas for brides, but his unique and eccentric bridal jewelry is currently causing a stir throughout the world. Sabyasachi jewelry is attracting a lot of interest. His creations of jewelry are definitely one-of-a-kind. The classic collection has really blown us away, and we're all swooning over it.
One of the label's most distinguishing characteristics is its ability to combine historical art forms, patterns, and traditions with contemporary refined craftsmanship. The choker is the display, a gorgeous piece of jewelry that adorns a woman's neck, incorporates this magnificent combination.