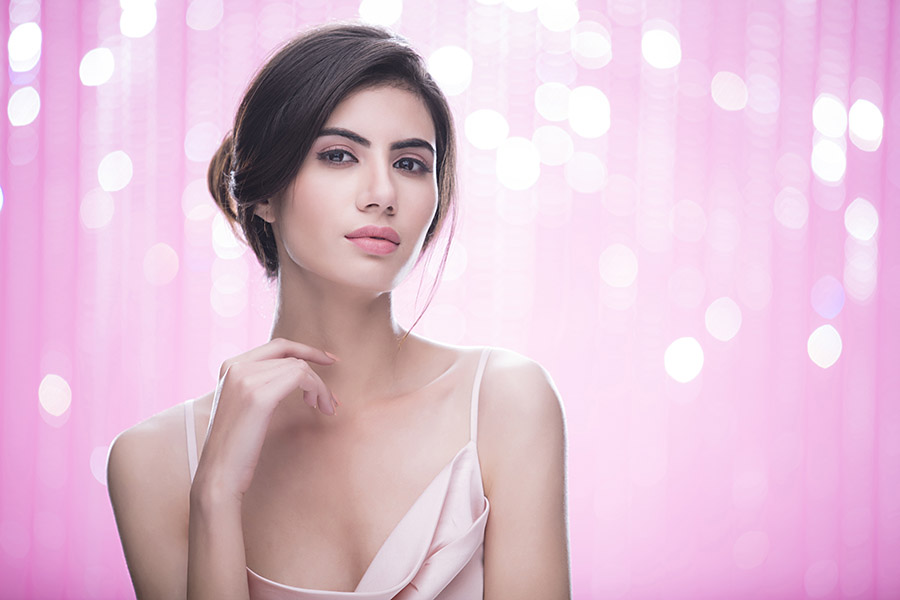 Raksha Bandhan is around the corner and we all can feel the excitement, right? As it really allows siblings a space to express their emotions and love, which they rarely do in the whole year. And deep down we are so engrossed in picking up the right gift for our siblings, but the process is exhausting and confusing as well as, for picking a valuable gift for them. But we are here to calm down your nerves and choose the best out of all. Makeup and beauty products are really tempting and usable too, so here is a list of prominent makeup and beauty products to doll up yourself with the confidence and grace-
Bobbi Brown Crushed Lip Color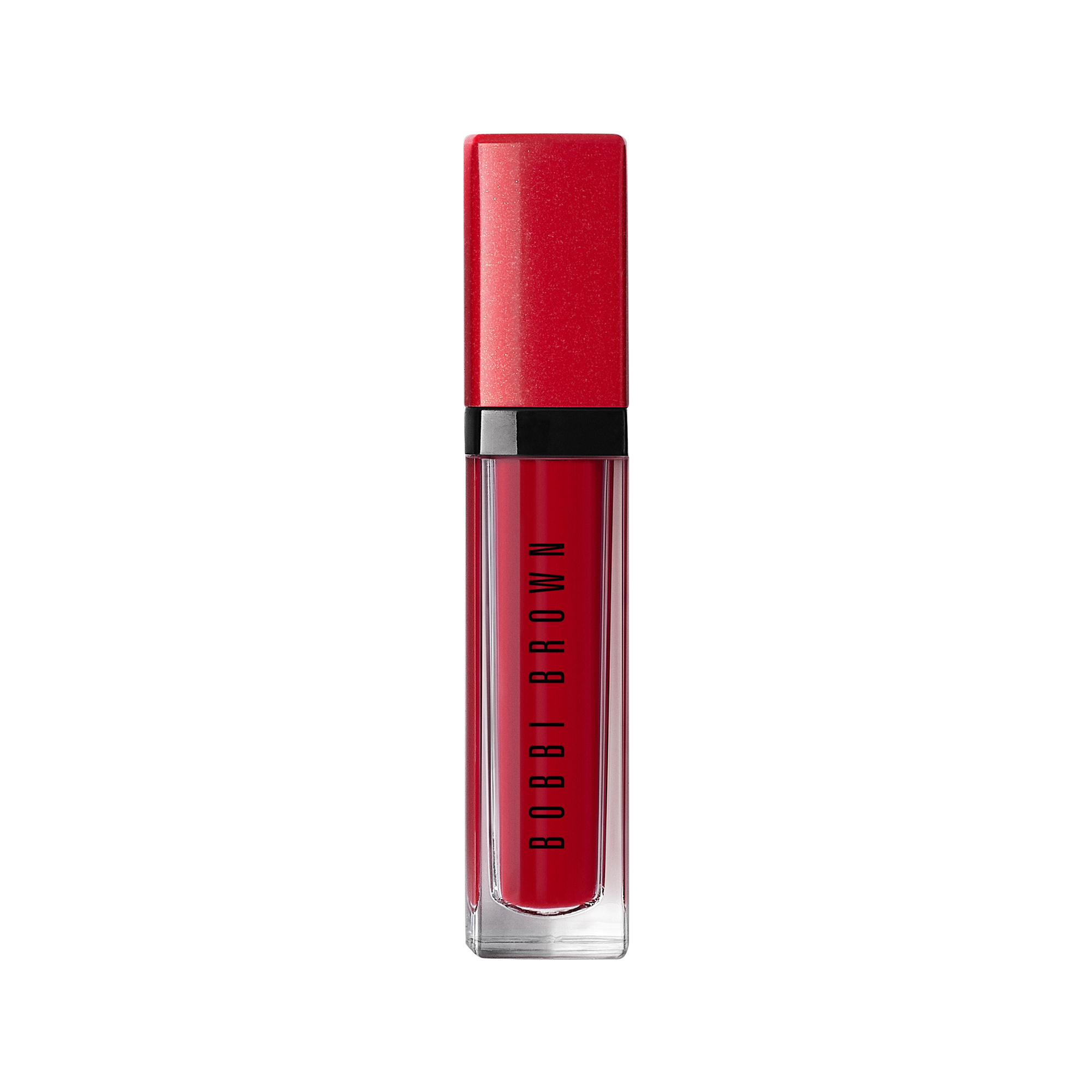 This crushed lip color would be the real heart charm as it comprises everything that a woman looks for in a lipstick. It has the perfect tint of color with the nourishing attributes of balm for most wearable lips yet. It is enriched with beeswax, vitamin E, and C to glide on your lips super smooth and adorning them with a satin-matte finish. So it will last all day long leaving your lips hydrated and kissably soft.
Smashbox Super Fan Mascara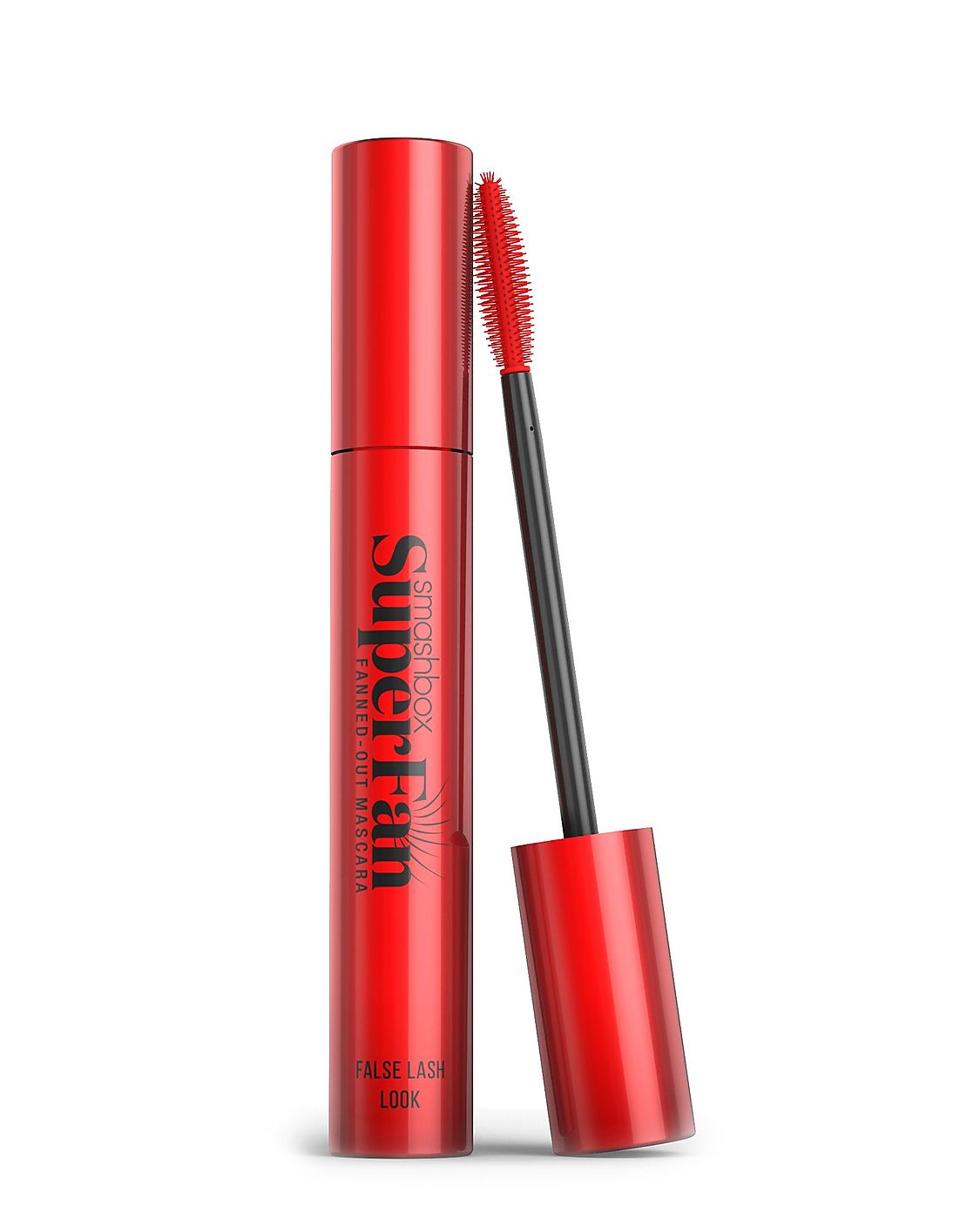 Super dark and precision blessed mascara, assures you get the 12-hour length, lift and volume without any heaviness and clumping. It has a 360-degree precision double-bristle brush which enables the mascara on lashes from root to tip. It is long-wearing, lengthening, and vegan mascara that goes on revealing lashes you never had.
Kiko Milano Green Me Line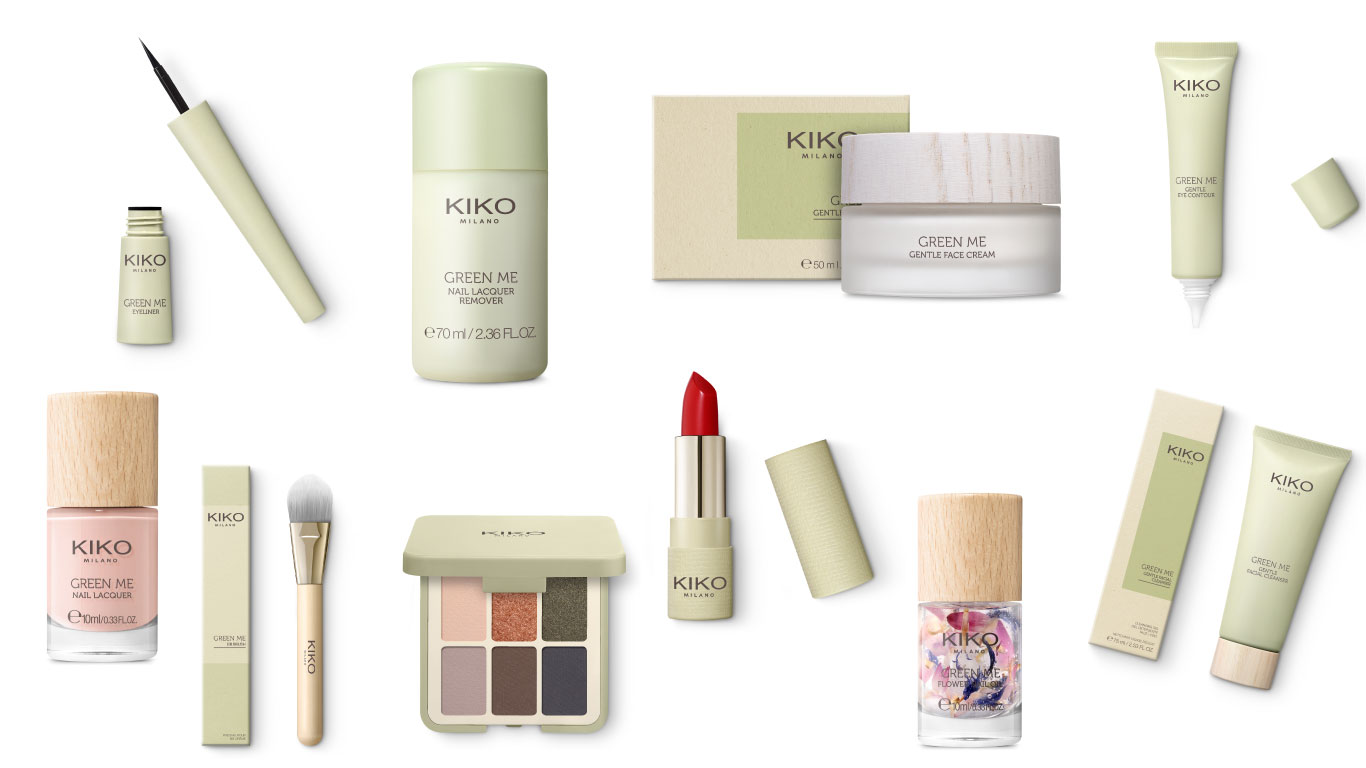 The ever-growing line-up of eco-friendly choices formulated with up to 100% natural and organic raw materials bring the best of nature's bounty to life in skincare, makeup and accessories for a beauty regime that feels as good as it looks. Delivering natural looks with no compromise on performance, the green lineup is also as good to the earth as it is to your skin, with each and every product available in recycled or recyclable packaging to minimise environmental impact.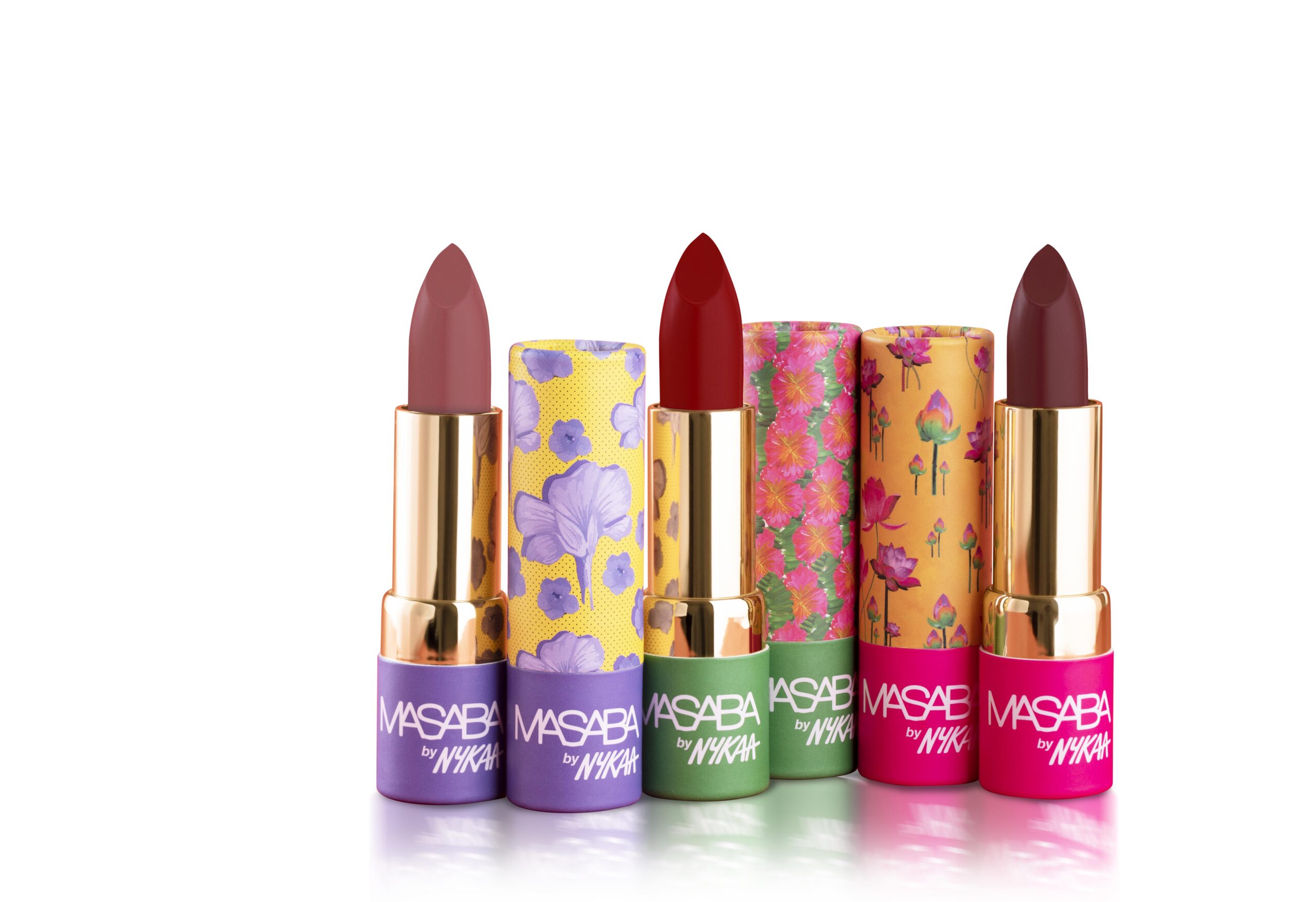 The launch of an all-new, Pure Matte Lipstick collection in three stunning must-have shades inspired by the relentless spirit of the women in Masaba's life, the bold shades, carefully handpicked by her, are an ode to their fearlessness and the drive to achieve what they set their heart on. The three shades were chosen by Masaba to suit all Indian skin tones – Believe in You, You Grow Girl and Make It Happen- represent the story of faith, growth, and hustle that these women have experienced.
Lips don't lie by Nykaa Beauty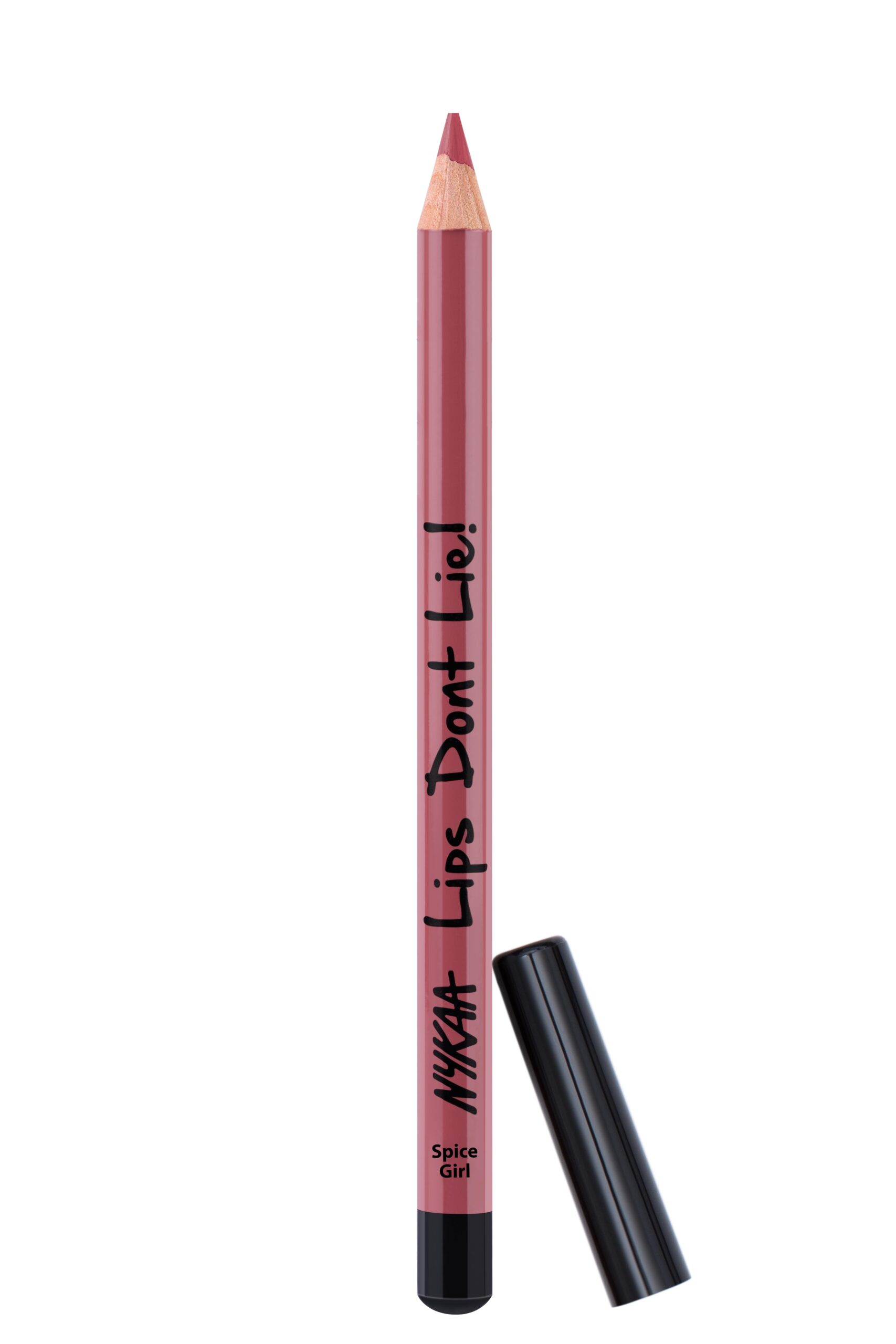 Calling out to every Feisty Brunette and Spice Girl out there, because Nykaa now brings you a #nudeforeverymood to help nail the perfect pout. Nykaa's best-selling lip-liner collection – Lips Don't Lie- now expands to include six brand new shades in delicious nudes, ranging from pinks to browns to neutrals.
Huda Beauty Power Bullet Cream Glow Lipstick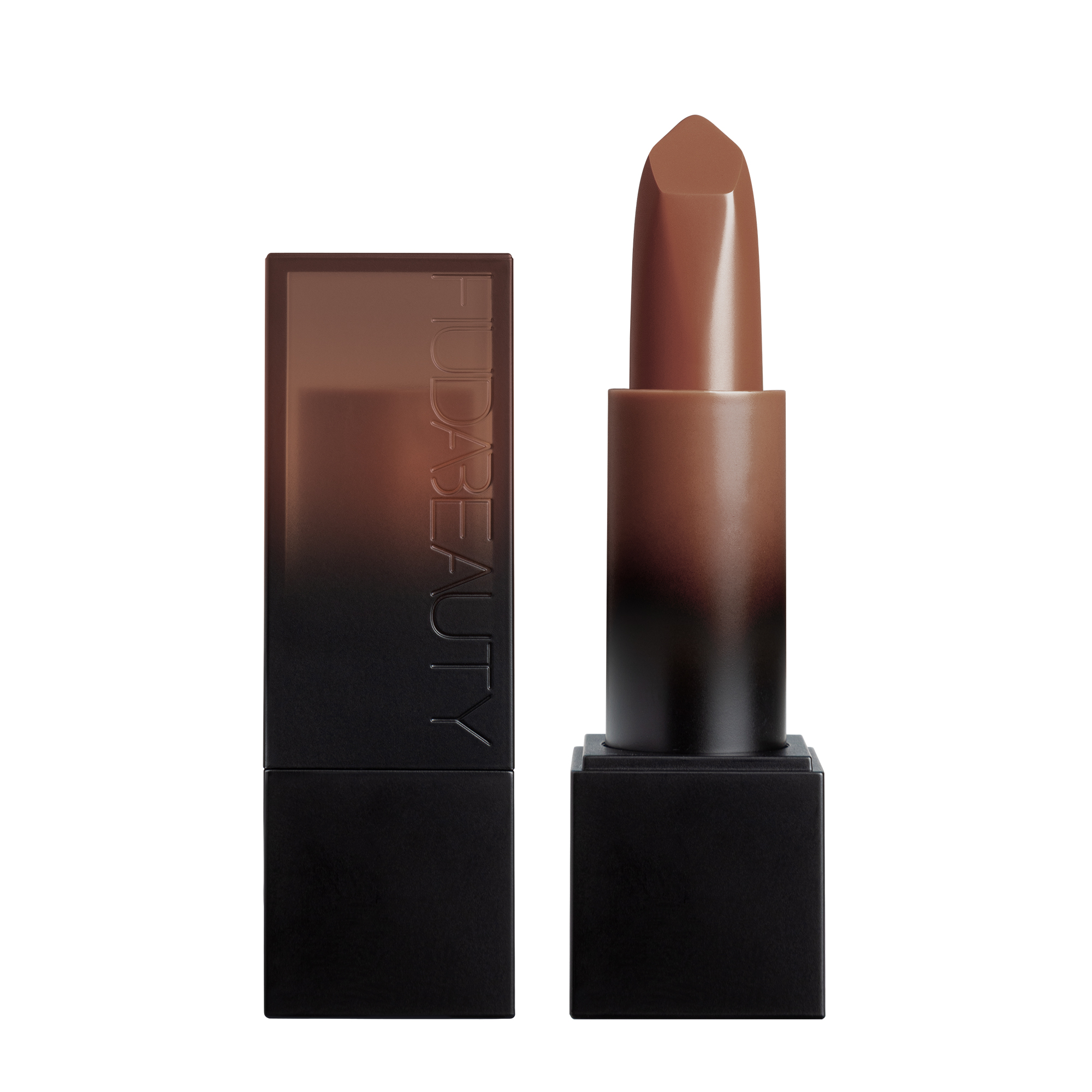 Huda Beauty has added a new member to the cult-classic Power Bullet family, with the launch of Power Bullet Cream Glow. The new hydrating lipstick has a juicy, creamy finish that dresses the lips with a healthy, glowing shine, unlike the original matte formula that launched in 2019. Huda decided to formulate the Power Bullet Cream Glow with medium, buildable coverage and a subtle shine finish for beauty lovers wanting to enhance their natural color for the perfect everyday makeup look.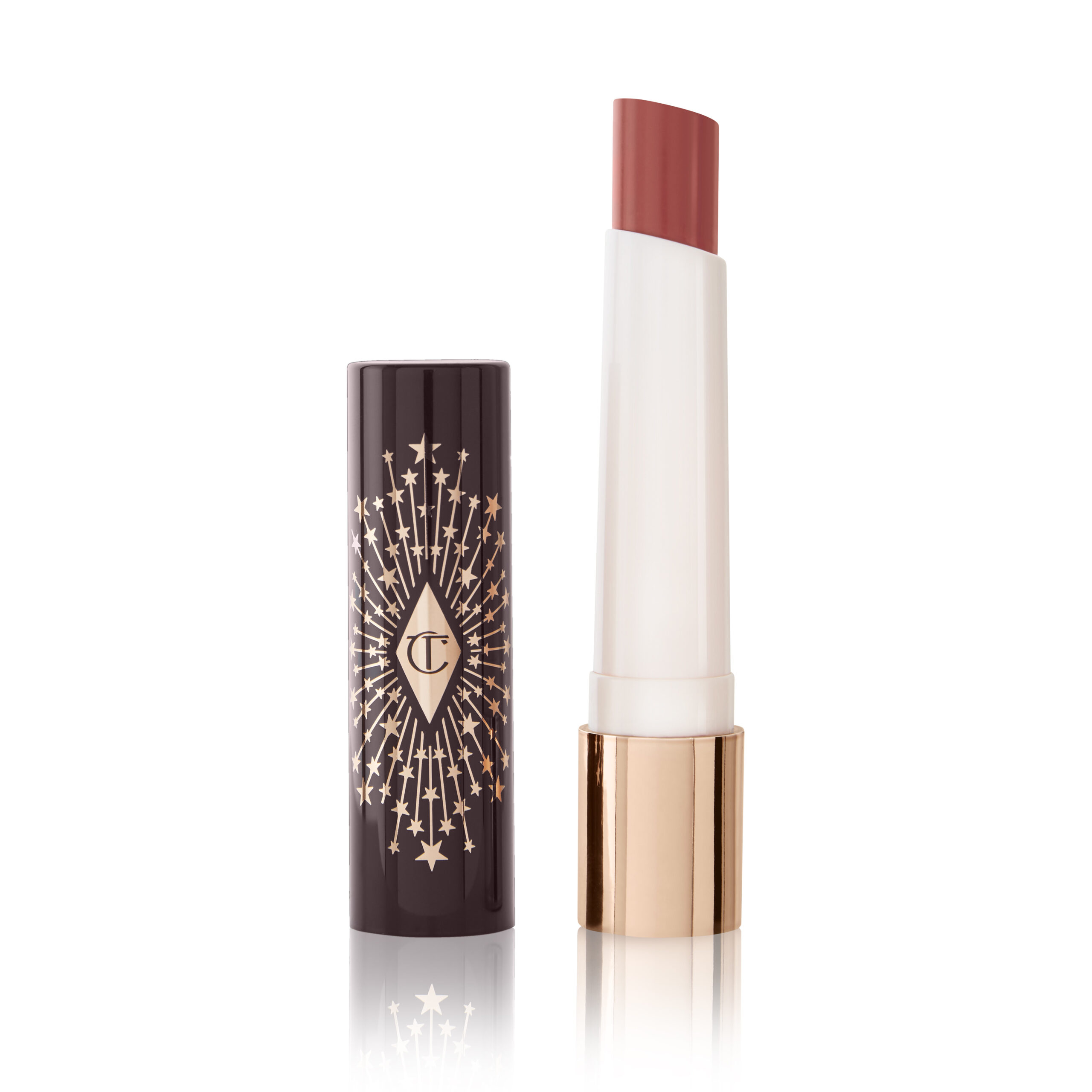 The next generation, multi-magic lipstick gloss balm is formulated with Hyaluronic acid for intensely hydrated fuller-looking lips. Available in 8 shades – Enchanting Kiss, Happiberry, Crystal Happikiss, Happipetal, Happipeach, Romance Kiss, Passion Kiss & the iconic Pillow Talk, Happikiss Bottles the TRUE HAPPINESS OF KISSING; from virtual kisses to love letters sealed with a kiss and the mark left by a Happikiss upon a cheek, kisses bring Joy & Euphoria to everyone, everywhere! Hyaluronic Happikiss is a hydrating Lipstick Gloss  Balm that glides on with a magical fondue-like texture for a dewy and juicy kiss of hydrating color on your lips!
Anastasia Beverly Hills Liquid Glow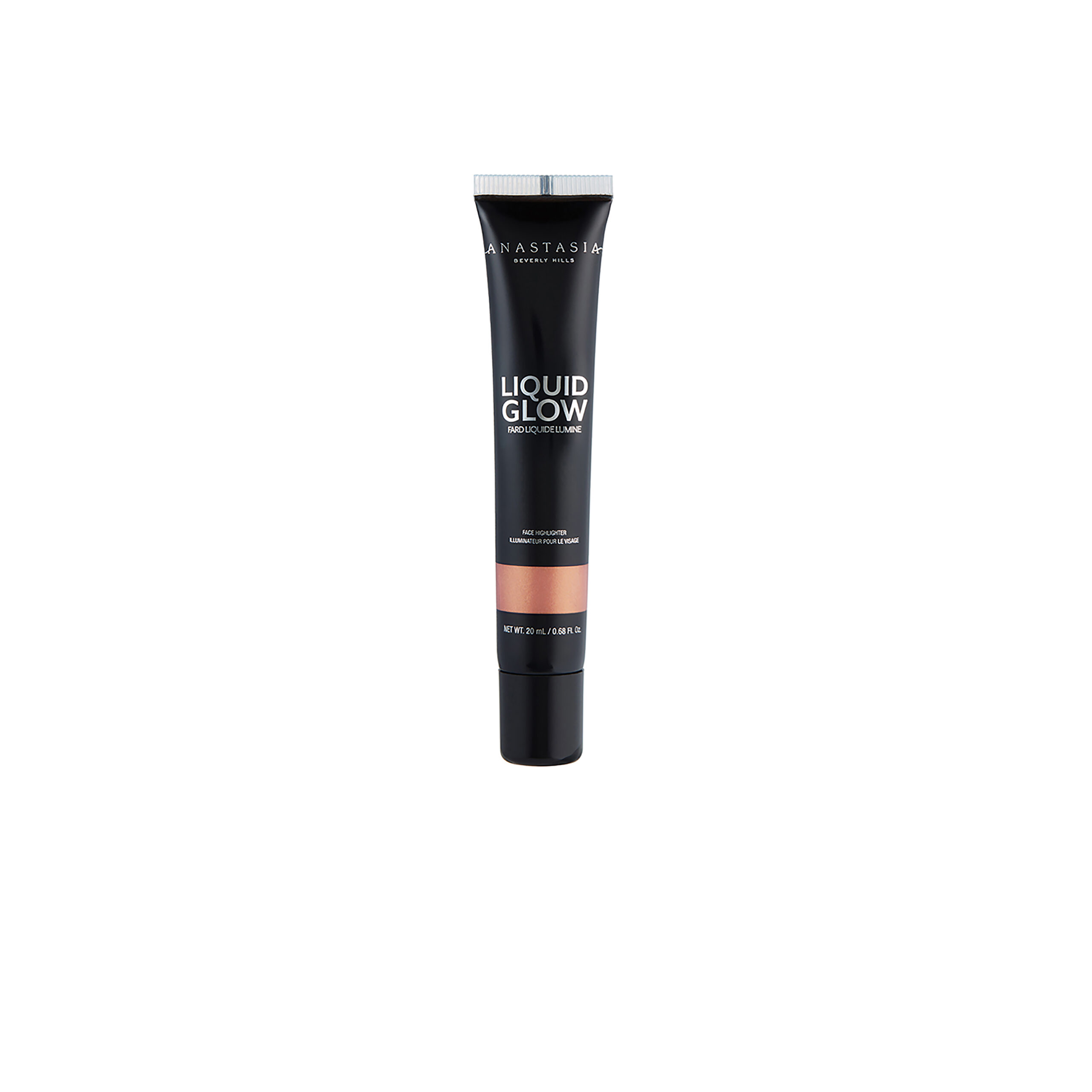 It is a weightless liquid highlighter that offers an intense glow with metallic and luster finishes. The fully-pigmented gel-like formula helps you effortlessly create the look of radiant, dewy skin, which delivers a seamless blend for both face & body and then dries down to a flawless, natural-looking finish. This product could be of multi-use, for a crease-proof eye-look, on the high points of your face- cheeks, cupids bow, brow bone and bridge of your nose.
Kay Beauty Illuminating Highlighter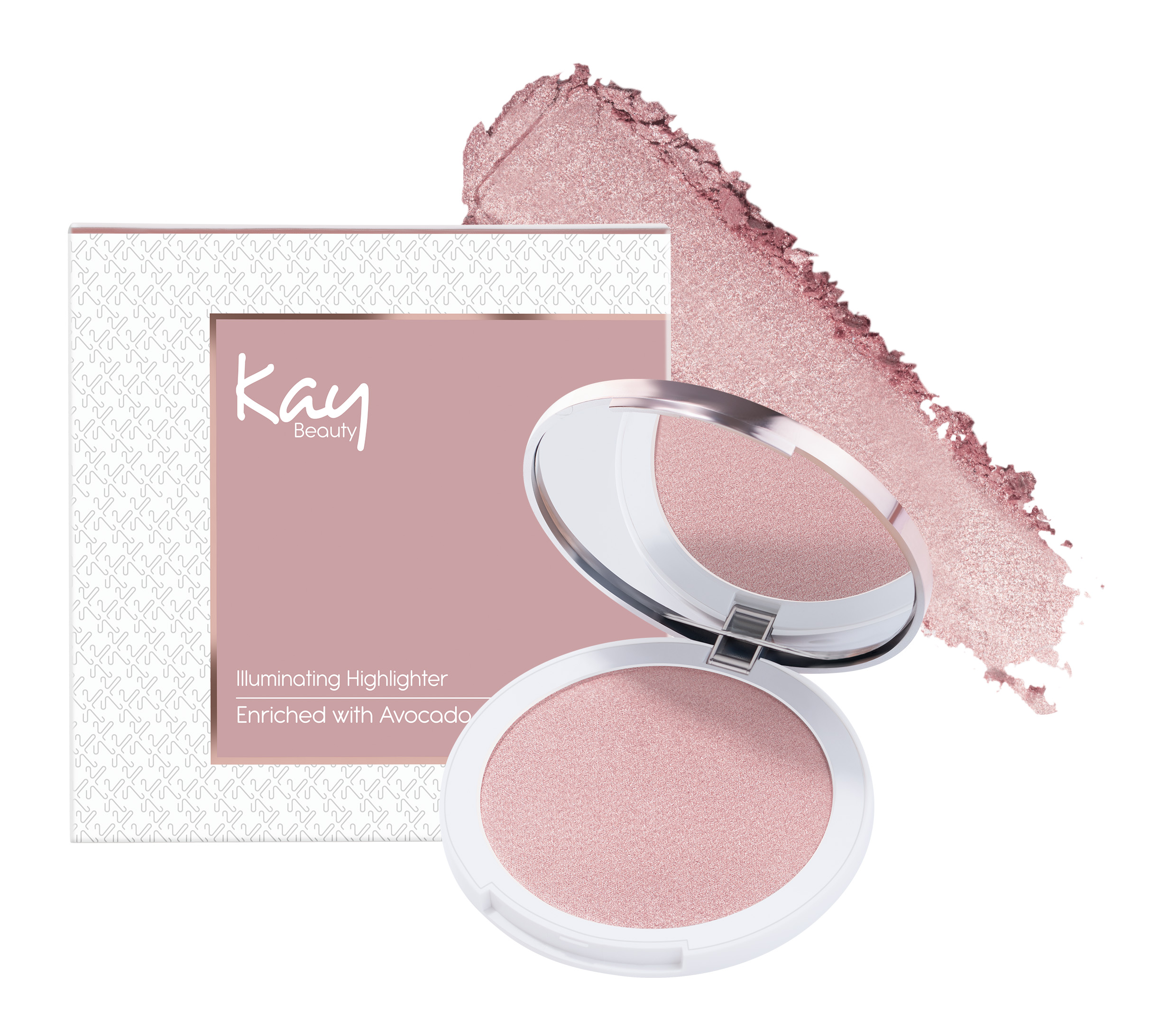 This gorgeous new highlighter offers a mix of high glamour and a fresh natural finish, with undetectable shimmer particles, as well as extreme iridescence, giving you the glow you crave in one stroke. An easily blendable and buildable formula, it is weightless on your skin. The highlighter comes in 6 shades that complement all Indian skin tones and lend that 'LIT from within' finish that we all can't get enough of.
Naughty Nude Eyeshadow Palette by Huda Beauty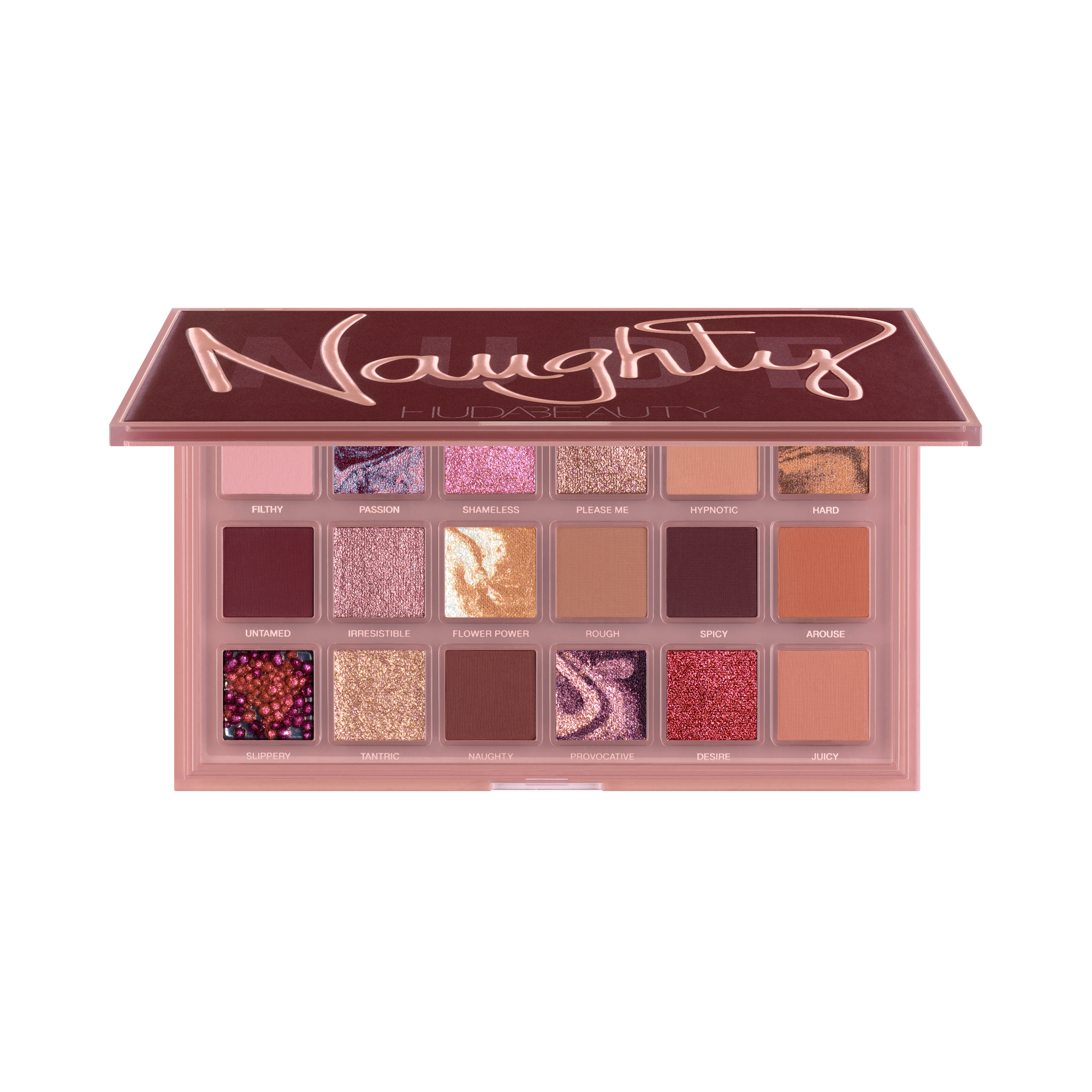 Take your nude infatuation to new heights and embrace your naughty side with Huda Beauty's new 18-well eyeshadow palette, The Naughty Nude Eyeshadow Palette. A sultry re-imagination of the iconic Huda Beauty New Nude palette, this new racy wardrobe of 18 captivating smokey shades and innovative textures is the ultimate palette for creating modern nude looks, sexy smokey eyes, and fresh lids. Naughty Nude is loaded with richer, smokier shades and versatile neutrals that will give you daytime dew or after-dark drama in the sweep of a brush to take your lids from nice to deliciously naughty in seconds.
Hollywood Flawless Eye Filters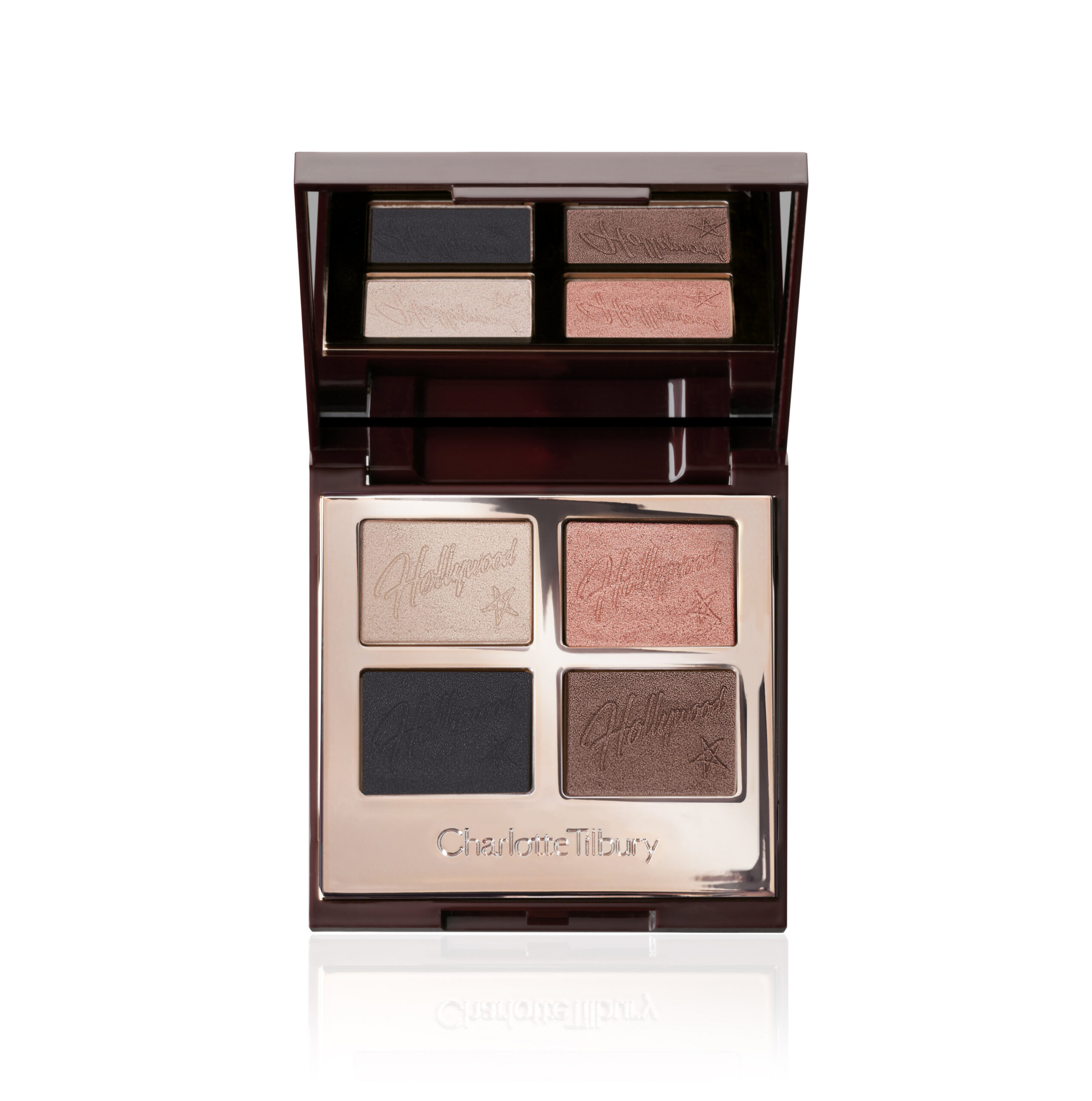 Get your glow on with my NEW! Hollywood Flawless Eye Filters! These magical LIMITED-EDITION eyeshadow palettes are like social media filters that play with the light to brighten, smooth and illuminate the look of your eyes! Charlotte has created the most flattering, finely milled eyeshadows with soft shimmering, light-as-air metallic and modern matte textures to build intensity! It's the magic of Hollywood lights and smoothing effect, flattering social media filters, bottled – available in 1 shade- Diva Lights. 
FauxFilter Luminous Matte Full Coverage Liquid Foundation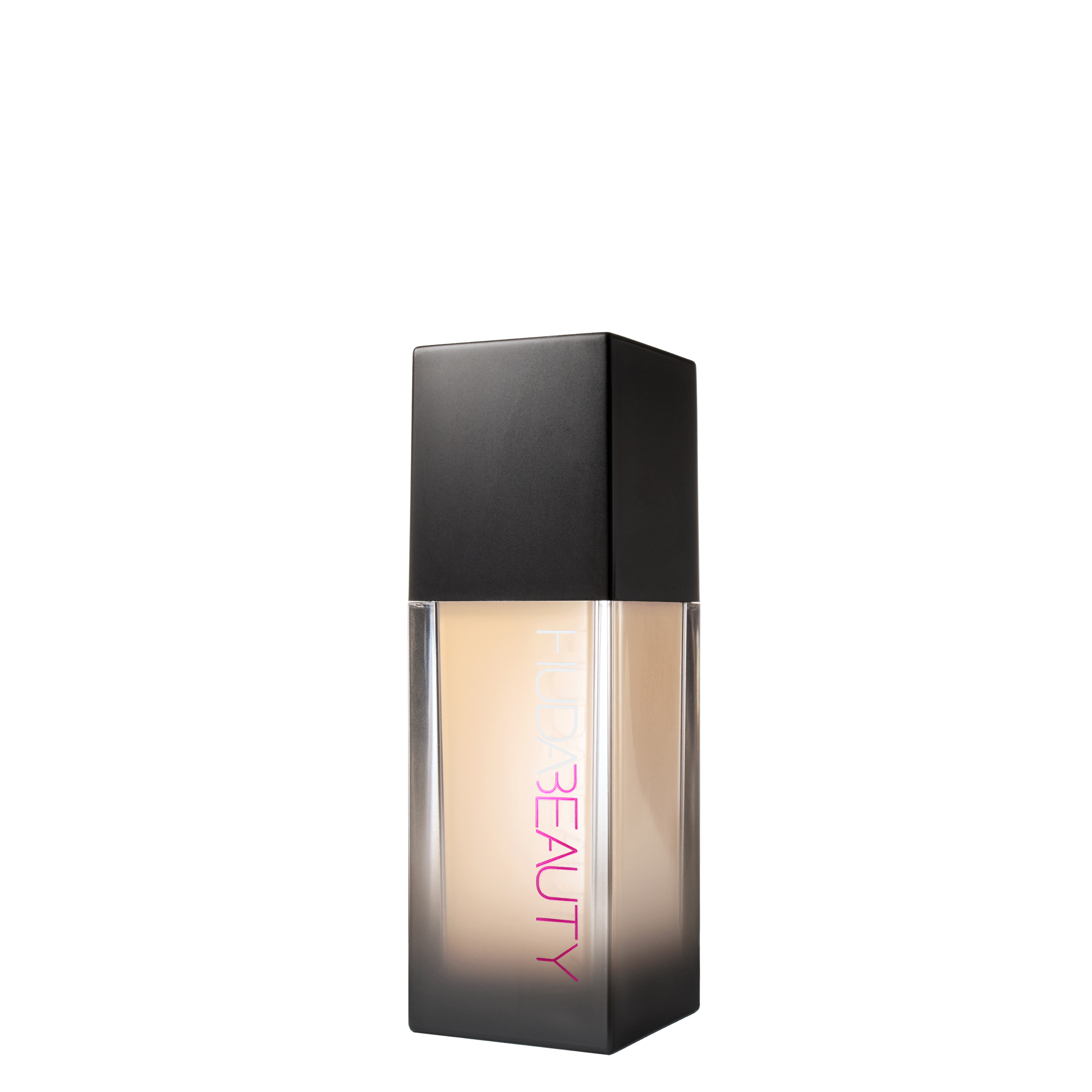 The updated #FauxFilter Luminous Matte Full Coverage Liquid Foundation blends easily to offer flexible full coverage that adjusts to the skin's natural movements; think performance makeup that gives unbeatable coverage through tears, fears, sweat, stress and a high energy daily routine. A matte finish doesn't have to come with an uncomfortable, moisture-sucking cake face as this revolutionary formula is non-drying and once set, it immediately blurs skin tone and texture to give a subtle radiance that imitates a natural-looking glow.
Hollywood Flawless Filters

A Confidence Glow Filter, Bottled! Get Your Glow On with the award-winning Hollywood Flawless Filter! Inspired by the perfecting properties of social media and illuminating effects of Hollywood lights, it blurs, smooths and illuminates for the most magical glow of your life! It's available in 5 dreamy shades- 2.5, 4.5, 5.5, 6.5 and 8. Get your glow on and unlock 3 ways to a Flawless-Looking glow by wearing Hollywood Flawless Filter alone, underneath, mixed-with or on top of your favorite foundation! Not to glow prime is a beauty crime, darlings!
Bombbrows Microshade Brow Pencil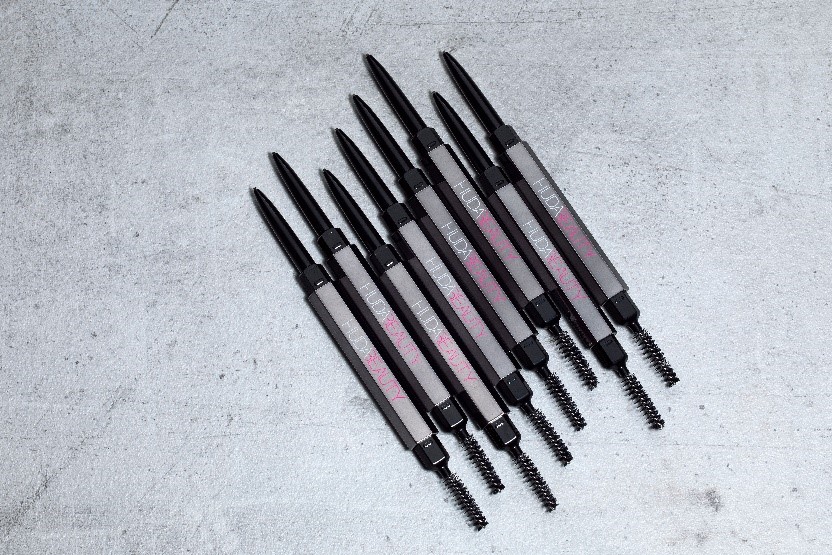 Bombbrows Microshade Brow Pencil magically sets in seconds yet lasts all day long thanks to an innovative long-wear formula that's perfect for building and blending. Enriched with castor oil, coconut oil, and vitamin E, the creamy formula glides on effortlessly while its rich pigments dry down quickly for a long-wearing natural finish. In true Huda Beauty fashion, the formula lasts for up to 24 hours and is smudge-proof, waterproof, fade-proof, pillow-proof, and all-around life-proof, so your brows will always be on point, even if you're feeling like a bit of a hot mess!
Super Radiance Resurfacing Facial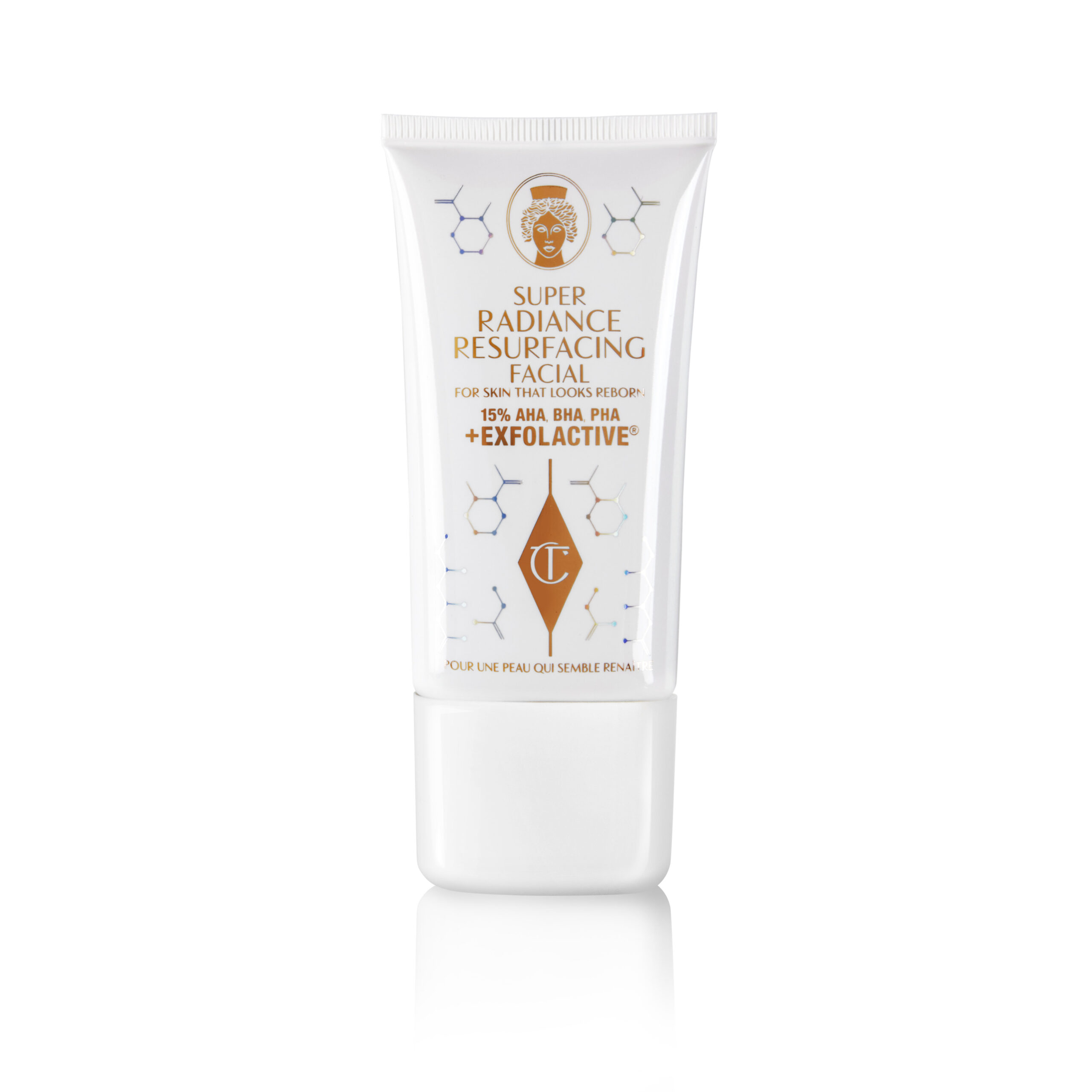 The NEW! research-powered Super Radiance Resurfacing Facial is a 2-in-1 miracle acid exfoliator facial in a tube that resurfaces, hydrates, and adds radiance for an instant gleaming glow! This miracle dual-action, smooth, non-abrasive and bead-free formula combines an expertly calibrated acid exfoliation blend with a hydrating blend of radiance-boosting ingredients to help refine the appearance of pores, exfoliates the skin and cocoon the skin in hydration! Use once a week for up to 20 minutes to reveal smoother, youthful-looking, beautiful skin!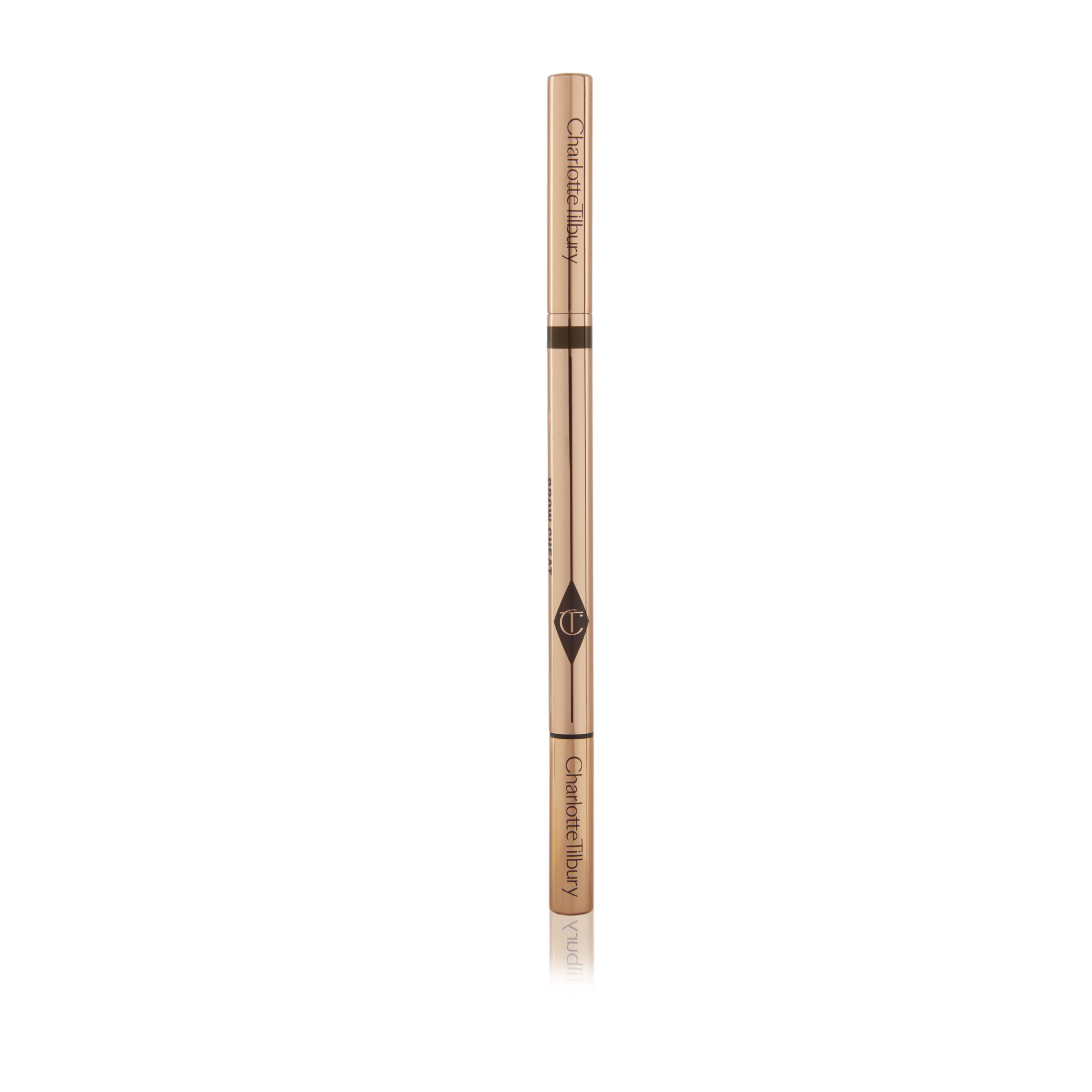 Brow Fix is NEW! innovation to set your Supermodel Brow shape in place all day & night! It's a long-lasting 24h clear brow gel with a silk thread brow fixing formula for elasticity + gloss! It never leaves a white cast, looks stuck down or dried out. Never stiff or sticky, instead brows are full, feathered & fixed in place!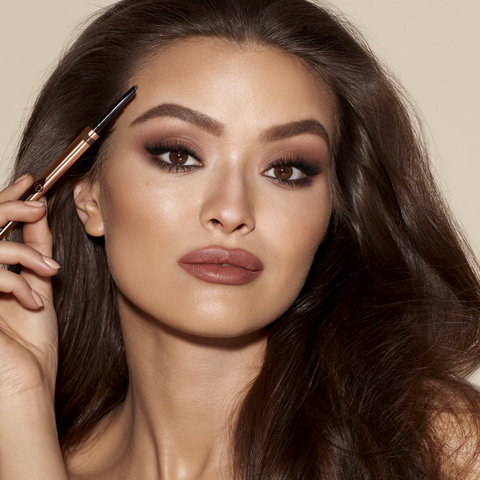 Shape, Feather and fill in your brows with Brow Lift eyebrow pencil! It has been expertly reformulated, comes in new! refillable packaging and is available in a flattering Dark Brown shade with cool neutral undertones for achieving dark brown brows! We call this the BROW SWORD! It mimics that full, fluffy brow hair effect! This Easy-To-Use eyebrow pencil has an expertly angled tip which means you are instantly stroking at the right angle! It's the secret to perfectly shaped and defined brows for everyone!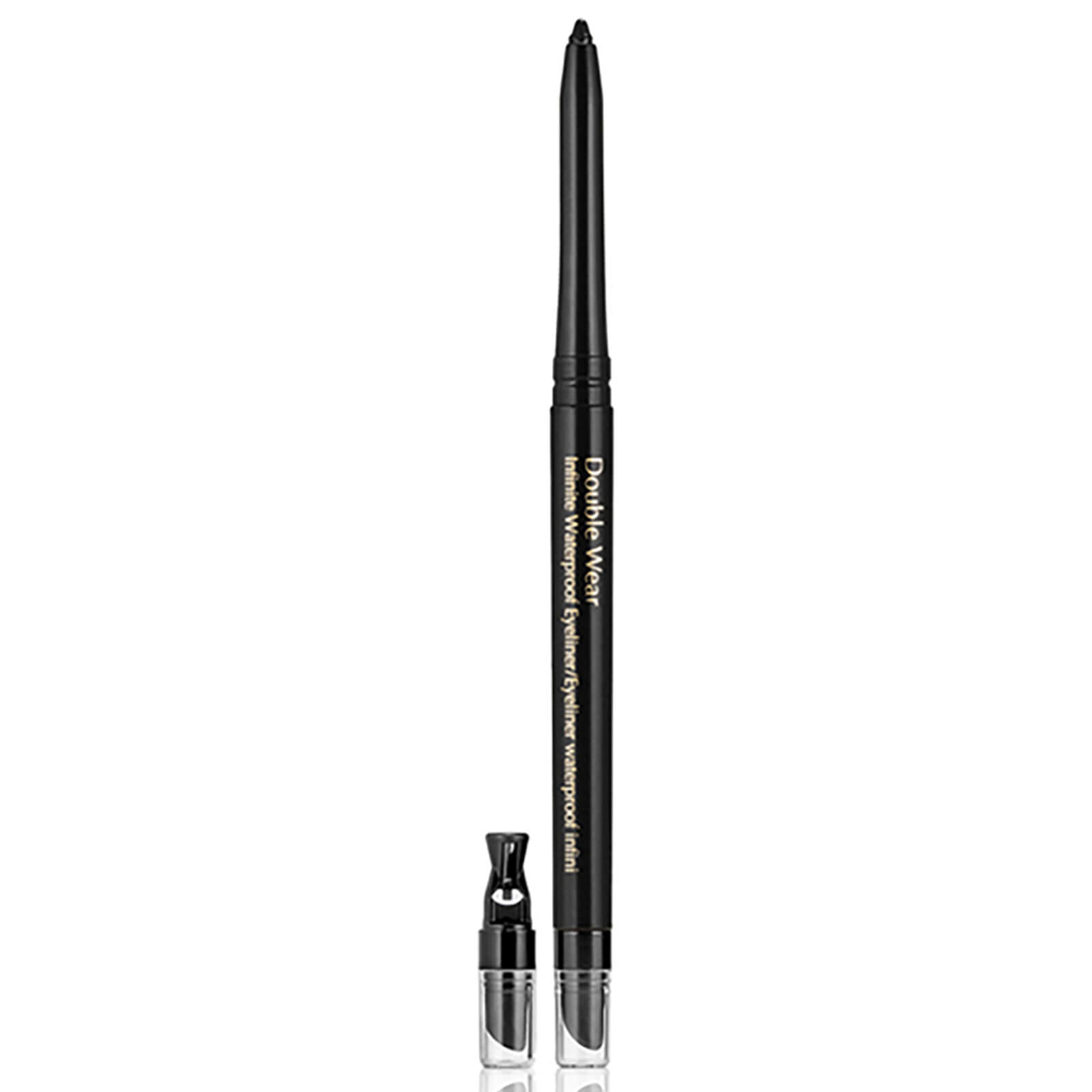 Give your sister a gift she will love with top picks from Estée Lauder! A bold lip to help boost her confidence, eyeliner wings sharp enough to cut you open when you steal the TV remote or don a fragrance that magnifies her glorious personality – find it all with our #EsteeEssentials!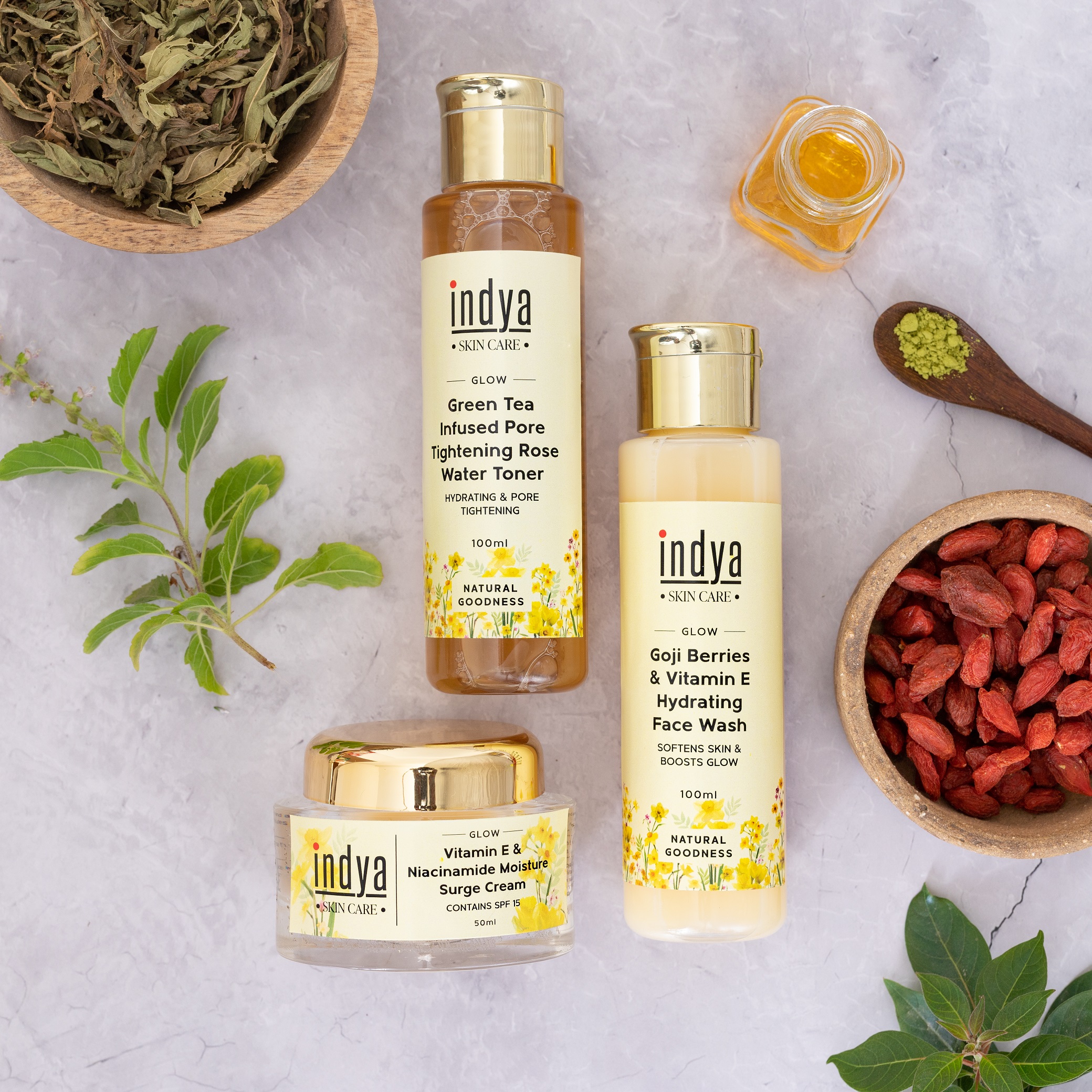 Start your day with your glowing best using our morning glow kit suitable for all skin types. This combo has been crafted as an elixir to wake up and brighten dull, dry, and tired skin. It includes Goji Berries & Vitamin E Hydrating Face Wash, this cleanser works as a magic potion for dull skin absorbing impurities and rehydrates the skin, leaving it soft and glowing. The highlight of this kit is the Vitamin E & Niacinamide Moisture Surge Cream which is packed with skin conditioning, brightening, and protective properties leaving the face hydrated, calm, glowing and guarded against harmful UVA/UVB rays.
Mary Cohr's – CatioVital Youth treatment and Instant Glow Kit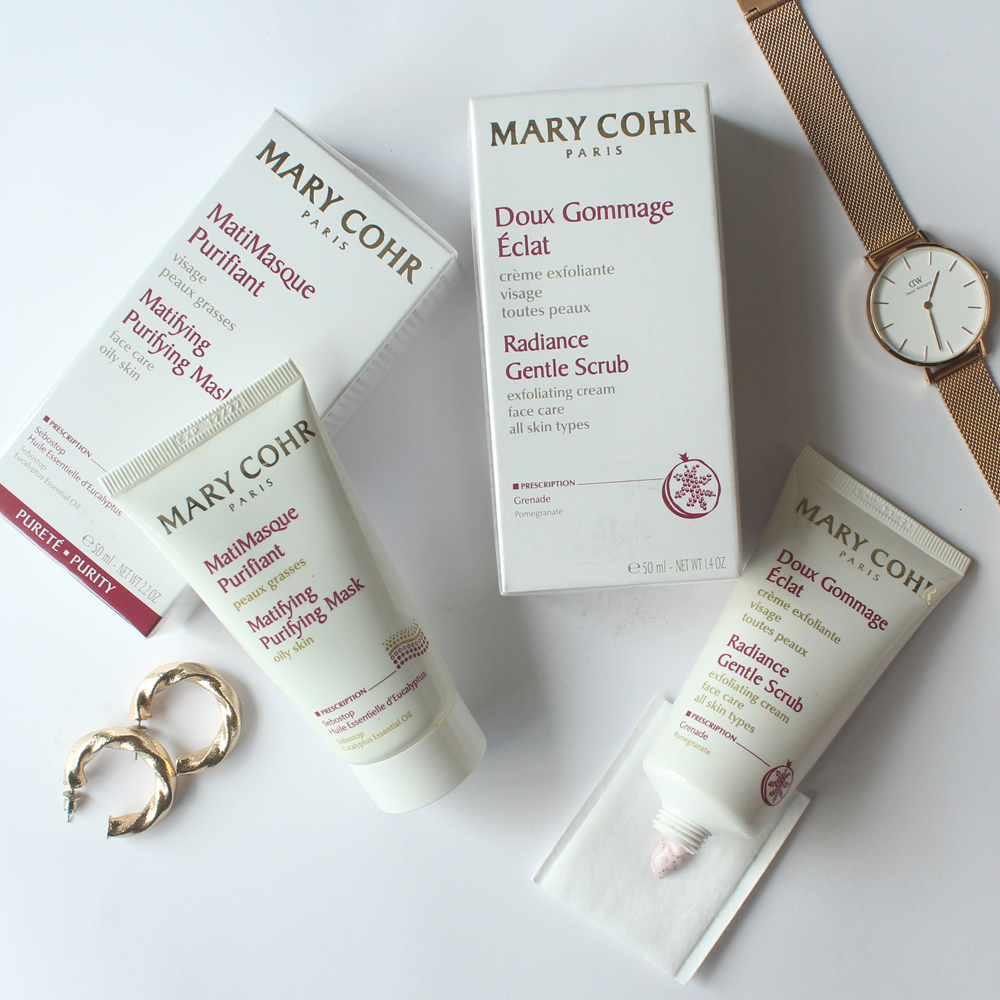 aMark this occasion of sibling love and bond by booking a session for our exclusive salon care treatment for hydrating skin with Catio Vital Youth facial, nourishing the skin like never before using a patented machine that is customizable as per each skin type and goal. Add a special hamper to your Raksha Bandhan gifting with Mary Cohr's 'Instant Glow Kit' including Lilly Essences, Mild Exfoliator, and Hydromose Mask that is gentle, hydrating, and leaves the skin squeaky clean, and soft.
Navah's Skincare Essential Range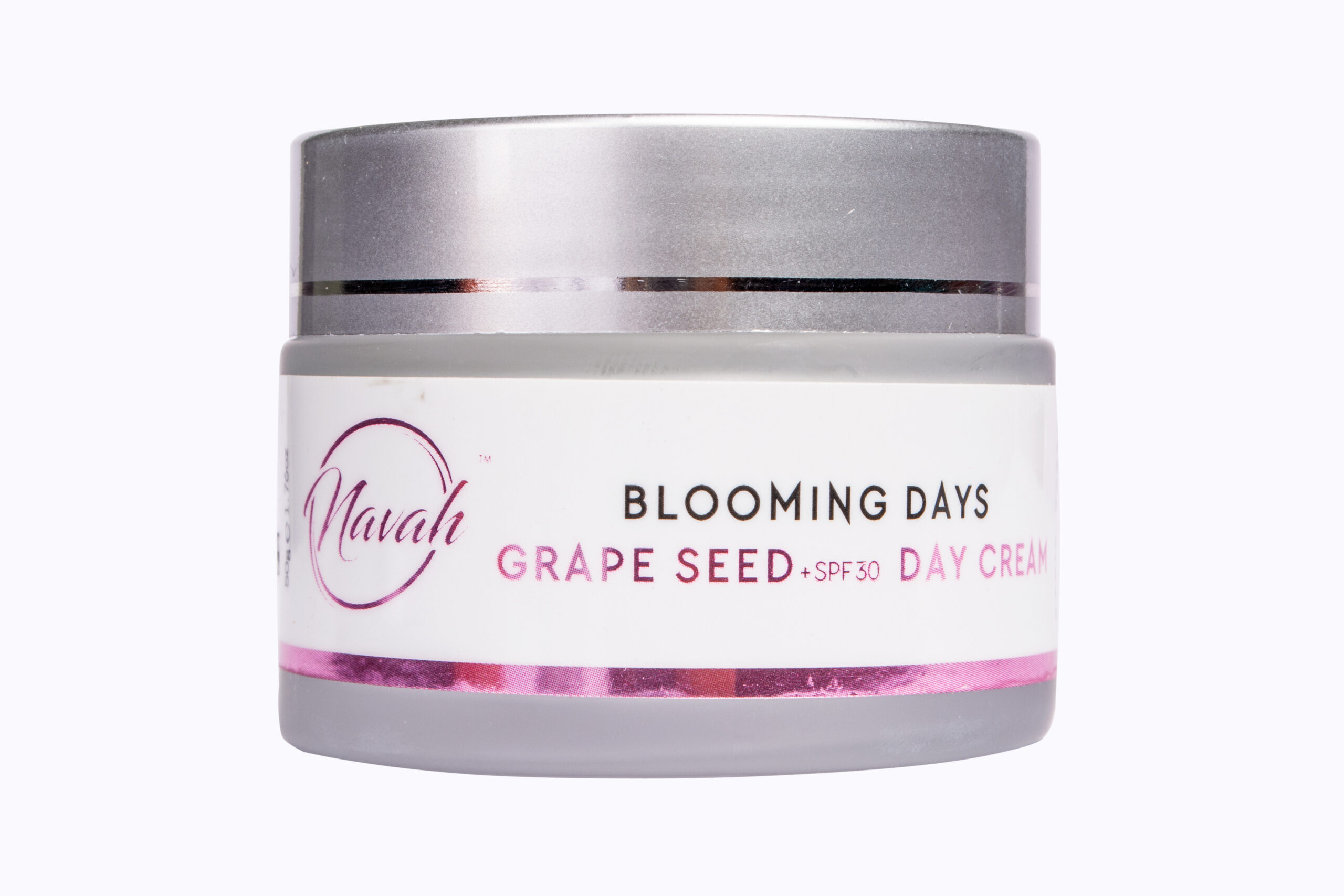 Just as overall health, the skin too demands an extra care with a change in weather. There are a lot of skin issues that actually arise from climate change. Blooming days – Grape seed day cream provides a combination of sun protection, hydration, and nourishment. The long-lasting SPF 30 protection with nourishing grape seed extract is the perfect blend of natural protection, light texture, and pleasant feeling skin.
Azafran's Rakshabandhan gift box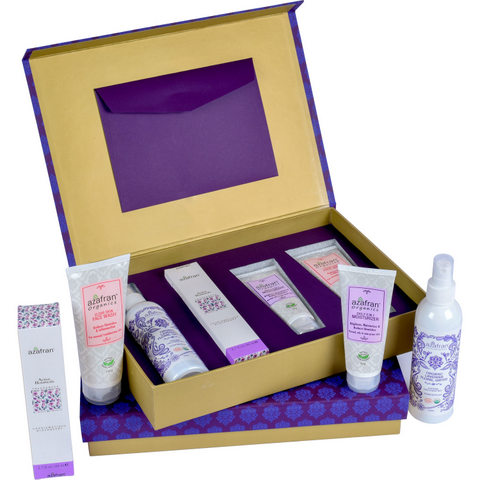 The Rakhi gift box by Azafran is carefully curated with the brand's commitment to utilizing only the best and safest ingredients for your skin. The products are all made with a great deal of love for the planet and your skin. Daily 3-in-1 Moisturizer hydrates, protects and revitalizes your skin with this nourishing moisturizer made with a rich blend of fruit extracts, organic oils of coconut, olive, and almonds. Youthful skin using natural ingredients.
Sanfe Intimate Care Products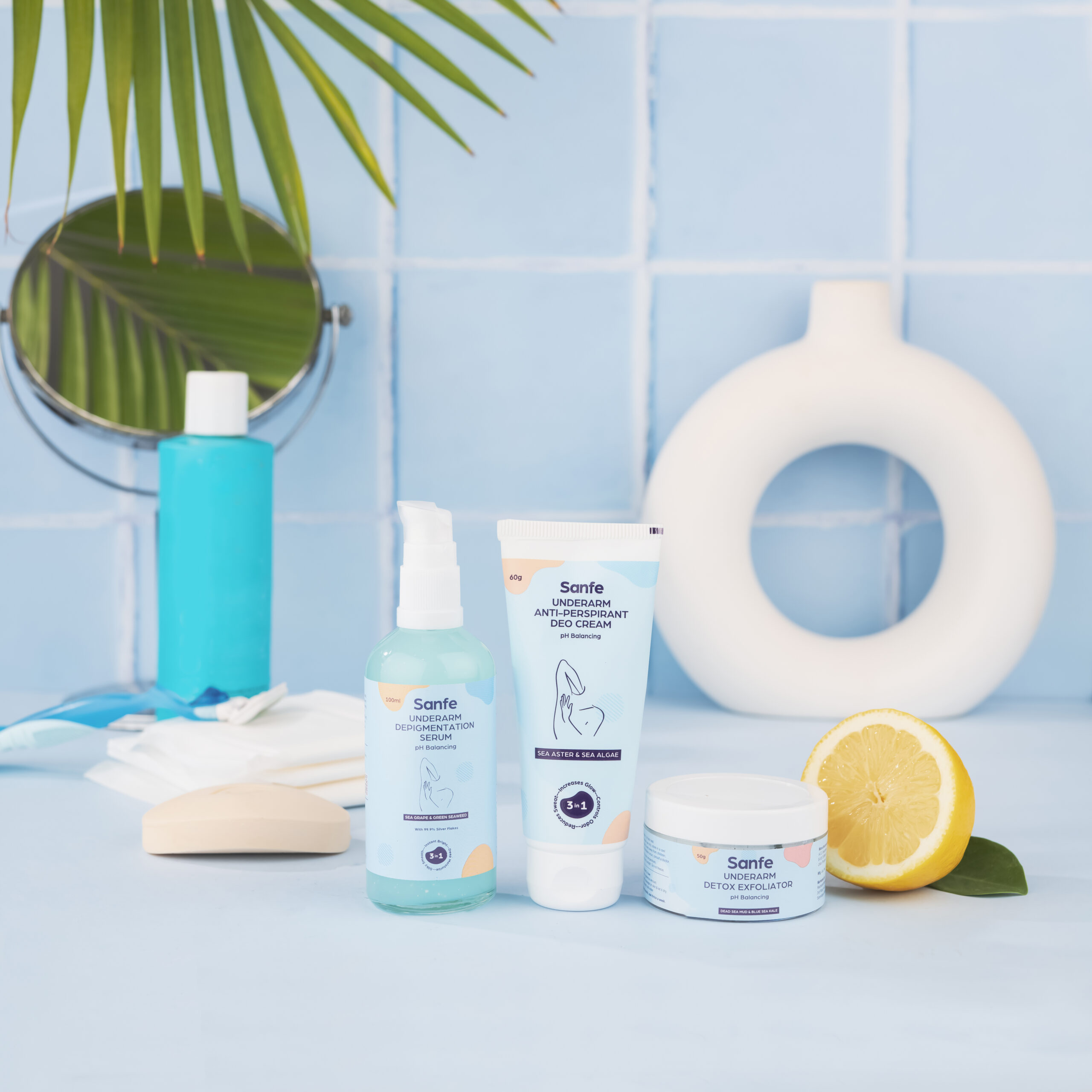 Through the course of a woman's life journey, through multifaceted moods, roles, and desires of all kinds- there's no companion like a range of products meeting every single one of a woman's needs; #SanfeGotYourBack and is your best friend for all occasions and times. Providing solutions to a spectrum of concerns whilst shattering societal taboos, the brand has on offer groundbreaking products such as Period Care, Breast Care, Intimate Hygiene, Underarm Care, and so on!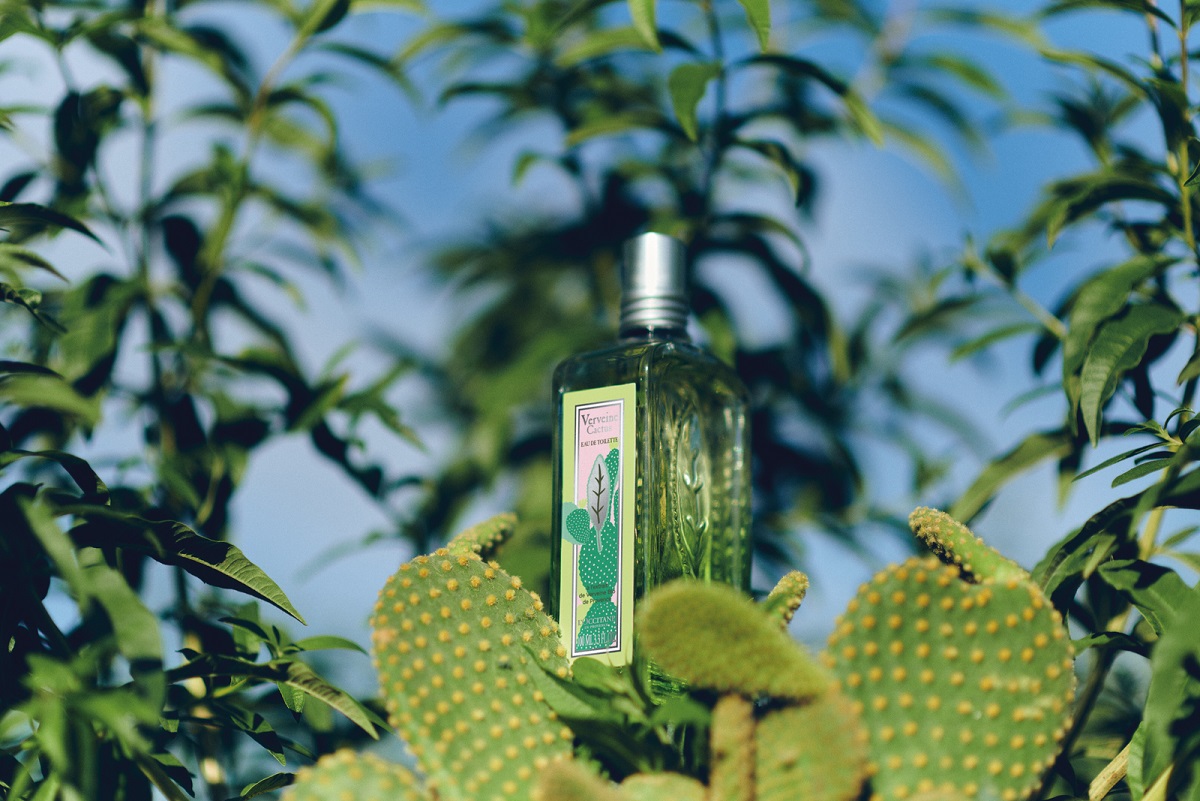 Add a slash of freshness and super chill vibes with the perfect options for the L'Occitane exquisite Verbena range. It is one of the most thoughtful and sensorial presents which is enriched with Verbena from Provence and cactus extracts, this shower gel brings sparkles to the day while cleansing the skin, leaving a fresh and radiant scent.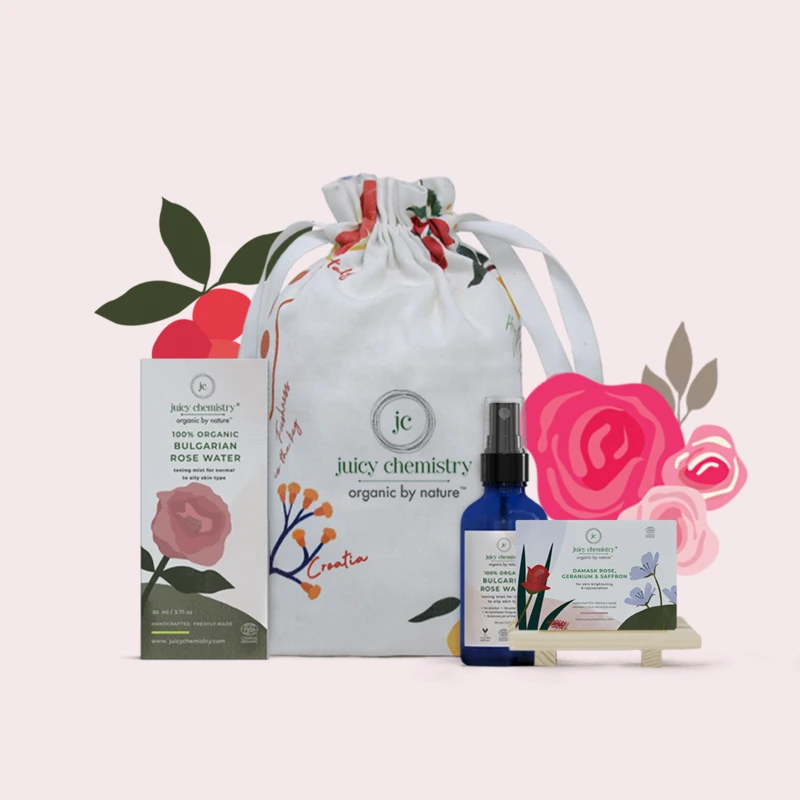 By digging deep into Nature and its methods of renewal and rejuvenation, Juicy Chemistry's products were formulated. The intensive research into essential oils and traditional skincare ingredients forms the foundation of the products. They are all formulated with absolutely no chemicals or preservatives. Being a budget-friendly skincare brand Juicy Chemistry believes in offering the best quality products at affordable prices. Here's something curated organic skincare Juicy Chemistry has for you that will surely make your skin happy!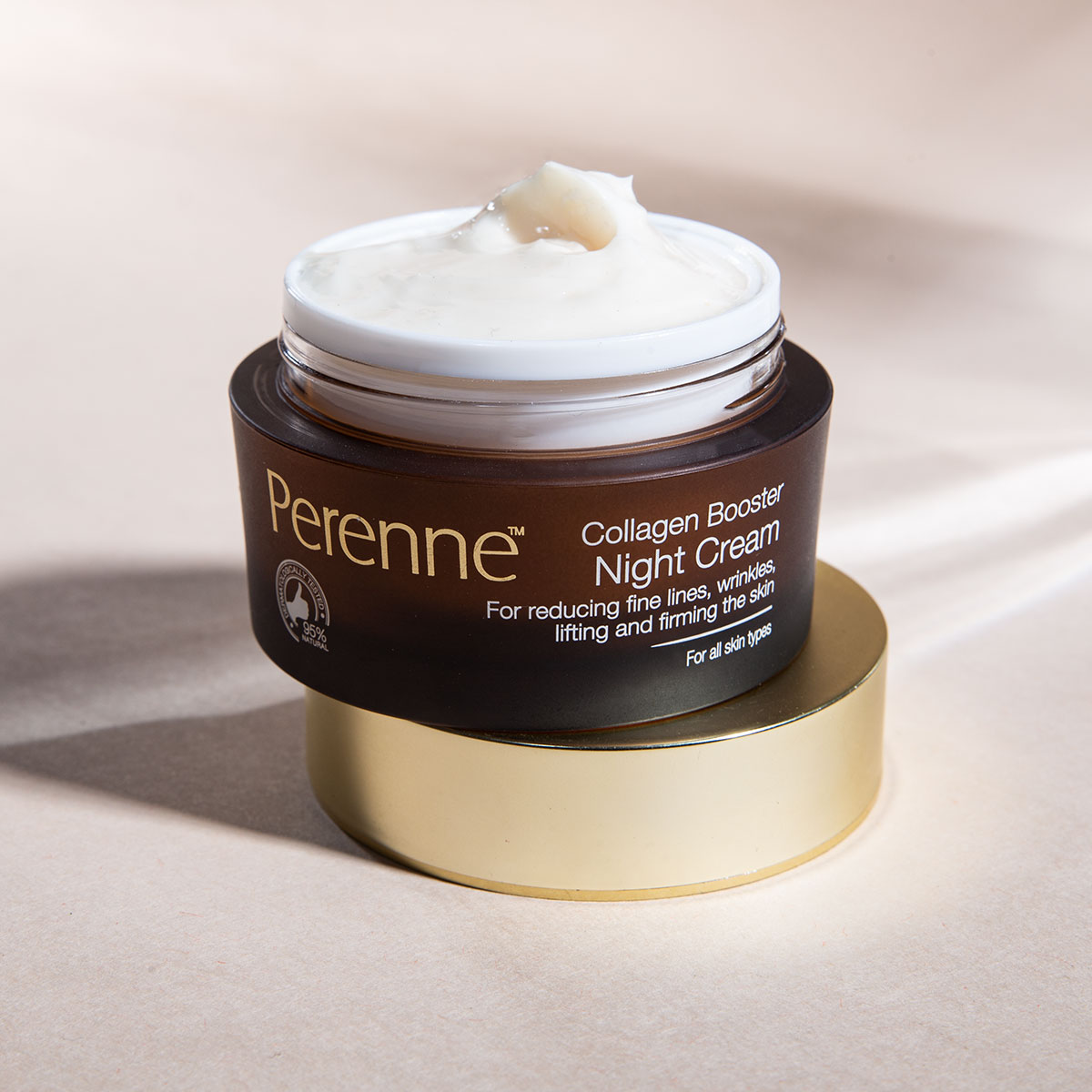 Nestled in nature lie the miraculous concoctions of healing that Perenne formulates to create master blends like the Collagen Booster Night Cream. Spelling out timeless beauty with every drop, this cream will surely prove to be one of the greatest companions for one's skin. Empowered with the goodness of Retinol and Hyaluronic acid, the Perenne Collagen Booster Night Cream is a perfect age-defying formula.
Moroccan Oil Everyday Escape Set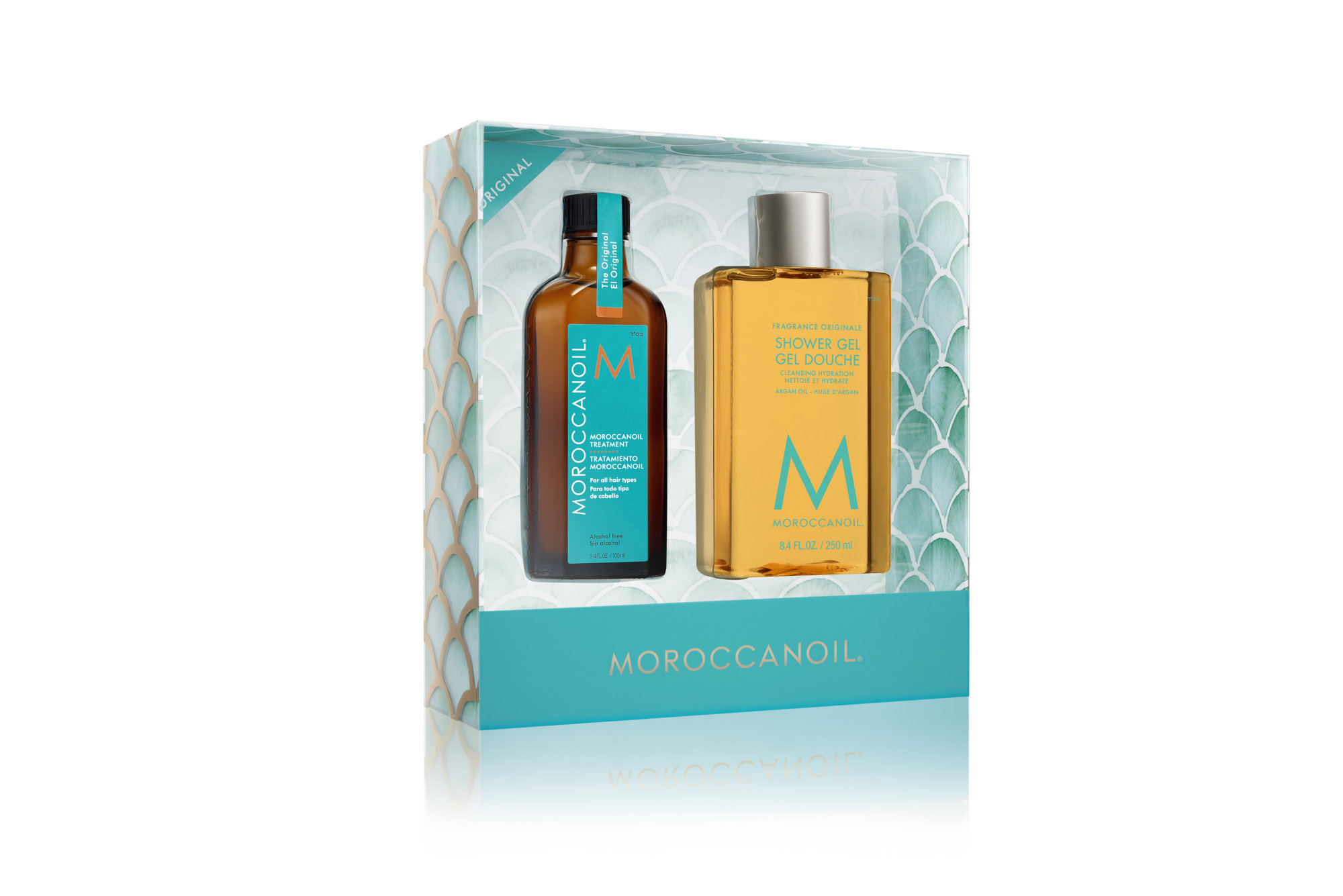 Pamper yourself this Raksha Bandhan with Moroccanoil Everyday Escape Set that makes for a thoughtful and luxurious gift. Featuring the Moroccanoil signature scent, this set features the cult-favorite Moroccanoil Treatment and a shower gel that will enrich your hair and skin with the antioxidant properties of nourishing argan oil.
Naso Profumi the green fragrance label by Astha Suri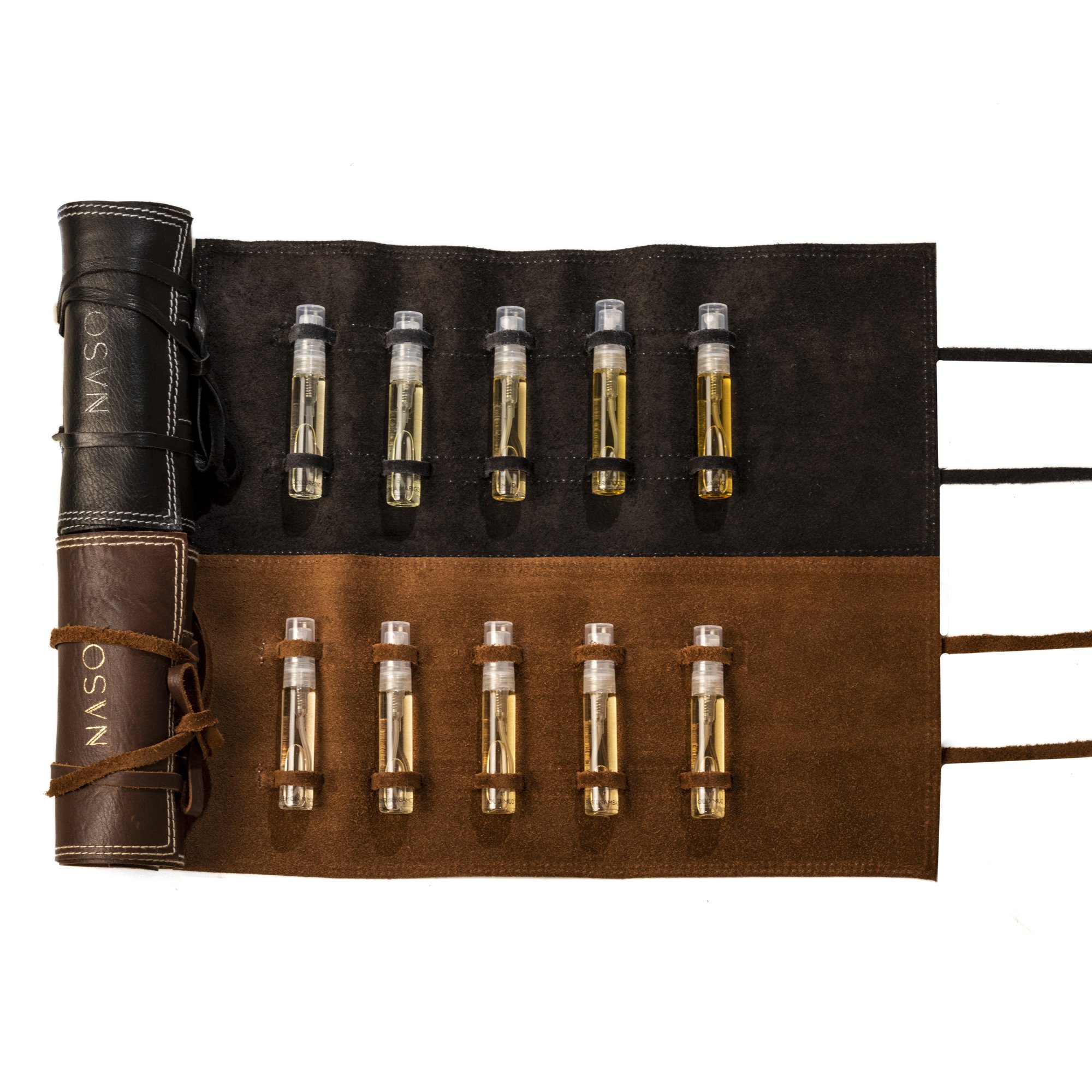 The kit comes in two variations for dark and light scents. These 10ML "Alchemist Potions" are the perfect to gift for the sibling or for personal use if you are selective and always want to smell good whatever mood you are in! Completely reusable and handy, the Alchemist Potion kit is the choice for someone who is anti-committed to their scent and pairs perfumes as per the mood.
Celebrate Rakhi this year with gifts from Clinique, the perfect way to pamper yourself and unleash your best. It is dermatologist-created and allergy tested, packed with ingredients that will go above and beyond to protect your skin. These products fight environmental stressors and give the skin protection, clearing breakouts and battling oil and dryness.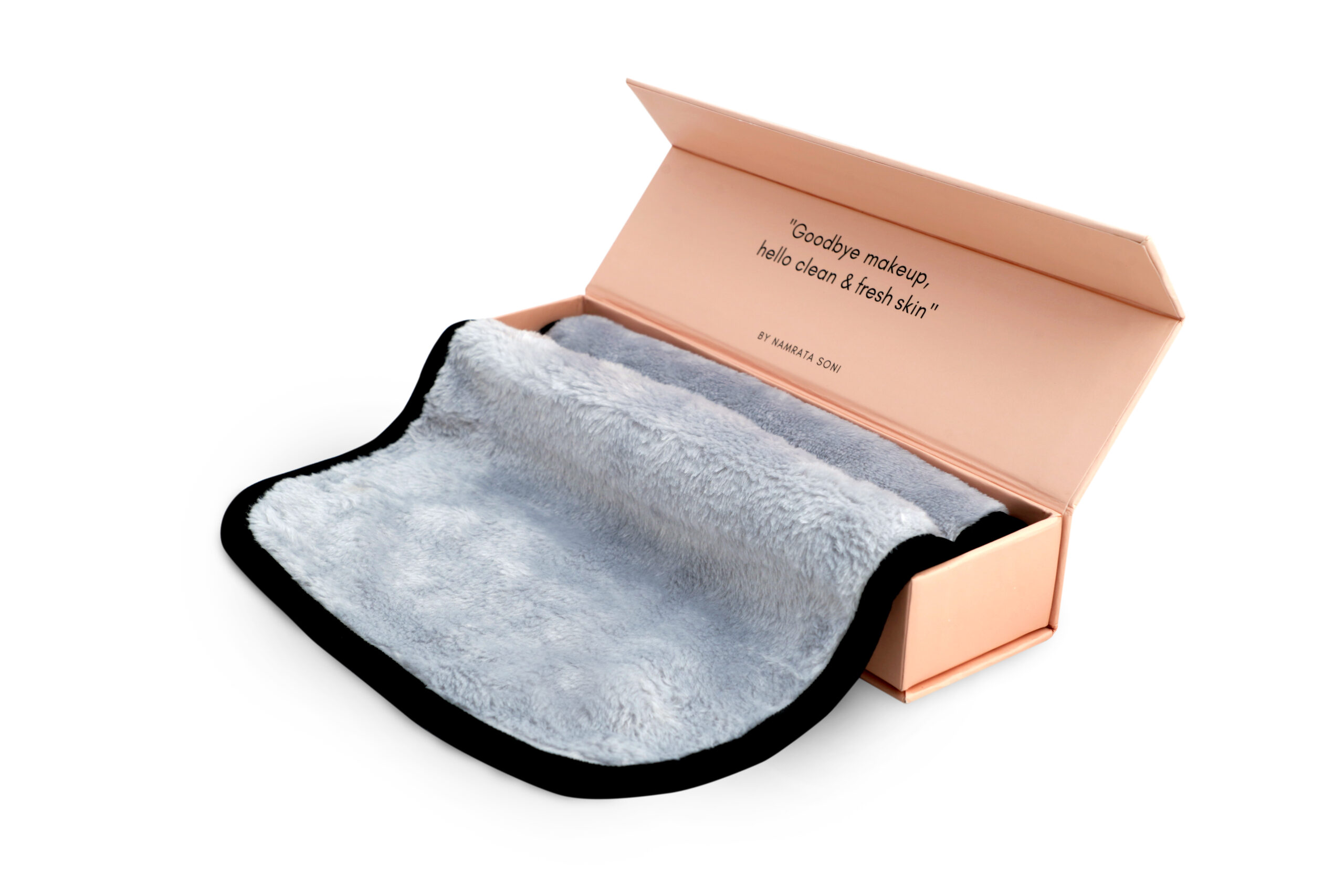 Simply Nam a 100% vegan and cruelty free brand, founded by the leading celebrity makeup artist Namrata Soni unveils two new and innovative products: the Everyday Hydrating Biocellulose Three Layer Sheet Mask and the Limited Edition Everyday Essentials Beauty Bucket Bag. All three prouducts, the cleansing towel, the sheet mask and the bucket bag are designed for both women & men who are always on the go. While the mask brings about instant hydration, glow and rejuvenates the skin from within; the limited edition beauty bucket bag acts as the one stop solution for all the storage needs.
Earth Rhythm Lip Care Kit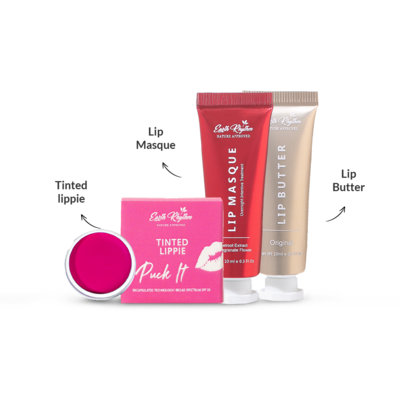 The Earth Rhythm Lip Care Kit includes a Lip Butter, a Lip Masque and Tinted Lippies SPF 30. The Lip Butter is rich in Vitamin E, which can also help with lip pigmentation. It also helps prevent the dryness of the lips, keeping them soft & supple. The Lip Masque is high in its Vitamin C content and gives a boost of antioxidant protection. The SPF 30 tinted lippie is present because your lips need sun protection too.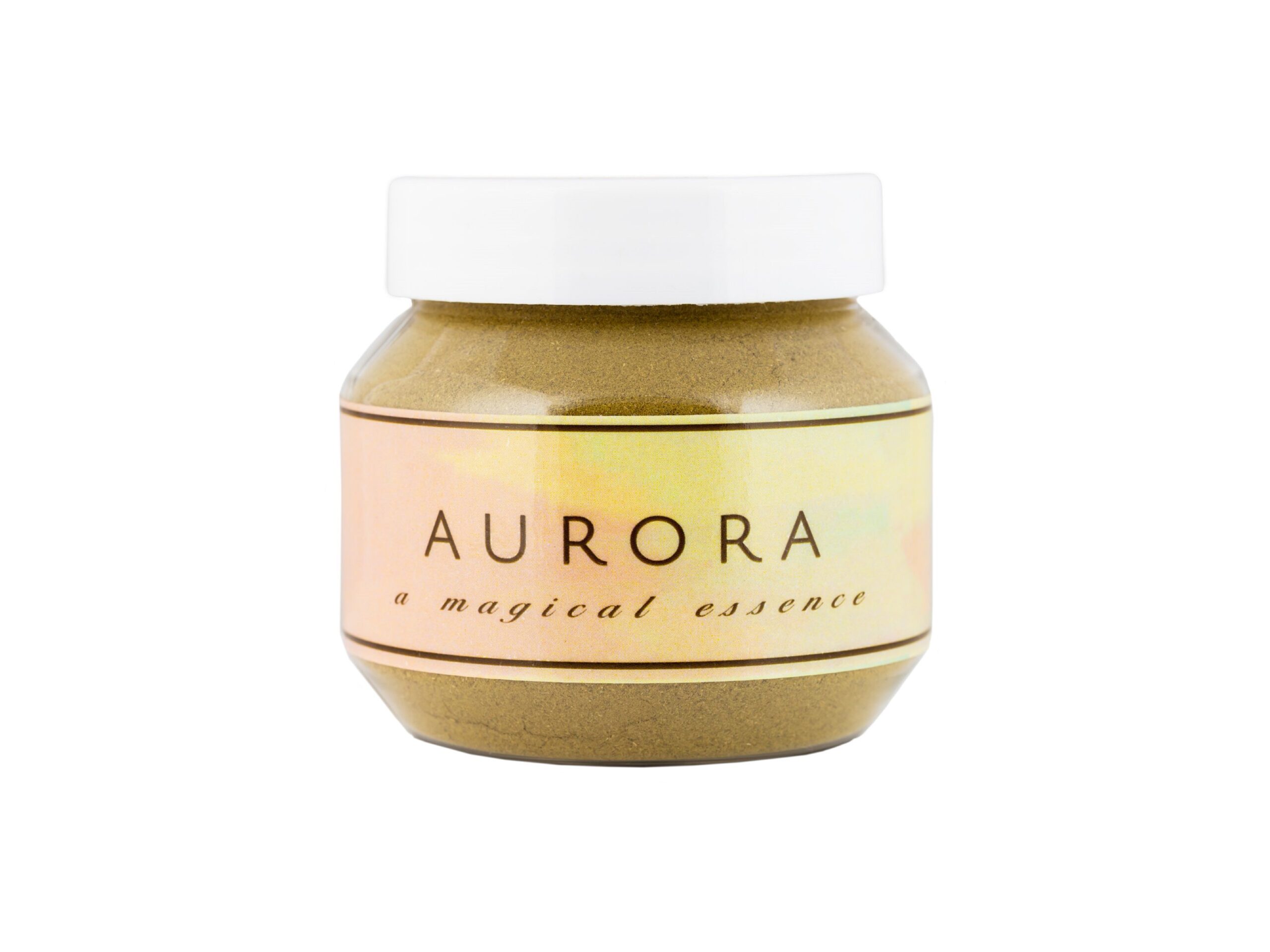 Going back to the Roots of Science; Aurora is the right mixture of Organic Leaves such as Japa, Murraya koenigii, Fenugreek, and Basil leaves with the right proportion. Pampering oneself with an Aurora hair pack once a week enhances the rate of hair growth and thickness by 2 times.