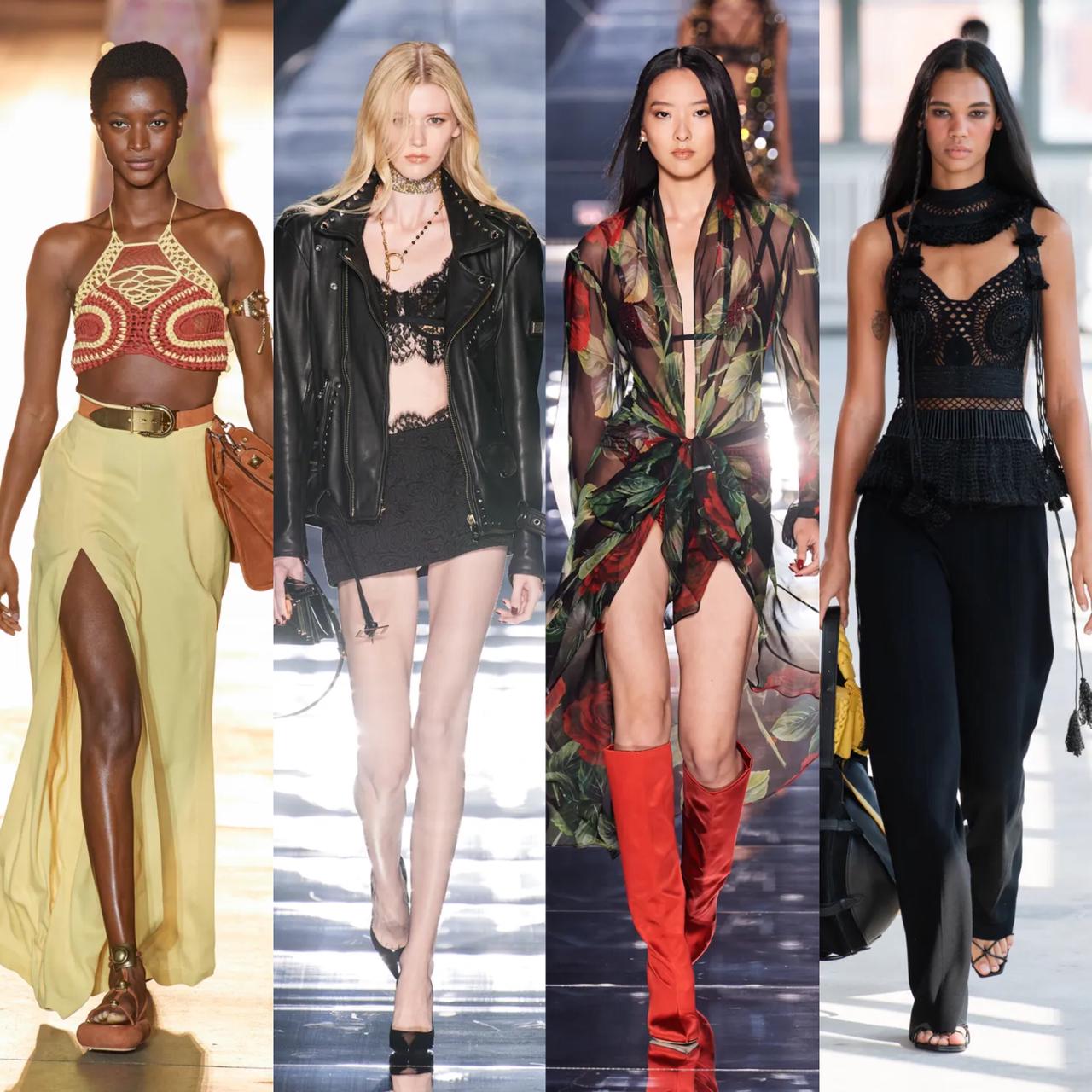 What will the spring fashion trends look like in 2022? Despite the changes we've seen in the last year, the trend machine keeps churning, with styles from the recent past (think early-2000s Paris Hilton) to the distant past (think Marie Antoinette) reappearing.
We noticed a few repeat themes that will be welcome additions to your spring wardrobe. With almost no loungewear in sight, body-empowering pieces like mini skirts and bra tops, as well as lighthearted prints and textures like crochet, ruled the runways. From the "less is more" knitwear to voluminous sleeves ensembles, these are the spring trends we're anticipating.
See what the runways have in store for this season and get an early start on shopping what's new. That being said, now is the time to ditch your old heavy outfits in favor of chunky-floral print outfits to enjoy the summer!
1. Voluminous Sleeves are back for another season
We are overjoyed that the larger-than-life detail will be around for a little longer. And the puffy sleeve midi dress isn't going away, with soft white cotton and silky denim options putting a new spin on the relaxed look. 'The bigger your sleeves, the better', is the season's motto, no matter how you wear them.
This summer, fashion houses seem to bring back the bralette and corset in crochet. You can choose from a variety of styles ranging from plain to colorful, simple to complex. They also add positive energy to your overall street-style ensembles, these are the perfect 2022 fashion trends outfit for summer and can be layered with a variety of outfits, whether it's a solid top or a colorful, simple top or a funky top. They also give you a street-style look, which is perfect for going out to run errands or catch up with friends!
The sheer trend isn't for everyone, but if you've been waiting for the right one to tempt you, this season brings a slew of cool new ways to embrace it. Sheer is the best thing to add to your summer wardrobe, especially if you're going on a beach or island vacation. It can be your go-to outfit when layered over a bikini, or you can wear it over a mini dress or an opaque top.
There are miniskirts and then there are the barely there, microscopic minis that dominated the spring/summer fashion runways in 2022. These are similar to the '90s looks that were famously photographed on the decade's biggest supermodels for Versace's 1995 campaign. Designers dressed them up with coordinating tops and blazers, but an oversized sweater and knee-high boots will make the itsy-bitsy skirt more casual.
Knit is a new material that has taken over Spring/Summer 2021, with the outstanding benefit of providing the wearer with a cool look while easily coordinating with many activities in this hot summer, knitted outfits promise to make the summer even more enjoyable.
Catsuits were a big hit at Saint Laurent, where nearly half of the looks in the spring show were second-skin one-pieces that seemed to flatter in all the right places. It makes up for it in sheer novelty and ease of movement that felt like a whole new way to get dressed and show off your best assets, whether they were covered in sparkles like Burberry, a full-on blackout like Balenciaga, or a garden variety floral like Collina Strada.