Navratri is around the corner and it marks the beginning of the festive season in India. Navratri is celebrated through nine different colored outfits worn across for all nine days, wherein each color has a significance to the festival and is attributed to a Hindu Goddess who is specially worshipped that particular day. Women dress up for the pooja in their best attire along with all the best-suited Garba jewellery to ensure they dazzle when hit the grounds to play Garba and Dandiya.
This year, Sukkhi jewelry has brought to you beautiful non – allergic jewelry to complement each of your colorful outfits.
Anklets (Yellow)
Navratri, is a festival of happiness and fun and that is what the color yellow signifies. Sukkhi's yellow jewelry anklets are sure to steal the show when you wear them among your friends and family. 
Long Haram Necklaces (Green)
The color green signifies new beginnings and growth. One can wear the Gold Plated Mint Green Pearl Long Haram Necklace Set to elevate any attire from a simple salwar to a heavy ghagra choli or a designer saree.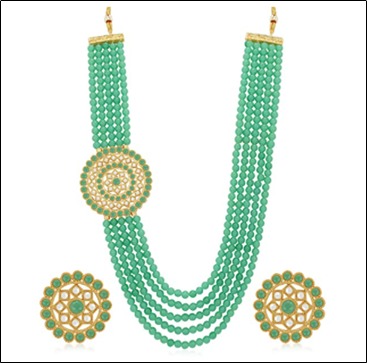 Bracelets (Grey)
The grey color signifies the destruction of evil as we worship Maa Chandrganta and Maa Kushmanda. Sukkhi has these sleek bracelets that are perfectly coordinated with any grey outfit. These bracelets are sure to garner people's attention with the shine and the sparkle.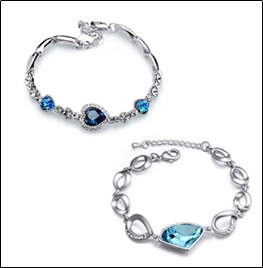 Kundan Meenakari Thread Necklaces (Orange)
Brightness is what is signified by the orange color and true to its significance, this pretty Orange Silk Thread Kundan Meenakari Necklace Set will be the perfect pick for the day. One can dance freely wearing this jewelry as they are extremely lightweight.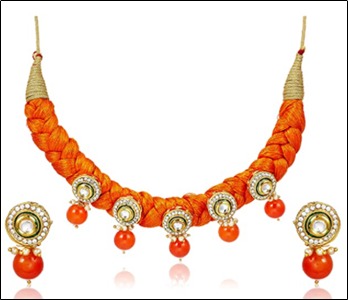 Peacock Kada (White)
White is the color for the fifth day and as already known to all, white signifies peace. Pearls become the best choice when it comes to white color as they have the capacity to absolutely uplift the entire outfit as well as the personality of any individual. The Austrian Diamond Peacock Kada is the perfect blend of stones and pearls making it appealing to everyone.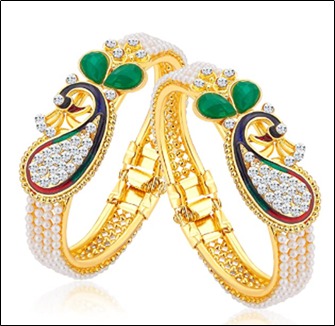 Kundan Necklaces (Red)
The color Red signifies beauty and so does this Padmavti Inspired Pearl Gold Plated Kundan Necklace Set. This design is a perfect pick to suit any ethnic attire and glow up your look for the day.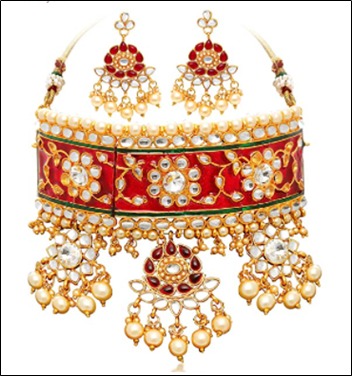 Stud Earrings (Royal Blue)
The royal blue color signifies divine energy. Just like the name suggests, this pair of Swarovski Studded Crystal Earrings adds a rather royal look to your outfit and personality, making you the star of the evening. This piece of minimalist jewelry is sure to be a favorite of many women and girls.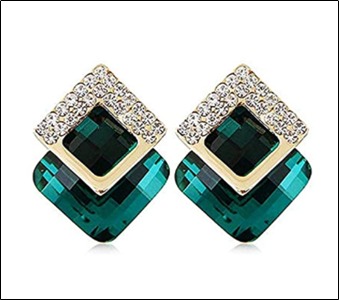 Stone Bangles (Pink)
Pink is known to be a very pure color and that is exactly what this color signifies in Navratri as well. These superior quality Kempu Stone Gold Plated Bangles are definitely going to be one's favorite in the entire lot.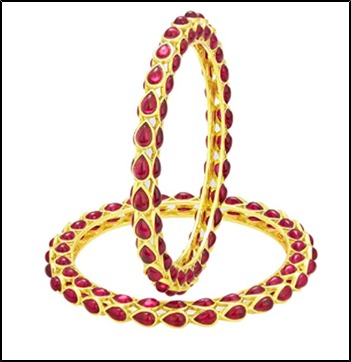 Choker Necklaces (Purple)
The last day of Navratri which is also celebrated as Dussehra is indeed a very special day as people bid goodbye to Goddess Durga. The last color is purple and it signifies the energy to achieve all goals. Choker necklaces are the latest trend and they add sparkle to even the simplest of dresses or sarees. You can wear this set on multiple occasions by mix-matching it with many outfits, ethnic as well as indo- western.