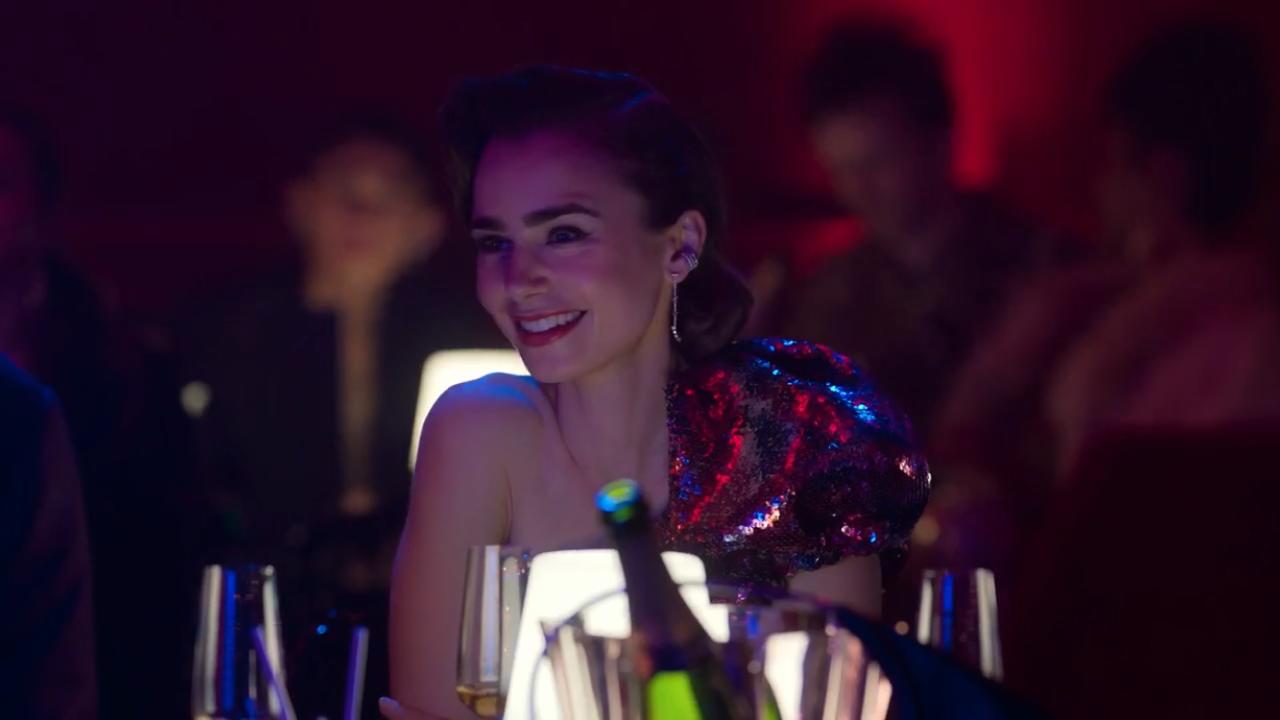 The Internet's favorite chaotic ex-pat is back. Season two of Emily in Paris was premiered Dec. 22 on Netflix where we can all agree that there were some amazing fashion moments that left the fashion editors and influencers awestruck.
Well, if you're not acquainted, the show follows 'La tres chic- Emily Cooper' who lands her dream job in the City of Light and embarks on a journey packed with romance, drama, and, of course, incredible fashion! (And there you have' Emily in Paris' in a nutshell)
There's a lot to discuss in the show, but one aspect that has kept us interested in Emily's fashion flair! So, owing to iconic stylist Patricia Field (who is also the inventor of the wardrobe in Sex and the City), the overall outfits are perceived as vivid, exciting, and ultra-trendy, and each of them makes us want to imitate her fashion-forward style.
If you want to embody Emily's style in real life, we've rounded together some of the best outfits from the second season and found similar styles without the 'designer' pricing aka dupes-
LOOK 1- In an otherwise crowded outfit, Emily embraces green as a through-thread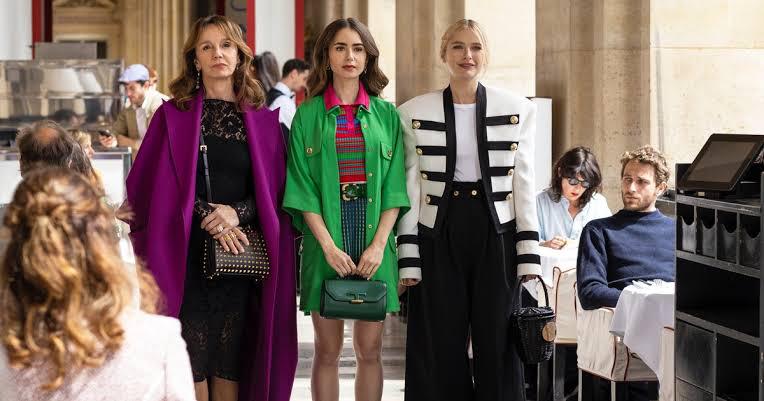 While there is some pattern matching in this ensemble, the color-blocked effect is what stands out the most. The contrast between the two tones works brilliantly together, especially on their fitted, preppy-feeling outfits, with vivid bursts of pink and deep hues of green. Cooper wore a green silk trench from Elie Saab's Spring 2021 collection over her patterned dress, demonstrating her evident affinity for color. She completed the look with Tod's emerald clutch.
LOOK 2- The outfit which screams 'Vintage has been the keynote of elegance'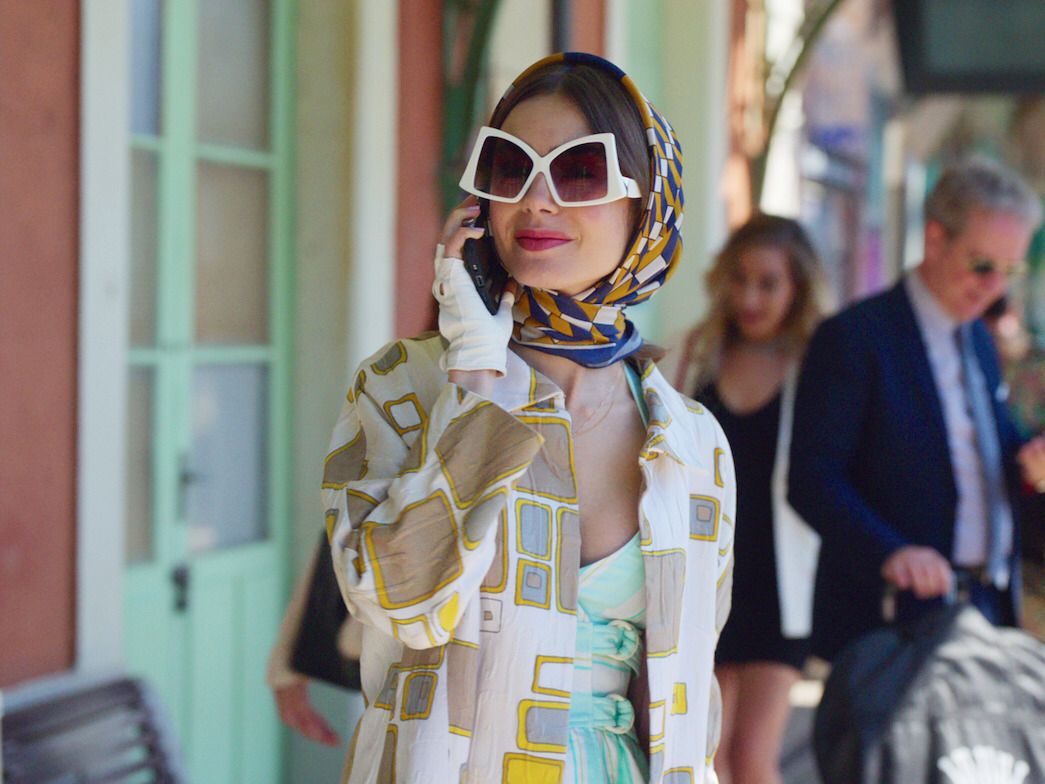 Spotted- Emily's vintage Courreges ensemble from the series, which also happens to be one of her most subtle yet timeless looks. This minty look is a great way to experiment with subtle color and texture while emulating Emily's style in your own unique way! You may call it tacky, quirky, or anything you want. The ensemble is a mix of subtle tones that might have easily gone awry, but she pulled it off and so can you.
LOOK 3- To all those who said Emily would'nt pull it off in an otherwise subdued outfit!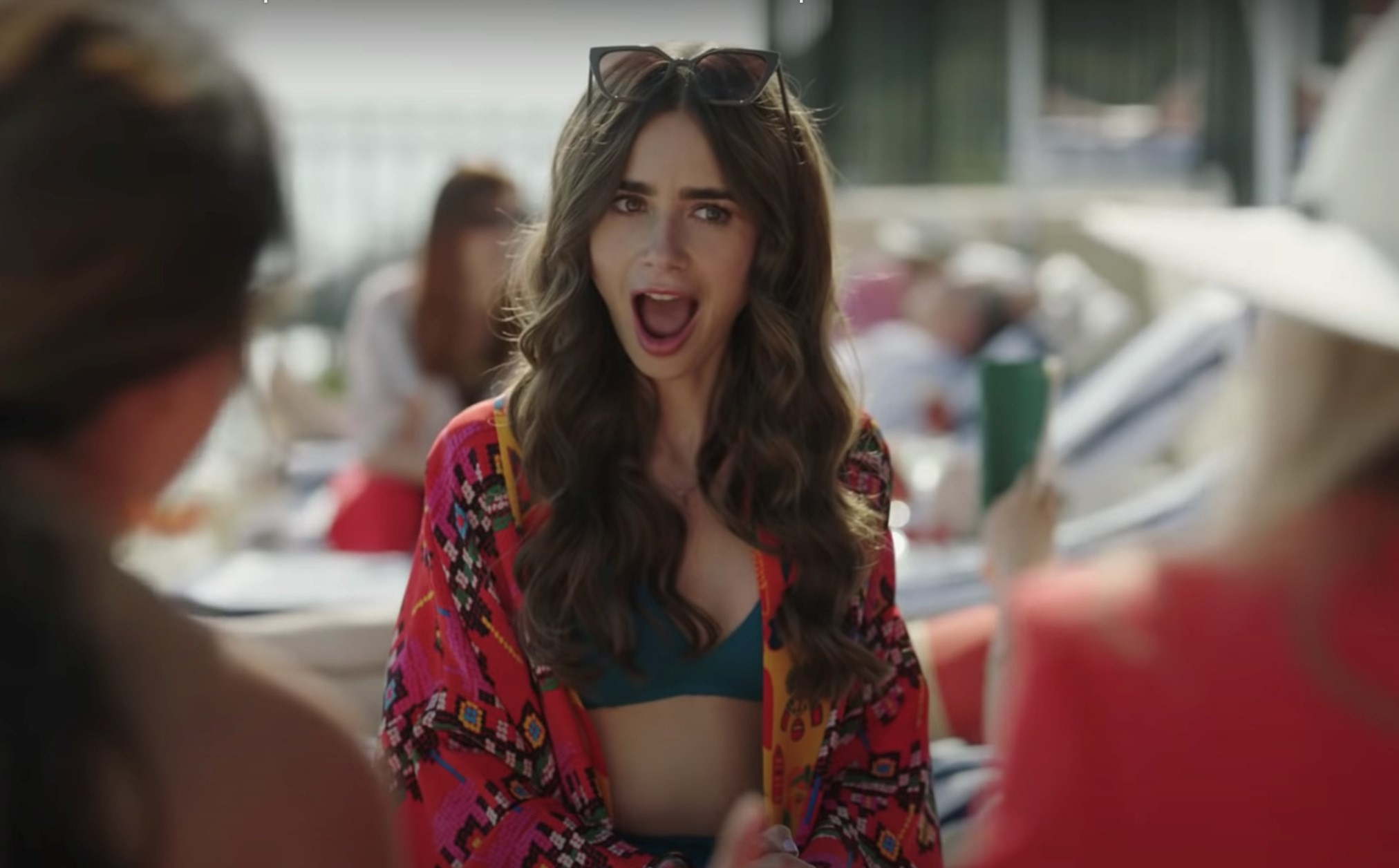 Most of us might gravitate towards neutral tones whilst hitting the beach, the distinctly American Emily however is upbeat and embraces her own unique style, gradually winning Pierre and others over. It's a lot of pleasure to see her in a teal high-waist bikini with a red and yellow pattern cape, cat-eyed sunglasses, and white shoes! *chef kisses*(the term at which Sylvie would scoff for sure)
LOOK 4- You can never go wrong with a little hint of pink afterall!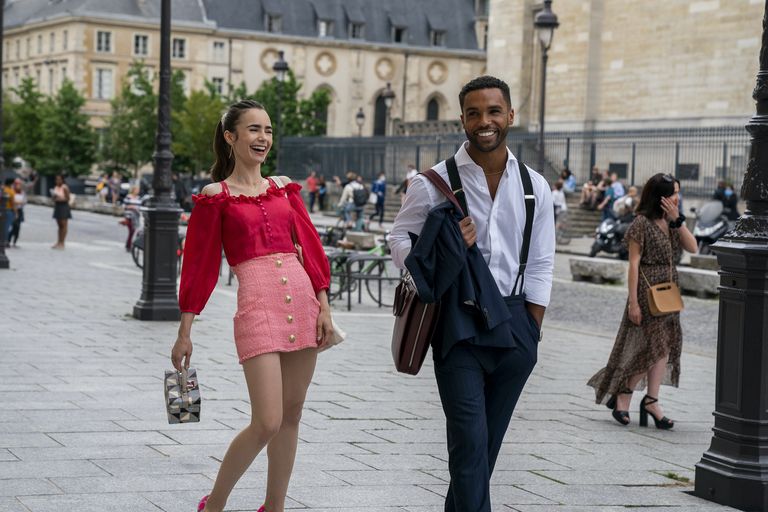 Even though Emily is still suffering from the aftermath of her one-night stand with Camille's ex, Gabriel, she manages to turn a few heads outside of her own building. She is wearing a tweed Balmain skirt and a ruffled red crop top with a Roger Vivier purse. It's a fairly modest look for Emily, who is notoriously over-the-top, but the extra splash of scarlet is enough to capture the fashion editors' eye.
LOOK 5- One of those 'oh- so orange looks' of Emily in season 2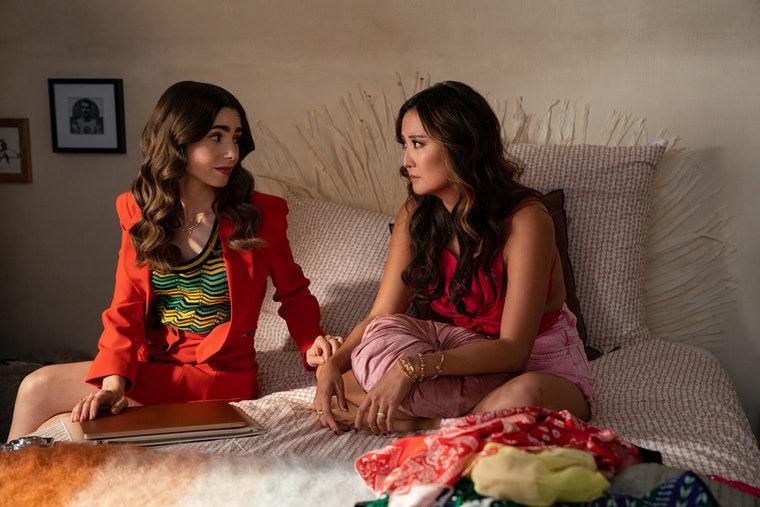 All in a day's work: returning the omelette pan your one-night stand gave you, addressing your enraged French BFF, and navigating a challenging class. Emily, on the other hand, has a mix of designer and budget-friendly clothing to keep her looking smart throughout it all. Instead of going for a basic style, the cast in the series chose vibrant colors to make a bold statement. You, too, may go a step further by wearing a patterned shirt underneath your orange pantsuit, like Emily did!
LOOK 6- The 'hold on, Cooper's having a sequin moment' look in episode 2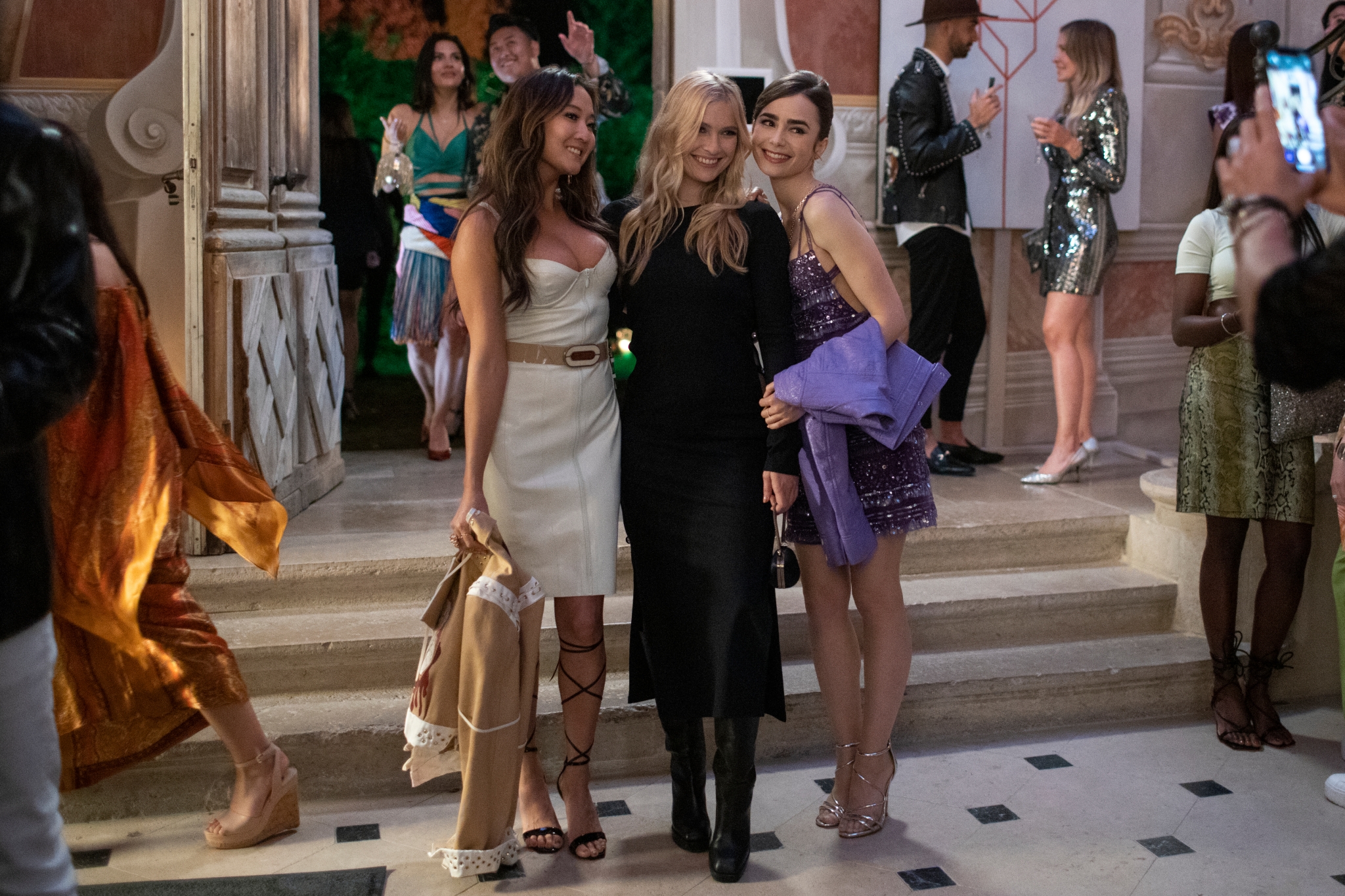 Emily's metallic dress is the perfect match for Mindy's show in the season two St. Tropez Party, and so is her crystal-studded bag. Aside from the cutting edge neckline and flowing train of the dress, the outfit elements – from the hair embellishments to the heart pendant – come together to form Emily's most memorable fashion moment in season two. I'd say this is the most exquisite fit for her and I can't get over it!