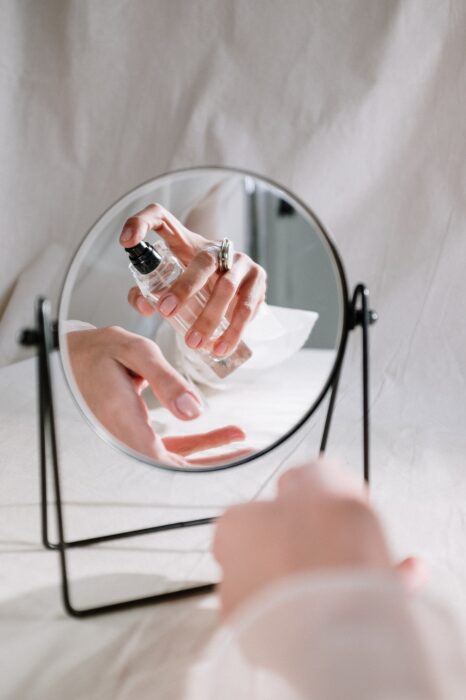 Sandalwood fragrance is often described as very mild, earthy, natural that can lighten your mood and calms your mind. Lately, there has been a shift towards more natural ayurvedic fragrances. Out of all, sandalwood has been one of the most popular fragrances. Even Brad Pitt is known for wearing sandalwood perfumes. Sandalwood can be a change to your usual perfumes that contain heavy chemicals. If you are new to sandalwood then I can assure you won't be disappointed. We have got you the best sandalwood perfumes available in India.
TJORI SANDALWOOD BODY MIST 
Tjori sandalwood body mist is very mild and pleasant. It has a very delicate fragrance that you can wear at any time of the day. It gives an instant refreshment whenever you spray. It has that rich, natural sandalwood fragrance, unlike artificial perfumes. The mist is alcohol-free, paraben-free and chemicals free. It is skin-friendly and suitable for all skin types. 
FOREST ESSENTIAL BODY MIST SANDALWOOD & VETIVER 
With the notes of vetiver, forest essential's body mist has a very sweet and calming smell. The mist refreshes your skin as well as your mind with the strong organic fragrance of sandalwood. It can go up to 8-10 hours without fading away. The blend of sandalwood and vetiver is so perfect that it doesn't overshadow each other. Also containing properties of aloe vera, the mist hydrates and soothes your skin as well. 
BELLA VITA ORGANIC GUL CHANDAN 
The Gul Chandan unisex perfume comes in a very affordable range. It has a very earthy smell with rich notes of sandalwood. With its unique formula, the fragrance takes you in the lap of mother's nature. It is 100% natural, cruelty-free, chemical-free. The perfume has long-lasting properties that can stay even after your day ends. If you are looking for new options for your vanity then make sure to check this out due to its affordability and great quality.
THE PARADISE TREE'S MYSORE SANDALWOOD BODY MIST 
Enriched with the quality of Ayurveda and nature. The perfumes come in a recyclable, plastic-free bottle making it the most eco-friendly product. Contains qualities of Mysore sandalwood. The brand has done a better job in sustaining the perfect essence of wood in a more natural and earthy manner without making it heavy or artificial. Plus sandalwood has been used since the golden ages to cure skin problems. So using it on your face and body also keeps it healthy.
FABINDIA ROSE & SANDALWOOD EAU DE PARFUM
Fabindia definitely resembles the Indian heritage through its products. The perfume has a fragrance of wild roses that lingers throughout your day. If you are an avid user of rose-scented perfumes then this can be your new favorite. The smell of the perfume is so divine that it takes to the royal garden of Jaipur. A perfect blend of sandalwood with roses, the perfume can be an ideal fit for an evening stroll or a casual Sunday brunch. 
LE LABO SANTAL 33 TYPE PERFUME OIL 
Arguably one of their most famous fragrances. By 33 it means the number of ingredients in this perfume oil. Type 33 perfume oil contains notes of Australian sandalwood, cardamom, leather accord, iris, ambrox, violet. It can be your go-to perfume if you are into warmer scents. Unlike other perfumes, santal 33 has a whole article dedicated to it, that portrayed santal 33 as the smell of new york city. It has a perfect blend of sandalwood with a rich mix of spices. One of the most unique sandalwood perfumes you will smell, a must-have based on my opinion.