Hello dear readers,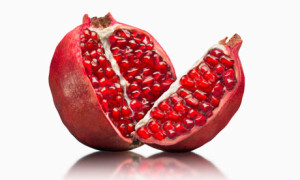 The pomegranate has three times as many anti oxidants as red wine and, green tea containing three types of polyphenols- tannins, athocyanins and, ellagic acids. Studies prove that it promotes blood circulation, improves immunity, controls cholesterol, reduce heart diseases and risk of cancer.

you need:
1 tsp pomegranate juice
1/2 tsp Sugar
Almond oil
Sesame oil
Mix sugar and pomegranate juice. Add few drops of almond oil and / or sesame oil in it. Apply it all over the face leave the area around eyes. Leave it for 10 minutes and rub it in circular motions on face with wet hands for 2 minutes. Rinse with lukewarm water. Finish with your favorite toner.
You can use it once a week.
It will deep clean the pores and moisturize your skin without making your it dry. It will give you pink glow.
I hope you like this tip.
I wish you beautiful skin.