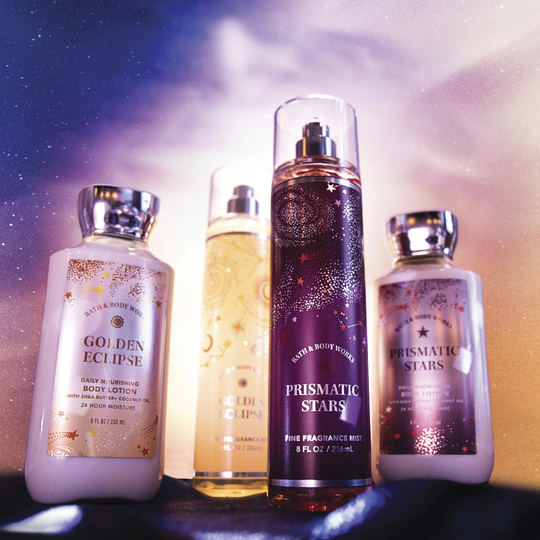 The newest fragrances from Bath & Body Works, one of the top specialty stores in the world and the source of America's Favourite Fragrances®, is called Celestial. Boost your mood and awaken your senses with these beautiful spring scents from the recently released Celestial collection, which are ideal for this summer weather. Bright and wistful goods such as Shower Gel, Body Lotion, Body Cream, and Fine Fragrance Mist are available in the Celestial collection. The collection has 3 sumptuous scents:
Prismatic stars – With a wonderful fusion of raspberry dust, mystic plum, and cosmic cashmere, the scent Prismatic Stars creates a pleasant shimmering impact for the senses.
Golden Eclipse – This spectacular sky show is sweet and warm, with notes of glowing berries, glistening blooms, and sun-warmed woodlands.
Sapphire Moon – Enjoy the fascinating and beautiful perfume of Sapphire Moon, which features notes of glittering pear, sheer freesia, and moonlit musk.

The newest collection offers a sensory awakening like never before. Choose from 3 opulent fragrances that will compliment various moods. Infused with the benefits of Hyaluronic Acid, Aloe and Vitamin E, these products leave your skin feeling fresh, nourished and beautifully fragrant.​ Cleanse, moisturize, fragrance, repeat with a wide range of products perfect for layering.​