By Inveda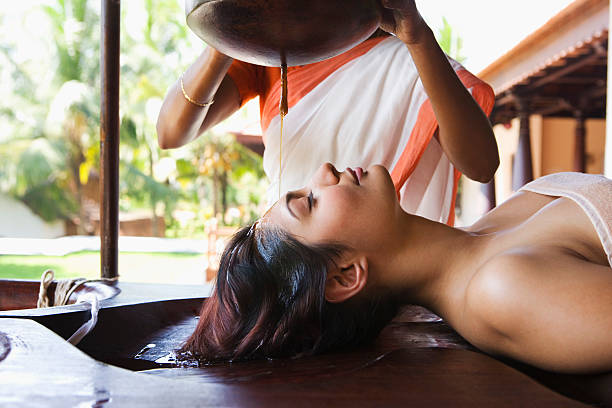 A woman's prized possessions are her beautiful hair and flawless skin. Hair that has texture and volume inspires us to try a new hairstyle and fashionable looks. Flawless skin acts as an anchor to make us look exponentially beautiful with minimal makeup. We all love to maintain an easy-going beauty regime that gives us healthy hair and a radiant complexion. Good hair texture is all about your locks being shiny, smooth, and silky with good elasticity. Excess breakage and frizzy texture are signs of unhealthy hair. An even and smooth skin tone and texture, zero skin problems, and hydration stands for healthy skin.
Air pollution is on the rise and its everyday exposure affects our hair and skin in a major way. Not just in traffic jams, the toxic particles coming out of vehicles are spread in the air that can impact your skin and scalp. Ayurveda has perfect recipes to counter the hapless episodes of skin and hair episodes due to pollution. Its beauty rituals and range have amazing enigmas to balance the beauty and fitness of the human body and infuse energy naturally.
Ayurveda is a treasure of ingredients that could help you settle your skin and hair and beat the adverse effects of pollution. There are several toxic elements present in the air that cause premature ageing and dark spots on the skin by destroying collagen present on the surface of the skin. Neem is the best gift of nature to fight anti-aging properties and neem protects the skin from harmful UV rays, pollution, and other environmental factors because of its antioxidant properties. Using Neem & Gotukola as cleansers can make you get rid of pollution-led impurities and checks pimples and scars as well.
The ancient old practices of Ayurveda tell us some of the splendid ways to keep the skin clear, bright, and glowing, making it look healthy.
Hair loss concerns are also on the rise, and taking care of your hair is just as important as taking care of your skin and body.
Hair washes comprising of Amla, Reetha, and Shikakai can promote hair growth, stop hair loss, reduce the damage caused by free radicals, nourish your scalp and prove to be magical for your hair. Apart from this another ingredient, which is a must for your hair routine as it has Active Charcoal & Coconut which work wonders in curing your itchy scalp, and can be used as a mask. Hair oil blends of natural oil are a blissful way of taking care of your locks, and helps in preventing hair breakage, split ends, and hair fall.
The frequent exposure to the sun also makes you suffer skin rashes and problems. Ayurveda has a range of natural herbs that have proven cures for skin disorders due to pollutants or other factors. A paste of sandalwood powder and turmeric gives relief from sunburn. Apply aloe vera gel on heat rash and get cooling relief and rejuvenating skin. The world of Ayurveda offers a safe cure for skin rashes and allergies.
Your dreamy affair with healthy hair and skin can be tumbled-down easily by pollution. Ayurveda believes that managing health has three components; pitta, Vata, and Kapha dosha. Ayurveda is not an overnight miracle, but a journey of patience that guarantees nourishment and healing for a lifetime. Having dull, damaged hair can ruin the entire look, no matter how nice your outfit may be. Ayurveda is the only healing regime that can guarantee long-term wellness other than aesthetics.