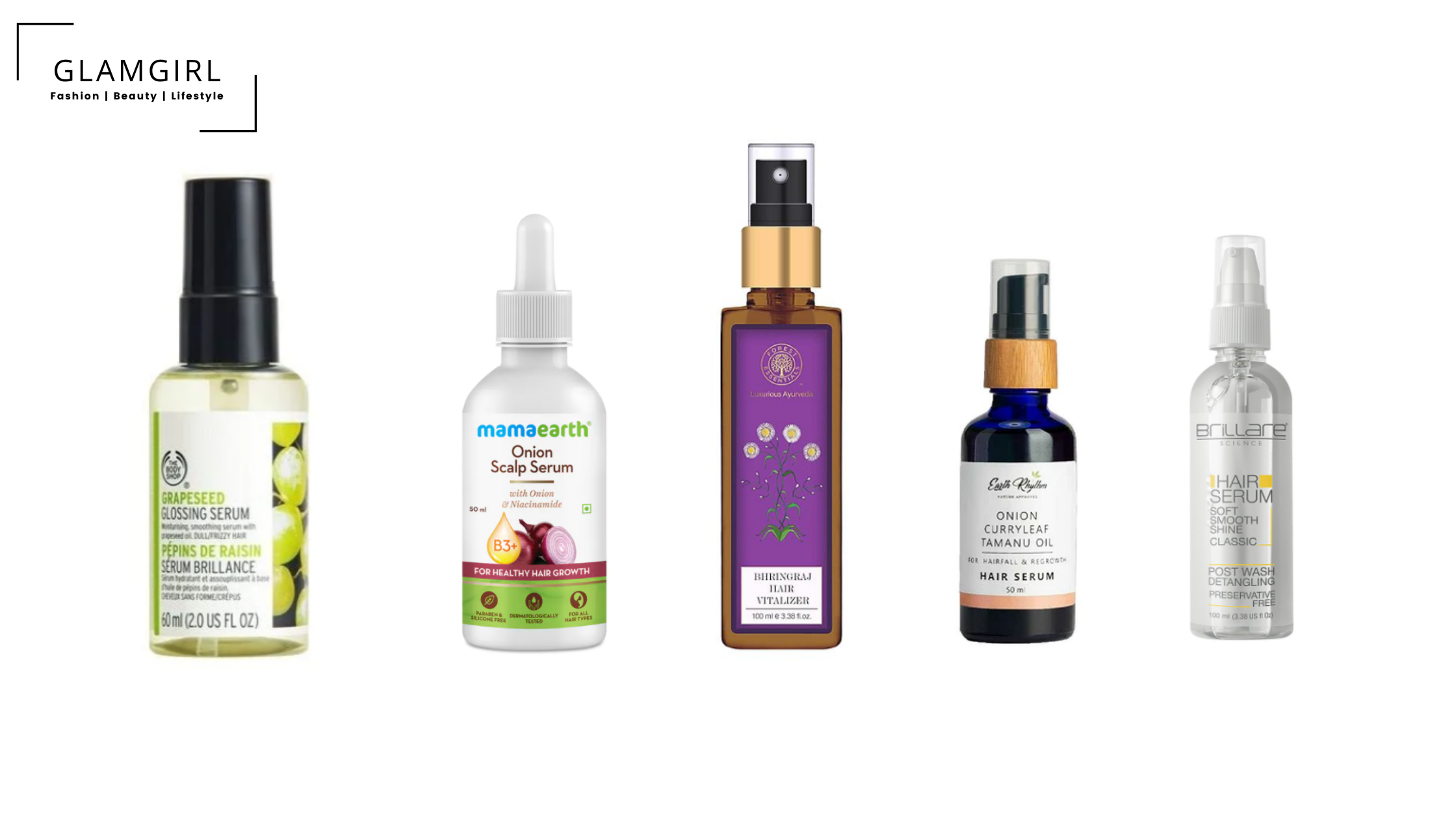 On average, women lose around 100-150 hair per day. This generally goes unnoticed due to the fact that hair falls while combing, sleeping or taking a shower, etc. Nothing to worry about as suggested by the experts. However, if you see big chunks of hair while washing or doing your daily chores then you have a reason to worry about it. You are not alone, a lot of women are experiencing the same problem. The most common cause is using wrong hair products that cause hair thinning Since you are looking for an updated hair care routine that will help you find the suitable hair serum as per your hair needs.
The Body Shop Grapeseed Glossing Serum
If you are looking for something that can combat frizziness as well as promotes hair growth then this can be your go-to option. Enriched with benefits of grapeseed that contain fatty acid. It locks the moisturize in your hair and repairs the damage caused by pollution and dust. Also contains sesame oil that conditions your hair from roots to tips. The best part is,  it is lightweight with a mild smell, unlike the other serum that feels very heavy when applying.  
Mamaearth Onion Scalp Serum
Onions are known for their hair growth properties for ages. Due to the fact that it contains natural sulfur that prevents breakages, hair thinning, and split ends. This serum stimulates blood circulation scalp promoting hair growth. Besides onions, it also contains red onions, vitamin B, and aloe vera that gives hair a more shiny, healthier, strong texture. It is a water-based serum that absorbs your scalp quickly without leaving your hair greasy or oily.
Forest Essentials Hair Vitalizer Bhringraj
Known for their ayurvedic herbal remedies, forest essentials hair vitalizer contains properties of Bhringraj that prevents hair from falling and strengthens hair follicles. It has a very clear honey-like color, lightweight that can be applied even before or after hair wash. The serum is free from chemicals like paraben, sulfur, etc that damages your hair even more. The smell tends to be strong so if you are looking for a serum that has a strong herbal smell that lingers all day then this will work for you.
Earth Rhythm Onion Curry Leaf Tamanu Oil
Earth rhythm hair serum contains elements of onion rich in sulfur with amino acids and components of keratin, curry leaf known for its antioxidants properties that nourish your scalp by removing dead cells from follicles promoting hair growth. Also contain tamanu oil that treats hair loss and leaves shiny, healthy hair. The serum is enriched with many hair benefits, making it sort of a protein shake for your hair. Very lightweight that absorbs your hair very fast and can be left post-shower. The smell is very minty which makes it even more interesting. 
Brillare Hair Serum Classic
Blended with the qualities of grape seeds and wheat. They are 100% vegan i.e no chemicals or preservatives are used in any of their products. Grape seeds used for their antioxidants properties keep your hair away from damage by cleaning your scalp deeply from the roots promoting hair growth and nourishment. Wheat germ locks the moisture preventing them from getting dry and frizzy. It is extremely good for dry hair. The serum is very light leaving you with a very pleasant fragrance.